Picture it: You wake early with the morning sun, lace up your hiking boots, and trek a few hard-won miles until, finally, you reach your destination: a steamy, calm hot spring. You dip one toe in, then a leg, then the rest of you. "Ahhhhhh". Welcome to utter relaxation while surrounded by the raw beauty of nature. Does it get any better?
Hot springs, also called thermal springs, are natural bodies of water where the temperature of the water is substantially higher than that of the surrounding air. What makes the hot springs hot is actually magma; most springs are discharging groundwater that is heated by magma or molten rock inside volcanic areas. Some hot springs have been developed extensively for tourists to enjoy, while others remain undeveloped.
Hot springs aren't just a place to relax; for hundreds and thousands of years, inhabitants of North America have visited and celebrated these waters for their healing and restorative powers. Most of the healing qualities attributed to hot springs are due to the mineral content in the sulphuric waters; minerals that may help to detox skin, improve circulation, and block pain receptors.
There are several hot springs located throughout the United States (and indeed around the world), but the majority of U.S. thermal springs are found in the Western states.
While the hot spring itself is a big draw for travelers, these regions and towns are usually brimming with fascinating history about their springs, too, and the people who have soaked in them over the years. So a trip to a hot spring town is great for history lovers and wellness gurus alike.
Want to test the waters for yourself at a hot spring? Check out these 11 natural springs in the U.S.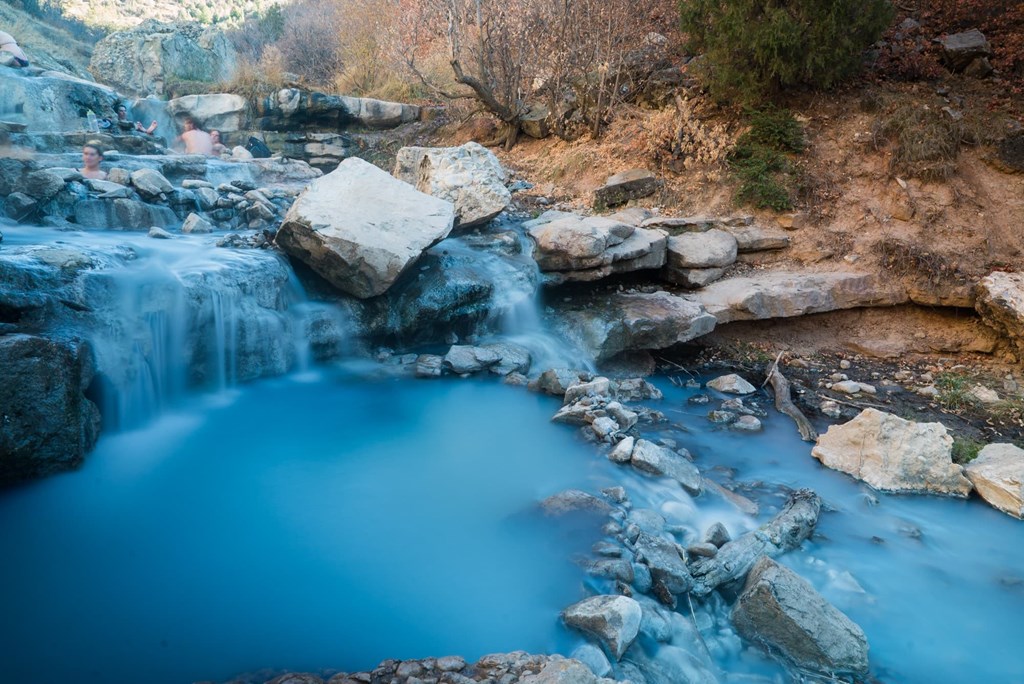 1. Fifth Water Hot Springs, Utah
Visit solo, with friends, or with family. No matter how you choose to experience Fifth Water Hot Springs (also known as Diamond Fork Hot Spring) in Utah, you won't be disappointed. This could just be the soak that makes you an enthusiast.
The milky blue and aqua-colored pools are nestled just an hour outside of Salt Lake City and are flanked by waterfalls, canyons, and hiking trails. Visitors will find a variety of different pools (and waterfalls) — with varying temperatures — to play and relax in. The sulphuric waters in the area can range from 100 to 140 degrees Fahrenheit (spring water is always the hottest near the source).
The best bet to avoid crowds is to visit the springs on a weekday. As with all hot spring locations, be sure to review the current conditions, soaking guidelines, and other pertinent information before heading out. Other than that, get ready to Instagram your heart out.
KOAs nearby:
Springville / Provo KOA Holiday
Salt Lake City KOA Holiday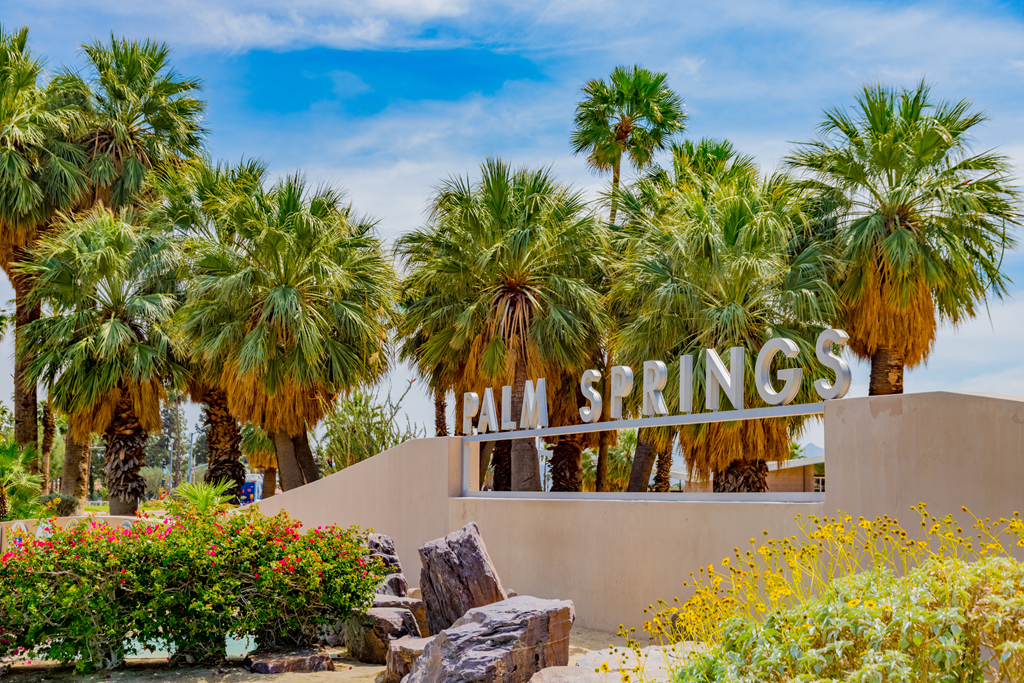 2. Greater Palm Springs
If a luxury soak is what you're after, Palm Springs is the place. In addition to great food and Old Hollywood swagger, the desert oasis is known for its collection of warm thermal springs. In Greater Palm Springs, the hot mineral waters are pumped into hotel spas and resorts across the region, making the many picturesque resorts and boutique hotels — some of which have an exotic Moroccan flair — the perfect place for a relaxing day trip or leisurely weekend.
Many of the hotels and spas here offer day passes so campers, tourists, and locals can all take some time out to enjoy the mineral-rich waters. If you're looking for a hot spring even closer to your campsite, Palm Springs / Joshua Tree KOA Holiday offers three spring-fed spas so you take in the waters with ease!
KOAs nearby:
Palm Springs / Joshua Tree KOA Holiday
Banning / Stagecoach KOA Journey
Temecula KOA at Vail Lake
3. Hart Mountain Hot Springs, Oregon
Wildly gorgeous and intimate. That's one way to describe this lesser-known hot spring tucked away in southeast Oregon. The primitive and remote springs are located in the Hart Mountain National Antelope Refuge, about two and a half hours from Lakeview, Oregon. From the springs visitors can enjoy views of cliffs, canyons, grasslands, and wildlife. It is also a prime hiking destination from nearby campgrounds.
Hart Mountain has two main soaking spots: a steamy, rock and dirt-bottomed primitive pool surrounded by grassland and spectacular views, and an enclosed soaking area that's a bit larger and can accommodate up to six people.
While pets are welcome to explore the area on a leash, canine friends are not allowed inside the springs themselves (which is true of most hot springs).
KOAs nearby:
Klamath Falls KOA Journey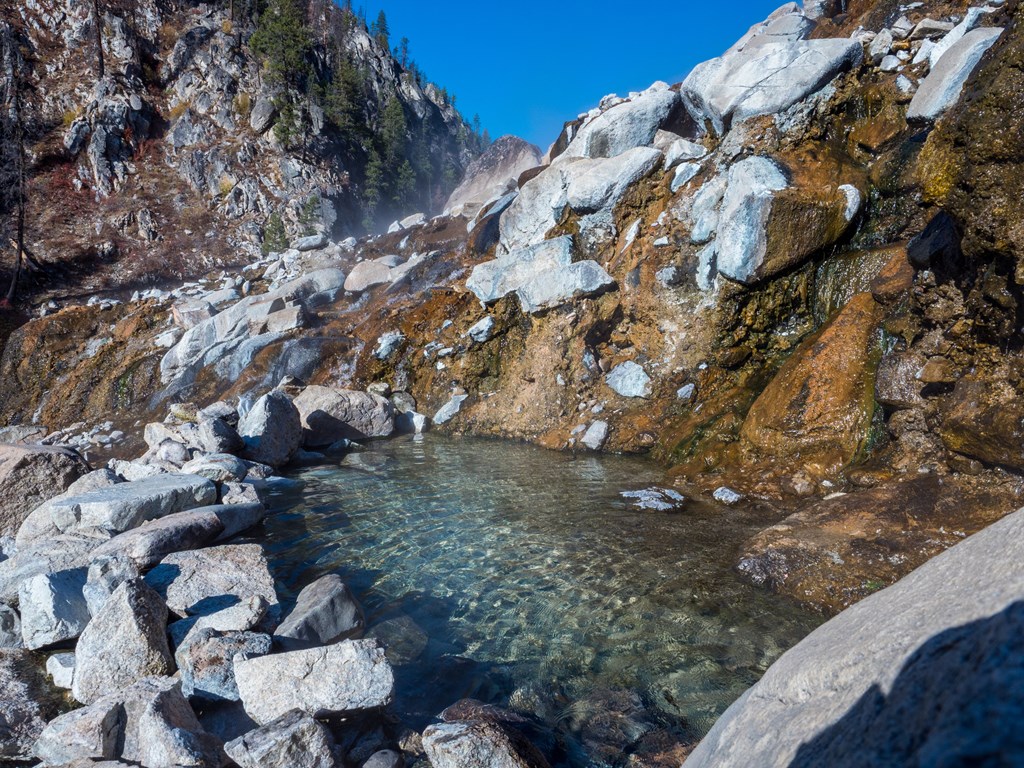 4. Idaho
Idaho is famous for its many hot springs. The mountainous state is the gateway to the Pacific Northwest and has more than 130 soakable springs (more than any other state in the U.S.,) thanks to the Idaho Batholith — a large mass of granite rock that was formed from cooled magma.
Here, you could make a fabulous road trip of spring-hopping at a mix of pristine, natural river-side pools and cozy spas offering all the modern amenities. Imagine having a hot soak surrounded by snow-covered evergreens and rocky ledges in the quiet of winter.
KOAs nearby:
Boise / Meridian KOA Journey
Twin Falls / Jerome KOA Holiday
Craters of the Moon / Arco KOA Journey
Pocatello KOA Journey
Lava Hot Springs West KOA Holiday
Lava Hot Springs East KOA Holiday
Montpelier Creek KOA Journey
Kamiah / Clearwater River KOA Journey
5. Berkeley Springs State Park, West Virginia
Berkeley Springs State Park tucked away in the West Virginia Mountains, is sometimes known as "America's First Spa". George Washington is said to have visited the spa at the tender age of 16, while a member of a survey party. He then returned to visit the springs regularly as an adult.
Get some spa history at a private, walk-in Roman Bath at the park's main bathhouse. The Roman Bath contains 750 gallons of mineral water heated to 102 degrees. The park also has an outdoor pool of natural spring water that lingers at a cool but comfy 74 degrees Fahrenheit.
KOAs nearby:
Hagerstown / Antietam Battlefield KOA Holiday
Harpers Ferry / Civil War Battlefields KOA Holiday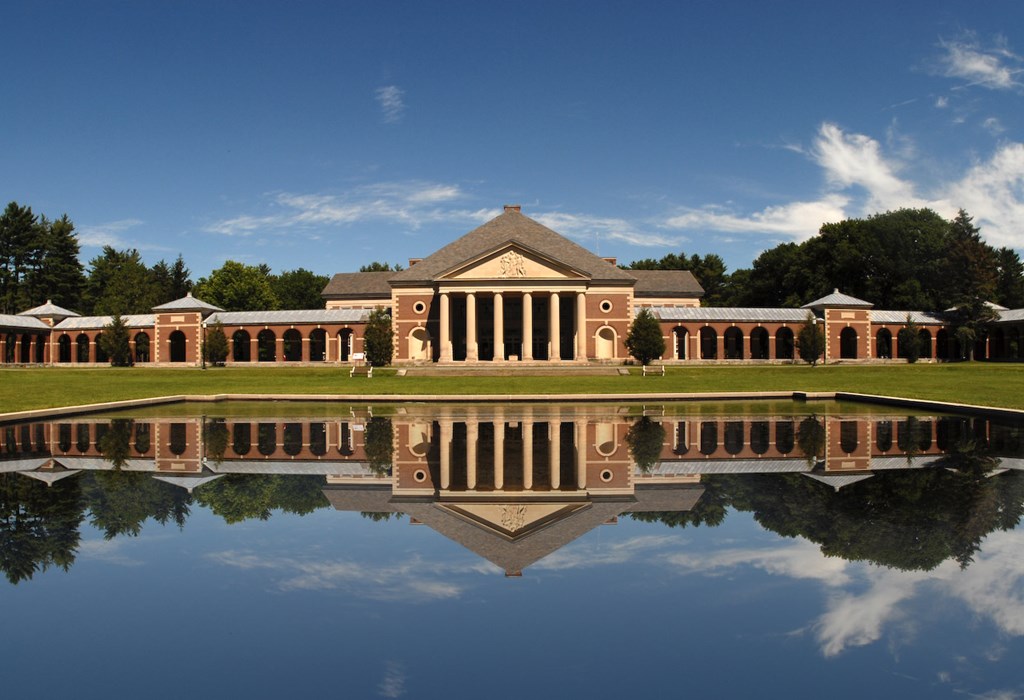 6. Saratoga Springs, New York
New Yorkers need not feel left out, as there are some famous thermals to be found in New York State, as well! The hot springs in Saratoga, New York have been an attraction since at least the 14th Century when Native Americans sought their rejuvenating and medicinal properties.
The region is now home to a large public complex that offers biking, campsites, cabins, disc golf, fishing, food, golf, hiking, ice skating, and an amphitheater. Saratoga State Park has two outdoor mineral water pools: the Peerless Pool Complex has a main pool with zero-depth entry, a separate slide pool, and a children's wading pool with a fountain. The Historic Victoria Pool is a smaller pool surrounded by arched promenades. Both are ideal for a relaxing getaway.
KOAs nearby:
Lake George / Saratoga KOA Journey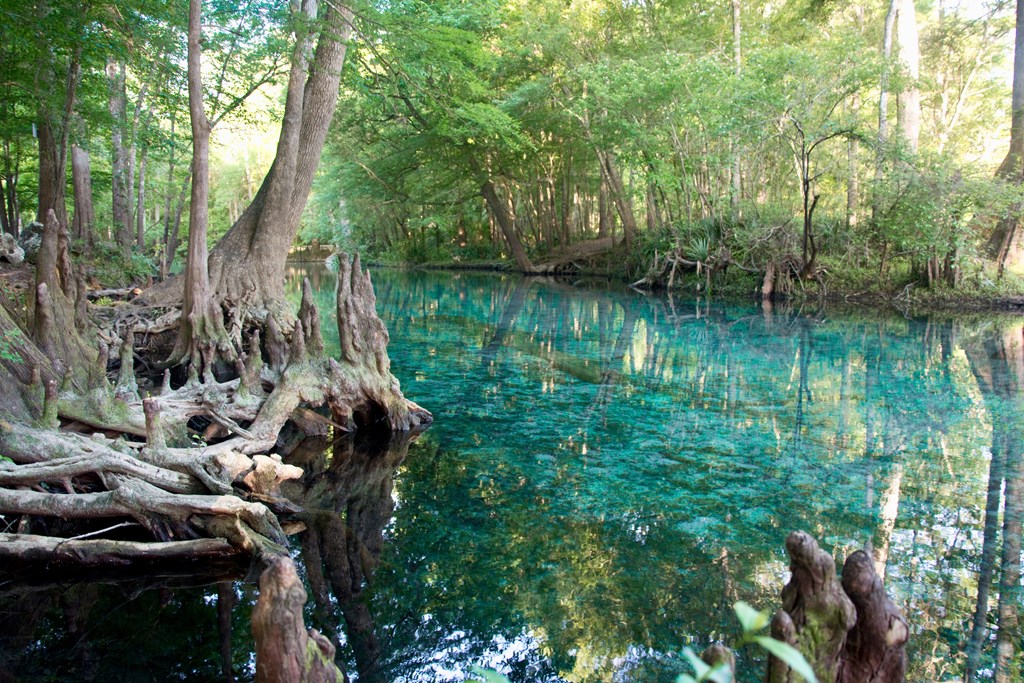 7. Warm Mineral Springs, Florida
When you get down as far south as Florida, hot springs become a bit rare, with the exception of Warm Mineral Springs Park in North Port, Fla. What the Panhandle State lacks in quantity, it makes up for in quality, however, as this "only naturally occurring warm mineral spring in Florida" has one of the highest mineral concentrations of any other all-natural spring in the country. The water is said to harbor more than 50 different minerals and holds steady at a cozy 85 degrees.
Warm Mineral Springs is also a bit deeper than other hot springs, at more than 200 feet! Why simply soak in a hot spring when you can scuba dive in it? Bathers have even discovered prehistoric bones, tools, and saber-tooth tiger fossils here. If fossil hunting's not your bag, you can simply enjoy the other amenities in the area, like swimming, shuffleboard, and another spa.
KOAs nearby:
Bradenton / Hunsader Farms KOA Holiday
St. Petersburg / Madeira Beach KOA Holiday
8. Warm Springs, Georgia
If "Warm Springs, Georgia" rings a bell from history class, it's because Franklin D. Roosevelt was a faithful visitor and advocate of this spa town (he even named it "Warm Springs"). FDR, suffering a paralytic illness from a young age, bathed and exercised in the near-90-degree waters regularly for his health.
Today, FDR's Warm Springs cottage, named "Little White House", is a national landmark and museum. While the pools here are open for tours only, Georgia does have a few other natural hot springs and thermal pools to explore. The picturesque Radium Hot Springs in Albany, Georgia pumps crystal blue water into the pool from an underground cave. It's a lush place to visit, and a lovely place to stroll among the terrace, sidewalks, and gazebos.
KOAs nearby:
Forsyth KOA Journey
Montgomery KOA
Americus KOA Journey
Cordele KOA Journey
Lake Oconee / Greensboro KOA Holiday
9. Sand Springs Pool and Recreation Center, Massachusetts
There is one warm mineral spring (warm, not hot, at 68 degrees +) to be found in Williamstown, Massachusetts, in the Berkshires. The water originates from Vermont and descends 2,800 feet into an underground aquifer where it is warmed and flows laterally until it reaches a fault line at Sand Springs. Here the water is pushed upward by thermal and fluid pressure, maintaining a constant flow of 400 gallons per minute year-round. The springs bubble out of the ground at about 72 – 74 degrees Fahrenheit.
The Sand Springs Pool is another example of one of North America's oldest natural spas. It has welcomed guests to its mineral-rich waters for more than 250 years. For generations, the springs have been a popular destination for relaxation, recreation, wellness, and special events.
KOAs nearby:
Brattleboro North KOA Journey
Northampton / Springfield KOA Holiday
Lake George / Saratoga KOA Journey
10. California
Perhaps not surprisingly, California is bursting with beautiful, natural hot springs, in just about every style and configuration. The Remington Hot Springs in Southern California is a unique destination as it is a little bit rugged and a little bit refined. Remington's collection of thermal springs is actually commercially built pools located along the banks of the River Kern, near the town of Bodfish, California.
The springs are free, natural, and constructed by local residents of the area. It was built keeping the beauty of California's natural landscape top of mind. The four rock-cemented pools provide breathtaking views of wildflower patches, wilderness, and the river. You could dangle your feet in the chilly Kern before finally reclining in the soothing, 100-degree mineral waters!
KOAs nearby:
Lake Isabella / Kern River KOA
Bakersfield KOA Journey
Lost Hills KOA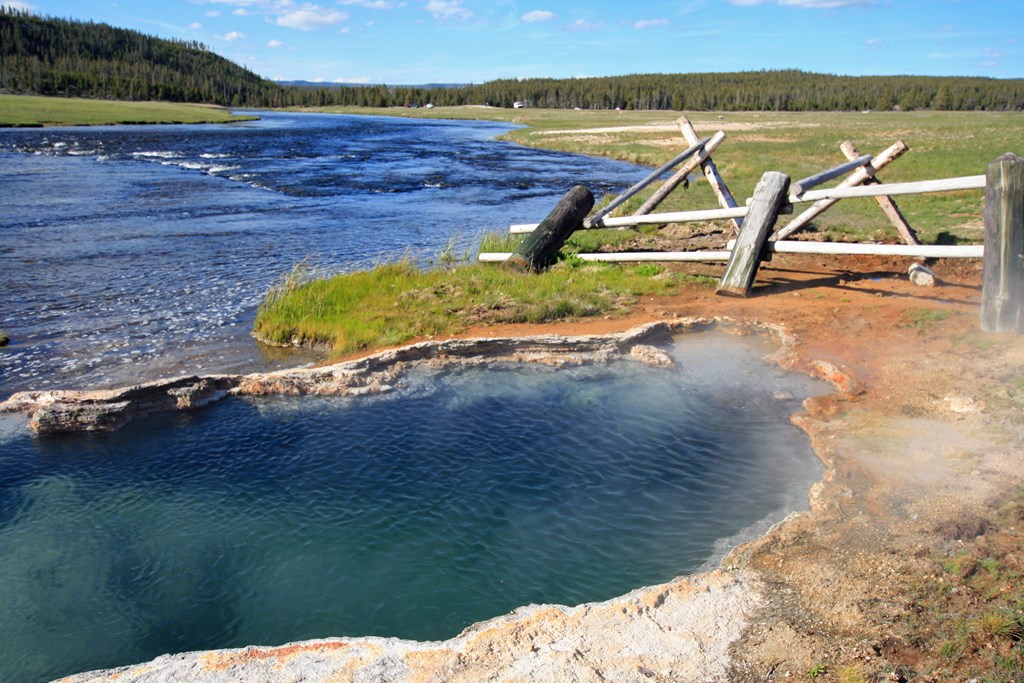 11. Yellowstone
Despite hosting the world-famous Old Faithful, Yellowstone National Park has very few swimmable and soakable areas. Typically the only options are at Boiling River (which is currently closed due to flooding) and the Firehole Swim Area.
While you certainly don't want to take a dip in a geyser, there are in fact a number of soakable springs for visitors surrounding the park, namely in Montana, Wyoming, and Idaho. Many of the Yellowstone-area resorts and spas are family-friendly, with larger (sometimes Olympic-sized) pools, and slightly cooler water temps so the kids can enjoy. Some of the resorts even feature waterslides. Again, many of these hot spots are open to the public as well as guests.
KOAs nearby:
Yellowstone Park / West Gate KOA Holiday
Yellowstone Park / Mountainside KOA Journey
Dubois / Wind River KOA Holiday
Cody KOA Holiday
Red Lodge KOA Journey
Big Timber / Greycliff KOA Journey
Livingston / Paradise Valley KOA Holiday
Soak Responsibly
Before you submerge into these glorious pools, be sure to brush up on tips and etiquette for visiting a hot spring, as there are some important points to note.
Individuals with high blood pressure and heart conditions are cautioned against soaking in springs or spas. Children 12 and under should be supervised closely, and hot springs are not recommended at all for the very young. Valerie Wheatley talks about soaking etiquette and a few hot springs staples in her blog, Wandering Wheatleys. Remember: some springs are clothing-optional, but not all, so always check the fine print.
Do: Bring water to stay hydrated (it's recommended to spend no more than 10 to 15 minutes max in the hot pools), pack a quick-dry towel, and flip-flops.
Don't: gawk at nude soakers, get rowdy, or crowd other visitors. And finally, consider a pre- and post-soak rinse, particularly at some of the more 'rugged' pools, to avoid spreading and contracting bacterial infections.
Finally, do your part to keep these beautiful natural resources clean. Some natural hot springs have closed to the public, and camping was banned because people kept leaving their trash and committing acts of vandalism at the springs. Always carry out what you carry in, if not more. Leave no trace.
The Perfect Place to Recharge
Whether soaking or simply surveying, if you're looking for a unique experience on your next vacation, camping trip, or day trip, give hot springs a try. Taking in the mineral-rich, thermal waters is a sure way to treat yourself and wash away the stresses of the day.
---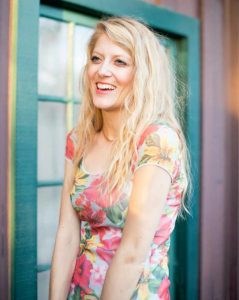 Leslie is a freelance travel and health/wellness writer who gets butterflies from telling stories and sharing information with readers across the globe. Her voice comes from a place filled with passion and dreams.
With over 10 years of experience in crafting words and years of embarking on travels that have taken this Montana girl to some incredible places, Leslie loves the adventures of both body and mind her writing takes her on.
To see what Leslie's up to in the writing and design world, visit her website here.