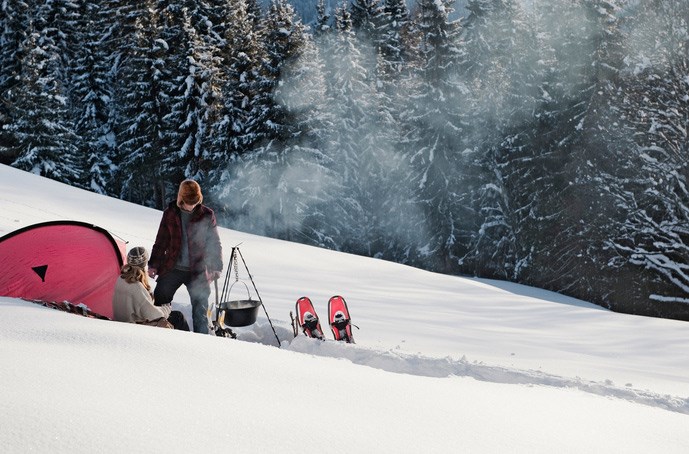 If you're thinking of cold weather RVing or tenting, you'll want to read this guide to winter camping.
Despite the cold weather, there is just something so beautiful about camping in the winter. The magnificent snow, the peaceful quiet, the more slow-paced approach to enjoying the outdoors, and so much more.
A stark contrast from the busy summer camping (which is also fabulous for its own reasons — hello sun and swimming!), winter camping is something you may be surprised to learn you love.
And, as uncomfortable as it may sound dealing with cold and snow, our guess is that with proper planning, you may even end up preferring winter camping over summer.
To ensure that you get the best winter camping experience possible, we've put together a guide with helpful camping information for both tent campers and RVers, because everyone should get to enjoy the wonders of camping in the snow.
---
Winter Camping Tips for The RVer
When many people head south with their RVs in the winter to bask in warm weather, and some opt to winterize their RV and store it away until spring, there are others who prep their RV to take them on adventures in the snow, and they're the ones that end up having some of the most fun.
However, before the fun begins, you need to make sure you're ready for the wild cards that winter RV camping may throw at you.
Here are our top winter RV camping tips.
1. Keep your eye out on the weather
Because different weather forecasting sites tend to provide slightly different information about weather, it's a good idea to have a few that you check prior to embarking on your trip to get a better overall idea of what the weather will be.
Some of our favorite weather websites are:
We also love the U.S. Department of Transportation's Federal Highway Administration page that shows traffic and road closure info for the entire country.
2. Check closing dates of campgrounds
Few things may be worse than packing up your gear, heading out on the road, and driving to a campground, only to find upon arrival that it is closed for the season.
Yikes!
To avoid this happening to you, use our Find a KOA tool to search the campgrounds you're interested in visiting. The information here will let you know what dates the camp is open, and provide you with contact information to make sure.
Though some Northern campgrounds close for the winter, not all of them do, so we recommend checking rather than assuming. Use this list of campgrounds that are open all year as a starting place.
3. Be on the lookout for black ice
Black ice is every driver's worst nightmare, especially when driving a massive rig such as an RV. And with winter camping, you're sure to hit a patch or two of this nasty stuff.
Knowing how to avoid it and how to handle it if you can't avoid it may save your life.
Black ice tends to hide in places that are shady, as well as on and near bridges or other low areas. While you should always be on the lookout for black ice, you may not always spot it, and may end up hitting it.
"So what do I do if I hit black ice in my RV," you ask?
Do NOT exit off the highway — going onto an off-ramp will cause your RV to accelerate
Keep your RV pointed straight
Use your brakes only if you MUST, but try to avoid
If you are towing something, turn down your trailer brakes to keep from jack-knifing
If you do come across black ice, stay calm. The more you panic, the worse the outcome will be.
4. Stay warm with a catalytic heater
Though it seems as if hiding under layers of down comforters in your RV will work, we don't recommend that as your only way of staying warm. Instead, you can keep temps high while winter camping in your RV by investing in a catalytic heater.
Why are these heaters the RVers heater of choice?
Because they don't require battery power, and create hazards by using an open flame to create heat like other heaters do.
In order to keep from having condensation form inside your RV from the heat of the catalytic converter mixing with the cold air outdoors, crack a vent.
5. Be ready for a hard freeze
If you're keeping your eye out on the weather as you should be (refer to #1 above), then you'll know ahead of time if the weather forecast shows a hard freeze is on its way.
For you, that means:
Detaching water lines
Detaching sewer lines
Cracking cabinet doors inside
Closing holding tank vents
Using small fan on interior water lines to keep them from freezing
You'll also want to be sure to bring a shovel with you to remove snow that gets higher than 2', thus putting your lines at risk of freezing.
---
Winter Camping Tips for The Tent Camper
We're guessing you find some joy in the cold outdoors if you're opting to camp in your tent outdoors this winter, and we couldn't be more excited about that!
Tent camping is not for the faint of heart, but it is a truly incredibly experience that will shine a whole new light on camping for you. But, before you go adventuring into the great outdoors, read the below tips to make sure you're properly prepared.
1. Pick a solid location
If you're a winter tent camping newbie, it is recommended that you stay somewhere close to an escape route.
The chances of something going wrong are slim, but if something bad happens, you don't want to be stuck hiking through 10 miles of snow before you get to your car, where you'll drive another 45 miles to get to help.
There are numerous fabulous scenic areas that aren't far off the beaten path. Check out this list to discover numerous top-notch ones that are open this time of year.
2. Dress the part
The key for camping outdoors in the winter is to layer it up.
Pack more than you think you'll need, and definitely more than you use for a day of skiing or snowshoeing. Your clothes will get wet, and you may not have a place to dry them.
Bringing extra changes of clothes will ensure that you stay warm. Waterproof and warm boots are also a necessity when tent camping in the cold. Cold feet will bring you some incredibly awful misery.
But, don't overdo it with the socks — you don't want to cut off circulation to your feet and toes.
Here is some other attire you'll want to bring with you:
Warm hat
Mittens
Gaiters
Goggles
Socks
Sunglasses
Sunscreen (yes, even in the winter! The sun reflecting off the snow can and will burn you!)
Headlamp
3. Have a sound sleeping structure
Knowing the weather ahead of time will help you to determine whether a standard tent will be enough, or whether high winds or heavy snows are expected that would require a more durable winter tent.
And don't think that a summer sleeping bag will cut it, because it definitely won't.
You will want to get a winter sleeping bag that is fit for temperatures that dip below freezing. In fact, you'll want a sleeping bag that is for temps more than 10 degrees colder than the coldest you're expecting while out there.
And, we highly recommend a sleeping pad to keep you up off of the cold ground.
4. Upon arrival
To keep you winter tent camping excursion safe and fun, there are a couple of things you'll want to do when you arrive to the campsite.
Pitch your tent. It's best to get this done as soon as you arrive so you don't run the risk of attempting to set it up in the dark.
Set up the rest of camp. Once you get back from your adventures in the snow, you'll want to quickly be able to put dinner together from the comfort of your sleeping bag. You can achieve this by setting up camp ahead of time.
5. How to stay warm
Chances are pretty good that you are going to get cold at one point or another while camping.
It's a good idea to bring a book, games to play, music to listen to, and other activities that you can enjoy from your sleeping bag.
And if you do find yourself getting cold, get moving. Rather than lying there in misery, go for a walk or do some sit-ups or push-ups to get your blood moving.
You may also want to bring along with you hot water bottles to lay next to you in your sleeping bag.
And, we definitely aren't against two-person sleeping bags that provide some serious body heat.
---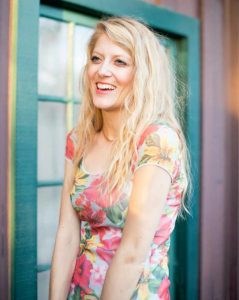 Leslie, a.k.a. Copy Girl, is a copywriter who gets butterflies from telling stories through words.
Her voice comes from a place filled with passion, dreams, and lots of sugar. "Cake over steak" is her go-to motto.
With over 10 years of experience in crafting words, and years of embarking on travels that have taken this Montana girl to some incredible places, Leslie love the adventures of both body and mind her writing takes her on.
Everywhere she goes, she takes this advice with her:
"Hold on to your divine blush, your innate rosy magic, or end up brown." – Tom Robbins, Jitterbug Perfume
To see what Leslie's up to in the writing world, visit her website here.
---