The Ultimate Guide to Winter Camping | Essential Gear, Tips & More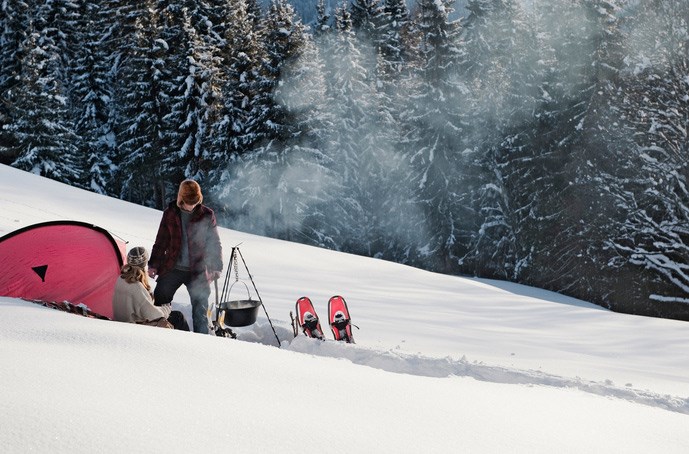 Are you someone who enjoys spending time outdoors? If you are ready to take your outdoor adventures to the next level, or just looking for a relaxing getaway after the busy holiday season, try winter camping.
Although cold weather camping is similar to traditional camping in many ways, there are several additional things to consider. That is why KOA has created the ultimate guide to winter camping, so you are prepared for the best winter camping experience possible.
Benefits of Winter Camping
Winter camping lets you connect with your loved ones during nature's most peaceful and refreshing time of year. There are also several other benefits to getting out there during winter:
Fewer crowds: Fewer people camp in the winter than they do in the summer, which means campsites and trails will be less crowded. If you are hoping for a relaxing, peaceful camping trip with less hustle and bustle, winter camping might be the ideal time for you. Winter camping also means you have a much better chance of avoiding costly gas or airfare associated with more popular summer vacation times.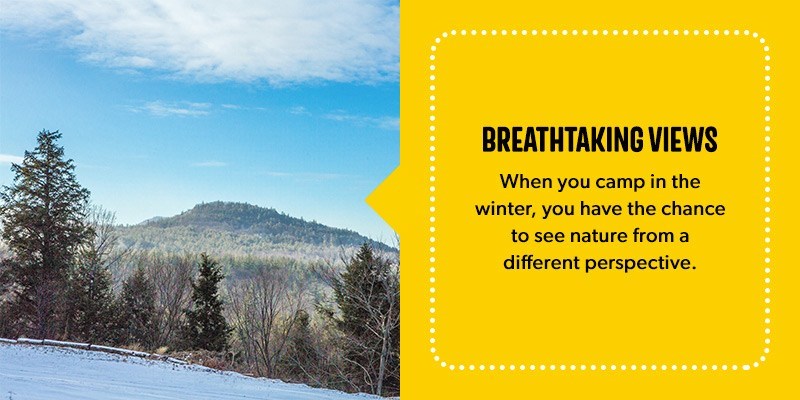 Breathtaking views: Summer, fall and spring each boast spectacular views — but few things are as breathtaking as sparkling snow and vivid sunrises. When you camp in the winter, you have the chance to see nature from a different perspective that is easy to miss other times of the year. Winter camping gives you a front-row seat to all the season has to offer. You might even get to see winter wildlife.
Outdoor activities: Winter camping offers a whole new world of recreation. If you choose a campground near the slopes, winter sports like snowboarding and skiing are a great way to stay active and warm. Take in all the winter has to offer by going on a winter hike. If your winter camping trip includes snow, building snowmen and having snowball fights at your campsite are fun options, especially for families with young children. Other cold-weather activities you might consider are snowmobiling, snowshoeing, sledding or hiking.
The Best Ways to go Camping in the Winter
There are several lodging options available for your winter camping trip. Maybe you want to experience winter in its fullest with tent camping. Perhaps you prefer to watch the snow sparkle from inside the comfort of your RV or rustic cabin. Whether you are seeking simplicity or luxury, KOA has you covered.
Be sure to check with your local campground before reserving your stay to see what specific amenities and lodging units are available.
1. Cabin Camping
Cabin camping lets your group enjoy nature from the comfort of log-style cabins equipped with electricity and beds. KOA has both Camping Cabins and Deluxe Cabin lodging options.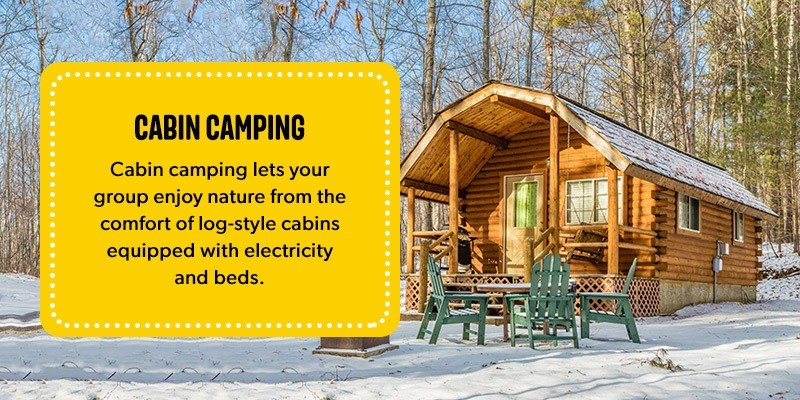 Traditional Camping Cabins have enough room for four to six people in one or two-bedroom layouts. Bedrooms have either full beds or bunk beds. All Camping Cabins have access to nearby restrooms and showers and also come with a fire feature for cooking s'mores and warming up next to in the evenings.
Deluxe Cabins provide the same protection from outdoor elements, but with private bathrooms and sometimes other convenient features as well. In addition to comfortable beds and varied floor plans, Deluxe Cabins may include extras like TVs, grills, patios, kitchenettes and fire pits.
2. Tent Camping
Tent camping in the winter is an adventurous choice. Three-season tents are usually adequate for winter camping, but if winds or heavy snowfall are possible, go with a four-season tent instead.
If snow is on the ground during set up, be sure to pack it down at the spot you plan to place your tent. Then, stake your tent to the ground to keep it steady. For sleeping arrangements, bring a sleeping pad along with your sleeping bag. Combining the two will keep you insulated and warm throughout the night.
KOA Tent Sites are spacious and level with a picnic table, fire ring and easy access to clean restrooms with hot water. Tent Sites are also located near waterspouts, so you do not have to haul water.
3. RV Camping
With proper planning and preparation, RV camping can be the ideal lodging choice for winter camping. KOA RV Sites are clean and level, with Pull-Thru and Back-In sites. Full hookups are available, with 30 or 50-amp service. Some RV Sites also include a KOA Patio™ for the ultimate outdoor experience.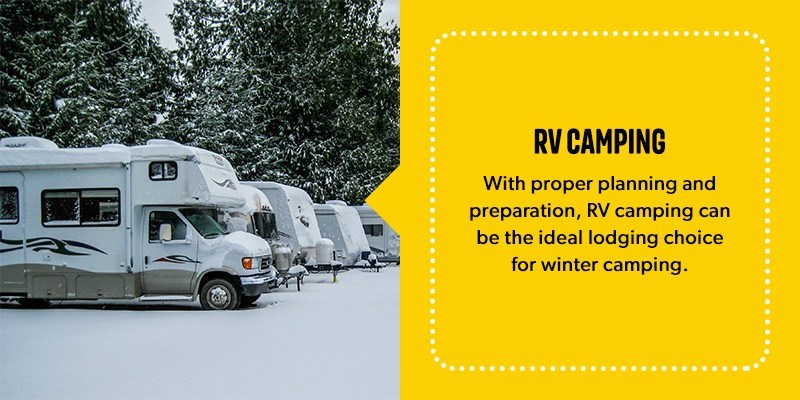 Before heading out, just make sure you winterize your RV:
Seal the windows and doors: This prevents cold air and moisture from sneaking inside.
Install window covering: Use window film or reflective foil to insulate your RV.
Use heavy drapes: Heavy drapes are a good insulator — plus, the thick fabric helps block cold-air drafts.
Insulate the floors: Insulate the floors of your RV with rugs, carpet or foam board flooring.
Install RV skirting: RV skirting around the base of your RV helps keep water tanks from freezing.
4. "Glamping" and Unique Lodging Options
"Glamping" is a combination of "glamorous" and "camping" and represents a type of camping experience that balances a love for the outdoors with comfort and luxury. KOA offers several unique lodging options perfect for campers and "glampers" alike:
Yurts: Originally found in Central Asia, yurts are hut-shaped tents that provide a unique and spacious type of tent camping.
Teepees: Teepees are a unique throwback to an earlier time — but that does not mean they cannot be comfortable. Teepee camping can include familiar conveniences, like futons or electricity. Some select KOA sites even offer teepee villages for large groups.
Tree House: Tree houses are self-explanatory — imagine your favorite childhood hangout, only bigger and more luxurious.
Airstream: When you camp in an Airstream, you are connected to a part of America's history. Since debuting in 1929, Airstreams have become an American icon. They are similar to an RV, only rounded and covered in aluminum.
Camping Caboose: Some KOA sites offer the option of camping in the renovated caboose of a train. They provide a memorable, historic twist for your next camping excursion.
Wall Tent: A wall tent is a tent with four walls. They may also be referred to as "safari tents." Wall tents are roomy, with enough space to accommodate your favorite amenities. They are a popular lodging choice for glamping trips.
How to Plan a Winter Camping Trip
Choosing your location and lodging type are only the first steps in planning a winter camping trip. You also need to pack the right gear, wear the proper clothing and understand how to keep warm in the winter chill.
1. Choose a Location
Although some close during the off-season, many campgrounds remain open in winter. Base your destination on availability, as well as the distance it is from your home. Winter often means hazardous road conditions — select a campground that allows for a safe trip to and from your destination. Keep in mind that, in addition to dangerous conditions, roadways may also be congested during certain parts of winter for holiday travel.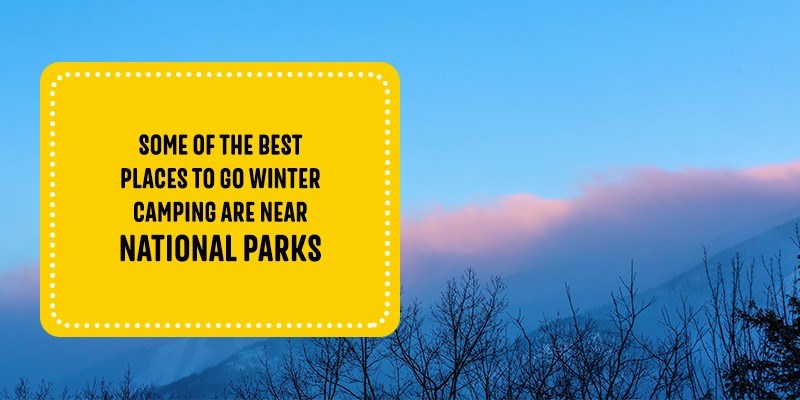 Some of the best places to go winter camping are near national parks, which are full of spectacular views and sightseeing.
2. Decide on a Lodging Type
Choose which type of lodging is best for you or your group. If your camping trip includes young children or elderly individuals, an RV Site or Deluxe Cabin may be the best option due to the protective shelter they provide.
Alternatively, if your group enjoys the thrill of "roughing it," Tent Sites offer camping in its purest form. Unique lodging, such as the safari tents or yurts, can also be an ideal choice for those wanting an ultra memorable camping experience. Be sure to check with specific campgrounds to see what they have available.
3. Plan Your Camping Gear
Are you unsure of what to pack for your winter camping trip? In addition to all regular camping gear, there are a few winter camping essentials you need to bring along:
Sunscreen: Just because the temperatures are cold does not mean you should forego the sunscreen.
Lip balm and body lotion: Cold weather is notorious for causing dry skin — keep your hands and face moisturized with lip balm and body lotion.
Matches or lighter: Bring along matches, a lighter or both to start your campfire.
Food, water and cooking utensils: The type of food and utensils you bring depends on your preferred lodging. For example, some Deluxe Cabins have kitchenettes, so fewer utensils are needed.
Tarp: Tarps are a multi-purpose camping tool. For wet, wintry conditions, drape a tarp over the roof of your tent. It can help keep cold and moisture out.
Insulated sleeping bag: An insulated sleeping bag will keep you warm at night.
Tent stakes, bed pad and tent heater: If you are tent camping, tent stakes, a bed pad and a tent heater are necessary to keep your tent warm and secure.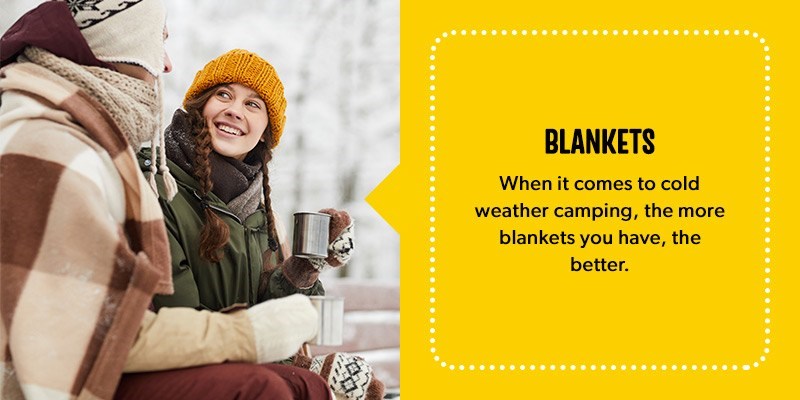 Blankets: When it comes to cold weather camping, the more blankets you have, the better.
Personal items: This includes personal hygiene products, appropriate clothing and indoor entertainment, such as a book or card game.
Ice and snow scraper: Use an ice and snow scraper to brush the snow away from for cars or tents.
Thermos: A thermos will keep your hot beverages warm.
4. Pack Proper Clothing
For the best winter camping experience, make sure you are dressed sufficiently to manage the cold weather. The key is to dress in layers: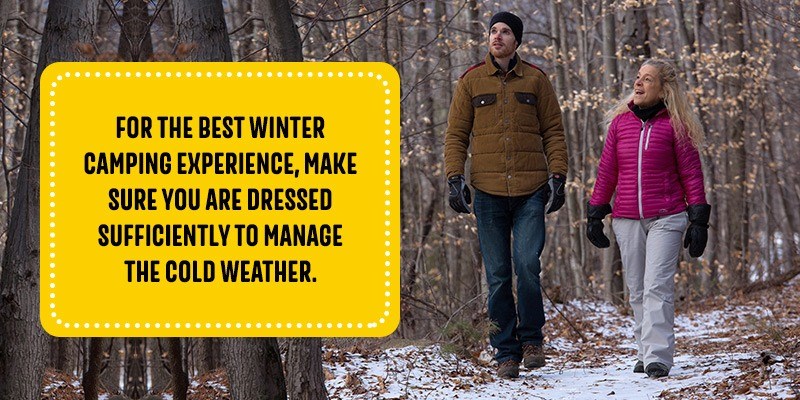 Hat: Choose a winter hat that covers your ears and is made of fleece, wool, fur or a similar fabric.
Base layer: Your base layer is the layer of clothing that rests against your skin. Materials should be thin and moisture-wicking, especially if you are spending time outdoors, where any sweat or moisture on your skin can quickly freeze.
Middle layer: The middle layer is all about insulation, so make sure you choose pieces made from thick and durable fabrics.
Outer layer: Your outer layer is considered your "shell" layer. The outer layer includes raincoats or winter jackets, whose purpose is to shield you from the elements.
Gloves: Your gloves should fit properly, meaning your fingers almost reach the tips of the glove, but not entirely. There should be a little bit of space between your fingertip and the tip of the glove — this is where heat is trapped. You should also keep in mind the kinds of activities you will be doing on your camping trip. If you plan to start your own fire, for example, you should choose a glove that allows plenty of finger movement.
Boots: Choose boots that are designed with snow in mind. They should be waterproof, well-insulated and fit correctly. Your boots should also have some grip or traction on the bottom.
6 Tips for a Successful Winter Camping Trip
Before you head out, here are a few more winter camping hacks to keep in mind.
1. Plan Your Menu
Because your body burns extra calories to stay warm, hearty, high-calorie meals are the best choice for your cold weather camping menu. Keep in mind, you may be cooking over a campfire or preparing ingredients in the cold, so meals also need to be simple to make.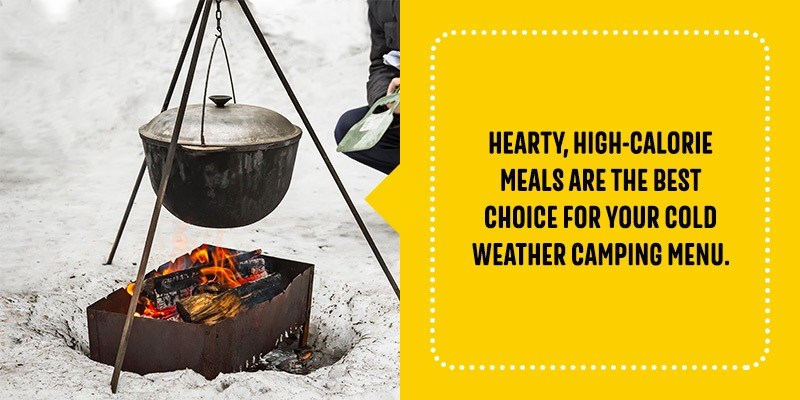 Store your food and water in freeze-safe containers, inside your duffel bag or camping pack. Store your bag in your car or lodging.
In addition to staying hydrated with plenty of water, bring along your favorite hot beverages and keep them warm in a thermos. Imagine yourself sitting around a campfire, sipping on hot cocoa or apple cider. Sounds pretty cozy, right?
2. Keep an Eye on the Weather
Always keep an eye on the weather before you embark on your camping trip and throughout the duration of your stay. Weather can change quickly, and in the winter, this could mean blizzards or sub-freezing temperatures. Monitor the weather so you can be prepared. In the event of extreme temperatures, it is important you can recognize the signs of cold-weather injury, including hypothermia and frostbite.
If you are tent camping and elect to use a winter camping tent heater, always make sure your tent is adequately ventilated to avoid reaching dangerous carbon monoxide levels.
Hypothermia may present itself as excessive shivering, slurred speech, weak pulse, lack of coordination, low energy, confusion or memory loss or unconsciousness.
Symptoms that may indicate frostbite are cold, prickling skin, numbness, joint and muscle stiffness, discolored skin or blistering.
If you suspect you or a loved one may be suffering from a cold-weather injury, seek prompt medical attention.
3. Bring Extra Socks and Gloves
Socks and gloves are two of the most integral layers for keeping your body warm. Bring several pairs of each, so you always have a dry pair to change into when the pair you are wearing gets wet.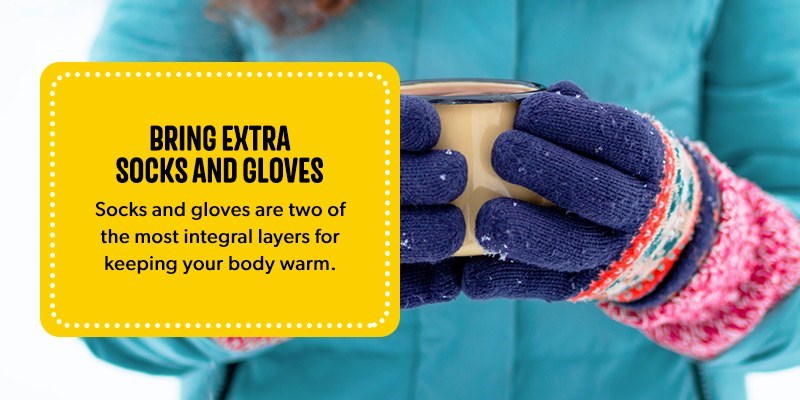 You may also want to bring hand warmers. These can be your best friend during cold weather camping. Hand warmers are single-use, air-activated heat packets you can keep in your pocket and activate when your hands get cold.
4. Plan for Indoor Entertainment
Although winter sports and snowball fights are a lot of fun, some days can be too cold or rainy to spend a lot of time outdoors. Make sure you bring along some indoor entertainment.
There are several options for having fun while indoors. You could play cards or a board game, listen to music or read a book. You might consider having an all-out movie watching event, complete with popcorn and pillow forts.
You could also pack up the car and go for a scenic drive if the roads are safe for travel.
5. Practice Caution If Bringing Your Pet
Many guests enjoy bringing along furry friends to enjoy the outdoors alongside them. Camping with pets is an excellent bonding opportunity, and it can be a lot of fun. However, if you are bringing your pet along for a cold-weather camping trip, you need to exercise extra caution.
Know when to leave your pet at home. If the weather predicts freezing temperatures or your pet is a small-breed animal, it may be too challenging to keep them warm and safe. Instead, leave them with a trusted sitter.
If you decide to bring your pet along for the adventure, follow these tips:
Mind the campfire: A campfire will keep you and your pet warm in the winter chill, but be sure your pet remains a safe distance away at all times to prevent injury or excessive smoke inhalation.
Dry your pet before bed: Nobody likes going to bed wet — your pet is no exception. Make sure your pet is dry before you turn in for the night so they can maintain a warm body temperature as they sleep.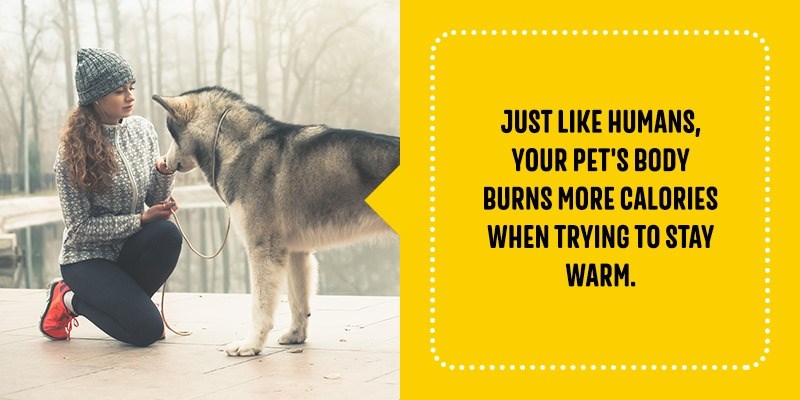 Bring extra pet food: Just like humans, your pet's body burns more calories when trying to stay warm. Make up for this expended energy with extra food — a few special treats would not hurt, either.
Stay active: The more active you and your pet are, the warmer you both will be.
Bring toys: Bring along your pet's favorite toys to keep them occupied while indoors.
Layer them up: Layer your pet in a warm coat or protective paw booties.
Call ahead: While some KOA Campgrounds do allow pets, some do not. Others may only allow them in certain types of lodging. Breed restrictions may also apply, though this is not common at all locations. Please note, some campgrounds may charge extra for pets. Check with the campground about specific pet policies before you head out.
Behavior: Dogs must be kept on a leash no longer than six feet any time they are outside your car or rental unit. Tethered pets may not be left unattended. Constant barking is not permitted. Hostile or aggressive pets — and their owners — will be asked to leave the campground.
Service dogs: Service dogs are always welcome at all KOA campgrounds. Leash and aggressive behavior rules do still apply.
6. Know How to Build a Campfire
Regardless of your choice of lodging, you want to know how to build a campfire — or at least have someone in your group who does. Campfires are for more than cooking or scary stories. In the winter, they are an excellent source of heat for you and your group of loved ones. You can also use a campfire and campfire grate to thaw frozen water.
Consider bringing along a hot water bottle. Fill it with hot water just before bed and stick it in your sleeping bag for extra warmth.
Find a KOA Campground for Your Winter Camping Trip Today
KOA offers the ultimate outdoor winter camping adventure complete with convenient amenities. When you reserve a stay at a KOA, you know what to expect — friendly customer service, great camping options and everything you need for a memorable camping trip.
While the availability of some features and amenities depends on each campground, every KOA guest has access to a laundry facility, playground, KOA Store and clean bathrooms with hot water.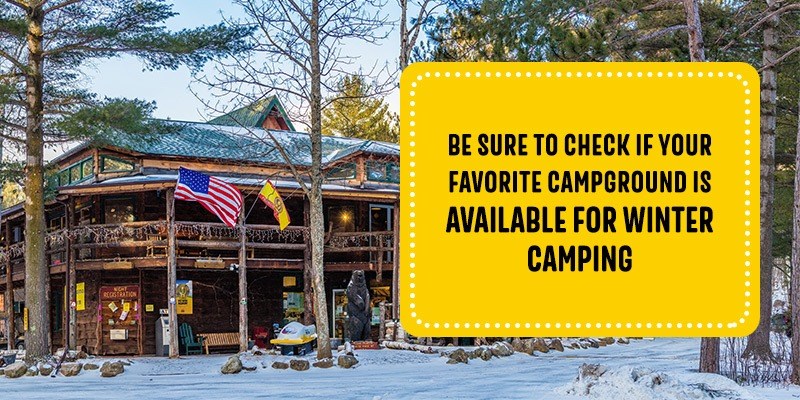 Not every KOA is open year-round, so be sure to check if your favorite campground is available for winter camping. Make your winter camping reservation at KOA and prepare to experience another side of the great outdoors. Visit us online or download our mobile app today.
---