Fun Fall Camping Activities, Packing Checklist, Meal Ideas & More
What to pack for fall camping
Fall camping clothing checklist
Fall camping gear checklist
Fall camping meals to try
Fun fall camping activities
Fall camping tips
When many people are packing up after the long summer season, others head out for some of the best camping of the year. As the weather cools, you can enjoy genuine quality time spent with your family and friends. Fall is a prime season for wildlife spotting and enjoying the outdoors without the hassle of bugs. Fall can also be one of the most beautiful seasons for viewing foliage, as trees burst with bright orange, yellow and red. There is nothing quite like camping in autumn, when warm days hiking and fishing fade into cool, crisp evenings gathered around a crackling campfire.
If you have never tried camping in the fall, we highly recommend giving it a shot this year. Our guide to fall camping will provide everything you need to know about the right clothing and gear to keep you and your family comfortable during your fall camping adventure. We will also throw in some fall camping tips for making delicious seasonal campfire food and finding fun activities for the whole family.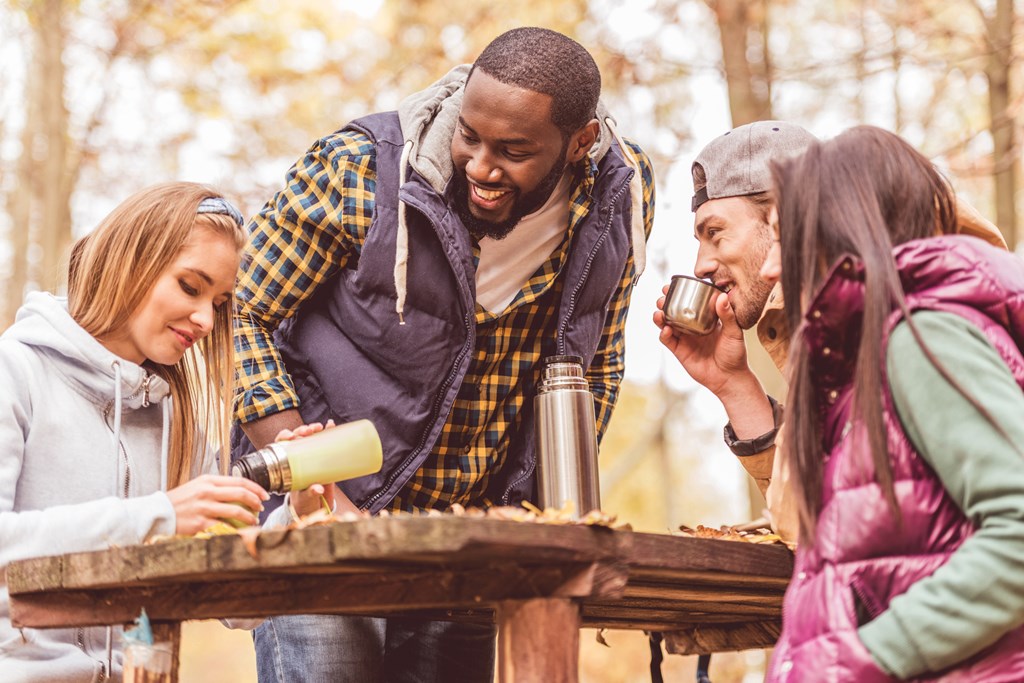 What to Pack for Fall Camping
Weather in fall can fluctuate quickly from warm and sunny to cool and wet. While it is hard to predict how the weather might change from day to day, you can prepare for anything by packing smart. When planning your fall camping clothing, make sure to bring a variety of layers so you can adapt to the weather and stay comfortable.
Base Layer
Start with a base layer made of light and breathable fabric that keeps your core insulated and warm. Choose a material that wicks away moisture to keep you dry, such as wool, polyester, fleece, nylon or silk. Never wear cotton clothing for your base layer, as it absorbs sweat and moisture and will only make you feel colder.
Mid-layers and Outer Layers
When choosing your mid-layers, pack a few different options so you can adjust to the changing temperatures, such as fleeces, sweaters and light jackets. Be sure to bring a good outer layer that is wind and water-resistant. Bringing rain gear, such as a poncho or rain jacket and pants, is also a smart idea for camping in the fall. If your regular hiking boots are not waterproof, you may want to bring a second pair that is.
Remember, heat escapes through your head, so one of the easiest ways to stay warm on chilly days is to wear a warm hat. Toss your favorite beanie in your camping bag in case you really need to bundle up. Your hands and feet can also get cold quickly, so always bring warm gloves or mittens and warm socks that will keep your feet dry. Wool or synthetic materials are a good choice.
Other Clothing Considerations
If you are camping with kids, make sure to invest in quality fall clothing. When kids are growing quickly, it can be tempting to have them wear whatever they already own, but having a waterproof jacket and warm base layer is just as important for kids as it is for you. When your kid does grow out of their hiking gear, you can pass it on to the next child or donate it. Shopping at thrift stores is also a great way to find affordable fall gear for kids, as many other parents have the same idea of giving away clothes after a season or two.
Perhaps the most important tip for packing clothes for fall camping is to always bring extras! If you get caught in a sudden storm and your shoes and socks get drenched, you will be very grateful you brought an extra pair to change into. Bring a backup pair of gloves or mittens and always bring one extra mid-layer. Fall camping can get somewhat cold at night, especially if you are in a tent. You will be happy to be able to bundle up in extra layers, instead of shivering all night.
Fall Camping Clothing Checklist
In summary, here is a quick checklist of what to pack for fall camping for you and your family:
Warm, moisture-wicking base layer
A variety of mid-layers
A water- and wind-resistant jacket
Rain jacket or poncho and rain pants
Sturdy, waterproof boots
A backup pair of sneakers or boots
A few pairs of warm socks
A warm beanie or hat
Gloves or mittens and a backup pair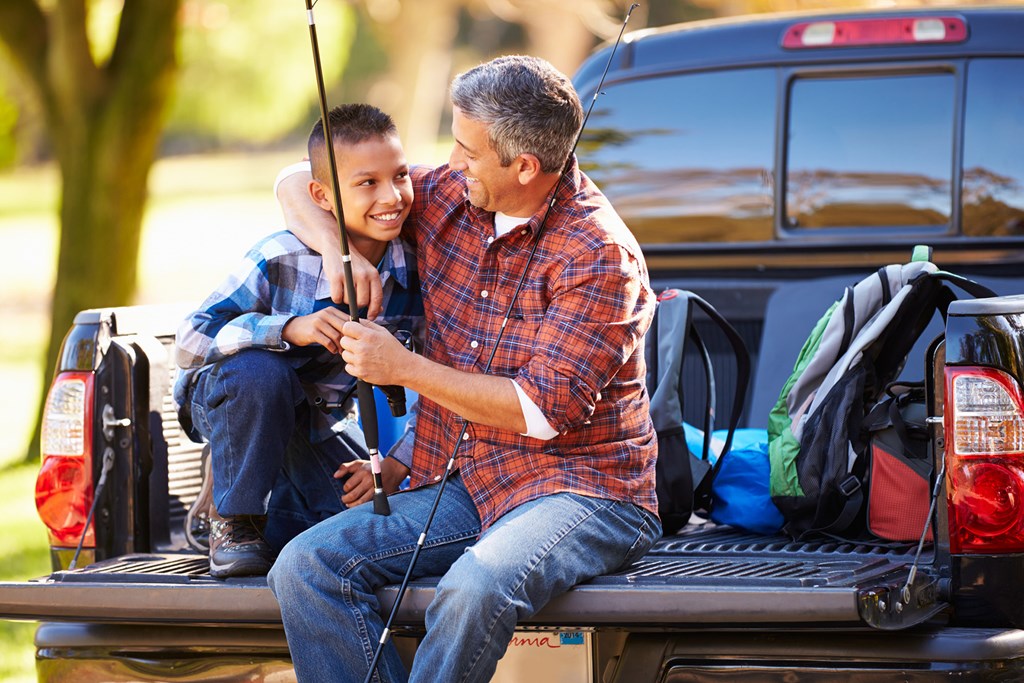 Fall Camping Gear Checklist
Having the right gear is also essential to making your fall camping trip a success. Whether you are roughing it in a tent or taking it with a little more ease in a cabin, having the right gear to keep will make your trip more enjoyable and protect you from the cold weather.
Here is a fall camping checklist of all the gear you will need to stay warm and comfortable for your trip:
A good sleeping bag: The best sleeping bag for fall camping will have proper insulation, with a cold tolerance of zero to 30 degrees. Down or imitation down is usually the best option, as it is lightweight, but also a powerful insulator. Always choose a sleeping bag that protects at temperatures lower than what you expect to encounter on your trip for the most comfort. You may also want to bring an extra sleeping bag in case you need to double up. When choosing a sleeping bag for kids, make sure to choose an appropriate size, as a sleeping bag that just fits them will better trap body heat and keep them warm through the night.
Sleeping pads: If you are camping on the ground, sleeping pads will be your best friend. Not only do they make the ground more comfortable, but they also insulate your body from the cold, which provides better heat retention.
Wool or down blanket: Wool and down blankets are excellent for keeping you warm and dry, while also being lightweight and easy to travel with. Toss a blanket on top of your sleeping bag on cooler nights, or bundle up inside your sleeping bag for even colder evenings.
Hot water bottle: Hot water bottles are ideal for a little extra warmth while sleeping. Heat water on your campfire or cookstove to fill your hot water bottle, then place it at the foot of your sleeping bag to keep your toes warm.
A tent with a rain fly: If you are camping in a tent this fall, make sure to choose a tent with a rain fly. Rain flies prevent your tent from getting wet, as most tents are not waterproof themselves.
A tarp or two: Bring a tarp to put under the tent to keep it drier so moisture from the earth cannot seep in. You may also want to toss a tarp over your rain fly for additional protection from the weather.
Plastic bags or baggies: Plastic baggies can protect valuables and electronics from the rain, such as your phone, camera or wallet. You may also want to line your backpack with a trash bag to keep your belongings dry.
Backpack: Make sure you have a good backpack for carrying your things while hiking or exploring. You may want to invest in a backpack with a rain cover as well.
Bug spray: One of the benefits of camping in the fall is that there are a lot fewer pesky bugs to deal with. However, it is better to be safe than sorry and grab a can of bug spray. If you are camping near bodies of water, you may still encounter some mosquitoes in the fall.
Sunscreen: In the cool fall air, it is easy to forget to protect yourself from the sun. However, you can still get sunburned or damage your skin in the fall if you do not use proper protection.
Portable light source: Days are shorter in the fall, so it will likely be dark before you are ready to hit the hay. Make sure you have a flashlight, headlamp or lantern for navigating your campsite after dark.
First-aid kit: A first-aid kit is a must-have safety feature for any camping trip. Scrapes and cuts are a possibility when you are experiencing the great outdoors, no matter the season, so it is always best to be prepared!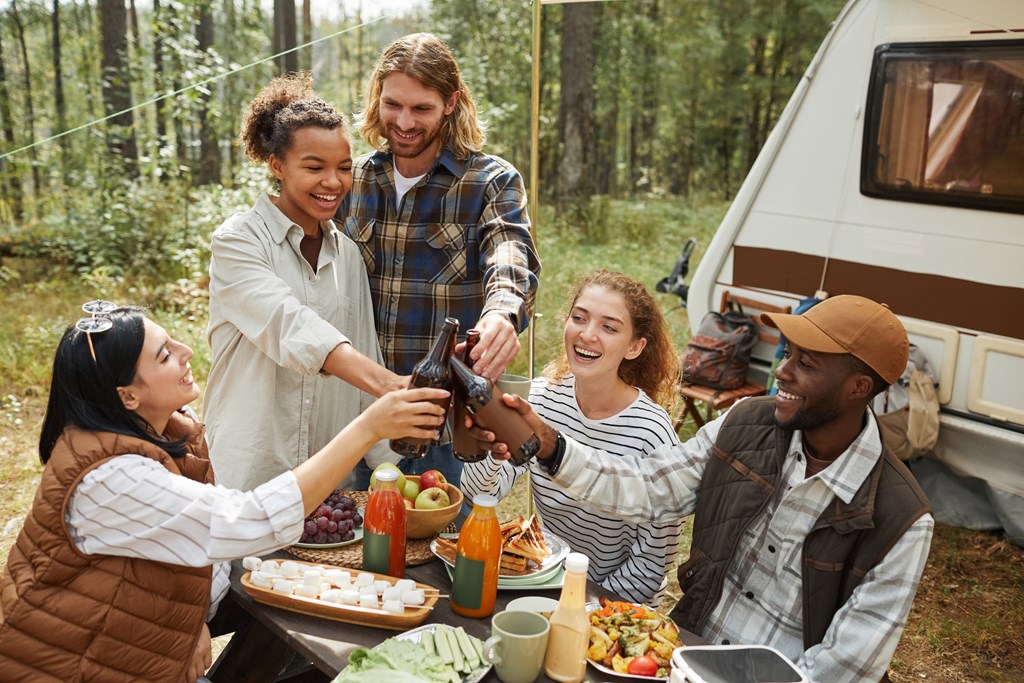 Meals to Try on Your Fall Camping Trip
Another reason we really love camping in fall is the food. Cold weather encourages us to cozy up and enjoy warm comfort food cooked over the campfire. When planning your fall camping menu, choose recipes with a lot of carbs and good fats. These will keep your body fueled as it is working hard to stay warm.
We recommend planning your meals and prepping them as much as you can before your trip. Limited sunlight hours also mean you may have less time to prepare your meals, and food may take a little longer to cook in the cooler weather. Having your camping meals prepped and ready to go will make it easy for you to toss them on the fire and enjoy. When packing your camping kitchen, you will want to bring a Dutch oven or cast-iron skillet if you plan to cook over the campfire. You may also prefer to bring a camp stove, which gets the job done just as well. Make sure to keep perishable items in a cooler so they do not spoil before you have a chance to enjoy them.
Here are a few simple and delicious fall camping meals that are perfect for a hearty meal in the woods.
Fall foil packets and hobo pies: Foil packets are a classic campfire meal that is almost too easy to make. Simply spray a sheet of foil with nonstick spray and fill it with your favorite vegetables, meat and spices or use a pie iron. Our classic hobo pie uses hamburger meat, potatoes, carrots and onions. For a fall twist, we recommend adding chopped apples and sweet potatoes and seasoning your pack with cinnamon and cloves. You can also opt for a seasonal fall sausage or ham instead of hamburger meat, like our ham and sweet potato foil pack. When you have filled your foil pack to your liking, close the foil into a packet, making sure to seal all the edges. Cook your packet for about 30 minutes, rotating it occasionally. You can cook your packet on a grate over your fire or place it into the coals, but never cook it directly in the fire's flame. If you are cooking your hobo pack in the embers, be sure to double-wrap the foil so it does not burn through. To open your hobo pack, slice through the foil with a knife, being careful to avoid the steam. Transfer the contents to a plate or enjoy right from the foil. If you are cooking with a large group, use a marker to write each person's initials on their pack.
Campfire chili: Campfire chili is another easy, yet versatile, meal that is perfect for a cool fall evening. Try our quick and easy chili recipe, or make your chili your own with your favorite combination of meat, beans and veggies. Begin by lightly browning your meat in a Dutch oven. Add chopped tomatoes, onions, peppers, beans and any other veggies you want. Mix in some spices, such as chili powder, garlic, paprika and cumin. If you like it spicy, toss in some dried cayenne pepper or chopped jalapeno pepper. Cover your chili and allow it to simmer for about 30 minutes. Enjoy your chili straight from the pot, or serve it with tortilla chips or cornbread.
Cinnamon rolls on a stick: Cinnamon rolls on a stick are perfect for a quick and easy breakfast to get your day started or a fun dessert to complement your after-dinner marshmallows. This recipe uses only crescent rolls, sugar and cinnamon, so it is easy to pack and even easier to make. Wrap a crescent roll around a stick or wooden skewer and sprinkle it with cinnamon and sugar to your liking. Cook your cinnamon rolls one the stick over the fire until golden brown.
Baked spiced apples: For a delicious fall camping dessert, grab some Granny Smith apples and core them, leaving a bit of skin at the bottom. Mix dried fruit of your choice with fall spices such as cinnamon, nutmeg and brown sugar. Fill the apples with fruit and place a small piece of butter on top. Wrap your apples tightly in tinfoil and place them in hot coals. Depending on the heat of your coals, you may want to double-wrap them. Rotate your apples periodically, and remove them to enjoy after 30 minutes. If you do not like dried fruit, try our simple and sweet baked apple recipe with sugar, butter, cinnamon and caramel.
For true chefs or anyone who wants to enjoy more traditional cooking methods, consider a Deluxe Cabin with a kitchenette for your camping trip. Many KOA campgrounds offer this option to make cooking on your fall camping trip even easier. Campsite options vary by campground, though, so be sure to check with specific KOA locations to see what's available!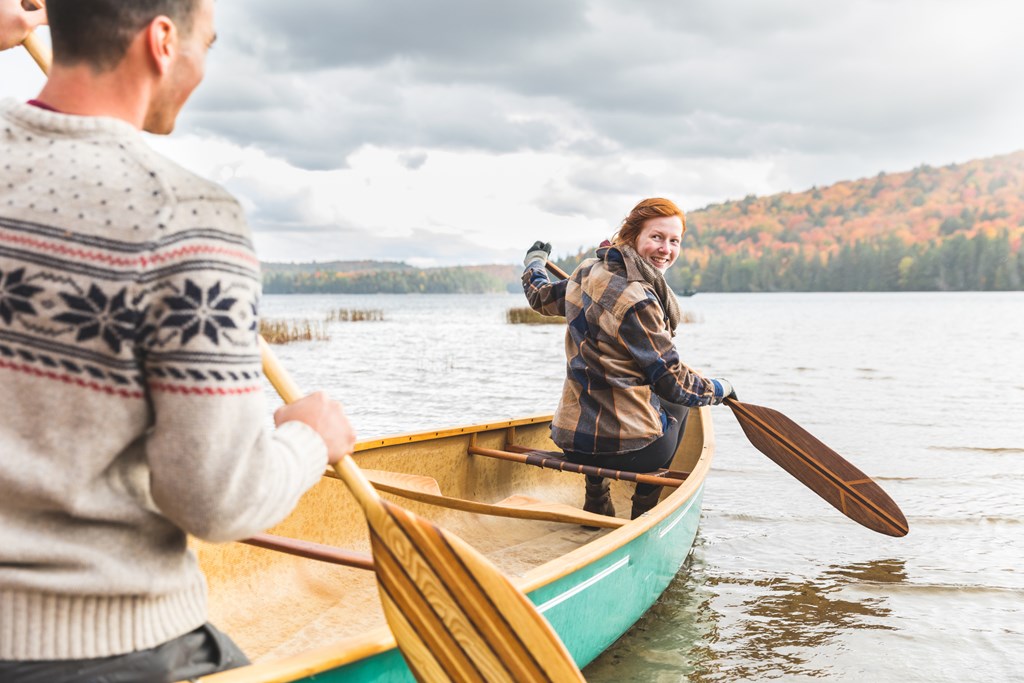 Fun Fall Camping Activities for the Whole Family
Don't let the cooler weather keep you from enjoying everything the season has to offer. Fall is the perfect time to head outdoors for hiking, leaf peeping, berry-picking and many more seasonal activities. Here are a few activities to try on your next fall camping trip.
Take a long hike: Fall is a great season to enjoy a long hike without overheating, and there are often less insects about. Pick a day that is not too wet to avoid slogging through mud. Bring a backpack with snacks, water and a few extra layers in case it gets cool or starts to rain. If possible, pick a trail with great fall foliage or a stunning view at the top!
Go leaf peeping: Leaf peeping is a great way to relax and unwind while enjoying one of the most beautiful parts of the season. View beautiful and brightly colored foliage while taking a stroll or driving on a scenic road near your campsite.
Pick berries: Many delicious wild berries are prime for picking in late summer and early fall throughout the U.S. and Canada. Blueberries are typically ripe in July and August, but blackberries and raspberries linger later into the fall, and you can often pick them until the first frost. Look for "pick your own" berry patches at farms near your campsite.
Go canoeing: While swimming season may have passed, you can still enjoy lakes and rivers in the fall. Gear up and hop on the water in a canoe. Make sure everyone in your family wears a life vest, and remember it is not the ideal season for flipping your canoe!
Fall fishing: If you love fishing, you know the end of summer does not mean you need to put your poles away. Fish will still be biting in the fall, but plan to fish later in the afternoon or evening after the water has warmed up a bit. Fall fishing is an excellent season for trout, pike and many other popular catches.
Carve pumpkins: This fun seasonal activity doesn't have to wait until Halloween. You can enjoy pumpkin carving throughout fall and make any design you choose. You can toss a few pumpkins in the car before heading out for your trip, or buy them locally when you arrive at your campsite. The best part about carving pumpkins while camping is that you don't have to worry about protecting the living room floor from pumpkin guts and seeds. If you need some inspiration for your pumpkins, check out our camping-themed pumpkin-carving templates.
Attend a festival: Fall is a season full of fun festivals the whole family can enjoy. Look for festivals in the area where you will be camping, such as apple festivals, corn mazes, Oktoberfest, Labor Day celebrations or Halloween events. These festivals will have plenty of great food and activities for the whole family.
Play indoors: If the crisp weather does drive you back into your tent or cabin, you can still enjoy fun games with your family. Pack a deck of cards, board game or even a book to read aloud.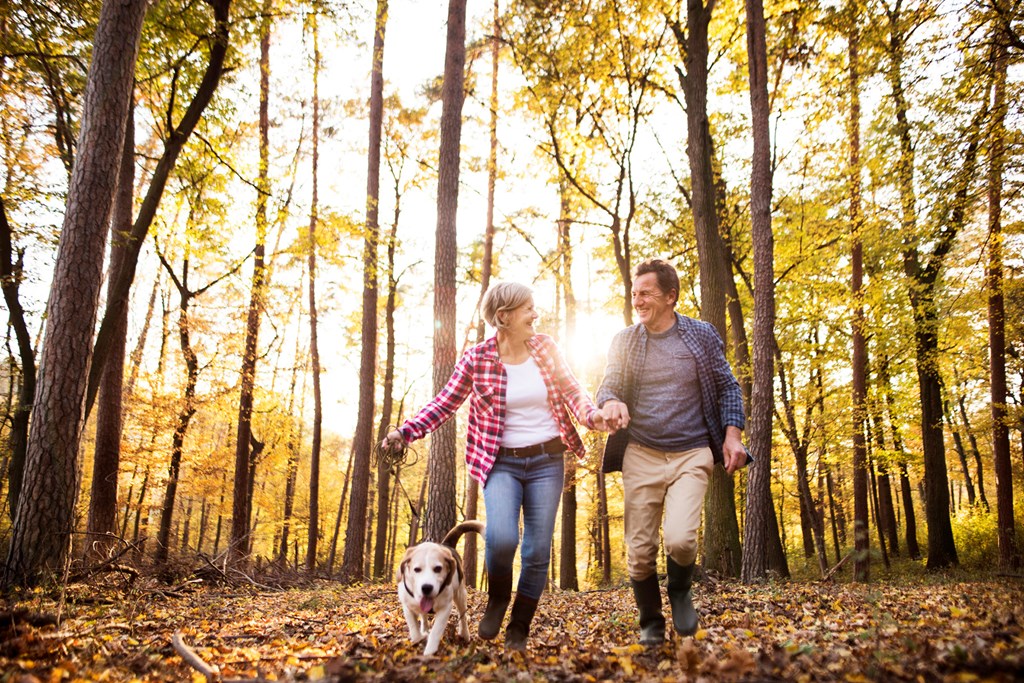 Other Tips for the Best Fall Camping
To wrap it up, here are a few more quick tips to make the most of your fall camping.
Find your perfect location: Depending on your favorite fall activity, different areas will provide different ways to enjoy the season. Research the best areas to spot wildlife, see colorful leaves or pick berries.
Leave time to get set up: Remember it gets dark earlier in the day, so you will get caught setting up in the dark if you don't plan ahead. Try to arrive at your campsite with plenty of time to get settled before sundown.
Watch for wildlife: Be sure to pack up all your food at night and store it somewhere safe, so you don't attract unwanted attention from wildlife.
Stay hydrated: In cooler weather, it is easy to forget how essential it is to drink water. Remember to stay hydrated, and always bring a water bottle when hiking or doing other strenuous activity.
Plan ahead: While this may seem common sense, it is worth repeating that you should always plan and try to prepare for anything that may come your way. Make a packing list in advance and check it off while packing to make sure no one in your family forgets something essential. Watch the weather leading up to your camping trip to pack the right clothing and stay warm. Plan a few activities you want to do on your trip to maximize your time for fun.
Plan Your Next Fall Camping Trip at KOA
If you want to beat the heat and enjoy the tranquility of nature, fall may be the best time to go camping with your family. When you decide to venture into the great outdoors this fall, KOA campgrounds have everything you need to make it a memorable trip. With more than 500 locations across the country, you can enjoy some of the best places to go camping in the fall, no matter where you and your family want to travel. KOA offers traditional sites for tent camping with our added touch of a firepit, picnic table and a perfectly level and dry spot to pitch your tent. Many of our locations also offer Premium Tent Sites with a convenient electric hookup and plenty of space to stretch out and relax.
If you don't feel like tent camping, lodging options such as Camping Cabins or Deluxe Cabins may be a good fit! Our Camping Cabins offer convenient amenities, including electricity and beds. Our Deluxe Cabins feature beds, electricity, private bathrooms and some offer additional features like stocked kitchenettes and bed linens.
When you camp at KOA this fall, you will enjoy the benefits of more than five decades of experience that make the KOA experience so unique. Each of our campgrounds offers fun features while providing essential standards such as clean bathroom and shower facilities, self-service laundry and playgrounds for the kids. Our friendly staff will help make your stay as comfortable as possible and many campgrounds offer additional perks, such as game rooms, mini golf, bike rentals, fishing, hiking trails and seasonal events.
Join us this fall for a camping trip you and your family will never forget!
---