6 Adventures You Should Consider For Your First Trip After Retiring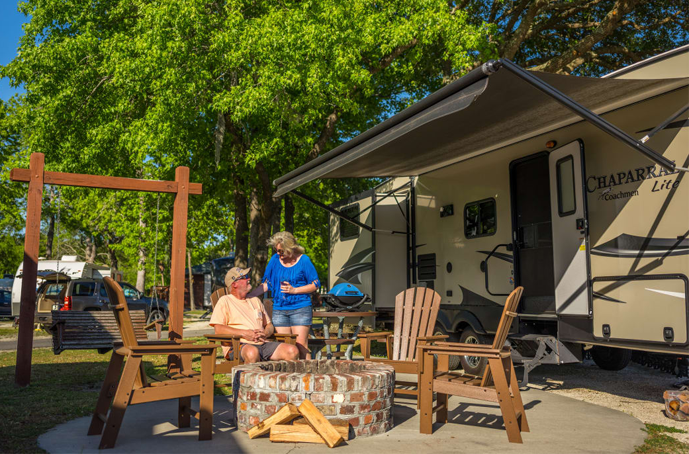 You've put in the time, done the work, and saved the money. You've earned your retirement and the freedom to explore. The question is: where do you start? You'll have plenty of time to explore the nooks and crannies of America's small towns and out-of-the-way sites. But this occasion deserves something bigger. Something that's grand, monumental, and giant, even.
Once you decide where you want to go, finding a place to stay is easy with KOAs all across the country—there's usually one nearby where you are going. Whether you are RVing or camping in a tent, you will find clean campsites and plentiful amenities to keep you comfortable and entertained.
From the world's longest cave system to killer whales and the grandest of canyons, here are six adventures big enough to be your first trip after retiring.
1. Learn the History and Geology of Mammoth Cave National Park
Nearby KOA: Horse Cave KOA
For thousands of years, people have visited the caverns at Mammoth Cave National Park to escape war, find shelter, and even cure diseases. On the Extended Historic Tour, park rangers take modern-day visitors through some of the most popular rooms and passageways of the cave system, revealing important points of history as they go. There's even a visit to an old underground hospital and saltpeter mine. This walking tour is two miles long and takes two hours and 15 minutes to complete. Note that it includes some stairs and narrow walkways.
Extras : Go topside for a walk or ride on the park's 84 miles of hiking, horse, and biking trails.
2. Explore Hydrothermal Features at Yellowstone National Park
Nearby KOA: Yellowstone Park / West Gate KOA
Old Faithful gets all the glory, but there are actually an estimated 10,000 hydrothermal geologic wonders in Yellowstone National Park. All fall into one of four categories: hot springs, mud pots, fumaroles, and geysers. You can experience them all on a walk along the Fountain Paint Pot Trail. This 0.6-mile, boardwalk trail is suitable for almost every adventurer and will leave you with plenty of time to gawk and awe at the park's incredible wildlife.
Extras: After nearly 70 years, wolves were reintroduced to the park in the 1990s. Spot one of these majestic and highly social animals on your own or take a private tour.
3. Kayak Amongst the Cypress Near Charleston, South Carolina
Nearby KOA- Mount Pleasant / Charleston KOA Holiday
Blackwater creeks are not as ominous as they sound. They are simply rivers so rife with vegetation that their tannins stain the slow-moving water to a dark tea color. On the Edisto River, these blackwaters flow gently under a canopy of giant cypress and tupelo trees, making a paddle through them feel like a journey to a time long before people roamed the earth.
The Edisto River Kayak and Canoe Trail runs for 62 miles with several options for short or long day trips. There are many accredited river guides that can supply all your gear plus a dose of local knowledge for your trip down this incredible waterway.
Extras: Witness Antebellum history and exquisite low country cuisine on a stroll through Charleston's French Quarter.
4. Get an Intimate View of the Grand Canyon
Nearby KOA: Grand Canyon / Williams KOA Journey
Visiting the largest canyon in the world deserves a place on almost every adventure bucket list. And you don't have to take a knee-crushing hike to experience it. A walk along the South Rim Trail will reveal some of the most amazing viewpoints in Grand Canyon National Park.
The South Rim Trail begins at Grand Canyon Village and runs near the canyon's edge for 13 miles. To get to the good stuff, and escape some of the bustle at the village, take the shuttle to Yavapai point about four miles in. From here, explore the glass observation center and continue to your heart's content. The trail has a few rises, but is pretty forgiving. There are shuttle bus stops at regular intervals for the return trip to the village.
Extras: The Wave, a unique and popular feature in Vermillion Cliffs National Monument, is less than two hours from Grand Canyon National Park. Note: This is a very popular spot and you need a permit to view, so be sure to plan ahead for this one.
5. Hike Under Giant Redwoods
Nearby KOA: Crescent City / Redwoods KOA Holiday

Dan Meyers
Giant redwoods, also called coastal redwoods, are among the most impressive organisms on earth. Just look at the numbers. A single tree can grow to 370 feet tall, 24 feet in diameter, and live for 2000 years. With these behemoths standing sentinel, a walk through the Prairie Creek Redwoods State Park in California is an otherworldly experience. Dappled sunlight, whatever has made it through the hovering canopy, alights upon a lush forest floor of bright green ferns.
You can get a quick immersion into this special place via a 4-mile return hike on the Prairie Creek Trail. The trailhead is near the visitor center and the trail is relatively flat. If you have a full day to explore, you can opt for the 9.6-mile James Irvine Trail loop.
Extras: Tolowa Dunes State Park is nearby. Here, you can easily experience the Pacific Ocean, ancient sand dunes, and one of the finest examples of wetlands on the west coast.
6. Get Up Close and Personal with an Orca
Nearby KOA: Burlington / Anacortes KOA Holiday

Thomas Lipke
Witnessing a 30+ foot orca launch 90% of its body out of the water is a sight you won't soon forget. Also known as killer whales, orcas abound in the waters that surround the San Juan Islands north of Seattle. These beautiful creatures, which are actually the largest dolphins, breach often as a form of communication.
Orcas are prevalent around the island from late spring through early fall and there are plenty of ways to find them here. The most comfortable and convenient is taking a whale-watching cruise. There are tour operators on and near the islands to choose from. You can also spot Orcas from land. Lime Kiln Point State Park is a popular place to do it. Finally, if you're adventurous enough, you can take a kayak tour and see Orcas from sea level.
Extras: Whatcom Falls Park is a gorgeous, 241-acre preserve near Bellingham, WA. The park has four picturesque waterfalls, all easily accessible as a day hike.
Whatever adventure you choose as your first post-retirement getaway, the most important thing to remember is to relax and have fun. Let go of your work worries and take the time to explore the amazing adventures across the country as you settle into your new "life-as-a-retiree" mindset.
Written by Rob Glover for Matcha in partnership with Kampgrounds of America.
---