When Margo Armstrong wanted an RV, she did her homework. She searched online, toured lots, took test-drives, combed through online forums and checked recall histories. She settled on a model that seemed to require the least maintenance, found a used one and had it inspected by a reputable RV repair service. "I've been a happy camper for seven years now," she says.
Armstrong blogs about RVs at RV Lifestyle Experts, so she brought some insider knowledge to the shopping process, especially when it came to the many choices around options and features. (It is a motor home, after all.)
When you're looking for an RV, it's crucial to think about your unique needs, and it pays to go the extra mile. Whether you're recently retired and planning regular adventures, or looking for some weekend fun with the kids, you'll want to do some research before you hit the road.
Here are the first steps toward finding your dream RV.
1. Find the Perfect Fit
"The first thing you need to ask is: 'How am I going to use it?'" says Silvana Clark, an RV expert and consultant. Once you know what you want the RV for, you can decide which size to start looking into.
RVs fall into three main categories, or classes. Class A motor homes, the largest RVs, are designed for the longest of long hauls, with plenty of sleeping space, fully outfitted kitchens and "slide outs" for extra room. They can stretch as long as 45 feet and can cost as much as a house—typically anywhere from $60,000 to $500,000 new.
Class Bs, also known as camper vans or camping van conversions, are roughly the size and shape of a van, but with a raised roof. The combination of better fuel efficiency, driving ease and a sizable sleeping area makes them popular for shorter road trips, or when traveling with just a few people. They can run from $60,000 to $130,000.
Class Cs, sometimes called mini motor homes, are more modest versions of Class As. They feature a bed in the cabover section (the part of the vehicle above the driver) and are appropriate for longer trips. Prices could range from $43,000 to $200,000 new.
If you're not sure that you're ready for a full-fledged motor home, you may want to consider an attachable trailer or a fifth-wheel camper, which must be pulled by a truck with a special hitch.
2. Stay In Your Budget
When setting your budget, consider not just the cost of the RV but also the expenses along the journey. Clark recommends thinking about the types of places you'll go before you decide to splurge on optional features.
For example, it's easy to be seduced by an RV with features like a washer and dryer or an outdoor kitchen, but the bells and whistles are only worth paying for if you're certain you'll need them. "We lived in our RV for 19 months," says Clark, but because commercial campgrounds tend to have laundry facilities, "it didn't even occur to me to have a washer and dryer."
Another factor to consider is fuel. RVs take gas or diesel fuel, depending on the model, and while regular gas is slightly cheaper than diesel fuel, some RV owners find their diesel engines to be more powerful and longer-lasting, says Clark. Still, fueling an RV isn't cheap, period.
Once you're ready to hit the road, search for campgrounds on KOA.com where you'll find places that offer amenities like swimming pools, playgrounds and plenty of room for RVs. You'll find KOAs all over the U.S., from Fort Lauderdale to Washington state's Olympic Peninsula.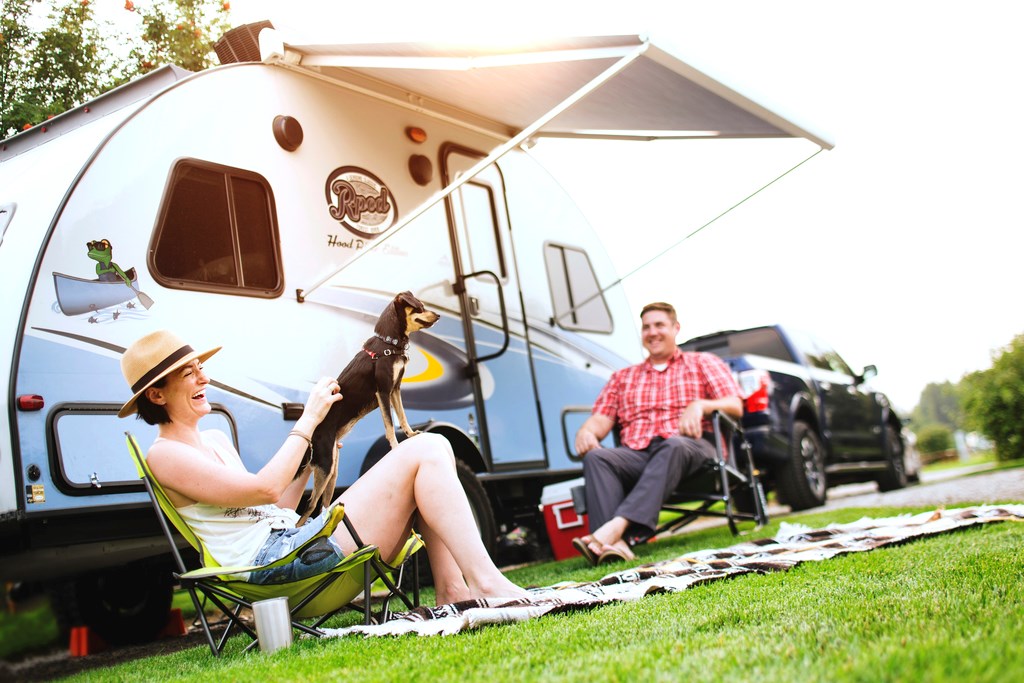 3. Stay Flexible
Knowing the ideal place and time to buy could save you a pretty penny. Peak RV-buying season in the south is Memorial Day through Labor Day, says Armstrong, so snowbird off-season is the time to get the best price.
Also, don't restrict yourself to your immediate area. "Traveling to the nearest snowbird destination at the start of the off-season can be ideal,"says Armstrong. "The lots are full of unsold units and dealers need to move them." In addition to both the Gulf and Atlantic coasts of Florida, popular snowbird destinations include South Carolina, Arizona, New Mexico and Texas. Armstrong also recommends a lightly used RV over a brand-new one, as the savings could be well worth a little wear and tear.
4. Test It Out
Once you've found a good match, a thorough test-drive is essential. As with any vehicle, Armstrong says, you'll want to check the steering, handling and braking.
If you're buying a used RV, consider the age and condition of the tires and the engine. Make sure all appliances are in working order, including the toilet, then check for water damage to the roof and interior, and keep an eye out for mildew or mold. Assess any framing damage by making sure the doors open, close and lock perfectly. Look for a working generator and new batteries, and check to see if there's an inverter.
When you're ready to make your selection, says Armstrong, RV insurance is a necessity, as is having the vehicle professionally inspected before purchasing. The National Recreational Vehicle Inspectors Association can recommend certified RV inspection specialists, as can your local RV repair shop.
Happy travels.
No RV purchase is complete without RV insurance. Get a free quote from GEICO today.
Post by Lisa Freedman and Lacey Vorrasi-Banis courtesy of GEICO.
---