Living the RV lifestyle is a huge responsibility, but with a little education you can be a responsible RV owner and operator. Apart from the initial financial investment, there are also various regulations that apply strictly to RVers. Knowing and understanding state-specific traffic laws, community parking ordinances and even the rules of local storage facilities are all a part of living the life.
State-Specific Traffic and Road Laws
Members of the RV community are found across the country and even around the world.  As a result, the rules that apply to RVers on the East Coast might not apply to owners on the West Coast. Complicating the matter even further are newly introduced ordinances, rule changes and revisions that are bound to occur at any time. Although it's nearly impossible to remember every specific law from state to state, there are some general rules and standards to keep in mind: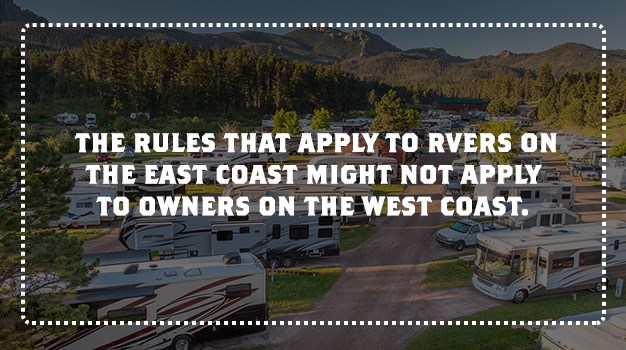 Most states maintain a height limit of 14' for all RVs, but restrictions of 13'6" are quite common.
The length of your motorhome or trailer is likely limited to 40' or 45'. Motorhomes that include a separate trailer are generally limited to a total length of 50' to 65'.
Nearly every state requires the presence of both a safety chain and breakaway switch for securing your RV. Separate brakes are usually required for trailers more than 3,000 lbs.
Some states, like Maryland and Massachusetts, do not allow the transportation of LP gas between certain points, primarily within tunneled highways. You'll want to plan alternate routes if your RV uses LP for any appliances or features.
Many state and local ordinances don't allow long-term RV parking on the street in front of your home.
Remember, these laws and regulations are in place to ensure the safety of you, your passengers and the other drivers on our nation's roadway. Failure to follow these laws could result in fines or, in the case of repeated or serious violations, loss of driving privileges.
Local Parking and Storage Laws
Just in case the rules of the road weren't enough, you'll also have to operate in compliance with any local parking laws, ordinances or restrictions. These can vary even more than state laws, so familiarize yourself with the local rules of any neighborhoods you're planning to visit.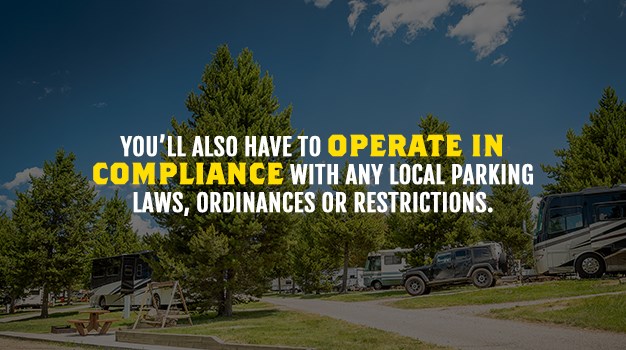 Some communities do allow overnight RV parking on some streets, but other cities are cracking down on this practice. Many state-designated rest areas feature parking that is reserved specifically for RVs, but availability is often limited.
Long-term RV storage is also a finicky subject. While some states allow the storage of personal RVs on your own property, certain communities or homeowners' associations might have their own rules. Others might require a covering or even a permanent structure to house your RV during its downtime. Parking an RV in a restricted area or failing to abide by these regulations, regardless of your prior knowledge of local rules or ordinances, might result in a hefty ticket.
Planning your RV parking and storage ahead of time will make traveling in your RV – and your off-season – much more enjoyable.