Thinking about renting an RV for the first time? These quick tips will help you pick the right type of rig for you next big adventure.
Do you love road trips?
Us, too. Going out on the wide, open road, in search of a great place to set up your tent to camp for the night and explore all the area has to offer is one of the most magical feelings.
But have you tried road tripping in an RV?
If not, then this post is for you.
While we are all about tent camping, and cabins too, we are also all about trying new camping experiences, and one of those things is camping in an RV.
However, we also recognize that purchasing an RV is quite a pricey investment, especially when you haven't traveled in one before.
But don't worry — we've got a solution for that: you can rent one!
Renting an RV from Outdoorsy or another rental agency is the perfect way to get the full experience without suffering sticker shock from an RV's massive price tag. If this your first time renting an RV, you may be feeling overwhelmed with where to begin.
Throw your stress away and simply keep reading to find out what you need to know in order to rent the perfect RV for your epic camping experience.
Choosing an RV to Rent
To make sure that you rent the RV you need for your road trip, you will first want to answer a few questions.
So, let's dig into them.
1. What camping experience are you looking for?
If you're into more simple camping, then a travel trailer will work great. This vehicle offers up the basics, but not much more.
However, if you're imagining a more luxurious camping experience, then you're going to want to opt for a Class A RV that has nearly all the offerings you'd find in an apartment.
The options for types of RV to rent are many, and by first determining what type of camping you're hoping to experience, you'll be able to take the first step in the renting process.
2. Will you be parking your RV for a while, or moving a lot from place to place?
The amount of moving around you do while on your camping trip should help determine what type of RV to rent.
If you plan to be moving around a lot, you may not want to rent a massive RV. First of all, the bigger they are, the more gas they're going to eat up. Moving your RV from location to location every few days will start to burn through a lot of gas, and thus start to burn a hole in your wallet.
Also, you may tire of hooking up, and unhooking every day or two to move onto the next camping spot as you'll have to do with bigger class RVs.
3. Do you want to use your truck to pull the RV?
Obviously, if you want a type of RV that you can pull behind your truck, you are not going to be renting a massive Class A rig.
Instead, you're going to opt for a travel trailer or a fifth wheel that you'll be able to use your truck to haul.
However, make sure that the size of your truck is correct for the the trailer — they do have to be compatible.
If your truck and the trailer don't match up, chances are very slim you'll be heading to the dealership to trade your truck out for a new one that will fit your rental fifth wheel or travel trailer.
Instead, you may want to opt for a Class A RV, or another type that doesn't require a car to tow it.
4. Who will be driving?
If the person planning to drive the RV is someone who doesn't feel particularly comfortable behind the wheel of a massive vehicle, then you're going to want to pick something smaller.
And, if the driver is okay with managing a huge RV, then go for it and live in large luxury with a full-sized RV.
It is absolutely key that the driver of the RV feels confident and comfortable driving whatever type of RV you end up renting. Keep in mind that a big RV with a car pulled behind it can make your entire rig nearly 65 feet long. That is a lot of vehicle!
5. What's your budget?
How much you're wanting to pay to rent an RV obviously plays a huge role in what vehicle you choose.
Renting an RV is expensive, especially when you're going for a bigger rig that has lots of bells and whistles.
With the answers to those questions in your head, we are now ready to dig into the differences between the specific types of RVs you have to choose from.
The Different Types of RVs to Rent
Many people think there are just a couple of different types of RVs to choose from when renting. However, that is far from the case. There is a wide variety of options, so follow along below to get the details on each.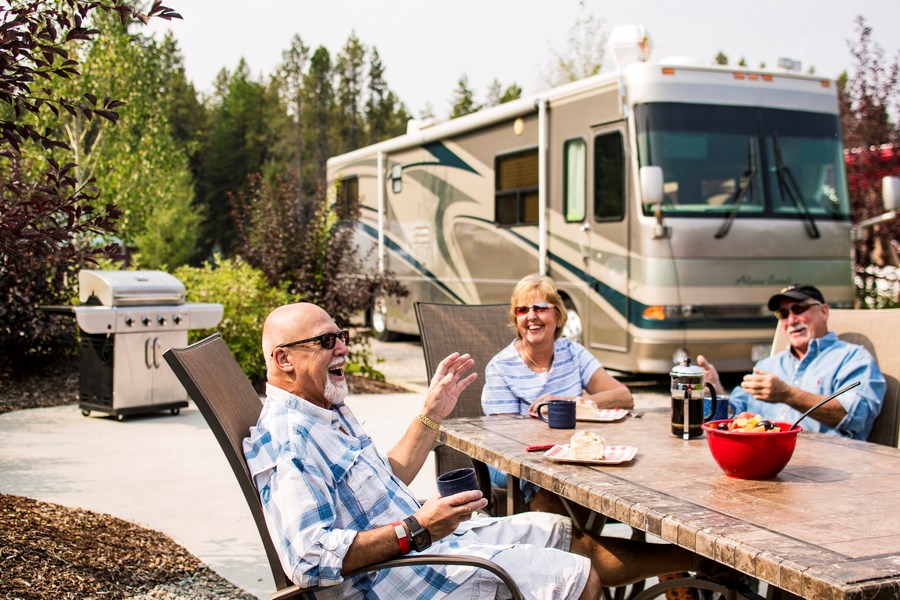 CLASS A MOTORHOME
This vehicle is everything you'll need for your camping trip in one vehicle. Class A motorhomes come fully equipped with a kitchen, a bathroom, sleeping quarters, and eating quarters.
They also have electricity, AC, heat, water, and gas.
This size of motorhome sleeps anywhere between two and seven people, and quite comfortably.
Plus, the added space for hanging out is a nice bonus.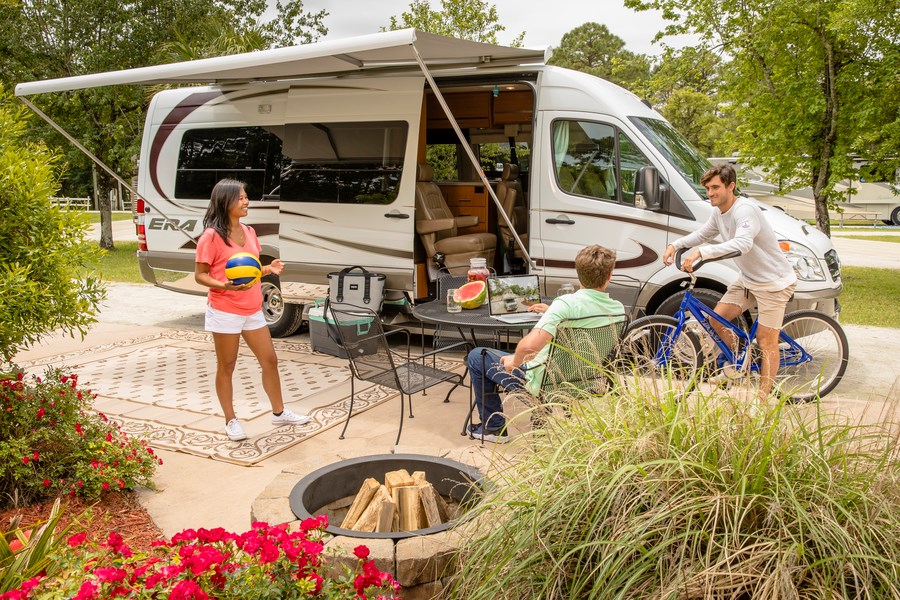 CLASS B MOTORHOME
This size of RV is the smaller, more economic version of it's big brother, Class A. It also gets better gas mileage than both Class A and Class C rigs.
Comfortably able to sleep two people, you can find a way to squeeze in four if you're okay with getting cozy.
Class B motorhomes typically come with a refrigerator, a stove, and a sink for the kitchen, and a sink, toilet, and shower for the bathroom.
Though this is quite a bit smaller than the Class A, you will by no means be "roughing it" in this rig.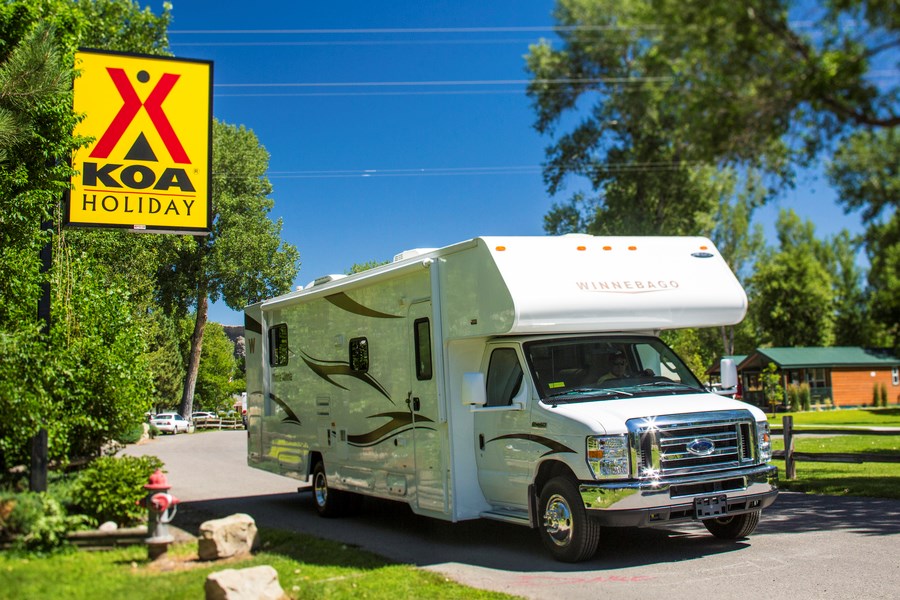 CLASS C MOTORHOME
These approximately 20-30 foot-long motorhomes are a somewhat miniature version of the bigger ones, but are still able to sleep up to 6 people.
Their fancy features are less than Classes A and B, but they are easier to drive and more economical as a result.
And you'll still reap the benefits of a comfortable RV experience.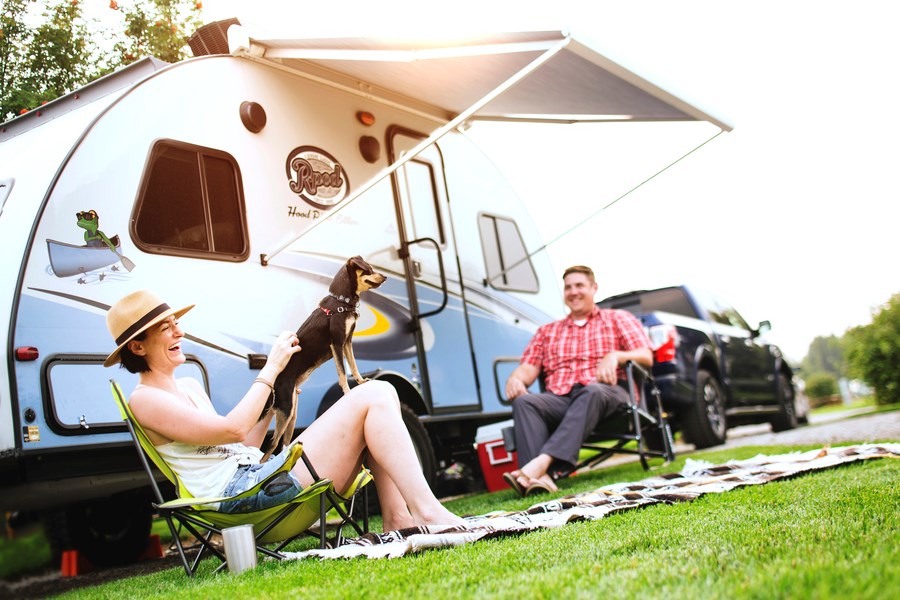 TRAVEL TRAILER
With the word "trailer" in its name, you'd be right in guessing that you need a vehicle to pull this trailer behind. While many rigs might require a heavy-duty truck for hauling, more and more small rigs that can be pulled by a small SUV or passenger car are becoming more popular.
The larger towable trailers have all you need for your camping, but are typically not the most fun to pull behind you everywhere you go. The best way to camp with this type of RV is to tow it to the campground, and leave it there while you take the truck or SUV you used to tow it on your smaller, day adventures.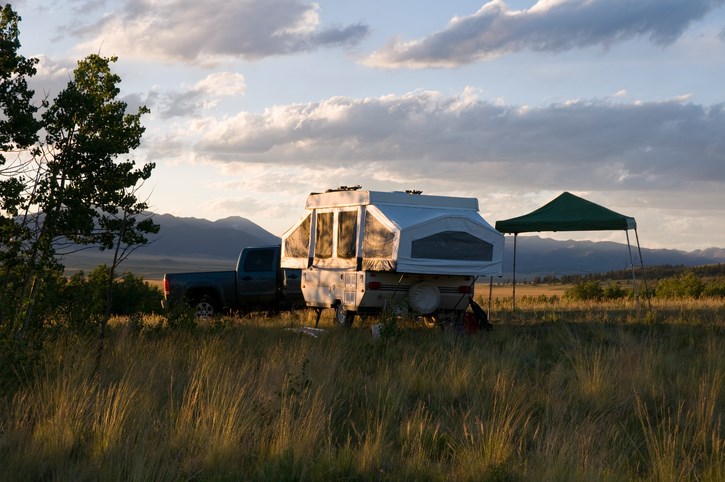 POP-UP CAMPING TRAILERS
This is a nice and lightweight trailer that measures in at just about 10 feet long when all wrapped up, and unfolds to up to 23 feet to accommodate all your camping needs.
It may not look it, but this folding camping trailer can sleep up to eight people.
Though it doesn't come with all the fancy bells and whistles of the bigger RVs, this is a great option for something that is more user-friendly and less of a hassle.
As you can see, there are a number of things to consider before heading out on the road in your rental RV.
From your specific wants and needs while camping, to the budget, to your level of comfort, and more, it takes quite a bit of planning to determine which rental RV will give you the adventure you're after.
But once you're behind the wheel, we're guessing you'll be in seventh heaven, and already planning your next RV trip.
---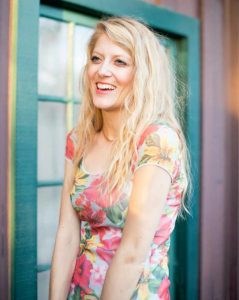 Leslie, a.k.a. Copy Girl, is a copywriter who gets butterflies from telling stories through words.
Her voice comes from a place filled with passion, dreams, and lots of sugar. "Cake over steak" is her go-to motto.
With over 10 years of experience in crafting words, and years of embarking on travels that have taken this Montana girl to some incredible places, Leslie love the adventures of both body and mind her writing takes her on.
Everywhere she goes, she takes this advice with her:
"Hold on to your divine blush, your innate rosy magic, or end up brown." – Tom Robbins, Jitterbug Perfume
To see what Leslie's up to in the writing world, visit her website here.
---