If you are new to the world of RVs, take some time to weigh all your options. It's important to avoid making any huge decisions without understanding the different features, price ranges and specific nuances of your new vehicle, and it's equally important to find an RV that meets all your needs.
RVs come in all shapes and sizes to accommodate a wide range of needs and budgets, so don't be intimidated by the different options and varying price ranges that you may see. Asking the right questions when looking to purchase an RV can help you to determine if the investment is right for you and what will fit your needs and your budget.
How Do You Plan to Use Your RV?
To help select the best RV for your use, identify how you plan to use it.
Consider the following:
What do you want to use your RV for? The best RV for frequenting national parks isn't necessarily the same as the best RV for weekend trips, so it's important to find one that matches your expected usage.
Who will be joining? Your RV is a long-term investment, so i's important to consider who you plan to share your RV adventures with. Will it just your household, or will you need to accommodate larger groups?
Consider making a checklist of your ideal RV features. This list is useful when you're looking for interior amenities and other desirable features. If you want to take a shower with hot water or cook food on a regular basis, you'll be eyeing models that include full bathroom facilities and a built-in oven or stove. Many RV owners love having a full kitchen inside the RV as it gives them an easy way to cook and prepare meals, even in the event of inclement weather. If you can learn to live without such luxuries, you could reduce the overall purchase price or spend your money on other upgrades or enhancements. Many types of RVs can also be easily updated to include these features, so you can invest in the additions that you want over time.
There are also plenty of gadgets, such as outdoor grills and solar showers. These options can eliminate the need for an indoor shower or cooking surface. These items give you the luxuries you're used to without tacking on hundreds or thousands of dollars to the final price tag when you're buying a motorhome.
If you plan on traveling during the summer months or to warmer climates in general: Purchase an RV equipped with AC. A few extra fans might even help with the overall airflow and prevent the cabin from becoming too stuffy or hot during extended trips. Although it's not guaranteed, an educated buyer can spot good sales in the summer, when some dealers might have leftover inventory from last year that they're looking to part with. AC will allow you and your family to relax comfortably indoors and take a break from the heat on warmer days.
For frequent trips to colder, snowy climates, you will want an RV that has a good heating system. You will want to make sure that any RV you are purchasing has an adequate heating system, especially if you plan on traveling in colder climates. Some RV enthusiasts even insist the winter is the best time of year to buy a travel trailer. As opposed to summer, where deals can be spotty from dealer to dealer, the winter tends to bring sales down in colder climates. Savvy shoppers in these regions can get the best RV for their money during this time.
How Many People Are You Accommodating?
RVs are a great way for families and friends to travel and spend time together and some of your best camping memories will be made in your RV. Everyone who will use your RV should feel comfortable — otherwise, even the most exciting excursion won't be much fun. You might want to consider these tips:
Account for everybody who'll use your motorhome. You won't have to plan for the unexpected guests and visitors you'll encounter during your time on the road, but you'll want to have an available seat — and bed — for every permanent member of your group.
Expand your packing list to accommodate any extra guests. Additional bedding, toiletries and snacks are a must when traveling with a full entourage, but you'll also need space for their belongings, too. One of the great things about RVing is that it provides much more storage space than other forms of travel. However, it's easy to run out of storage when coordinating travel arrangements for a large group, so make sure to purchase an RV that has plenty of space for your expected crew.
Consider how you can use external living space. While the exterior space is subject to the campground you're at, some amenities, such as external awnings or extendable slides, can increase the overall amount of comfortable living space. This can be a great way to make the most of your RV when parked at a campground and relaxing with family and friends.
How Often Will You Use Your RV?
Full-time or part-time? How often you use your RV will also help determine which variety will serve your purposes best:
Some lifestyles are better suited for full-time RV ownership than others. Recent retirees will likely have plenty of time to enjoy a motorhome to its fullest extent. Busy entrepreneurs who need to stay close to their office might not have such freedom. This is such a big factor when it comes to RV ownership that many will base their entire purchase decision on this alone.
Consider your location as well as the areas you plan to visit. The summer is often a great time for traveling in an RV and enjoying the great outdoors, but the cold of winter forces many motorhomes to the confines of their owner's garage for several months out of the year. Think about the seasons you'll plan to use your RV based on weather and conditions. RVs are a great way to travel but be sure to consider the strategic planning and scheduling involved in an RV trip.
Check out our up-to-date database of campgrounds around the nation. These sites combine ease-of-access with the traditional feel of camping in the great outdoors, which is ideal for the busy professional or the novice RV enthusiast with a tight schedule.
Should You Buy New or Used?
Many consumers struggle with the process of how to pick the right RV. Apart from choosing between a Class A, Class B or Class C RV, would-be enthusiasts also need to decide whether to buy new or used.
A new RV will have the most up-to-date features and no mileage, while a used RV will come at lower price but with use and mileage from a previous owner.
The prices for new RVs vary and are subject to local market conditions, chosen amenities and additional dealer fees. Average costs for a new RV hover around $45,000, but high-end RVs and fifth wheels can cost upwards of $75,000. Some motorized RVs can cost upward of $1 million for a brand-new model that is decked out with all the amenities.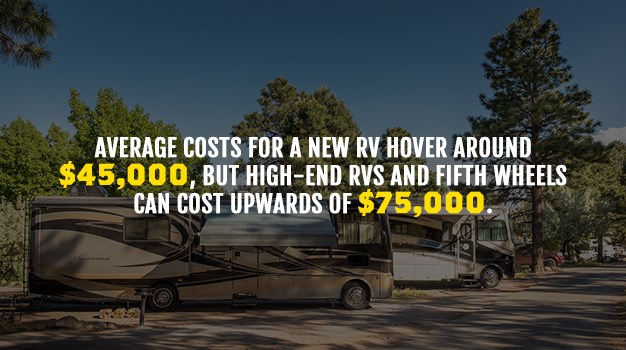 You can reduce your costs by shopping the used RV market. Prices have been known to fluctuate greatly, so it's recommended to check with an up-to-date source, such as NADA Guides, to verify the current market value of your options. This site can be used when shopping for new and used RVs to ensure you're getting a fair deal.
Buying a used RV can be a great way to get the features you want at a lower price.
RV Rentals: Should You Rent Instead of Purchase?
Some folks are opting for a third choice — renting — to fulfill their dreams of RV  ownership. Those who plan on using their RV sparingly can save significant money using rental RVs. Moreover, short-term rentals give you the luxury of testing out different models before committing to a full purchase.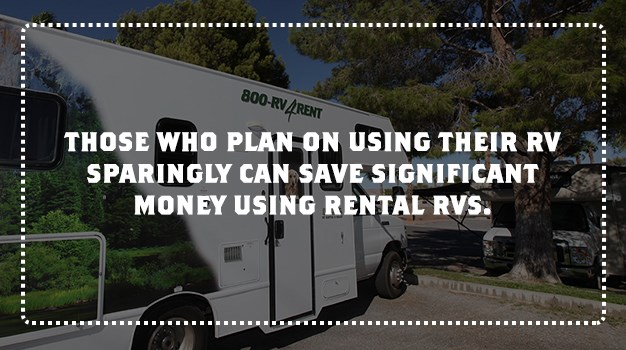 Ultimately, new RV enthusiasts who spend time on the road in a rental are better equipped to choose a travel trailer or how to pick the right RV for their needs. Based on their experience renting RVs, they will be able to determine the type, size and features fit their requirements.
Frequent RV renters may also find that the accumulative costs of repeated rentals will add up, so buying makes sense when trying to minimize your costs in the long run. However, the large amount of cash needed up-front as well as possible installment payments and ownership costs, may make renting a better option for some even in the long-run. The choice to continue renting or to purchase your own RV will ultimately depend on your planned usage and the resources that you are willing and able to invest.
KOA works with numerous brands and agencies to ensure all RV enthusiasts have a chance to experience the lifestyle. Feel free to inquire about the key tag discounts we offer for rental companies such as ROUTE 66 RV Network, El Monte, Road Bear, Cruise America, Cruise Canada, Canada Dream, Frasierway, Lazydays, Jucy and Apollo — this program saves you 10 percent off camping when you stay at a KOA.
Is RV Sharing a Better Option?
RV sharing is identical in concept to businesses like Airbnb — which became the world's largest hotel chain without owning a single hotel or resort property — brand-new sites such as Outdoorsy have developed that cater specifically to RV enthusiasts.

This is an easy and straightforward way to get started in the world of RVing without having to empty your savings account. It also spares you the burden and expense of long-term RV ownership, which is costly in its own right.
Given the relative newness of the RV sharing market, it's important to use caution when exploring these sites. Don't worry about rewards programs, expensive RV resort memberships, or other incentives sites might offer. Instead, look for companies that offer insurance for the owner and renter, roadside support and proper DMV screening such as Outdoorsy. It might seem like a lot, but this level of security is a necessity when working with vehicles as valuable as modern motorhomes.
Companies like Outdoorsy offer all this and more, making RV sharing between owners and renters a safe and stress-free process.