Warmer weather is finally here and that means one thing—it's time to get your RV out of hibernation and ready for the first outdoor adventure of the season. But before you leave the driveway, you need to get your RV road-ready.
"When RVs sit in storage … lots of unexpected things can happen," says Mark Polk, KOA's resident RV expert.
Batteries drain, tires lose pressure and pests have a nasty habit of building nests inside appliances. A little preventive maintenance, Polk says, can go a long way toward an "enjoyable and stress-free" vacation.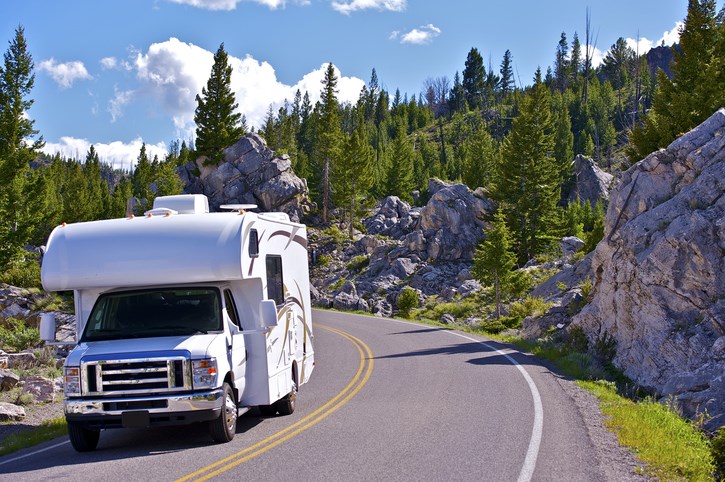 Check those fluids
Oil and coolant are the lifeblood of your RV, so make sure both are topped up before you venture out. Also, check your windshield washer fluid; you don't want to be stuck on a muddy back road without it.
Inspect your wheels
The chances are good your tires deflated over the winter, so make sure they're filled to the manufacturer's recommended PSI. Give your wheel lugs a look to make sure none have worked their way loose.
Check your generator
If your RV has a gas-powered generator, you'll want to make sure it's in good working order. Check the air filter; if it's coated in dirt, replace it. Clean the connectors, top up the oil and put it through a trial run to make sure everything is functioning properly.
Give the air conditioner a once-over
Nothing is worse than having your AC give up the ghost in the middle of a hot summer day. So check your air filters to make sure the coils are free of debris. Then fire up the unit to ensure that it's running smoothly.
Spot-check the inside
Before heading out, you'll want to make sure all the moving parts on the inside of your RV are working properly. Open and close the windows to see if they slide smoothly. Check to see if the fire extinguishers are full (if they don't have a gauge, experts say you should replace them every year). Finally, give the water pump a test whirl by turning it on and off.
Check your towing setup
If you're going to be hauling a car, it's important to make sure your towing rig is in order. Give all the connections and welds a once-over, looking for cracks. Make sure the safety chains are crossed under the coupling and hooked. And don't forget to bring a spare set of car keys in case you lose the originals.
For more information about RV maintenance and planning a trip, check our website.