When it comes to the quintessential, larger-than-life national parks that tend to dominate the bucket list itineraries, most of the heavy-hitters reside on the western half of the United States. From Yellowstone and Yosemite to epic crowd-pleasers like Zion, Joshua Tree, and Rocky Mountain, the landscapes of the American west, after all, have earned their hallowed reputation. But don't sleep on the eastern half of the country, either. Just because the bigger and buzzier parks are westward doesn't mean the eastern parks are any less life-changing — or popular, based on the fact that the most visited park in the nation straddles the North Carolina-Tennessee border. From seaside mountains and oceanic keys to some of the most epic wildlife in the country, these are 9 national parks east of the Mississippi that you need to travel to.
Looking for the Best National Parks East of the Mississippi? Start With These!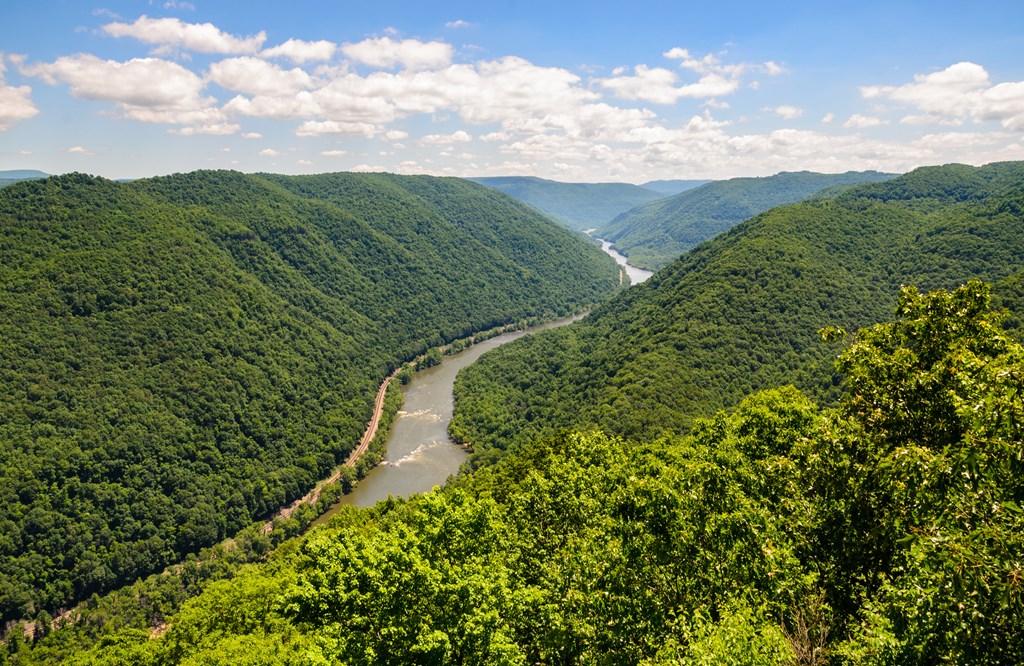 1. New River Gorge National Park & Preserve
The newest officially designated national park is a real show-stopper, nestled in the fertile valleys of West Virginia. New River Gorge National Park & Preserve (a recent upgrade from New River Gorge National River) earns its name from the mighty New River, a bit of a misnomer considering it's actually one of the oldest rivers on Earth. Like the Colorado River of the east, the earth-carving behemoth meanders through bucolic towns like Fayetteville and Beckley, resulting in a 53-mile gorge that looks like a tree-lined Grand Canyon, complete with some of the most adrenaline-pumping white water rafting in the U.S. On dry land, there is more than 70,000 acres of fertile terrain to navigate, offering ample hiking trails and rock climbing. The star of the park is the New River Gorge Bridge, a 3,000-foot titan that soars over the river down below. The third highest bridge in the country, it's also the longest steel-span in the western Hemisphere, providing unparalleled views of this particularly panoramic national park.
Nearby KOAs:
Flatwoods KOA Journey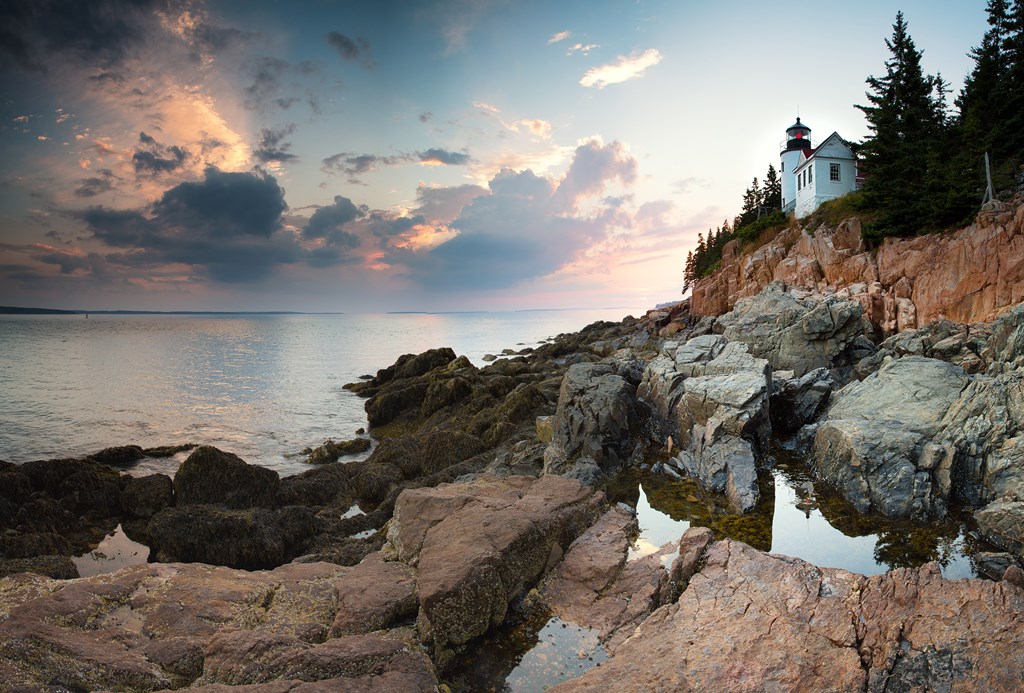 2. Acadia National Park
Of all the bucket list-worthy parks on the east coast, one requisite has gotta be Acadia. A crown jewel on the Maine coast, this oceanic gem is the oldest park east of the Mississippi, and also one of the most visited. A mecca of beachside mountains, misty islands, craggy sea cliffs, and pristine ponds, there is much to see at Acadia, including a traipse on the trails around the serene stillness of Jordan Pond, and a pre-dawn drive up Cadillac Mountain, the tallest peak in the park and the first place in America to see sunrise each morning. From mountains to coastal shores, the park boasts an impressive 125 miles worth of hiking trails, most of them dog-friendly. Should you visit in the summer, make sure and dine at Jordan Pond House, renowned for their iconic popovers.
Nearby KOAs:
Bar Harbor / Oceanside KOA Holiday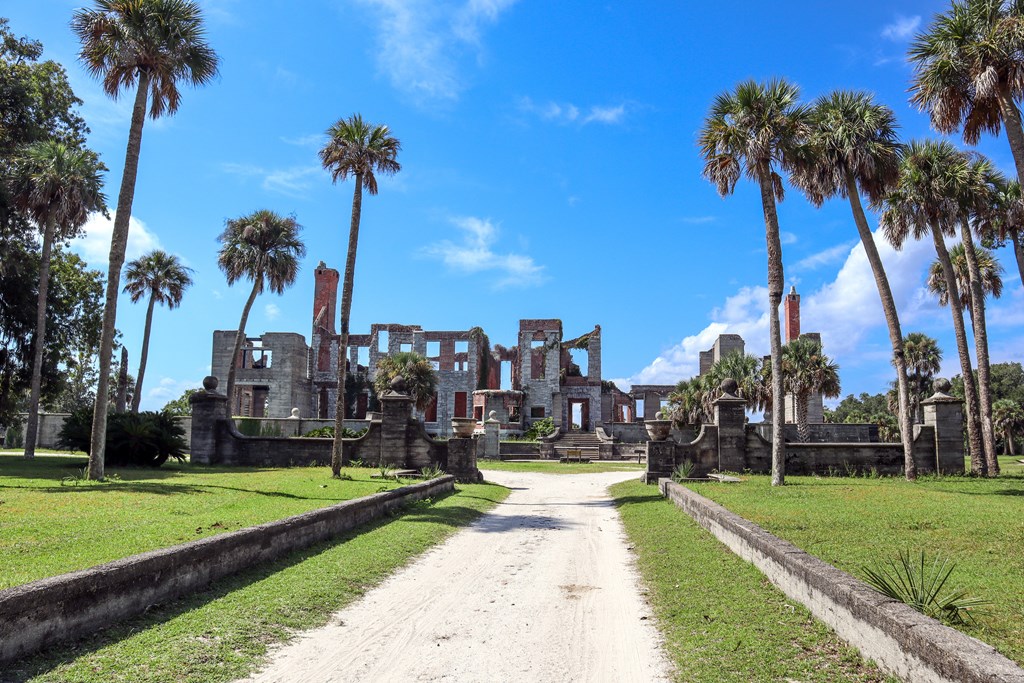 3. Cumberland Island National Seashore
While Georgia doesn't contain any of America's 63 official national parks, there are indeed several national park sites well worth seeking out. From Indigenous ingenuity at Ocmulgee Mounds National Historical Park to ironclad lore at Fort Pulaski National Monument, there's no shortage of history and heritage in this Southeastern state. Then there's the far-flung majesty of wonder of Cumberland Island National Seashore. The largest and southernmost barrier island off the Georgia coast, this is a place that feels as primal as Jurassic Park — but instead of dinosaurs, it's wild horses. Only accessible via a 45-minute ferry ride from St. Mary's on the mainland, this wild park — clocking in at nearly 18 miles in length — is a sprawling wilderness teeming with olden architecture and pristine beachfront, undeveloped by humans, that seems to extend into the horizon. The forested island features miles of shaded trails fit for hiking and biking, through diverse terrain like Spanish moss, marshland, and towering dunes. One must-see is the eerily beautiful Dungeness Mansion, the ruins of a once-palatial home for the Carnegies that previously used the island as a quiet getaway. Nowadays, though, the crumbling facade is a popular hangout for Cumberland's most famed residents: wild horses.
Nearby KOAs:
Jacksonville North / St. Marys KOA Holiday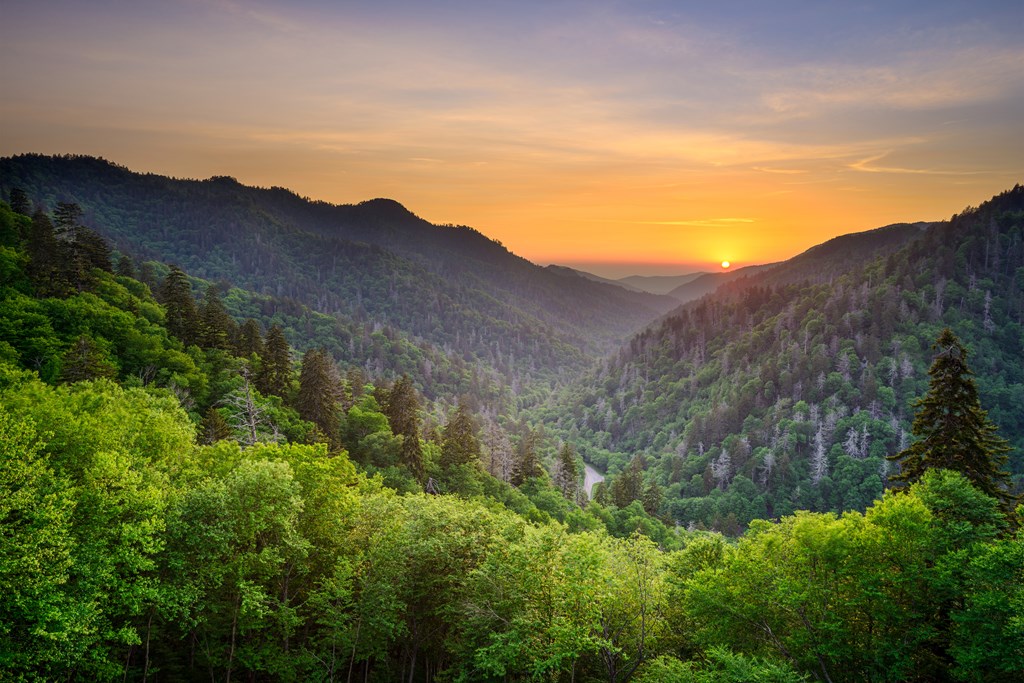 4. Great Smoky Mountains National Park
In terms of big-name parks east of the Mississippi, it doesn't get any more colossal than Great Smoky Mountains National Park. With more than 14 million annual visitors, it's by far the most popular national park in the nation (for context, the second most visited is Zion, at about 5 million), a mecca for scenic drives and incredible hikes. While many visitors tend to use the park as a convenient stopover, it's a majestic landscape that's well worth some concerted time. Among the most destination-worthy spots in the park, Clingman's Dome observation tower provides awe-inspiring panoramas of the surrounding mountain range, whose signature mist and fog seem to billow like smoke. Then there's Charlies Bunion, an arduous Appalachian Trail hike (8 miles round trip) that leads to a stone outcrop overlooking the mighty Smokies down below. Horseback riding and biking are also popular, as is waterfall-chasing — the park is famed for waterfalls like Abrams, Rainbow, and Laurel.
Nearby KOAs:
Townsend / Great Smokies KOA Holiday
Pigeon Forge / Gatlinburg KOA Holiday
Cherokee / Great Smokies KOA Holiday
Gatlinburg East / Smoky Mountain KOA Holiday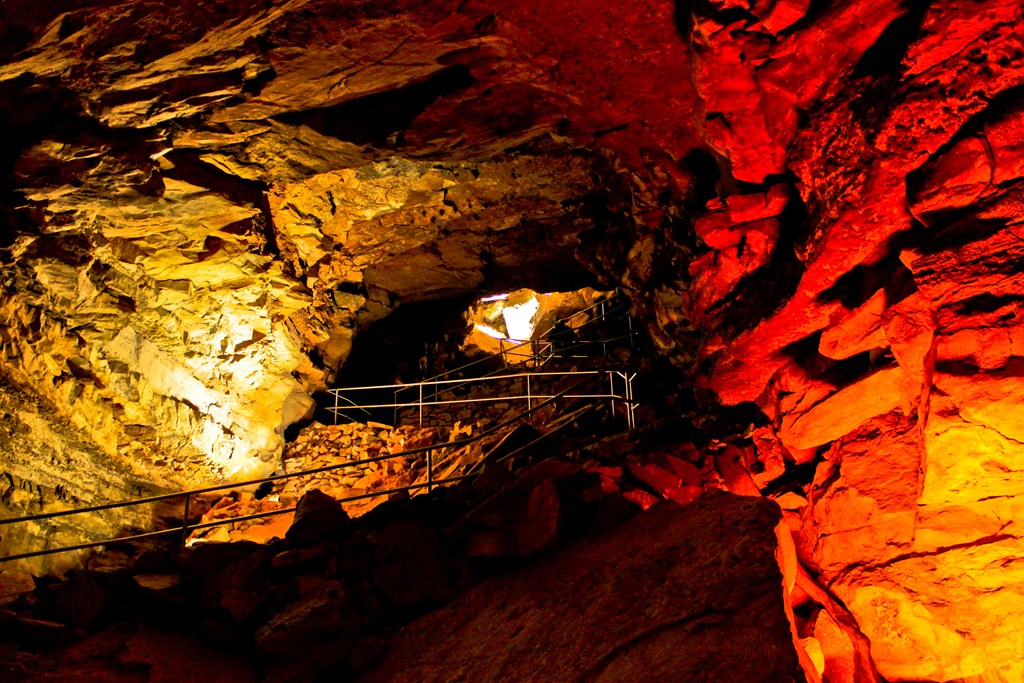 5. Mammoth Cave National Park
One of the most under-the-radar national parks east of the Mississippi is hidden under the Earth's surface. Nestled beneath the rolling hills of Kentucky bourbon country, Mammoth Cave National Park is the largest cave system on Earth — by a long shot. With more than 400 miles worth of mapped passageways (and growing), the subterranean wonderland is a veritably infinite labyrinth of singular cave features, narrow passageways, and fascinating history. Although only about 14 miles are accessible for ranger-led tours, it's more than enough to experience the mystical marvels of this underground mecca. Of the numerous tour routes offered, the Historic Tour reigns as a popular requisite that navigates the earliest origins of the cave exploration, Domes & Dripstones takes guests into a sinkhole and descends to a mighty dripstone feature called Frozen Niagara, and Violet City allows adventurous visitors to tour cavernous tunnels via lantern light. It's not all underground, though — Mammoth Cave also boasts ample surface activities, including kayaking and canoeing on the Green and Nolin Rivers, plus more than 60 miles of hiking trails.
Nearby KOAs:
Horse Cave KOA Holiday
Bowling Green KOA Holiday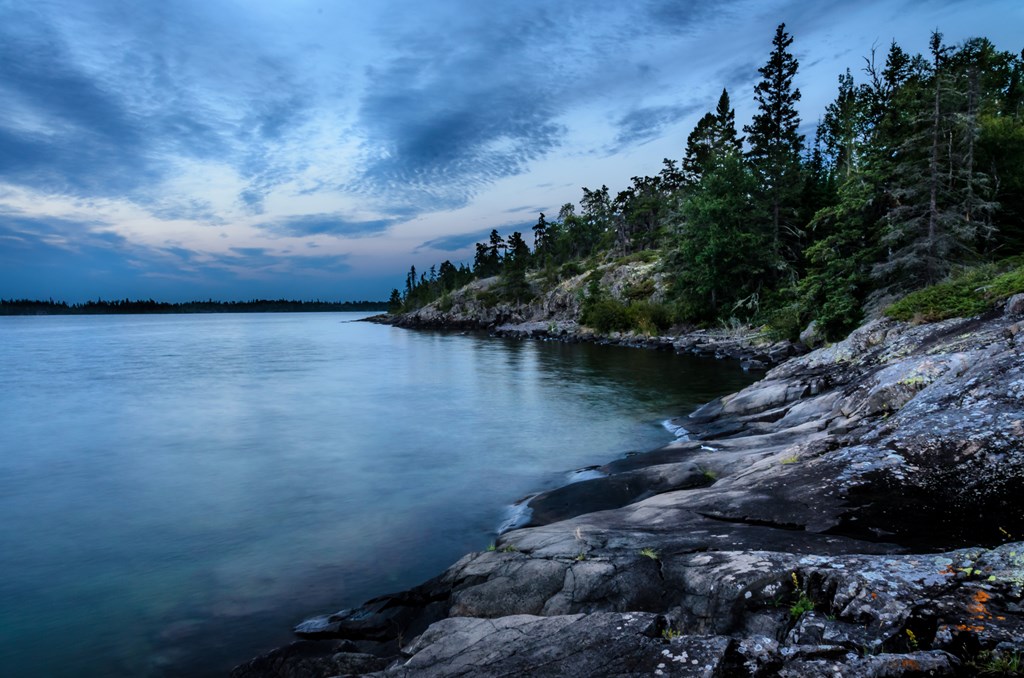 6. Isle Royale National Park
For the ultimate in all-natural solitude and escapism, it doesn't get any better than Isle Royale National Park, a remote island chain in the far-northern stretches of Lake Superior in Michigan. Altogether, there are about 400 islands within the watery park, which is so distant and undeveloped that it's exclusively accessible by a three-hour boat ride — and not reachable at all in the frigid winter months. The heart of Isle Royale is a 45-mile-long island where boats dock, lodging and campgrounds reside, and trails weave their way through wilderness at its most rugged. For experienced divers, Isle Royale is also a low-key popular destination for freshwater SCUBA explorers, thanks to 10 shipwrecks lurking beneath the icy surface. Other popular pastimes include kayaking, canoeing, and fishing along the island's endless rocky alcoves. And in terms of wildlife, the park is famously home to a unique population of moose and wolves, a fascinating example of the predator-prey balance in America's most remote locale.
Nearby KOAs:
Thunder Bay KOA Holiday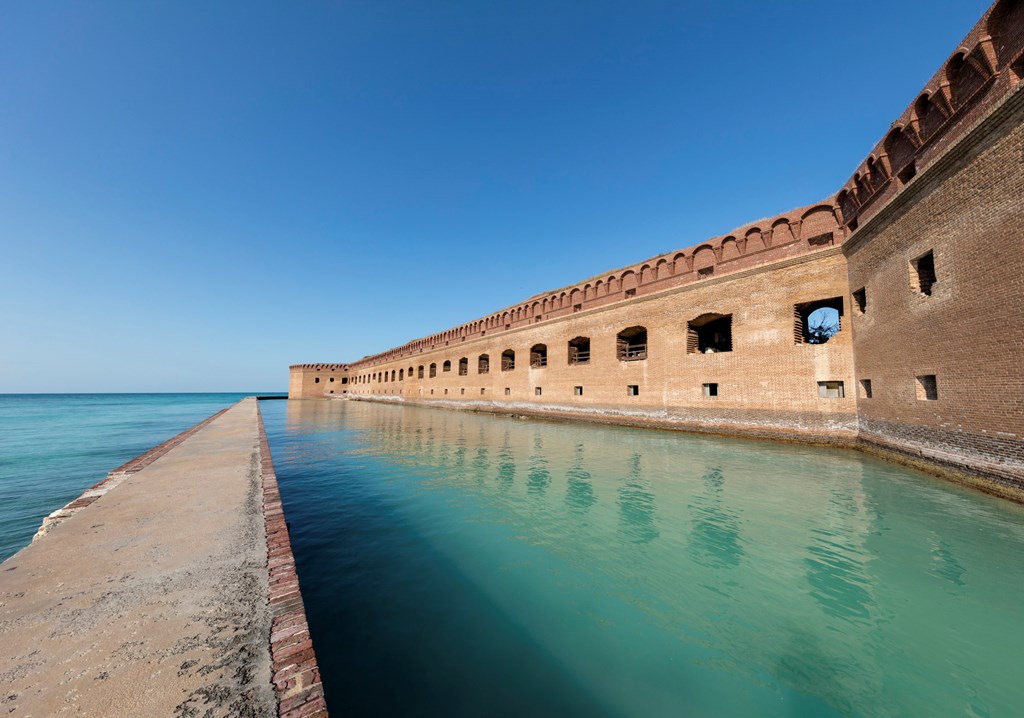 7. Dry Tortugas National Park
Similar to Isle Royale, Dry Tortugas National Park is like the tropical equivalent in terms of faraway islands and vast underwater exploration. Located about 70 miles west of Key West, and only reachable via a nearly 3-hour ferry ride, the park is comprised of 99% water, with only a smattering of small keys for dry land. The primary land mass out here is Garden Key, the place where the ferry docks and where Civil War-era Fort Jefferson looms like a brick beacon. Initially built to defend the Southern coast of the U.S. after the War of 1812, it's also served as a prison before earning national park protection. Nowadays, visitors can explore every inch of this fortress in the middle of the Gulf, then swim and sunbathe on its surrounding shores. To dive deeper, there's an underwater snorkel trail that surrounds the key, allowing swimmers to learn about local wildlife.
Nearby KOAs:
Sugarloaf Key / Key West KOA Holiday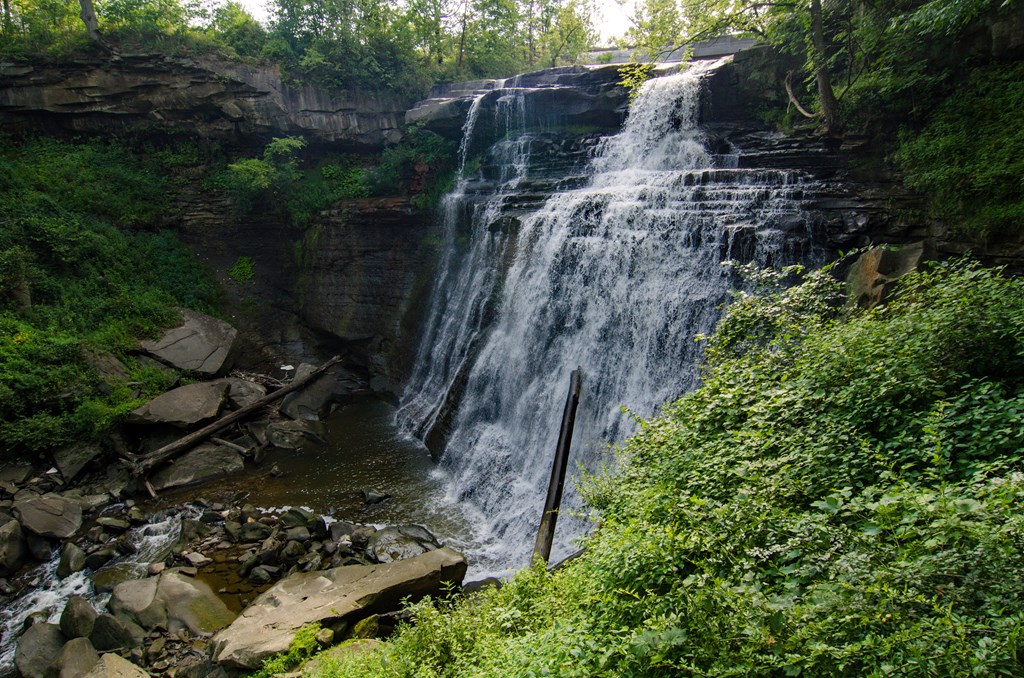 8. Cuyahoga Valley National Park
The Midwest may not seem like the most obvious destination for national park majesty, but sandwiched in between the Ohio cities of Akron and Cleveland lies one of America's most surprising gems. One of the most visited parks in the entire Midwest, it makes up for its lack of canyons and mountains with its beautiful forested trails, cascading waterfalls, rock formations, caves, and horseback riding trails. A particular crowd-pleaser is the Cuyahoga Valley Scenic Railroad, a historic train that chugs through the park and offers themed rides like murder mystery dinners and family-friendly rides with Disney princesses.
Nearby KOAs:
Streetsboro / Cleveland SE KOA Holiday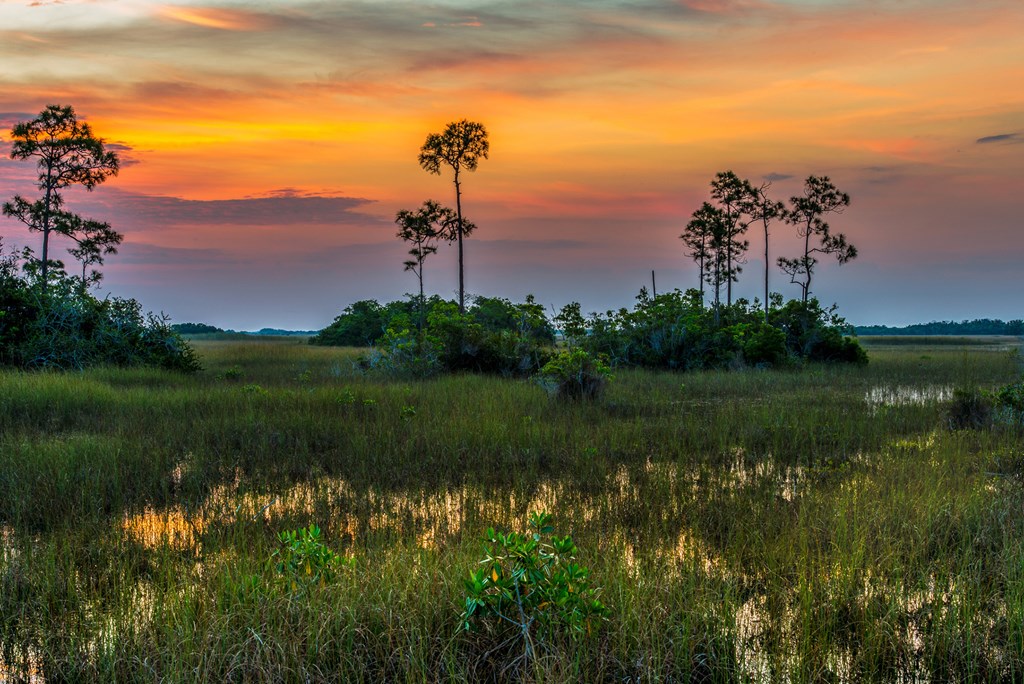 9. Everglades National Park
Although Great Smoky Mountains reigns as the most visited national park east of the Mississippi, Florida's iconic Everglades National Park takes the crown as the largest. With 1.5-million acres of wild wetlands, mangrove-lined coast, and maze-like kayak passageways, it's not only the largest national park east of the Mississippi, but the third largest in the contiguous U.S. Naturally, a park this expansive and sprawling can be overwhelming to navigate and dig into, but a few fan favorites include the Anhinga Trail, a short and easy loop trail near the main east side entrance that all but assures a few up-close-and-personal alligator sightings. Head further into the park to reach the Flamingo Marina area, where you can rent kayaks and canoes (and even houseboats!) to paddle up the Buttonwood Canal to Coot Bay, or out into the Florida Bay. This is the best area in the park to see manatees and crocodiles, and Everglades in general is the only place on Earth where crocs and gators co-exist. On the north side of the park, Shark Valley is an area anchored by a long paved loop that hugs a gator-filled creek, culminating at a 45-foot observation tower that offers sweeping views of the River of Grass in all directions. The trail is 15 miles, and while visitors can certainly make the long walk, there's a visitor center that runs a tram and offers bike rentals.
Nearby KOAs:
Naples / Marco Island KOA Holiday
---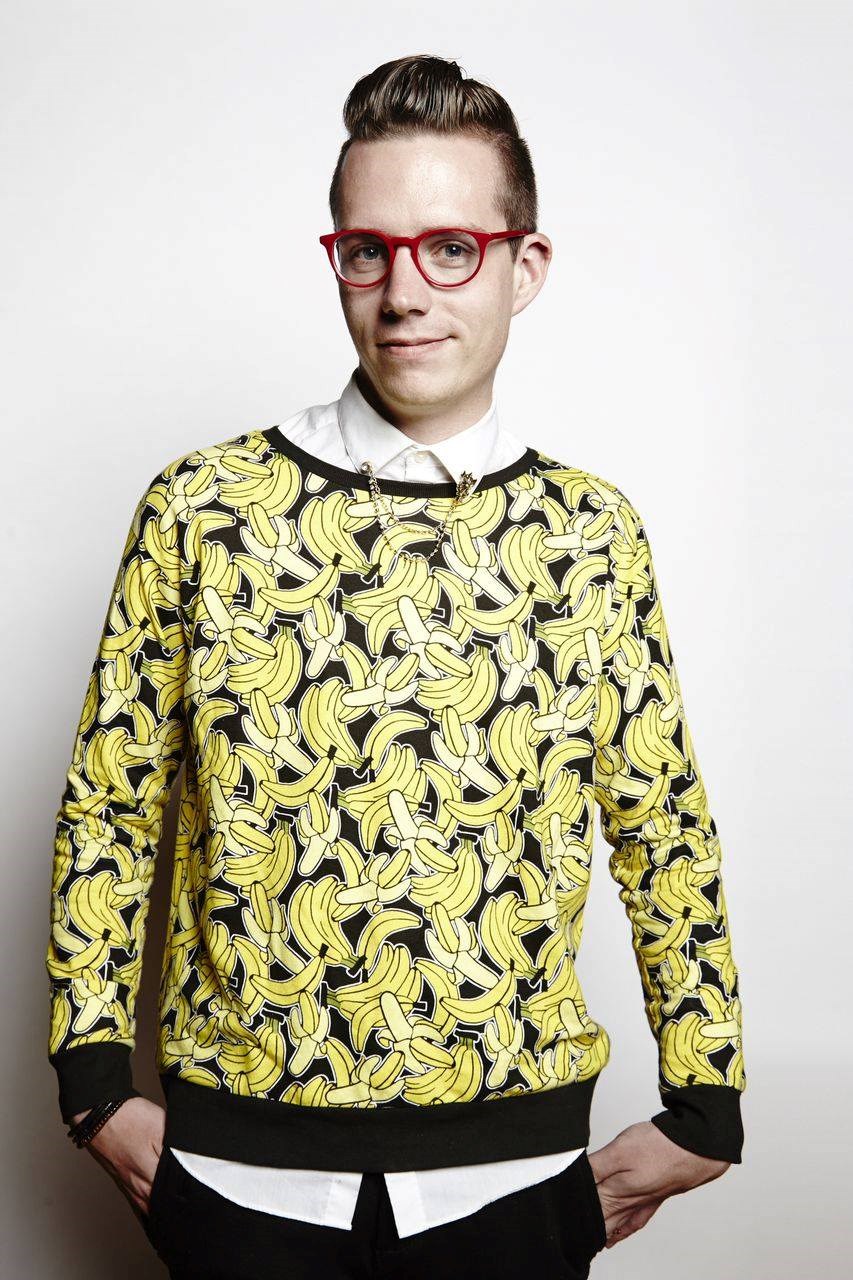 Born and raised in New Hampshire, Matt Kirouac grew up with a love for camping and the outdoors. Though he's lived in Chicago since 2006, he's always on the lookout for new adventures. He writes about travel and food for outlets like TripExpert, Money Inc, Upventur, DiningOut, Food Fanatics magazine, Plate Magazine and Zagat, and he currently serves as Chicago editor for What Should We Do?! He's the author of The Hunt Guides: Chicago (2016) and Unique Eats & Eateries of Chicago (2017).