Turn your next camping trip into a romantic evening with your significant other with these fun – and easy – ideas.
The most common argument for having regular date nights? Dating is cheaper than counseling. However, dating when you're on the road, or limited to the confines of an RV, can be challenging. Still, there are plenty of ways to rekindle your romance while camping. A few are totally free, many are accentuated by Mother Nature, most can involve culinary delights and all can be done on any day of the week. So, without further ado, check out some great things for couples to do while camping such as stargazing, cooking, watching the sunrise, playing seek and go kiss, writing your love story and quizzing each other.

1. Look for Venus, Goddess of Love
Some girls aren't big on flowers. Some guys would rather go to the dentist than dance. But, it's hard to find anyone who doesn't appreciate the stars. The difference between looking at the stars and stargazing is intention. For a stargazing date, plan accordingly. While there is no bad night for celestial sightseeing, some are more impressive than others. Space.com has monthly calendars featuring maps and background information on what you're looking at. For example, on January 31, there will be a Total Lunar Eclipse visible in the Northwest. Part of the intention is also creating a romantic setting. If you spend most of your time at your campsite's picnic table or around the fire, try to make the night special by setting up a blanket somewhere not within eyesight of your everyday activities and chores.

2. Float Eat the Love Boat
S'mores are what you make with the kids. A cozy banana boat is more intimate since it's wrapped in foil and built for sharing. It's also open to more interpretation and customization. If you want to add a dollop of Nutella or some shredded coconut, go for it! Basically, you just slice a banana lengthwise, making sure not to cut the banana into two pieces. You want it to be like a boat to hold your ingredients. Most banana boat fans (they've got a cult-like following) start with mini marshmallows and chocolate chips. But feel free to add nuts, cereal, peanut butter or whatever you're currently craving. Wrap your banana boat in foil and cook it over the fire or on the grill until the inside is nice and gooey.

3. Get More Fond(ue) of Each Other
Save some of those banana boat chocolate chips for a fondue picnic. Very few meals (including spaghetti if you eat it "Lady and the Tramp" style) are as hands-on and indulgent as fondue. Between the flowing action (if you're so lucky as to have a fountain), the dipping motion and all that wine or beer-infused cheese and chocolate, it's hard not to feel spoiled. If you have a camping-friendly fondue pot, perfect. If you don't, just use a crockpot, a double boiler or simply, a sauce pot with a thicker bottom. Worry less about what you're cooking with and more about monitoring the temperature. That will be the difference between a delicious fondue and a there's-going-to-be-an-immediate-second-date fondue.

4. Watch the Sun Rise in Each Other's Eyes
Catching a sunset is a surefire way to set the mood for date night. But why not catch a sunrise and set the mood for the entire day? Plus, unless you're in a campground filled with early birds, you probably don't have to share it with as many people as you would a sunset. You can even pull this date morning idea off if you have kids who like to sleep in. (Whereas it's harder to have a date night with kids who stay up late.) Of course, the best date night might be one where you catch the sunset and the sunrise. But if you only have time for one, try the rise-and-shine-option—complete with coffee and cinnamon rolls—for a change.

5. Turn Up the Heat
Winter camping, especially in a tent, is incredibly conducive to cuddling. In addition to combining body heat, you can find warmth in sharing a thermos of hot chocolate on a wintry afternoon or a brisk morning when you just need something warm in your hands. Or, if you're staying in a KOA with a Jacuzzi, make that amenity a priority. Try to time your soak with a good night for stargazing. Many KOAs are also within an hour's drive of hot springs so make sure to ask your host about the au naturel option too.

6. Set the Stage
Some successful date nights don't even require much doing. You simply have to create the right ambience for relaxing. For example, swap out those citronella candles for scented candles with aphrodisiac properties. Mother Earth Living cites sandalwood, rose, vanilla and jasmine as some of the most sensuous scents out there. Music can also be the way to a human's heart so create a playlist with wedding favorites like Michael Buble's "Home," Ingrid Michaelson's "Can't Help Falling in Love," and Ray La Montagne's "You are the Best Thing." If you need help in this department, Spotify can help. And remember, there are no rules against slow dancing in KOA campsites!

7. Play Seek and Go Kiss
If anyone knows how to ignite (or re-ignite) a spark, it's Lisa Concepcion, a Certified Love Life Transformation Specialist and Founder of LoveQuest Coaching. When asked what activity she'd recommend for clients who camp, Lisa suggests a scavenger hunt: "Create a list of things to find together and then go hunt! Every time you find something, kiss for seven seconds." If kissing for seven seconds is a bit much, start out with a high five. Some psychologists claim touch—any kind—is even more important to a relationship than verbal contact.

8. Write Down Your Love Story
Reminiscing about the past, especially the honeymoon phase, can be one of the best ways to relive your chemistry. If the task of writing it down seems daunting, look online for a template like this Madlibs-esque version. Be prepared to remember things differently, but instead of argue about the details and discrepancies, laugh them off and be thankful you crossed paths, however it happened!

9. Pop the Quiz
Whether or not you've popped the question, if you're sharing a tent, cabin or RV with someone, chances are you know them pretty well. To see exactly how well you know them, print out this free quiz from The Dating Divas. Hopefully, both your answers to #23 will be "camping."
---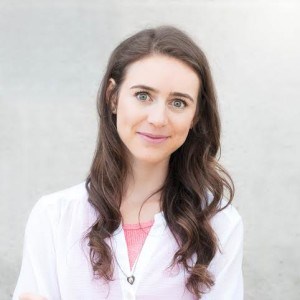 Katie Jackson is a writer and media specialist based in Montana's Big Sky Country. Living and working everywhere from New York to Nicaragua, Katie is no stranger to adventure. When she's not traveling the world (or writing about it!) she's busy chasing after a Leonberger named Zeus. Follow Katie's travels on Instagram @katietalkstravel.

---