"Now, how does one make camping romantic?" you may ask. Using the woods as your bathroom and having full-fledged morning breath doesn't really conjure up thoughts of romance. But, don't worry – we've got you covered with a few tips and the comfortable amenities from clean bathrooms to cozy Deluxe Cabins you've come to expect from a camping trip to your favorite KOA. With our tips and tools below, we bet your loved one will come to favor a romantic camping trip over a luxurious resort stay.
---
GEAR THAT SCREAMS "ROMANCE"
Double Sleeping Bag
What's the fun in sleeping in your own sleeping bag when you can share one with your love? Cuddles are all the rage in a queen-sized sleeping bag built for two. And with the chillier weather this time of year, you will be even more thankful for the warmth of the extra body in your bag.
Polaroid Camera
Create memories for future gifts for your loved one and commemorate your romantic camping adventure with an instant Polaroid camera. Whether you're out adventuring in the wild, or just sipping on hot cocoa by the fire, you will want to have some candid pictures to fondly remember this fun trip. And while you can always rely on your smartphone camera, we think there is something a bit more fun – and romantic – about instant photos.
LED String Lights
Just because you're in the wild doesn't mean you can't find a different way to set a romantic mood. LED string lights are a great way to bring some soft romance into the rugged outdoors. Hang them from a nearby tree or on your tent to take your camping to the next level. (Just make sure you find ones that run on batteries.)
Plastic or Stainless Steel Wine Glasses + Bottle of Wine or Champagne
It will be worth packing the extra weight in your bag when you settle down in your double sleeping bag beside your love with a warm fire and a glass of wine or champagne in your hand. Plastic or stainless steel wine glasses help keep the mood of romance (red Solo cups scream beer pong and frat party—as far opposite of romance as one can possibly get), so step it up and bring some camping-friendly wine glasses along.
Portable Speaker
Music can be the ultimate mood-setter, so packing a lightweight portable speaker is a sure win for your romantic camping trip. You can create a romantic playlist ahead of time with your lover's favorite songs to really score some points.
---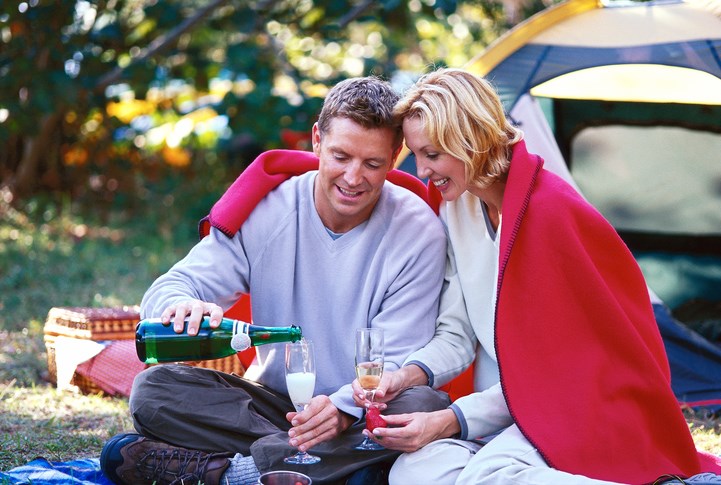 SPARKING THE FIRE OF LOVE
Location
Where you choose to take your loved one for your romantic camping trip plays a big part in the success of this holiday. The most important piece of choosing your camp ground is finding one that is private. The last thing you want to do is share your well-planned romantic trip with a family on their own camping trip just 50 feet away.
Scenery may be nice for your trip as well. Find somewhere on the water, if possible, or in the mountains where the sunrise and sunset will be stunning and add to the romance.
Sleeping Set-Up
Is your loved one someone who would love to sleep just in your double-sleeping bag, with no barrier between the two of you and the gorgeous outdoors? Maybe he or she prefers a cozy tent, or possibly would love if you stepped it up a bit with a camper or RV. Or, would your loved one be thrilled with the idea of staying in one of KOA's Deluxe Cabins? With wonderful amenities including private bathrooms, comfy beds, TVs, grills, firepits, and more, a Deluxe Cabin may really make your camping trip feel extra special.
Activities
Think of activities that are enjoyed more as a couple. Backpacking, kayaking and a dip in some hot springs are all great activities to plan for your romantic camping trip. Or, if you prefer, keep your activities to a minimum and just enjoy the company of each other, completely uninterrupted from other people and things.
Whatever you do, try to unplug yourself from your phone (even better yet – pick a place where there isn't any cell service so you aren't tempted to be distracted). Make this trip all about you and your partner and strengthening your love.
Dinner
Just because you're in the woods doesn't mean you get out of a romantic dinner. You don't have to put together anything complex, but rather something that is meaningful to your partner—his or her favorite food, or just something you feel is romantic. Be sure not to forget dessert!
Element of Surprise
Leave some (or all) of the trip details a secret. Most people find a surprise romantic, and this should be no exception. Your partner will really appreciate all the thought, time, and effort you put into this romantic getaway.
As you can see, camping can be romantic. With the right gear and the right plans, you can create more than a little romance for the one you love.
---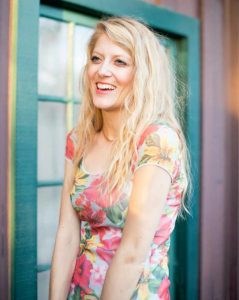 Leslie, a.k.a. Copy Girl, is a copywriter who gets butterflies from telling stories through words.
Her voice comes from a place filled with passion, dreams, and lots of sugar. "Cake over steak" is her go-to motto.
With over 10 years of experience in crafting words, and years of embarking on travels that have taken this Montana girl to some incredible places, Leslie love the adventures of both body and mind her writing takes her on.
Everywhere she goes, she takes this advice with her:
"Hold on to your divine blush, your innate rosy magic, or end up brown." – Tom Robbins, Jitterbug Perfume
To see what Leslie's up to in the writing world, visit her website here.
---
Save
Save