Technology in the form of traffic-monitoring apps, GPS, and social media reviews may change the way we experience new destinations, but some travel traditions endure. The all-American road trip has been a staple for generations, signaling the arrival of summer with car windows down, music turned up, and miles of highway ahead.
From retracing the steps of the pilgrims on New England's Old King's Highway to driving cross-country on Route 66, every region's highways and byways have a story to tell. Some routes travel through national parks to soak in America's natural wonders, while others take you back in time to pivotal events in our nation's history. Still others celebrate small-town America, local cuisine, and the engineering marvels that get you there, like Florida's 7-Mile Bridge and North Carolina's Linn Cove Viaduct.
Pack your bags for some freewheeling adventure on the open road with one of these bucket list-worthy highway adventures.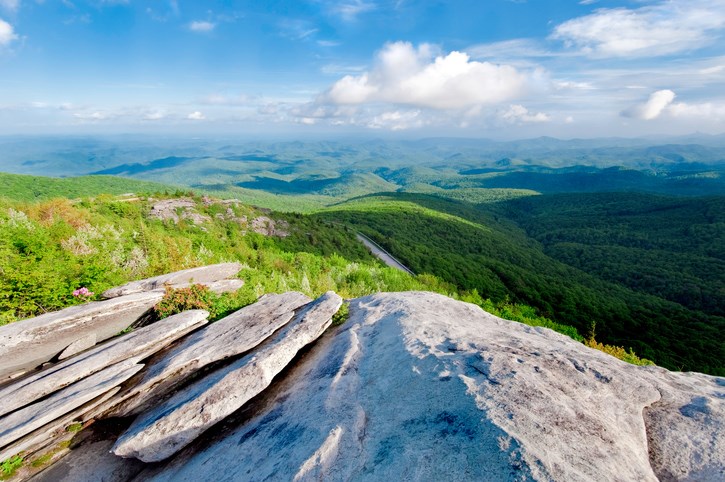 Blue Ridge Parkway
On the 469-mile drive between Waynesboro, Virginia and Cherokee, North Carolina on the Blue Ridge Parkway, you'll wind your way across some of the oldest mountains and rivers in the world, passing the highest peak, deepest gorge, and tallest waterfall in the eastern U.S. It's a relaxing 45-MPH drive through the Appalachian Highlands, a lush, green landscape of rolling mountains and farmlands dotted with log cabins, creekside mills, and Native American heritage sites.
Known for old-time and bluegrass music, folk art, and mile-high vistas, the Parkway has a few stand-out attractions you won't want to miss. Learn about Appalachian culture at Mabry Mill, the Blue Ridge Music Center and Folk Art Center, Doughton Park, and Moses H. Cone Memorial Park. Stop at the James River, Peaks of Otter, Rocky Knob, Linville Falls, Craggy Gardens, Mount Mitchell, and Waterrock Knob for some of the most spectacular views in the southeast.
KOAs nearby:
Charlottesville KOA
Lynchburg / Blue Ridge Parkway KOA
Fancy Gap / Blue Ridge Parkway KOA Journey
Boone KOA
Asheville West KOA
Cherokee/Great Smokies KOA Holiday

Overseas Highway
Cruise over coral and limestone islets on 113 miles of road and 42 bridges spanning the turquoise waters surrounding the Florida Keys. Originally a railroad line linking Miami with Key West, the Overseas Highway leaves the U.S. mainland to pass through Key Largo, Islamorada, Marathon, and many other smaller keys on the way to sunset over the Gulf of Mexico in Mallory Square.
You can make the drive in a day, but you'll want to take your time to snorkel in the waters surround colorful coral reefs and scuba dive around the remains of sunken ships. There's endless opportunities to pull off the road for some beachcombing, hiking, boating, and fishing along the way.
KOAs nearby:
Hollywood KOA
Davie / Ft. Lauderdale KOA
Sugarloaf Key / Key West KOA Holiday

Pacific Coast Highway
Stretching just over 659 miles from San Francisco to San Diego, Highway One hugs California's oceanside cliffs for some of the most dramatic road trip vistas in the world. In addition to your start and end points in two of the Sunshine State's most spectacular cities, you'll want to hit the brakes in Santa Cruz, Monterey and Carmel, Big Sur, Hearst Castle, San Luis Obispo, the Santa Ynez Valley Wine Country, Santa Barbara, and Huntington Beach.
KOAs nearby:
Santa Cruz North / Costanoa KOA
Santa Cruz / Monterey Bay KOA Holiday
Moss Landing KOA Express
Avila / Pismo Beach KOA
San Diego Metro KOA Resort

Grand Circle
A sweeping, 1,500-mile loop through the desert southwest is a nature-lovers dream, leading to six national parks, Native American cultural sites and tribal lands, and the second largest man-made reservoir in the U.S. Start and finish in Las Vegas for a two-week tour of the golden canyons, emerald pools and waterfalls, red rock sunsets, and high country pine forests of Utah, Nevada, and Arizona.
Zion, Bryce, Capitol Reef, Arches, Canyonlands, and the North Rim of the Grand Canyon National Parks are only the beginning of your road trip. Extend your drive to Escalante and Dead Horse Point State Parks, Lake Powell, and Monument Valley for more stunning scenery and some of the best hiking, boating, and mountain biking in the region.
KOAs nearby:
Las Vegas KOA Journey at Sam's Town
Kingman KOA Journey
Seligman / Route 66 KOA Journey
Grand Canyon / Williams KOA Journey
Flagstaff KOA
St. George / Hurricane KOA

Great River Road
From Lake Itasca in northern Minnesota to the Gulf of Mexico, a scenic byway runs along both sides of the mighty Mississippi River for 3,000 miles. Passing through 10 states and hundreds of river towns, Great River Road is a deep dive into America's heartland, pioneer history, and midwestern culture. From historic sites and scenic overlooks to museums and wildlife preserves, no route illustrates our country's immigrant history better than this one.
The urban attractions of Minneapolis, St. Louis, Memphis, Baton Rouge, and New Orleans are not to be missed, while over 70 historic sites and interpretive centers trace the archaeology and genealogy of the region.
KOAs nearby:
Minneapolis Northwest KOA Journey
Rochester / Marion KOA Journey
St. Louis West / Historic Route 66 KOA Holiday
Memphis KOA Journey
Baton Rouge KOA Holiday
New Orleans KOA
---
If travel and food writer Ann Gibson isn't hiking, backpacking, paddling, biking, running, or skiing, she's most likely in her RV, writing about the sports she loves and the best destinations to enjoy the outdoors. She splits her time between home base in the Carolinas and the life of a digital nomad, traveling, writing, visiting, and volunteering in America's parks with her husband and two Aussies.
---