Local Area Attractions Near Moab KOA Holiday
Moab is one of the most unique and beautiful destinations on the planet. From its gaping canyons and towering mountains in the distance to its raging rivers, this red rock wonderland is guaranteed to astonish. Whether this is your first time staying at Moab KOA or you are coming back for a new adventure, the Moab area offers something for everyone. Our team would be happy to help you explore this breathtaking destination so that you return home with unforgettable memories that last a lifetime.
Camping Near National and State Parks
One of the main reasons people come to Moab is to visit two of the most iconic and unforgettable National Parks in the United States — Arches National Park and Canyonlands National Park. Both places are just a short drive from our campground and offer enough striking sights and experiences that you may want to plan several days at both parks. Even if you have only planned a short visit to Moab, though, we recommend exploring these local gems. 
Arches and Canyonlands are not the only attractions found in our corner of the American Southwest, either. There are countless day trips to embark upon from Moab KOA, including: 

Monument Valley

Valley of the Gods

Island in the Sky district

Needles district

The Maze

Dead Horse Point State Park

The Goosenecks

Hovenweep National Monument

Natural Bridges

The Colorado River

Ghost towns 

And more

Camping near Canyonlands National Park and these other destinations is the best way to experience this unforgettable landscape first-hand.
Book Your Advanced Reservation in Moab Today
If you are looking for campgrounds near Canyonlands and Arches National Parks or you want to experience the untouched beauty of the American Southwest, then it is time to start planning your vacation to Moab KOA. Book your stay at our local KOA and start dreaming of your unforgettable adventure in Moab, Utah.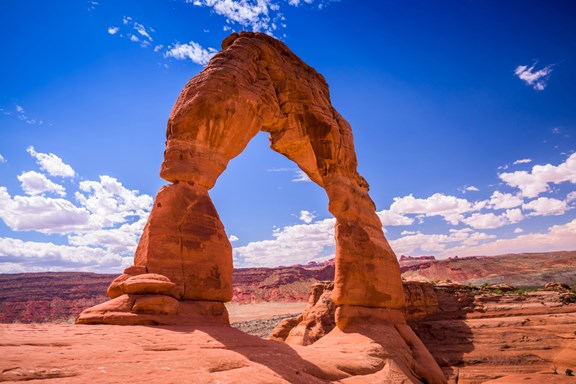 Arches National Park (15 Minutes From KOA)
Arches National Park is considered one of the top destinations in all of Utah. This national park features the greatest concentration of natural stone arches in the world. To date, over 2,000 arches have been found, and roads and trails in the park lead to many of them. As you walk the hiking trails and explore the scenic viewpoints, you will experience colossal sandstone structures, soaring pinnacles and massive balanced rocks that will make you feel dwarfed in comparison.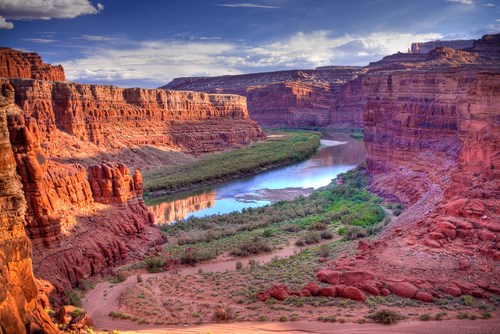 Canyonlands National Park (About 35 Minutes From KOA)
Canyonlands National Park is the largest and most rugged of all of Utah's parks. The three sections of Canyonlands, Island in the Sky, the Maze and the Needles, divided by the Green and Colorado rivers, are primitive worlds. They are so vast that, even with repeated exploration, they will never give up all of their secrets. During your visit to this remote area, you will enjoy spectacular views and diverse landscapes.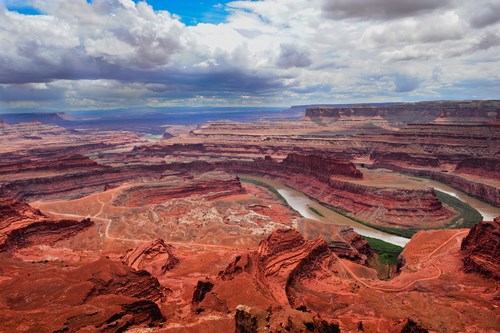 Dead Horse State Park (35 Minutes From KOA)
This park is so named because old-time cowboys, using the point as a natural corral, inadvertently left a band of horses trapped for so long they died of thirst. An almost isolated island-mesa, Dead Horse Point offers a spectacular view of the La Sal Mountains, Canyonlands National Park and the Colorado River 2,000 feet below.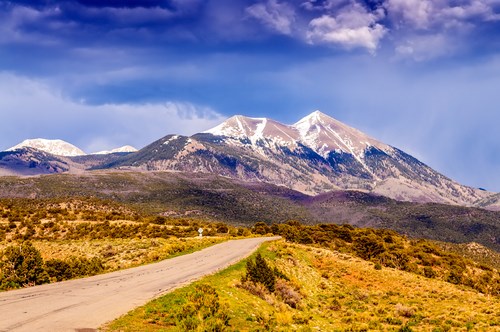 La Sal Mountain Range
From our KOA campground, you will enjoy spectacular views of the La Sal Mountains, located near the eastern border of Utah and rising above the town of Moab. You can take a half-day trip and enjoy the views and vistas up close. There are two lakes in the La Sal Mountains that are truly breathtaking. When you take the loop through the mountains, you drive along the banks of the Colorado River as well.
Ken's Lake
Just five minutes from the campground, you can enjoy Ken's Lake. This scenic and relaxing waterhole includes a pebbly beach and chilly mountain water fed by Mill Creek, and it is perfect for cooling off on those hot summer days. There is also a wonderful waterfall and some great places to walk your dog. Swimming, paddling and fishing are popular activities at Ken's Lake.
Local Area Recreation Near Moab KOA Holiday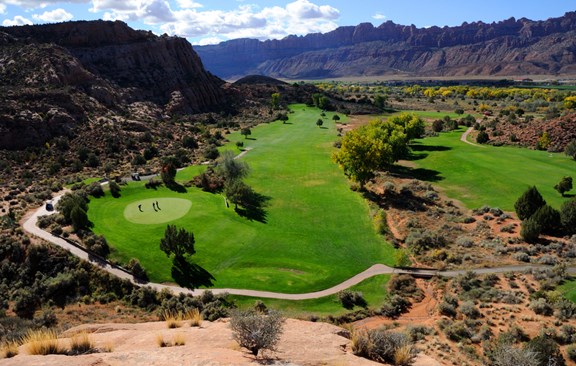 Moab Golf Club
Located less than one mile from the campground.  Enjoy playing a round of 18-holes surrounded on all sides by the breathtaking views of the red rocks.
2705 S. East Bend Road
Moab, UT 84532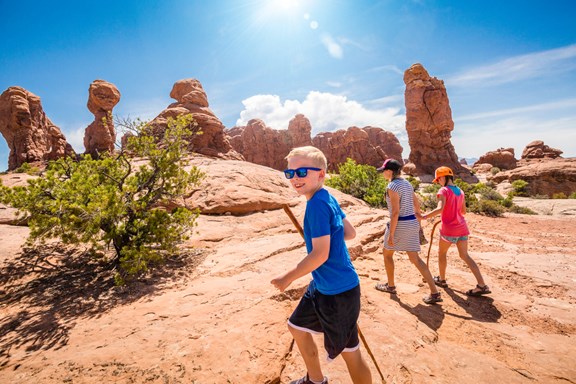 Hiking
Moab's National Parks & State Park offers great family hikes suitable for tots as well as teens. Guided hikes, interpretive programs and the Junior Ranger Program add additional fun for kids. Check out the fun things your family can do together.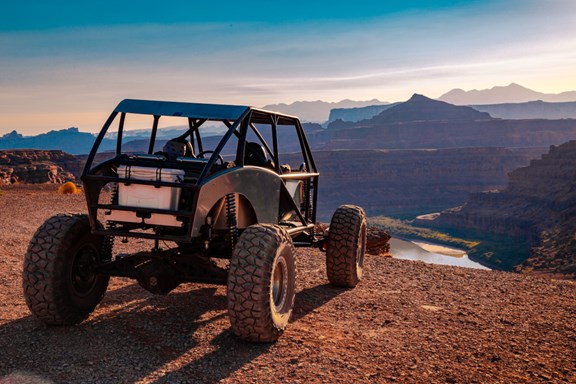 ATV Riding
Moab is a must-visit destination for those who love off-road adventure!
Moab has numerous trails suitable for ATV's. Much of the public land surrounding the National Parks is open to ATV travel on existing trails. (However, please note that ATV riding is not allowing within either Arches or Canyonlands National Park.) ATV enthusiasts can use all of the popular Moab 4WD Trails, or explore the backcountry trails that surround the Moab area.All OHVs are required to have certain equipment in working order while being operated in Utah, including:

Brakes sufficient to stop and hold the machine

A headlight and taillight while being operated between sunset and sunrise

A brightly colored whip flag attached to the OHV and at least eight feet off the ground while being operated on designated sand dune areas

A muffler and spark arrestor (snowmobiles are exempt from the spark arrestor requirement).

=18pxWe want you to have a fun, safe, and hassle-free time while visiting Moab. Street-legal equipment requirements largely parallel the safety equipment you expect to find on a traditional motor vehicle. However, please note that 
if a vehicle is street legal in your home state it may not necessarily be street legal in Utah
=18px.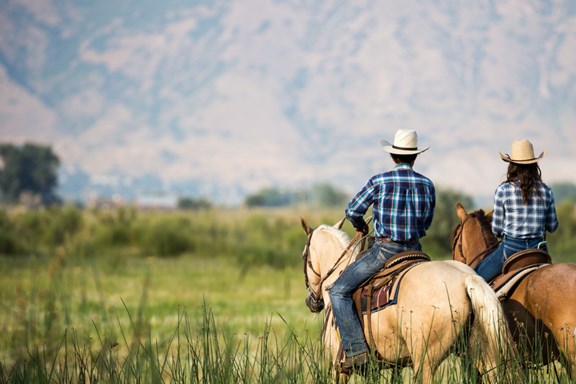 Horseback Riding
You can ride near the Colorado River or with overlooks near Arches National Park. Both have wonderful views that you can enjoy and relax.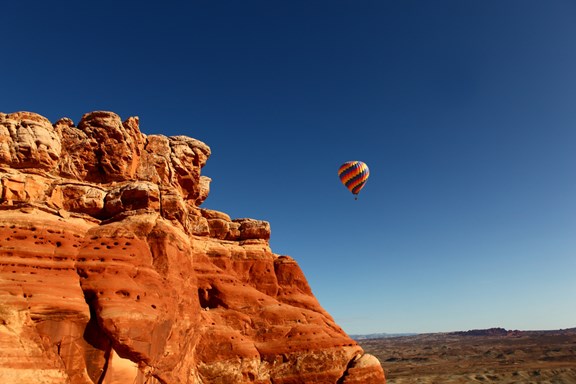 Ballooning
Imagine ascending to greet the sunrise as you drift among geologic wonders created when dinosaurs roamed the earth. Behold the fragile sandstone formations of Arches National Park as the 13,000 foot La Sal Mountains cast long shadows upon the town of Moab and Canyonlands National Park. As you drift over the river carved canyons of the Colorado River, let the pilot and wind be your navigator while you capture photographic images that will last a lifetime.Since hot air ballooning is an activity that is best suited for areas away from major population centers, ballooning near Moab and Castle Valley is the perfect location. Balloon flights in this region encompass some of the most incredible and awe inspiring scenery in the country.Wildlife seen while flying may include:

Desert Big Horn Sheep

Mountain Lions

Bobcats

Pronghorn Antelope

Foxes

Coyotes

Peregrine Falcons

Bald and Golden Eagles

Red-tailed Hawks