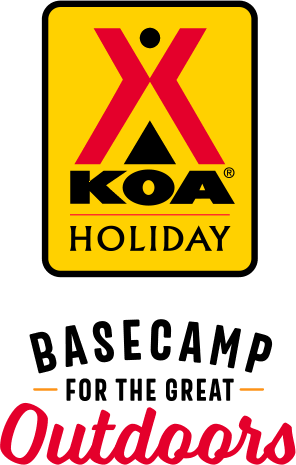 KOA Holiday Campgrounds
Whether you're exploring the local area or hanging out at the campground, KOA Holidays are an ideal place to relax and play. There's plenty to do, with amenities and services to make your stay memorable. Plus, you'll enjoy the outdoor experience with upgraded RV Sites with KOA Patio® and Deluxe Cabins with full baths for camping in comfort. Bring your family, bring your friends, or bring the whole group – there's plenty of ways to stay and explore.
KOA Holidays Feature:
RV Sites with a KOA Patio®
Deluxe Cabins with full baths
Premium Tent Sites
Group meeting facilities
Directions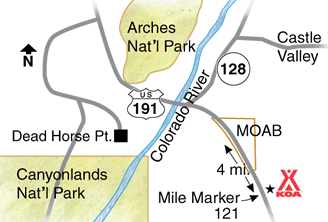 On Hwy 191: 4 miles south of Moab Visitor Center at mile marker 121.
Get Google Directions
Apr 06, 2021
Love this place Very clean, and staff is very nice and helpful This is our second time there
Apr 06, 2021
The staff in the store are very friendly and helpful. The campsite was clean, dirt/gravel, not particularly level. Old, wooden picnic table, not very level and not easy to level up a stove or grill on it. This is in the older, northern part of the campground. Quiet hours were followed very well. Water pressure was good. Pool looked very nice. Did not use the bath house.
Apr 06, 2021
Bathrooms ran out of toilet paper with no refills so people using and flushing paper towels. Clean the bathrooms, especially during a pandemic. Other than that good service and campground.
Apr 06, 2021
Sadly disappointing. Extremely expensive for a campsite that was across the campground from our friends. I called everyday for a week trying to make sure that our group of 3 sites were near each other and even left a messages providing all the names of each reservation. No one ever called me back and we were all separated across the campground.
CAMPGROUND RESPONSE / COMMENTS:
Your stay was booked 3 weeks prior to arrival, during the busiest week in Moab-Jeep Safari. It is unfortunate that we were not able to accommodate your request, but we have groups who book that week and lock in sites up to a year in advance. Had it been possible we would have gladly done so.
Apr 05, 2021
We really enjoyed staying at the koa in Moab.
Apr 05, 2021
We stayed for 8 days and had a great time!
Apr 05, 2021
Sites are much too close together and the noise of trucks in and next to campground was much too loud. I know the highway is beyond your control but trucks in the campground could be better regulated to be further away from tent sites. The kids really enjoyed the pool and we enjoyed the unlimited hot water.
Apr 05, 2021
Very nice campground but kinda cramped for my taste. The shower house/restrooms were clean enough for how busy it was. We didn't have a chance to use the pool but it looked very nice.
Apr 05, 2021
We loved our weekend in Moab at the KOA. Our cabin was clean and very cozy. Great place to stay with a pet.
Apr 05, 2021
Great staff, awesome pool, and close to town. Bathrooms were fine could use a update but they work. Can't wait for our next trip to Moab.
Apr 05, 2021
It was really nice staying in this location. The staff was really friendly and all the facilities were really clean! I wanted to visit a place where I felt safe and at the same time have fun with all my family, and this place met the expectations. :)
Apr 05, 2021
Nice staff!
CAMPGROUND RESPONSE / COMMENTS:
Thank you so much! Safe travels!
Apr 05, 2021
We booked our stay about six weeks in advance and called every day afterwards to try and get spots next to each other and were not able to. customer service was not very good and there were spots where we could've been together as a group and it made our stay very cumbersome and complicated.
CAMPGROUND RESPONSE / COMMENTS:
Your stay was booked 3 weeks prior to arrival, during the busiest week in Moab-Jeep Safari. It is unfortunate that we were not able to accommodate your request, but we have groups who book that week and lock in sites up to a year in advance. Had it been possible we would have gladly done so.
Apr 05, 2021
It was AMAZING! The perfect stay.
CAMPGROUND RESPONSE / COMMENTS:
So happy to hear this! Thanks for choosing KOA :)
Apr 05, 2021
Cabins were clean and in close proximity to the main office, and pool. View outside (the mountain range) was gorgeous. Quiet atmosphere at night, which was nice. Only thing was that the main office was out of some supplies (salt and pepper). But still, 10 out of 10! This KOA is better than the Yellowstone one. Beds were comfortable and the cabin was as well.
CAMPGROUND RESPONSE / COMMENTS:
Sadly we did have some of our store items back-ordered on us at the last minute. We're so happy you enjoyed your stay otherwise!
Apr 04, 2021
We've been coming to this KOA for 17 years in a row for Easter Jeep Safari. Like the long sites, we get the same sites every year. We are usually out on the trails all day long so we have never really used any of the other amenities at the campground. The only real negative is this is the second time that we had to send parts to the campground and they complained that we did that, small packages
Apr 04, 2021
Wonderful people, clean and friendly staff. We love this place, we will continue to come back.
Apr 04, 2021
The roads and campsites are all dirt, with no fire pit or ring (unless you pay extra to rent one). the WI-Fi only worked 1 day out of the 5 we were there. This was with ALL of our devices (i-phone, android phone, lap-top, and tablet). After talking to other campers, and the check-in office, they said it was an on-going issue. Office should have had a sign up, or advise upon check in.
Apr 04, 2021
Park was perfect for our needs. Great setting, helpful staff and all amenities such as cable tv and wifi were spot on.
Apr 04, 2021
The cabin was cute but the shower needed a good wipe down. I wiped it down with Lysol wipes and lots of gunk came off. That tells me when someone cleans the cabin, they don't even wipe it.
Apr 03, 2021
Everything was fine but spaces are very close together.
Apr 03, 2021
The staff was friendly and helpful, and the campground was AMAZING! Our cabin was thoughtfully laid out and had everything we needed, the pool was lovely, and the bathrooms were clean. Our family had a great time.
Apr 03, 2021
We loved our stay and felt it was a great get away! KOA does a phenomenal job of having clean facilities to shower and use the bathroom in, of which I am truly grateful! The only negative I really have is that firepits were not provided for free. Either provide in-ground (like other KOA's), or they should be free with a credit card put down as collateral in case it isn't well taken care of.
Apr 03, 2021
Loved our stay! Best campground in Moab. Pricey but worth every penny. felt very safe and clean. Highly recommend!
Apr 03, 2021
We had a great stay at the Moab KOA! We enjoyed staying in the cabin and the shared restrooms and showers were nicer than I imagined! The staff cleaned them regularly throughout the day which was very nice. We enjoyed the amenities and overall it was a great place to stay for a few day get away!
Apr 03, 2021
All the staff was wonderful and the camp site was well maintained. The showers and toilets are disgusting.
Apr 02, 2021
WiFi constantly down, restrooms were almost never clean, loud construction next to the campsite.
Apr 02, 2021
Nice amenities, but the sites are all gravel and many are not level. We could not level our motorhome safely. Sites are jammed. We stayed during jeep safari week and it was super expensive even after discounts.
Apr 01, 2021
Internet was abysmal. Prices were steep. Event the small cup of coffee ($1.50) is silly. You need more bathrooms that are cleaned more regularly too.
Apr 01, 2021
The prices are way too high. We had the smell of sewer throughout our first night and no hot water in showers and never able to get WiFi. Too many problems for price we paid
Mar 31, 2021
Everything was fine during our stay. This campground was $90 a night and we knew that going in so - buyer beware. Also, the WiFi was non-existent. Good WiFi would have earned 5 stars.
Mar 31, 2021
Great sites. Pretty views.
Mar 31, 2021
Incredibly gorgeous property! Great staff! Would recommend to friends and family! Would love to stay again!
Mar 31, 2021
The bathrooms & showers were dirty. The shower's water pressure was weak & it was only warm (not hot) for a max of 2 minutes.
Mar 31, 2021
Wonderful KOA. On the south end of town so a bit out of the way but couldn't be happier with the kampground. Pool was up and running, showers and bathrooms were clean and private. Hot water which was nice. My site was fairly level and easy to pull in/out of. We will certainly be back!
Mar 31, 2021
Clean and friendly.
Mar 31, 2021
The whole campground was beautiful. Everything was extremely clean and quiet, the kids had a great time swimming and the sites were large.
Mar 31, 2021
Prices were too high for a tent site. The bathrooms were dirty at all times. No fire pits unless you paid, and we already had paid way too much for the site.
Mar 31, 2021
This was the most favorite of the KOA campgrounds we have stayed at!!! We loved it. Everyone was helpful and nice. I appreciated the pool and spa area being large enough to accommodate many. Moab is a great little town and it was our favorite stay on our 5 state road trip. Compared to other places we drove by we by in the town, it was certainly the most safe looking and eye catching! 10 0ut of 10!
Mar 31, 2021
We asked if we could have a bigger spot that was next to us told no and it sat empty. Was irritated that they wouldn't let us have it we have a big tent. The showers need an upgrade too. There is an older lady at the desk that is not nice she was the one who said no.
CAMPGROUND RESPONSE / COMMENTS:
Looking at the dates you were here every one of our tent sites were booked. It is possible someone did not make their reservation, but each site was reserved. Thank you for your feedback!
Mar 30, 2021
The staff was very rude in particular an older blonde haired lady who would walk around and yell at everyone in the hot tub. We realize times are different with rules age covid.... but there are better ways to deal with your customers!!! Very rude!!
Apr 11, 2021
We just bought our first RV and went here for our first trip Wednesday- Saturday. So glad we came here. The This place was perfect for us. They had so much to do! The pool and hot tub were perfect. Plus the staff is amazing. We had a lot of questions, and needed some help. The staff was great, and helped us fix a few things. Plus it was cool seeing how excited some of the staff is for travel and exploring. This is definitely going to be one of our spots we return to on a regular basis.
- Taylor Kaelin on Google
Apr 09, 2021
Clean and quiet even though very busy. Helpful, accommodating ,friendly staff
- Luke Baumann on Google
Apr 05, 2021
Nice clean campground With friendly helpful employees
- Danelle Kara on Google