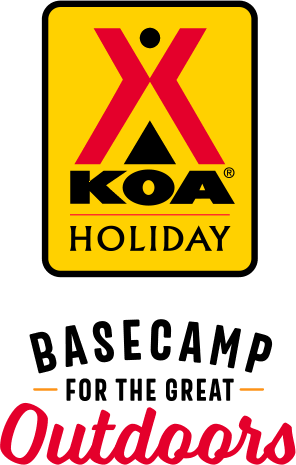 KOA Holiday Campgrounds
Whether you're exploring the local area or hanging out at the campground, KOA Holidays are an ideal place to relax and play. There's plenty to do, with amenities and services to make your stay memorable. Plus, you'll enjoy the outdoor experience with upgraded RV Sites with KOA Patio® and Deluxe Cabins with full baths for camping in comfort. Bring your family, bring your friends, or bring the whole group – there's plenty of ways to stay and explore.
KOA Holidays Feature:
RV Sites with a KOA Patio®
Deluxe Cabins with full baths
Premium Tent Sites
Group meeting facilities
Directions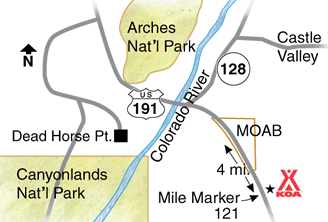 On Hwy 191: 4 miles south of Moab Visitor Center at mile marker 121.
Get Google Directions
Nov 12, 2020
I thought that the campground was very well located and easy to find. The bathroom was clean and the RV spot had everything we needed. We arrived after office hours and we found that the instructions were very clear and we didn't have any issues finding our spot. The only thing we didn't love is that spots are very close to each other.
Nov 11, 2020
We stayed for 8 days and found everything to be great. We will be back again.
Nov 05, 2020
Moab KOA is run very efficiently, and the staff is knowledgable and very helpful. I like that they guide you to your to your site. The location is a couple of miles out of town, but the mountains surrounding the area are beautiful. Plan to stay here again.
Nov 03, 2020
loved it so much coming back with more family in spring.
Nov 03, 2020
Everything was very good, except for the shower. Only got about two minutes of low flow hot water, then cold, in the family bathroom. Only one of us could shower.
Nov 02, 2020
The cabins were nice and spacious and the hot water was almost instant.
Nov 02, 2020
Great location, pool, friendly service, beautiful views. Only downside was sound of traffic on highway right behind us.
Nov 02, 2020
Enjoyed the stay very much in the Deluxe cabin. Grounds are well kept and nice to be in a quieter area away from the main hustle of Moab. The check in process could have been better. I came just a few minutes before the front desk closed and good thing I did as they had erroneously indicated on the map that I booked a tent site! The lady was able to look up the reservation and resolved the issue.
Nov 02, 2020
Wonderful! My only suggestions is to label the light switches.
Nov 02, 2020
Charming cabin, wish it had been a little cleaner :)
Nov 02, 2020
Pool was closed a week before we got there, with no notice on the website that pool would be closed. Front desk person acted like I was dumb for even asking if pool would be open soon after noticing we could not get in. Feel like we wasted money as the whole reason we stayed at the park was for the pool.
Nov 02, 2020
Our cabin was cute, cozy and comfortable with everything we needed. Good working heater! The staff was super friendly and helpful. Unfortunately the traffic noise from the highway was almost unbearable. Loud semi trucks all hours of the day. Impossible to just chill outside by the campfire and relax. Also, lots of pet hair in our cabin from previous guests.
Nov 02, 2020
newer facilities clean bathrooms and shower rooms, decent camping cabin, quiet at night. overall very nice
Nov 01, 2020
My aunt died so I was unable to go camping but because it was within the 7 day window KOA wouldn't cancel my reservation so I paid for a cabin I couldn't use.
Oct 31, 2020
Felt like our unit did not have things that worked. Water faucet was leaking, and had no way to turn the water on. The refrigerator shelf was missing. Gas Grill needed to be fixed when we arrived. We only stayed 2 nights. Did not use that pool or other amenities. Just thought for the price we paid, at least things could have worked correctly.
Oct 31, 2020
Great location, clean amenities, easy late check-in process. AMAZING views!!!
Oct 31, 2020
Great space between spaces. Not real level though. The planters leading up to check in make it real difficult getting in with an RV. Clean and well kept park. The front desk girls could be more friendly though. Having to wear a mask doesn't keep you from being upbeat.
Oct 31, 2020
Good location
Oct 31, 2020
It was okay. We are tent campers and chose to book a site here at last minute because we were getting in town late and didn't want to drive around looking for a blm spot. The highway noise is SUPER loud for tent campers but for people in RVs it probably doesn't matter. Bathrooms could be cleaner.
Oct 30, 2020
The staff was very friendly and helpful. The campground is close to restaurants and activities. Laundry facilities are convenient and clean. I would definitely stay here again.
Oct 30, 2020
Beautiful rv/campground located on the south end of town! fun yard games like ladder ball and cornhole. Great washing machines and large pool! bathrooms cleaned daily and the showers could be cleaned more often but we were there when the rv/campground was full for the whole week so...staff was very helpful and the little store onsite was handy too! We would definitely stay here again : )
Oct 29, 2020
Positives-Very nice park. Great friendly and helpful staff. Negatives-RV sites could be a bit more level. Home construction adjacent to park is currently problematic and will have negative lasting consequences on park ambiance.
Oct 29, 2020
A bitter cold storm caused frozen pipes, broken water heaters, and frigidly cold cabins. While I know this storm was very sudden, it seemed to me that staff had not prepared well. In addition, each time I called the office for help, I got voicemail and no return phone call. I did, however, receive a refund on my pet deposit as compensation.
Oct 29, 2020
First time staying with you. Stayed in one of your older one room cabins. Love having this resource available as we like to camp with our dogs and don't own an RV anymore. Very clean and comfortable. Staff was friendly and accommodating. We will definitely be back! Thank you all!! The Southwick's
Oct 29, 2020
The only things I was critical of were the short office hours and cold bathrooms. Otherwise; all the services worked well. The WiFi actually worked well and the facilities were clean. I really liked that even with such a large camp there were showers and bathrooms nearby, they even had outside washer/dryers nearby.
Oct 29, 2020
Nice facility, Campsites were small, the pool was freezing - should be advertised that this is a no heated pool!
Oct 29, 2020
Great RV park and great service! Thanks and see you next time.
Oct 28, 2020
We love the Moab KOA and are repeat guests, but the pool temperature needs to be warmer, especially as the hot tub is closed.
Oct 28, 2020
Spaces are too close together. My picnic table is an arms reach from neighbors sewer connection. Roads and sites are dusty. Showers were filthy.
Oct 28, 2020
What a great place! So convenient to everything. The people working there were so nice. We will definitely be back again. Great camp sites. Nice dog bathroom walk. They put family members close to us. Everything was clean!
CAMPGROUND RESPONSE / COMMENTS:
Thank you so much for taking the time to leave us feedback! We're so happy to hear you enjoyed your stay with us. Safe travels, and we hope to see you again in the future!
Oct 28, 2020
Beautiful grounds. Friendly staff.
CAMPGROUND RESPONSE / COMMENTS:
Thank you! We're glad you enjoyed your stay and hope to see you again in the future!
Oct 27, 2020
Clean, well maintained park. Only complaint is the dust. If they cannot pave roads would be nice if they could wet them down.
Jan 09, 2021
Again, a very nice KOA to stay and spend some nights. Nice ground, friendly guide, stuff and locals. Great atmosphere. I was here in 2018 with a friend of mine and we both really enjoyed our stay.
- Zoey Ophilia on Google
Dec 29, 2020
(Translated by Google) My favorite camp (Original) 我喜歡的營地
- will on Google
Jul 08, 2019
Kids and I loved the pool
- Sara H on Google