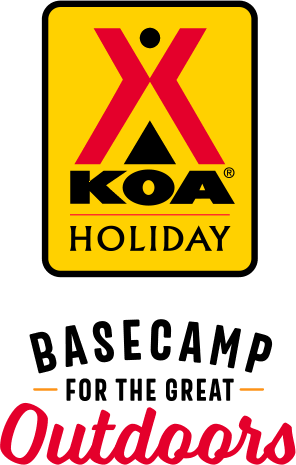 KOA Holiday Campgrounds
Whether you're exploring the local area or hanging out at the campground, KOA Holidays are an ideal place to relax and play. There's plenty to do, with amenities and services to make your stay memorable. Plus, you'll enjoy the outdoor experience with upgraded RV Sites with KOA Patio® and Deluxe Cabins with full baths for camping in comfort. Bring your family, bring your friends, or bring the whole group – there's plenty of ways to stay and explore.
KOA Holidays Feature:
RV Sites with a KOA Patio®
Deluxe Cabins with full baths
Premium Tent Sites
Group meeting facilities
Directions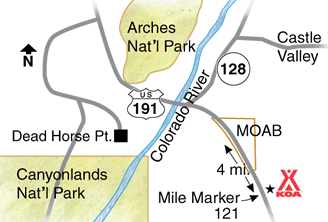 On Hwy 191: 4 miles south of Moab Visitor Center at mile marker 121.
Get Google Directions
Jun 17, 2021
Great, but the wifi was iffy the entire time. The pool was too cold to be enjoyable, even at 100 degrees in the intense sun.
Jun 17, 2021
Excellent Time!!
Jun 17, 2021
Excellent KOA nice friendly staff super helpful. Great location nice sites clean bathrooms and laundry. Excellent pool and hot tub. I have stayed here several times and will stay there again, but Moab is a lot more expensive than most other Koas but Then all RV sites in Moab are expensive.
Jun 17, 2021
Office staff were spectacular! My only complaint would be placement of the large rocks along the road - not exactly big rig friendly
Jun 17, 2021
Second time there. Very nice. They have grown since the last time but they are still personal.
Jun 17, 2021
Way beyond our expectations. The deluxe cabin was clean, comfortable, and full of amenities. Thanks for helping to make my dream vacation amazing! I will be staying here again!
Jun 16, 2021
We stayed in a patio site and it was wonderful. The pool is great and the staff was very friendly! We will definitely be back when we return to Moab.
Jun 16, 2021
We stayed in a deluxe cabin and loved it. The cabin was like new and immaculate. Really nice pool too.
Jun 16, 2021
One of the employees noticed a problem with the tire on our RV and saved our lives! The facility was great and the amenities made our stay very comfortable. We would definitely stay again!
Jun 16, 2021
Awesome campground
Jun 16, 2021
Clean, comfortable bed. Perfect place to come back to after exploring beautiful Moab.
Jun 16, 2021
The camp host was very kind and understanding. The cabin we stayed in was clean and more than we expected. Thank you for a great expereince!
Jun 15, 2021
Our spot was way at the end. Wish we had trees in our area to help stay cooler. Pool was good and laundry services. Staff was very friendly.
Jun 15, 2021
Great staff, friendly and helpful.
Jun 15, 2021
Although busy, bathrooms were clean. Our spot was a great location next to the patio. This is our second visit here and would come back!
Jun 15, 2021
Great clean campsite with very friendly staff. This was our first time staying at a KOA property and it will not be the last. We will definitely be checking to see if a KOA campsite is available for all of our future camping trips
Jun 15, 2021
Sites were way too small. Barely had room for 2 chairs outside. Staff was unfriendly and had little to no knowledge of the area.
Jun 15, 2021
Amazing campgrround. The only thing it needs are more toilets. Every day I had to wait for a toilet to open up.
Jun 15, 2021
The bathroom/bath house was unisex which made it very uncomfortable for everyone. The campsites were very small and nothing but gravel with no landscaping. Besides that it was expensive! My wife and I disliked it so much that we left a day early and hit the road. We will never stay there again and will never recommend it to anyone!
Jun 15, 2021
The best KOA so far in regards to employees. Nancy and Jill were the best. They both made sure my stay was perfect. If all employees were like these two, life would be great.
Jun 15, 2021
Worst bathrooms I've been in for a KOA in a long time!!! We also had a horrible spot, was basically the laundry mat and people walking through our site constantly. There wasn't a bit of shade our little teardrop never cooled down and it was 108. No where to go to get shade. There was one incredible worker who helped us get a cabin so we could cool off. The other front worker was never nice t
Jun 15, 2021
Best KOA I've ever stayed at but had to leave early afternoon of day 2 when temps soared around 108 degrees and my camper vans's AC could not keep up with the cooling for my 2 dogs. Had to bail out to a dog friendly hotel.
Jun 15, 2021
Camp did not assign us a site or set out a welcome packet. Due to this we followed the night registration rules of first come first serve. In the morning we registered but not told to change sites. Staff moved our tent to a warehouse which forced us to get a last minute hotel room even though we had paid. Tried to see where the miscommunication was in the morning, treated extremely rudely.
Jun 15, 2021
Short stay but nice visit - had a 1 room cabin. Clean and just what we needed.0
Jun 15, 2021
This campground is amazing.
Jun 14, 2021
Great all around!
Jun 14, 2021
I liked the campground. A couple of items for improvement, it wasn't well marked when entering it from Moab. Also the berry tree at our campsite was a nuisance, it was messy and it attracted kids to our campsite to pick them.
Jun 14, 2021
Bathrooms and showers were disgusting
Jun 14, 2021
Tent site was more gravel than sand almost impossible to drive tent stakes
Jun 14, 2021
We stayed in a deluxe cabin, and it was phenomenal. All staff were extremely friendly and welcoming. 12/10 would recommend
Jun 14, 2021
This is certainly not a rating for Moab itself, but there are clearly better places to stay. Greeted by grumpy person at the office, bed in cabin wasn't put together so we had to wait for two hours while they worked on them (no apology from the office person again). Shower I used was scalding hot except for one spot on the dial which was ice cold. We like Moab, but this was a bad KOA experience.
Jun 14, 2021
When we got to our 100.00 site there were no trees and a very warped and unusable picnic table , I call they could not move us but brought a new one.. the next morning we were a bit slow packing up due to my husband's health issues, he contacted them to let them know were we running a bit late, but they still charged 10.00 late fee. I really love this KOA from prior visits, but this time wasn't so
Jun 13, 2021
Probably the nicest KOA I've stayed at.
Jun 13, 2021
Enjoyed our overnight in a cabin. Excellent facility clean and well maintained. Only way to make it better would be to move it away from the city.
Jun 13, 2021
Very hard to get in. There are planters near entry that make it tough for entry and departure as lanes are now narrower. Also, narrow lanes to get through the park, and when it was time for exit from my site, there was a boulder (site 124) at exit that made it impossible to pull out without hitting it on left pulling out. A large RV ahead of me was leaving so I used his lane, but still tight.
Jun 12, 2021
Great place to stay.
Jun 16, 2021
Big campground! Pool was big and fun but a little chilly, even in summer. IF you are camping in a tent be aware that the DUST and SAND will be everywhere and blowing on you every time someone drives by. The camping cabins are awesome!!
- Georgana Derr on Google
Jun 14, 2021
Literally saved our lives! In addition to being a great place to stay, one of the workers noticed that our Cruise America RV had a tire that was wearing unevenly and about to pop! Having my 6 and 3 year old on the trip, along with my in-laws, I was extremely grateful! We got our tire fixed at Point S in town and could continue our trip safely. If you're looking for a RV park with great service and amenities that will go the extra mile to make you happy, KOA is the place!
- Adrian Scherger on Google
Jun 13, 2021
Great place for the whole family to stay while in Moab. We had an amazing time staying in one of the Grand Cabin's, swimming in the biggest pool in the city and playing fun games at the fire pit park. Definitely will return.
- Exzodius Phalkon on Google