Best Off-Roading Sites in Moab, UT
Are you looking for a place with miles of off-road trails to explore? With views of the red-tinted cliffs and the natural rock formations, the abundance of off-road trails in Moab, UT, offers a scenic getaway from civilization.
Whether you want to drive your jeep or your ATV to go four-wheeling in Moab, the off-roading areas are commonly sought after by guests. Before you explore the remote regions of Utah, though, planning is important for your safety and enjoyment. Keep reading to learn more about off-roading in Moab.
Where Can You Off-Road in Moab?
Unpaved sandstone trails dot the desert landscapes of Moab. In a high-clearance vehicle, you can enjoy off-roading through scenic vistas. While there are several trails you can take on, you might want to head to one of the national or state parks for a memorable road trip.
Here are a few park options:
Arches National Park: Named for the more than 2,000 natural sandstone arch formations, this park allows jeeps and other vehicles with four-wheel drive or better, and rentals are available locally. However, if you want to get out your ATV or UTV, you will have to head to another park.
Canyonlands National Park: Filled with overlooks of the scenery, you can bring your off-roading vehicle to Canyonlands for a one-of-a-kind experience. Some of the natural rock arrangements include a mesa called the Island in the Sky, pinnacles named the Needles for their high points and the canyon system known as the Maze with Native American rock paintings. Home to trails that range in difficulty from beginner-friendly to extreme, you will be able to explore this park for days regardless of your off-roading skills.
Dead Horse Point State Park: This park near Moab is said to be named after the wild mustangs that used to be herded into the canyons. It is the smallest park on this list, but it has plenty of mostly flat trails for a gentle drive through the terrain.
Five Popular Moab Off-Road Trails
The trails in Moab range in difficulty from flat, beginner-level roadways to challenging trails with sharp turns and steep drops, and Moab is a destination you can appreciate for its off-roading possibilities even if you are new to the activity.
Take a look at these popular off-roading trails that deliver a thrilling experience you will not soon forget.
1. Colorado River Overlook
Located in the Canyonlands National Park, the Colorado River Overlook offers the ideal terrain for cruising in ATVs or all-wheel-drive vehicles. The trail begins near the Canyonlands National Park Visitor Center in the Needles area of the park. Passing through a relatively flat unpaved roadway with some bumpy cliffs and a stream, the trail ends with a view of the mighty Colorado River.
If you are just starting out with your off-roading ventures, this trail is good for all skill levels. Tire treads are visible along most of the pathway, which stays flat over much of the drive. Want to start out cruising on an easier Moab ATV trail than average? There is a reason this one is so popular with visitors.
Distance: 14 miles
2. Slickrock Trail
A popular trail with intermediate to advanced mountain bikers, these rocky hills also provide a great Moab 4-wheeling adventure. The winding ascents and sudden plunges of the Slickrock Trail will put your off-roading skills to the test. If you want to shorten the route, try navigating the practice loop before you continue on to the longer, more difficult loop.
This is a more difficult trail even in an enclosed vehicle, with plenty of sharp edges and loose rock. However, its views of the canyonscape make it worth tackling.
Distance: 12 miles
3. Steel Bender Trail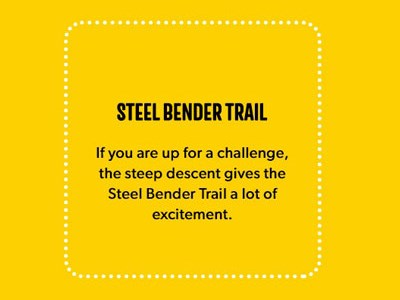 This rocky trail is close to the La Sal Mountains. If you are up for a challenge, the steep descent gives the Steel Bender Trail a lot of excitement. You can always turn around after exploring the initial section, which is sandy with few ridges and bumps. The rock ledges and weathered sandstone are fun to navigate and offer stunning views of the surrounding multi-colored cliff faces. Next comes the hard part — a steep, unmarked descent to the bottom of a cliff.
As its name suggests, this is one of the most difficult trails in Moab. Its full stretch of unpaved road also makes it longer than most, but many off-roaders take on smaller segments without finishing the entire trail. We recommend saving this one for after you have gotten a feel for some of Moab's other trails.
Distance: 30 miles
4. Hell's Revenge
With views of the canyons and mountains, driving through Hell's Revenge is an adrenaline-pumping ride in a vivid setting. Notable stretches include Hell's Gate, which has you make a steep climb up an uneven cliff, and the Black Hole, a rounded cliff wall. There's also a flat mesa with dinosaur tracks. If you are feeling daring, you can try taking on the Hot Tubs — deep ruts in the sandstone in the shape of large outdoor tubs.
This trail's ruts and steep slopes complicate its path across the sandstone. It is a popular location for sight-seeing pedestrians and is frequently traveled by brave motorists, but you should navigate Hell's Revenge with caution. Remember that you can always stop and turn around.
Distance: 14 miles
5. Potash Road
For a drive that most vehicles can tolerate without a hitch, head to this state motor route just north of Moab. Also called Highway 279 and the Lower Colorado Scenic Byway, the Potash Road stretches from Moab to the Canyonlands National Park. From this highway, you can follow the Colorado River as you view vast cliff faces, real dinosaur tracks and even the site of a scene from Thelma and Louise.
The advantage of taking this road is that you can see the sights even with a vehicle that lacks all-terrain capabilities.
Distance: 17 miles
Book Your Stay With Kampgrounds of America for an Off-Roading Experience in Moab, UT
Utah is home to plenty of KOA locations with amenities like heated showers and Wi-Fi access to make your off-roading adventures comfortable. Consider camping close to the Canyonlands National Park at Moab KOA Holiday, and find other prime Moab off-roading locations within close proximity to your campsite.
We host group events to connect you with other visitors, and the Holiday's large swimming pool, general store and laundry services offer unbeatable campground conveniences for your entire group. Reserve your stay to camp with your off-roading vehicles and Moab's red cliffs in the background.