Local Area Attractions Near Moab KOA
The Moab area offers something for everyone. Shopping in the city of Moab, river rafting, horseback riding, golf, jet boat & jeep tours, ancient petroglyphs, hiking, rock climbing, the world famous Slick Rock bike trail and numerous 4-wheeling trails. Day trips from the Moab KOA include Monument Valley, Valley of the Gods, Arches National park, Canyonlands National Park (Island in the Sky district, Needles district and the Maze), Dead Horse Point State Park, the Goosenecks, Hovenweep National Monument, Natural Bridges, the Colorado River, ghost towns and more.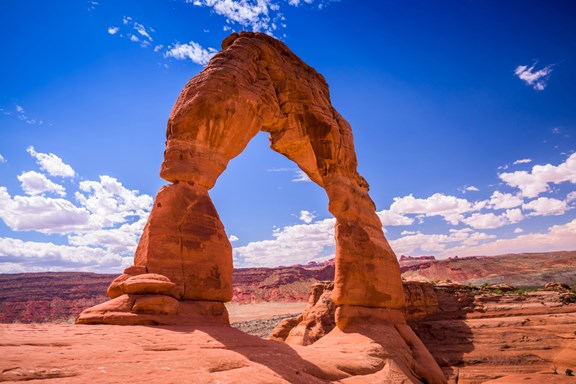 Arches National Park (15 minutes from KOA)
This national park features the greatest concentration of natural stone arches in the world. To date, over 2,000 arches have been found and roads and trails in the park lead to many of them.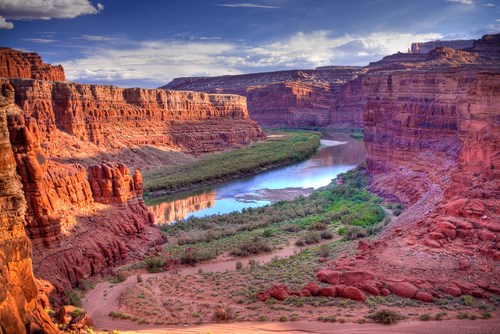 Canyonlands National Park (About 35 mins drive from KOA)
Canyonlands National Park is the largest and most rugged of all of Utah's parks. The three sections of Canyonlands, Island in the Sky, the Maze, and the Needles, divided by the Green and Colorado rivers, are primitive worlds. They are so vast that, even with repeated exploration, they will never give up all of their secrets.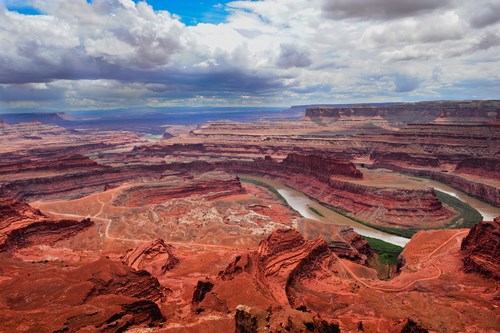 Dead Horse State Park (35 minutes from KOA)
This park is so named because old-time cowboys, using the point as a natural corral, inadvertently left a band of horses trapped for so long they died of thirst. An almost isolated island-mesa, Dead Horse Point offers a spectacular view of the La Sal Mountains, Canyonlands National Park, and the Colorado River 2,000 feet below.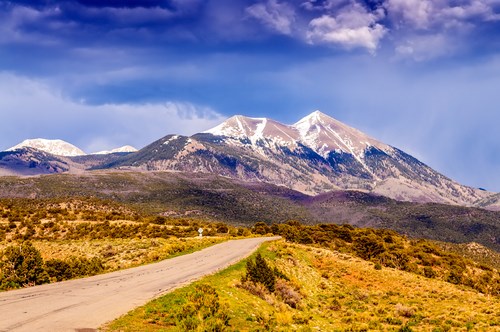 La Sal Mountain Range
From the campground there are spectacular views of the La Sal Mountains, located near the eastern border of Utah and rising above the town of Moab. You can take a half day trip and enjoy the views. There are 2 lakes in the La Sal Mountains that are truely breath taking. When you take the loop you drive along the banks of the Colorado River as well.
Kens Lake
Just 5 minutes from the campground you can enjoy Ken's Lake. There is a wonderful water fall and some great places to walk your dog.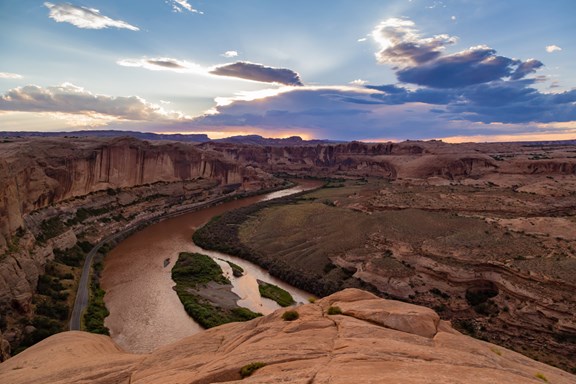 Colorado River
Choose your thrill level, enjoy a relaxing scenic rafting trip with interesting river guides, while cooling off in the refreshing Colorado River. Or perhaps a kayak or canoe adventure. If its more excitement you want with an adrenaline rush of serious white water rafting through West Water or Cataract Canyon then the Colorado River has something for everyone.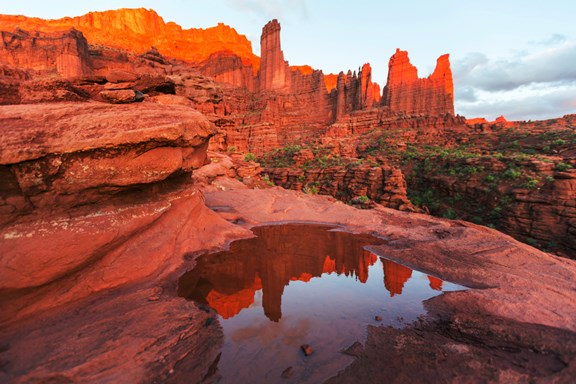 Fisher Towers
A series of towers made of Culter sandstone capped with Moenkopi sandstone, and caked with a stucco of red mud.  The Towers were named for a miner who lived near them in the 1880s.  The Tower is world-renowned as a subject for photography and for its classic rock climbing routes.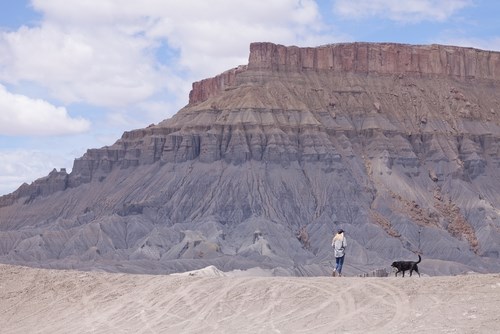 Sand Flats Recreation Area
The Sand Flats Recreation Area (SFRA) near Moab, Utah is a nationally significant public lands treasure at the heart of the Colorado Plateau. A high plain of slick rock domes, bowls and fins, it rises in the east to meet the colorful mesas and nearly 13,000 foot peaks of the La Sal Mountains. Bordering the area on the north and south are the canyons of the Grandstaff and Mill Creek Wilderness Study Areas. Further north lies the deep gorge of the Colorado River and Arches National Park. Sand Flats' famous Slickrock and Porcupine Rim bike trails and almost 40 miles of jeep trails are world-renowned for their combination of challenge and awesome scenery. Sand Flats is also popular for camping. Over 100,000 visitors enjoy this 9,000-acre recreation area annually. The Sand Flats Recreation Area is managed through a unique partnership between Grand County and the Bureau of Land Management. In 1995 this area was developed through the collaborative efforts of Americorps, the Bureau of Land Management, Grand County and the Moab community. SFRA's mission is to protect the natural features of the area from adverse recreational impacts while providing access to sustainable and enjoyable recreational opportunities.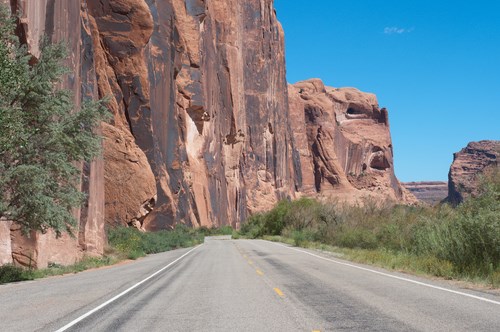 Potash Road
This Scenic Byway provides great views of the Colorado River, ancient rock art and dinosaur tracks. A late afternoon start is rewarding as the sunset on the reddish-orange sandstone cliffs along the route is especially beautiful on the return drive to Moab.This byway begins 4.1 miles (6.6 km) north of Moab, where Potash Road (U279) turns off of Highway 191. After 2.7 miles (4.3 km) Potash Road enters the deep gorge of the Colorado River. At the 4 mile (6.4 km) point, look for rock climbers on the cliffs along the section of Potash Road, locally referred to as Wall Street.
Moab Giants Dinosaur Museum and Prehistoric Aquarium
Not only is it set amongst some of the world's most breathtaking scenery in Moab, Utah, but it's a unique experience of the ages. Make your own tracks alongside the state-of the art, life-size dinosaurs in the land they called home! Moab Giants is the ultimate place to discover the past with cutting edge technology that feels like the future! Visit the newest dinosaur museum in Utah!
112 West SR-313
Moab, UT 84532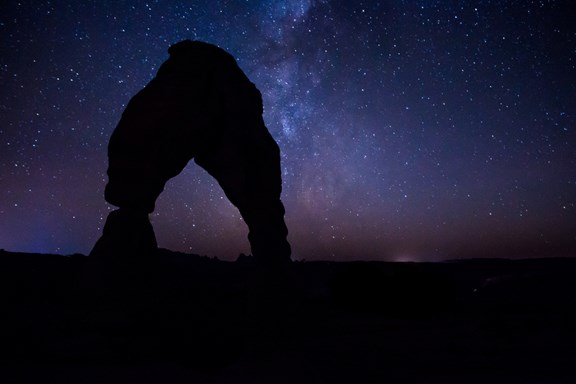 Night Skies
The public lands surrounding Moab have some of the darkest skies remaining in the contiguous 48 United States. As few as one in ten Americans lives in an area where they can see the estimated 2,500 stars that should be visible under normal conditions. In many cities, the night sky is completely obscured by the glow of urban settlement. At Arches National Park, the naked eye is sufficient to witness a wealth of stars. Under the right conditions, common binoculars may even reveal the rings of Saturn.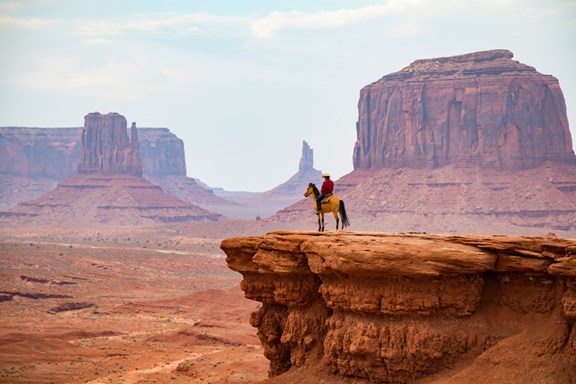 Moab Film Museum
When you enter the Film Museum at Red Cliffs Ranch be prepared to look back over years of black and white filmmaking featuring our most cherished actors and actresses, along with highlights from recent film projects that have taken advantage of the spectacular scenery surrounding Moab.In the late 40s the legendary John Ford discovered the rugged beauty of Moab's Canyonlands and filmed the 1st of many movies here. The first major motion pictures filmed in the Moab area were set on the Red Cliffs Ranch. Wagon Master, Rio Grande, Son of Chochise, Warlock, Commancheros, Cheyenne Autumn, and many more used the ranch and it's magnificent scenery for filming. John Wayne, Maureen O'Hara, Ben Johnson, Rock Hudson, Henry Fonda, Anthony Quinn, Lee Marvin, Richard Widmark, James Stewart, and Richard Boone have all worked on location here at the Red Cliff's Ranch.More recently Geronimo, City Slickers, Thelma & Louise, along with other movies and over 100 commercials have all used the Moab area as a location.The museum houses memorabilia from the early films to the present and is ever changing. Movie and western ranching themes are present throughout the resort. The museum is self-guided and open to the public daily at no charge.
Red Cliffs Lodge
Milepost 14, Highway 128
Moab, UT 84532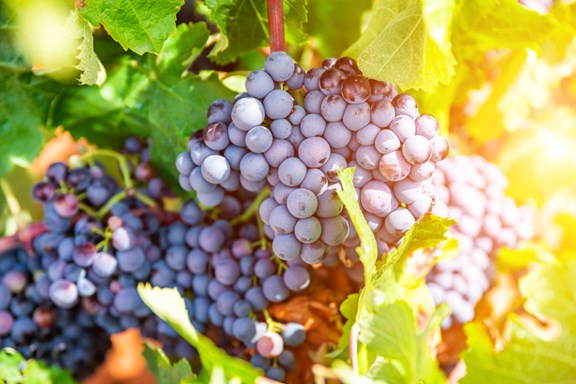 Spanish Valley Vineyards & Winery
Spanish Valley Vineyards & Winery is a small farm winery which grows and produces Cabernet Sauvignon, Syrah, Gewurztraminer and Riesling wines in the heart of Utah's Red Rock Canyonlands. Located within minutes of downtown Moab, Spanish Valley Vineyards & Winery offers free tours of their Vineyards & Winery. A tasting room is available to sample some of their delicious wines.
Tasting Room Hours:March-October 
Mon – Sat 
12:00pm – 7:00pmNovember & February 
Mon – Sat 
12:00pm – 5:00pmDecember & January 
By Appointment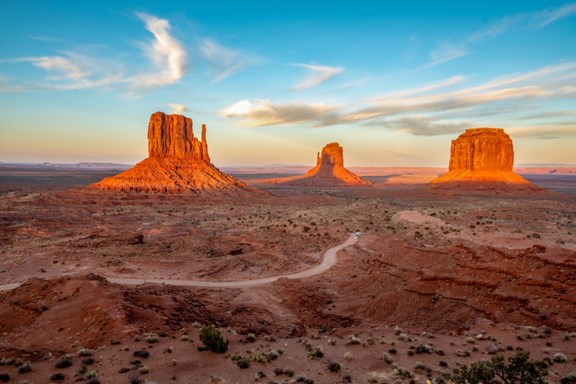 Movie Sites
Director Ridley Scott reported that he had "seen more wonderful and varied scenery in a single day in Moab than any other day [he had] scouted." Such variance has made Moab a hot spot for movies of all genres. From the ranches of the old west, to the interplanetary fields of Mars, to mile after mile of classic road-trip roads, the scenery is as endless as the possibilities.Visitors to Moab may find the area familiar as they tip-toe up to Thelma and Louise Point, set off on horseback to follow John Wayne's hoof prints, or take in the view from Westworld's Hub Mesa. Filmmakers will find thousands of square miles of sand deserts, snowy mountains, desolate canyons, verdant farmland, empty roads, and rushing rivers, – not to mention the iconic red rocks. For information on filming in the area, get in touch with the Moab to Monument Valley Film Commission 435-259-4341.
Museum of Moab
For 60 years the Museum of Moab has worked to preserve and display artifacts and information, and to promote research and education, which accurately reflect the natural and cultural history of southeast Utah. Our exhibits feature materials from geology, archaeology, and regional history, and our programming, publications, and research collections are aimed at fulfilling this mission with ever-increasing effectiveness.
118 E. Center Street
Moab, UT 84532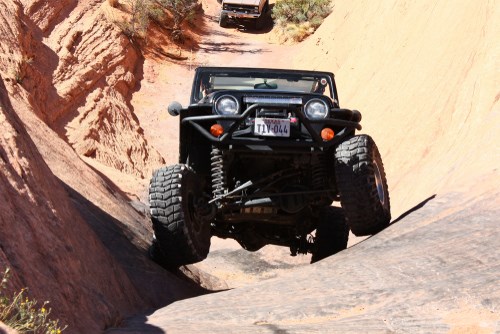 Hells Revenge 4x4 Trail
Hells Revenge is an extremely popular trail in Moab and is considered a must-do for many. It's a wild rollercoaster ride over natural, petrified sand dunes, or "fins" as most people call them. If you take all the bypasses, it's not a very technical trail, however, it's not for the faint of heart. There are a lot of steep climbs and descents over the fins and some areas that you must drive very close to the edge of high cliffs which can be truly terrifying. For those looking for some added fun, Hells Revenge offers a few optional obstacles; Hells Gate, The Hot Tubs, The Escalator, and Tip Over Challenge. The Overlook also offers a great view of the Colorado River. This one should be on your bucket list.
Difficulty: 6-8 (Moderate-Difficult)
Length: 6.5 miles
Highest Elevation: 4775 feet
Duration: Approximately 4 hours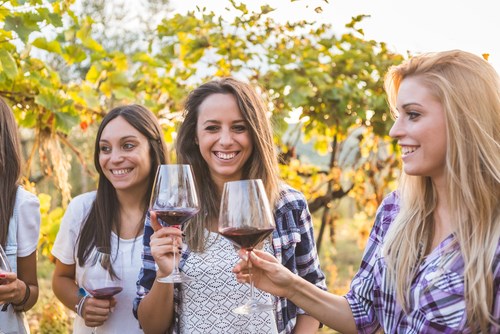 Castle Creek Winery
Castle Creek Winery is located on the banks of the Colorado River, just 15 miles up stream from Moab. It is built on the site of a historic, and still working, ranch.Castle Creek Winery produces red and white wines from locally grown grapes. The sandy soils and long warm growing season around Moab are ideal for many of the best grape varieties. The winery processes the grape crop of a dozen local growers into 6,500 gallons of Cabernet Sauvignon, Merlot, Pinot Noir, Chardonnay, Chenin Blanc and Gewurztraminer. Visit the Castle Creek tasting room overlooking the Colorado River in the heart of Utah's spectacular Red Rock Country.
Tasting Room Hours:
7 Days/Week
12pm - 7pm