And who doesn't love saving when it is really easy to do?
There are some painful ways to save money — by cutting out your daily caffeine boost from your favorite cafe, or by cutting back on your travels. However, those things are far from easy, and at KOA we are all about ease and comfort.
That's why we are here to tell you that you can save money without giving up your regular peppermint mocha, and also that you can save money by actually traveling and camping more.
What?!
Yes, you heard that right — the more you travel and camp, the more money you're going to save.
Now comes the "how?" — here's how you can do it.
The Value of Camping & Saving with KOA
Here at KOA we strongly believe that the memories made while camping are some of the most valuable memories you'll ever make.
For over 50 years (and counting), KOA campgrounds across North America have served as places for family and friends to come together and create memories.
By enjoying the beauty of the outdoors together on a hike, sharing stories over a campfire, bonding over a board game in your RV, or one of the other countless activities you can enjoy while camping, you are strengthening bonds with your loved ones.
And what's more valuable in life than that? We certainly can't think of anything.
Ways to Camp With KOA
In addition to the memory-making that KOA campgrounds facilitate, we also offer a number of different ways for you to experience the times you'll remember forever.
From the minimal tent camper to the souped-up RVer, there is a wide variety of ways to enjoy your camping.
And the best part about all of these ways to stay at KOA is that with a KOA Rewards, you'll save 10% off daily registration rates year-round.

Tent Camping
If you're looking to be more in touch with nature, and camp the old fashioned way, then KOA is your ideal place.
When tent camping at KOA, you know you won't be roughing it. KOA guarantees that every tent camping site has:
Level and dry spot for your tent
Solid picnic table to enjoy your meals at
Fire ring for cooking s'mores and more
Nearby restrooms and showers to freshen up
Laundry facilities to stay clean
Convenience store for any goods you forgot
Pet parks for your pups to enjoy
And select KOA locations will have even more.
At KOA Journey, KOA Holiday, and KOA Resort campgrounds, you have the opportunity to experience Premium Tent Sites that offer more space, more comfort, plenty of parking, and electric hookups so you don't have to worry about your phone running out of battery.

RV Camping
Possibly the most popular way of staying at a KOA, RV camping with us ensures you'll have a comfortable and hassle-free experience.
If you're an avid RV camper, you may find yourself looking for a discount rv camping membership; but with expensive membership fees, many campers find themselves asking "is it worth it?". KOA offers an alternative – a rewards program renewed annually that offers a variety of benefits, including savings on every stay at a KOA Campground.
KOA's 500+ locations are always there to give you what you need for your RV camping. At most locations, you'll find:
Pull-Thru and Back-In spots to make getting in and out easy
Full hookups with 30- or 50-amp service for your high-powered gear
Clean and level sites for your comfort
Patio sites to enjoy a glass of wine
Laundry facilities to keep you clean on the road
Kamp K9 for your furry friends to run around
Some extras that you'll enjoy at select KOA campsites include:
Bike rentals
Water sports
Land sports
Swimming pools
Hot tubs
Restaurants
Mini golf
Game rooms
Horseback riding
And much more

Camping Cabins
If you love to camp, but aren't jumping at the thought of sleeping in a tent, or don't have an RV to enjoy, or you simply want a new camping experience, then be sure to try one of our Camping Cabins.
After a long day of adventuring outside, you're going to love returning to a cozy cabin for a good night's sleep.
The amenities at our Camping Cabins that you're sure to love include things such as:
Electricity
Nearby restrooms and showers to freshen up
Full beds and bunk beds for you to rest your head
Room for four to six people — the more the merrier!
And select Camping Cabins offer porch swings and barbecues for make your camping experience that much more fun.

Deluxe Cabins
For a truly luxurious camping experience, KOA's Deluxe Cabins make sure that you have all the camping fun while feeling like you're sleeping in the comfort of your own home.
Just some of the comforts you'll enjoy at our Deluxe Cabins are:
Private bathrooms and showers for your convenience
Small kitchens so you can cook your own food in ease, and instead enjoy the campfire for s'mores
Cable TV for when you're craving a night in
Real beds for some serious r&r
Private outside area to enjoy nature's beauty
How great is it that all of these KOA experiences come at 10% off with KOA Rewards?
And this just scratches the surface of the benefits our KOA Rewards holders get to enjoy.
Discounts and Savings With KOA
One of the best benefits of the program, as mentioned above, you get 10% off daily registration rates.
In addition to that, you'll also accumulate rewards points when you camp with KOA that you can redeem down the road for cash off future KOA stays.
KOA Rewards campers will also enjoy a free night of camping at participating KOAs during the KOA Rewards Weekend.
VIP Status
If you accumulate 20,000 points within one year (defined as a 12-month period starting from the date you purchased your membership), then you have earned VIP status.
If you reach VIP status any time before your 12 months is up, then you will get the next year of KOA Rewards totally free!
Here's what else you'll enjoy as a VIP:
Opportunity to earn points 25% faster
Waiving of your $10 reservation cancellation fee
10% off one KOA stay (for up to 4 nights) for a friend
Great Deals From KOA Partners
The savings you'll experience with KOA Rewards extend beyond the in-house offerings of KOA. We have a number of partners with whom we offer discounts and services, and with your card number, those discounts will be even greater.
To jump on this opportunity, and to start your savings today, visit the KOA Rewards site here.
---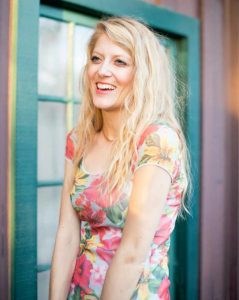 Leslie, a.k.a. Copy Girl, is a copywriter who gets butterflies from telling stories through words.
Her voice comes from a place filled with passion, dreams, and lots of sugar. "Cake over steak" is her go-to motto.
With over 10 years of experience in crafting words, and years of embarking on travels that have taken this Montana girl to some incredible places, Leslie love the adventures of both body and mind her writing takes her on.
Everywhere she goes, she takes this advice with her:
"Hold on to your divine blush, your innate rosy magic, or end up brown." – Tom Robbins, Jitterbug Perfume
To see what Leslie's up to in the writing world, visit her website here.
---