Free Camping Weekend in appreciation of our VKR members!
We've got a special weekend offer just for Value Kard Rewards (VKR) holders! VKR campers staying Friday, September 10, 2021 get Saturday, September 11 FREE* at participating KOA locations. Just a small token of our appreciation to you, our amazing campers, for sharing your adventures with us!
When: September 10-11, 2021
What: Value Kard Rewards holders stay as a paying guest on Friday, September 10 at any participating KOA campground and get Saturday, September 11 for FREE*
Why: VKR Appreciation Weekend is designed exclusively for Value Kard Rewards holders to say thanks for your loyalty and for trusting your camping memories to us. On this late-summer weekend, we gather to celebrate friends, family and fun in the great outdoors we all adore.
*Only at participating KOA locations. Applies to one-site per a VKR account, for two consecutive nights at the same KOA. Sites may be limited. Not valid with other discounts.
Participating Campgrounds
Participating Campgrounds in Canada
Newfoundland and Labrador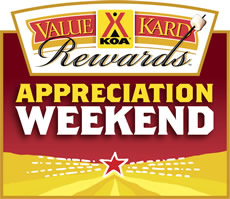 Purchase Value Kard Rewards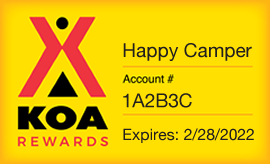 Get a free night of camping now, plus more great benefits.
Buy Now
Special thanks to our VKR Appreciation Weekend Sponsor!