Looking to make your next trip an outdoor adventure? Camping and glamping are two different ways to experience the great outdoors and enjoy all of its benefits. Learn more about glamping and camping here!
For many, daydreams of a break from the daily grind conjure up images of lake shores and vistas, of babbling brooks and tree-lined trails. A desire to spend free time in the great outdoors is at the forefront of many minds. So when you have some time to plan a vacation, however long it may be, you plan them to be under the sun and stars. The details of how you may choose to do it, however, can range far and wide.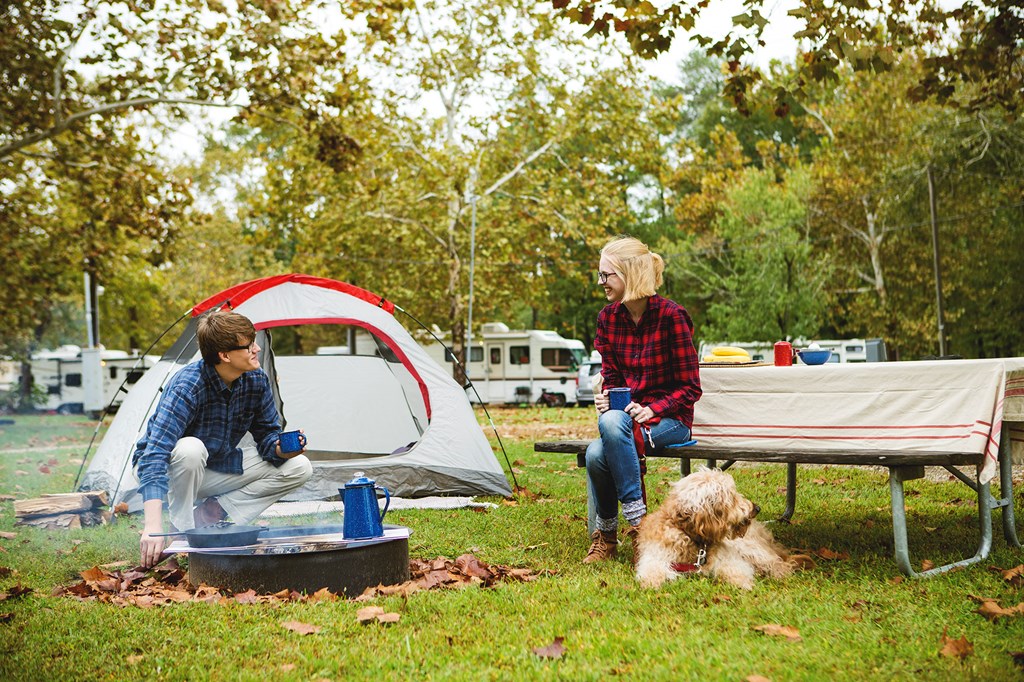 What Is Camping?
Some of us are chasing a challenge that is a polar opposite of our comfortable lifestyles. We may find the most excitement by stripping life down to the bare essentials, or we may require a few extra creature comforts to make the trip more tolerable. But no matter what the trip requires, we call it camping.
What do we need to survive? For some, this statement drives every choice when planning for an adventure. You may have a backpack, a tent, some simple rations, a pair of sturdy boots, water and a sleeping bag or a hammock. For others, this may mean a few more amenities like clean drinking water and a hot shower at the end of a long day full of fun, adventure and time with family.
Or, maybe you don't need to trek over summits and ravines to have a perfect time outdoors. You have a nice, comfortable tent big enough to stand in, a cooler and some camp chairs. Your idea of roughing it at a campsite is just as valid — your adventure is realized simply by being outside, relaxing by a campfire, brought alive by leaving so much of the modern world behind you.
For many, some degree of roughing it encapsulates the draw of the outdoors. The simplest of simple lives, the break from distractions and opportunity for to unplug and be in the moment make camping an ideal break from everyday life. But for others, a popular movement that offers additional creature comforts is the perfect way to experience the outdoors.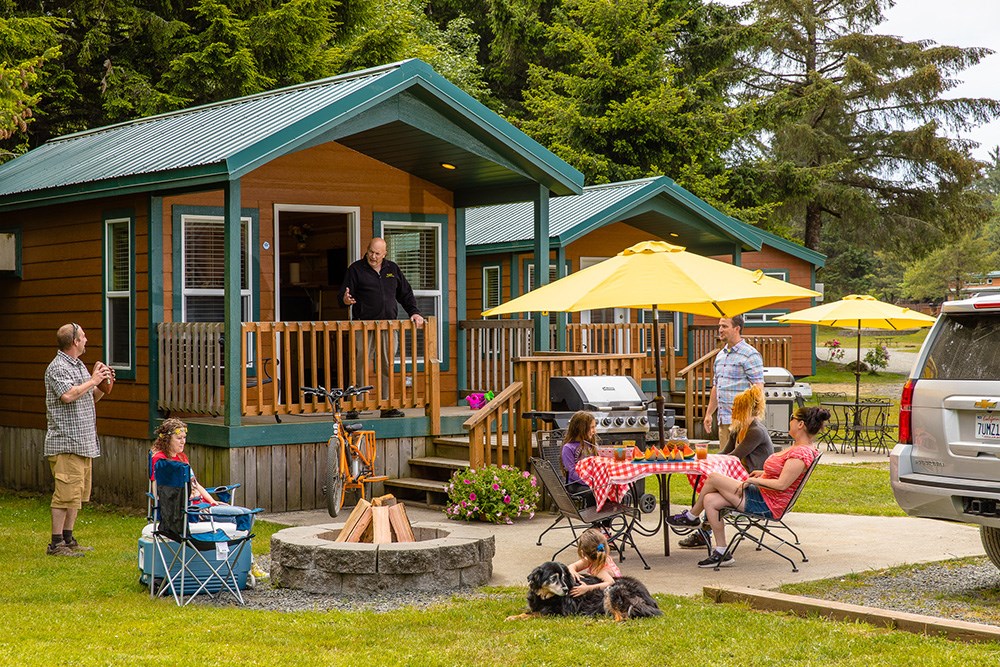 What Is Glamping?
"Glamping," short for glamorous camping, has become a mainstay of outdoor recreation over the past decade. If your essentials list contains things such as a real mattress, running water or an actual toilet, you can still find numerous options that bridge the gap between traditional camping and the comforts of home. Here are some examples of such opportunities:
Camping Cabins: These offer a roof over your head, four walls and a bed to sleep in. No need to worry about packing a tent or an air mattress.
Deluxe Cabins: Deluxe Cabins offer the same convenience of a Camping Cabin, and also include a private bathroom. Some also include additional features such as kitchenettes, bed linens and more. Check specific campgrounds for Deluxe Cabins with KOA Patios®.
Tree Houses: No matter what age you are, there is something inherently appealing about tree houses. And while you may have had one in your youth, modern tree houses are a stunning way to have a unique experience outdoors. Fully enclosed, with all the familiar amenities, you can't beat the view through upscale camping in a tree house.
Safari Tents: You've no doubt seen these in movies, perched in some exotic location and offering a comfortable existence to adventurers away from home. Why not try renting one for yourself? With many featuring furniture, electricity, fully functioning kitchens and storage, safari tents are a perfect marriage between comfort and adventure.
Yurts: These circular variations of tents, popular throughout Asia, feature rigid walls and are fully enclosed. You can find some yurts with electricity, running water, real beds and more.
Teepees: Pretty much every one of us played cowboys and Indians when we were little, and we fantasized about sleeping in a teepee. We can now revisit those memories by reserving one at a KOA campground with this option. Many have power, fire pits and simple sleeping options. If you're after an especially unique experience, a few nights in a teepee will certainly deliver.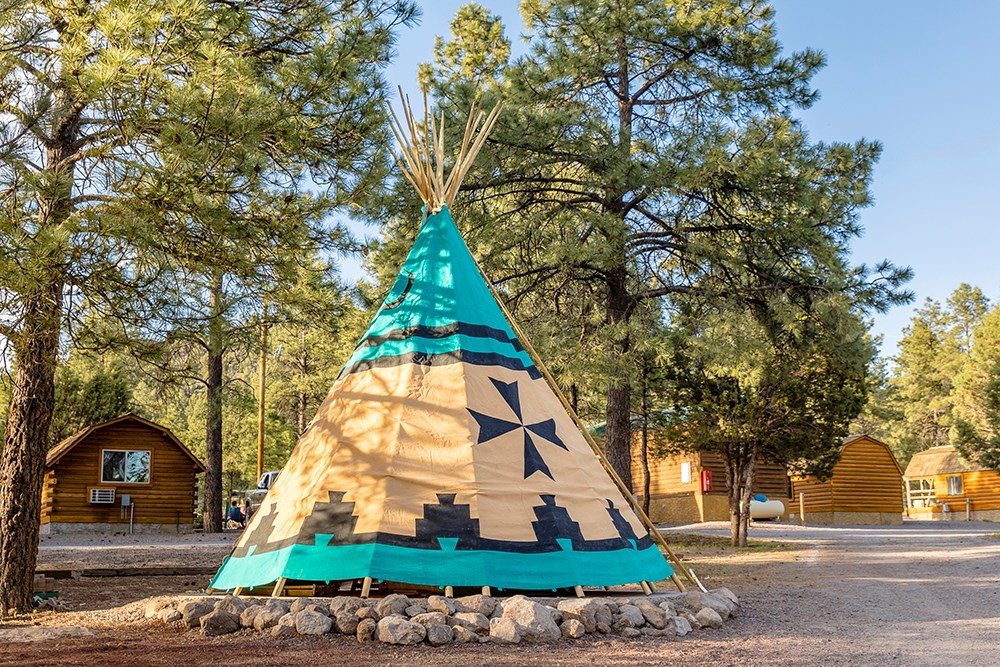 Here's the best thing about this list — you can find all these options at hundreds of KOA locations across the country. From Tent Sites to elevated lodging opportunities, there is a wide and wonderful range of options to help you step away from the grind and enjoy the great outdoors.
So the next time you start daydreaming about a getaway, make KOA a part of your plans. You'll find an option as simple or as unique as you like at a location you'll love.
---