Pizza. Possibly the most widely loved food, the word "pizza" can mean so many different things. There are endless possibilities of the types of pizza you can create and eat, which is one of the reasons this food is loved by so many. You may be a pro-pineapple-on-your-pizza person, or you may be vehemently against it. Either way, you are still a lover of pizza, and that's all that really matters.
We are certainly pizza enthusiasts ourselves and take every bite of these delectable morsels pretty darn seriously.
That's why we made it our goal to hunt down the best pizza places in all of America so that you can experience the highest highs of the pizza world and connect with some of the best tasting pizzas in the world.
Watch out Rome, America is putting up a pretty good fight with these must-see pizza places.
Here's Where To Find the Best Pizza in the United States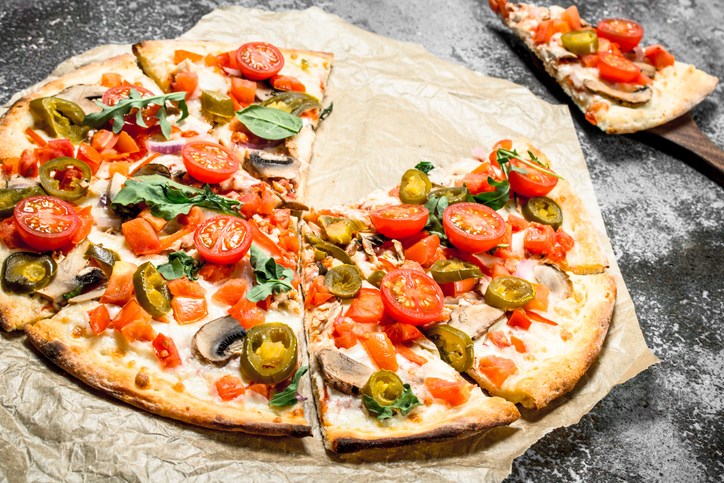 1. Slab | Portland, Maine
Getting its name from the way this place cuts its slices, Slab serves up some seriously taste Old World-style dough pizzas. They are cut into thick squares, a.k.a slabs.
Slab serves up more than just pizza — it refers to itself as the home of "Sicilian street food," so you can enjoy other items such as meatballs and sandwiches packed to the brim.
But, since we are all here for the pizza, let's talk shop. You'll find all the classics done fabulously here, but if you're looking for something a bit different, we suggest making a special trip here on Sundays for the Hangover Wedge. This thing is packed with sausage, pepperoni, bacon, roasted onion, potato crumble, roasted red pepper sauce, and a variety of cheeses. That sounds like the ideal hangover cure.
Learn more here.
KOAs nearby:
Freeport / Durham KOA
Naples KOA
2. Al Forno | Providence, Rhode Island
This pizzeria is a providence staple, but is also a great and unique experience for travelers. Here is where the concept of grilled pizzas was born. Never had a grilled pizza and have no idea what we are talking about? Grilled pizzas are 'zas baked over a hardwood charcoal fire. As campers, we know you'll really appreciate this one.
The menu for pizzas is small, but all of them are winners. Our top pick is the Cacio Pepe with ricotta, mortadella, and EVOO.
Learn more here.
KOAs nearby:
Boston / Cape Cod KOA Holiday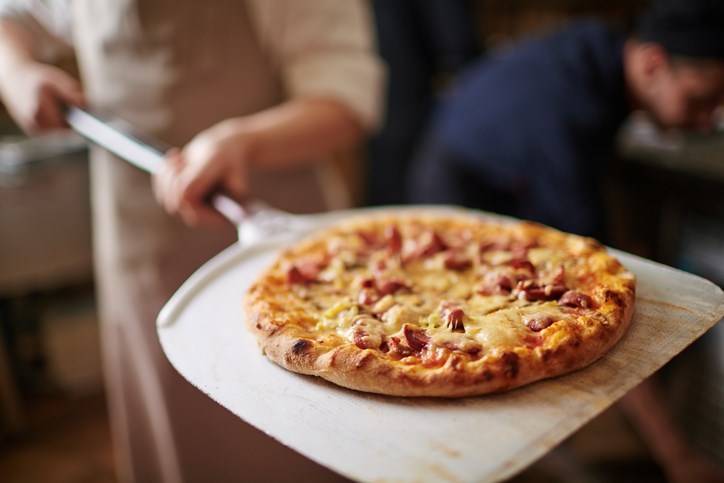 3.Regina Pizza | Boston, Massachusetts
Now it's time to shift to a different concept of thin crust. We are in Boston at one of the hottest pizza places — Regina Pizza. This spot has held some serious clout since 1926, so they are certainly doing something right. The demand for this pizza is so high that over the years, they have added 13 new locations — 12 across Massachusetts and one in Connecticut.
Brick oven pizza is the name of the game here, and these thin crusts have been baked to perfection. They are made with a 100+ year-old recipe that has remained the same, consistently delicious taste people have come to enjoy over and over for nearly 100 years.
Learn more here.
KOAs nearby:
Boston / Cape Cod KOA Holiday
4. Frank Pepe Pizzeria Napoletana | New Haven, Connecticut
Open since 1925, Frank Pepe has passed on the art of pizza making over the past nearly 100 years. The menu here offers up some classic 'zas as well as some unique ones that you should certainly give a try.
We are big fans of the White Clam Pizza featuring fresh clams (of course), grated pecorino romano, garlic, oregano, and olive oil. How many times have you ever had clams on your pizza? We are thinking not enough.
The talk of the town at Frank Pepe Pizzeria Napoletana is the Fresh Tomato Pie which is only served seasonally. You'll have to visit here between the months of July and September to get your hands on this highly-sought after pizza.
Learn more here.
KOAs nearby:
Niantic / I-95 Exit 72 KOA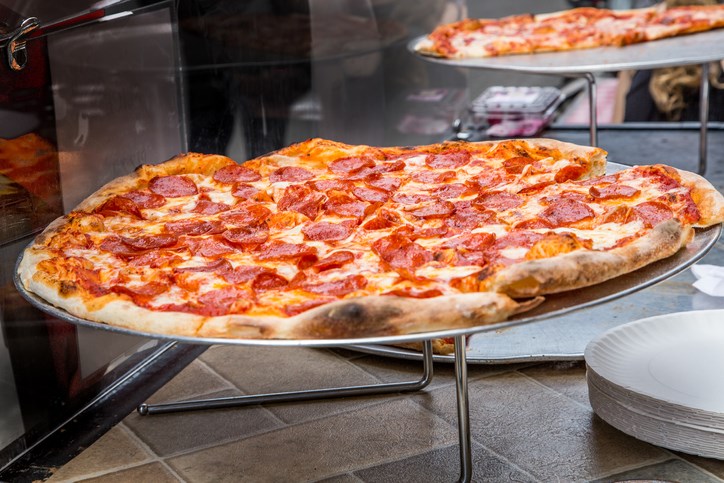 5.Rubirosa | New York City, New York
While Chicago is all about that extra thick pizza crust, New York City is home to the perfectly thin crust. On Staten Island sits a pizzeria that takes the iconic NYC thin crust and makes it even thinner. And people are loving it.
While the classics including The Classic (who would have thought?) made simple with tomato and fresh mozzarella, and the Vodka (both family recipes that date back to the 1940s), are hits that will always remain, there are some more unique items on the menu worth a bite such as the "Old School" Clam Pie featuring littlenecks, oregano, pecorino, chili, and mozzarella.
For those of you who love pizza but can't do the gluten, Rubirosa has gluten-free options as well as a menu full of other non-pizza foods.
Learn more here.
KOAs nearby:
Deerpark/ New York City NW KOA Holiday
New York City North / Newburgh KOA Holiday
Delaware Water Gap / Pocono Mountain KOA Holiday
6. Una Pizza Napoletana | New York City, New York
Imagine the surprise that there is more than one pizza place in New York on this list. New York is undeniably one of the pizza capitals of the United States, and we found another hot spot you must see for yourself. Una Pizza Napoletana isn't bringing anything new to the table in the world of pizzas, but it is certainly mastering the tried and true favorites. For over 20 years this place has offered the same pizzas (with a couple new ones thrown in from time to time), but the actual taste of the pizzas can vary from day to day due to things such as temperature and air — yes, those will affect how your pizza tastes.
Make sure you don't wait too late to make it to Una Pizza Napoletana — as soon as they run out of dough, they shut the place down and we wouldn't wish that heartbreak upon anymore.
Learn more here.
KOAs nearby:
Deerpark/ New York City NW KOA Holiday
New York City North / Newburgh KOA Holiday
Delaware Water Gap / Pocono Mountain KOA Holiday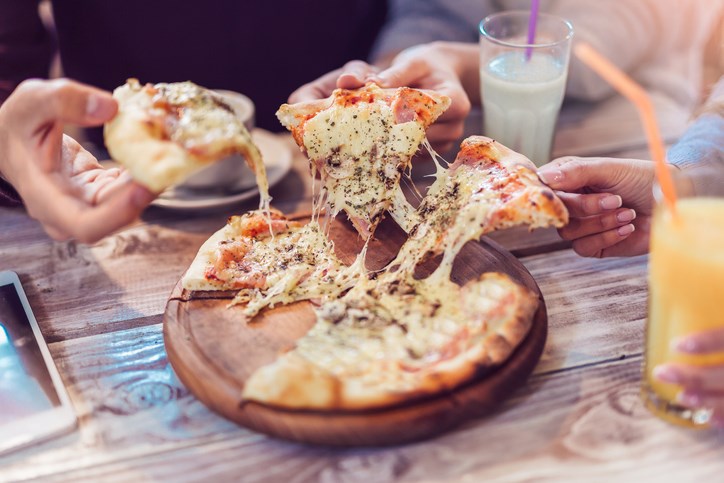 7. Joe's Pizza | New York City, New York
Joe, age 75, still runs the show of his pizza joint here in NYC and that's likely the main reason you can't ever get a slice at this spot without first waiting in a long line. Joe certainly knows what he's doing, and it's no secret.
Many people say that Joe's Pizza sets the bar for slices in New York City, so you must give this one a test for yourself.
With just three slice options to choose from: plain cheese, fresh mozzarella, and Sicilian square, you know these are classics that have been absolutely perfected.
Learn more here.
KOAs nearby:
Deerpark/ New York City NW KOA Holiday
New York City North / Newburgh KOA Holiday
Delaware Water Gap / Pocono Mountain KOA Holiday
8. Totonno's | Brooklyn, New York
Though this pizza place requires a trip to Coney Island, we promise it is well worth it. Totonno's is one of the oldest pizzerias in the city — it opened its doors in 1924 with traditional pizza that is still being served today.
Totonno's has withstood two major fires and Hurricane Sandy that forced it to close for some time, but it is back up and running, better than ever, with lines out the door.
The ingredients for the pizzas are imported from Italy, and the mozzarella is handmade. The proof is in the pizza — Totonno's was awarded the James Beard Award in 2009 as one of America's Classics.
Learn more here.
KOAs nearby:
Deerpark/ New York City NW KOA Holiday
New York City North / Newburgh KOA Holiday
Delaware Water Gap / Pocono Mountain KOA Holiday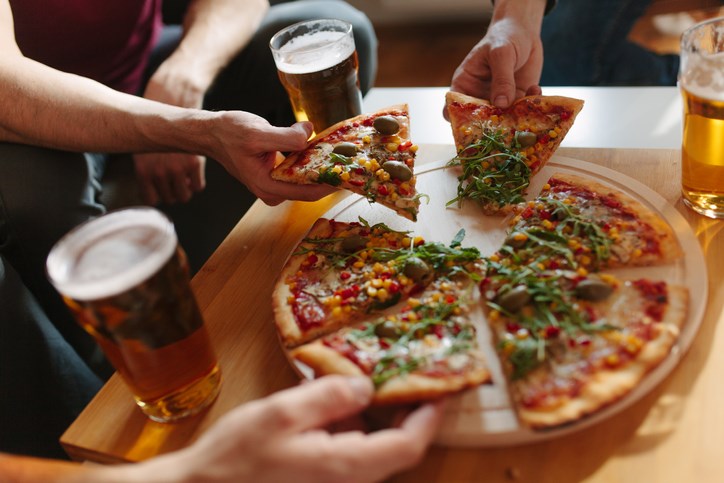 9. Pizzeria Beddia | Philadelphia, Pennsylvania
Founded in 2013, Pizzeria Beddia was a one-man show for nearly 5 years. Owner Joe Beddia quickly rose to fame after just a couple years of business, and lines were around the block to get a bet of his pizzas.
However, because it was just him, the pizzas were incredibly exclusive, which likely is what made their popularity explode. Beddia made just 40 pizzas from Wednesday to Saturday every week, so product was very limited. And Beddia did make all of those pizzas himself — he wanted to ensure they were cooked to perfection.
Finally, he needed some help and closed his doors for a bit to hire a staff to work alongside him.
Learn more here.
KOAs nearby:
Delaware Water Gap / Pocono Mountain KOA Holiday
Philadelphia / West Chester KOA Holiday
10. Timber Pizza Co. | Washington, D.C.
Washington, D.C. isn't exactly a city that has put itself on the map thanks to its pizza. However, that may be changing thanks to the addition of Timber Pizza Co. in 2016. Timber Pizza Co. was started back in 2014 as an oven that the owners took to local breweries and farmer's market and it was such a hit that they decided to open a storefront just two years later.
The Bentley pizza is packed with flavor thanks to all its tasty ingredients: tomato sauce, provolone and mozzarella blend, cured chorizo, soppressata, Peruvian sweet peppers, and spicy honey. But even basics such as Cheese Please will fulfill all your pizza desires.
The hours of this place are not set, so this is another pizzeria you don't want to wait until the end of the night to try out.
Learn more here.
KOAs nearby:
Washington DC / Capitol KOA Holiday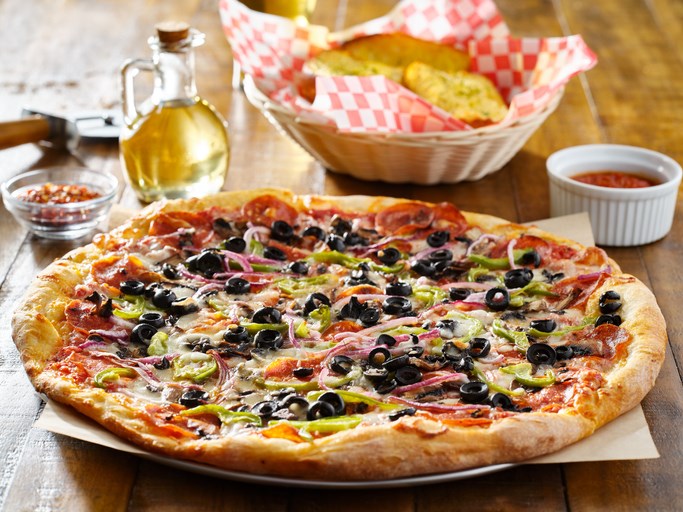 11. Vito & Nick's | Chicago, Illinois
We have arrived to another pizza capital of the United States and this one has something very different to offer: crust so thick it's a meal within itself.
However, you may be surprised to find that a lot of Chicago does not adhere to the deep-dish idea, and actually offers up some great thin crust pizzas that rival the ones of the thin crust capital, New York City.
One of those places is Vito & Nick's. Serving up tasty thin crust pizzas since 1946, this spot is family-owned and the craft of pizza making has successfully been passed down to be enjoyed today by pizza lovers of all ages.
The menu is pretty small, but trust us, it packs a lot of punch. We suggest the sausage pizza for a classic that tastes better than any other sausage pizza you've ever had.
Just be sure to bring cash with you — that's all they take at Vito & Nick's.
Learn more here.
KOAs nearby:
Kankakee South KOA
Chicago Northwest KOA
12. Post Office Pies | Avondale, Alabama
Chances are good you guessed where this pizzeria got its name. Yes, it is indeed housed in an old post office. We are loving this place with that fact alone. Add some great pizza to the mix, and you've got some true fans.
And this isn't just any pizza, it's pizza cooked in a handmade wood-fired brick oven, which means the dreamiest crispy crust. But what goes on top is even better.
The mozzarella here is housemade, which makes a huge difference, in our opinion. One of the favorites The Swine — a base of tomato sauce topped with sausage, slab bacon, pepperoni, aged mozzarella, and basil. You can also go DIY style and build your own pizza with the laundry list of toppings they have to offer.
Learn more here.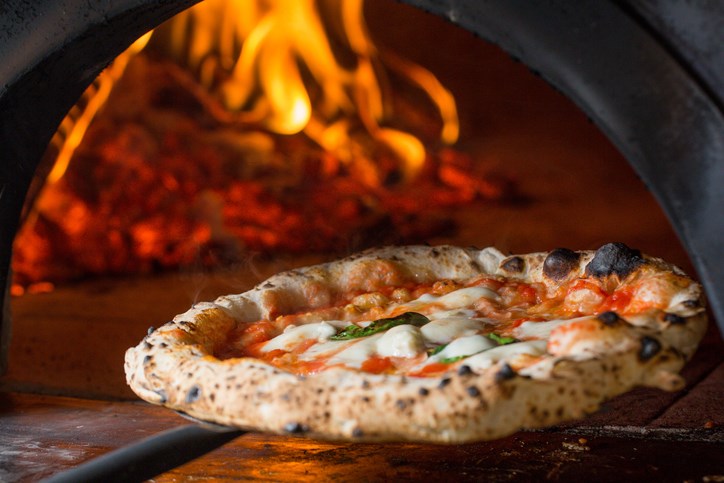 13. Cane Rosso | Dallas, Texas
Serving what it deems as "the most authentic wood-fired Neapolitan pizzas in Texas," Cane Rosso started on wheels, traveling to bring pizza to fans and today has locations across the state: Dallas/Forth Worth, Houston, and Austin.
These pizzas are made with OO flour imported straight from Italy, so you are getting a taste of the best. And the dough is true Neapolitan style that is "meant to be eaten with a knife and fork," and is a far self-proclaimed cry from what you will find in New York City.
Learn more here.
KOAs nearby:
Dallas / Arlington KOA Holiday
Canton KOA
Weatherford / Fort Worth West KOA Journey
14. Pizzeria Bianco | Phoenix, Arizona
New Yorker Chris Bianco made the move to Phoenix and took his love of pizzas with him to open up Pizzeria Bianco in the desert. And this spot has been a nationwide-favorite for years. It's no surprise with Bianco behind it — he is a James Beard Award recipient for Best Chef.
Our favorite pizza here is the Rosa, topped with red onions, parmigiano-reggiano, rosemary, and pistachios from right there in Arizona. But the classics are always a winner at Pizzeria Bianco as well. It comes down to the ingredients, which Pizzeria Bianco has done right. This pizzeria's mozzarella made in-house is hard to beat, and the dough is made by Bianco's brother from local wheat.
Learn more here.
KOAs nearby:
Mesa / Apache Junction KOA Journey
Gila Bend KOA Journey
Picacho / Tucson NW KOA Journey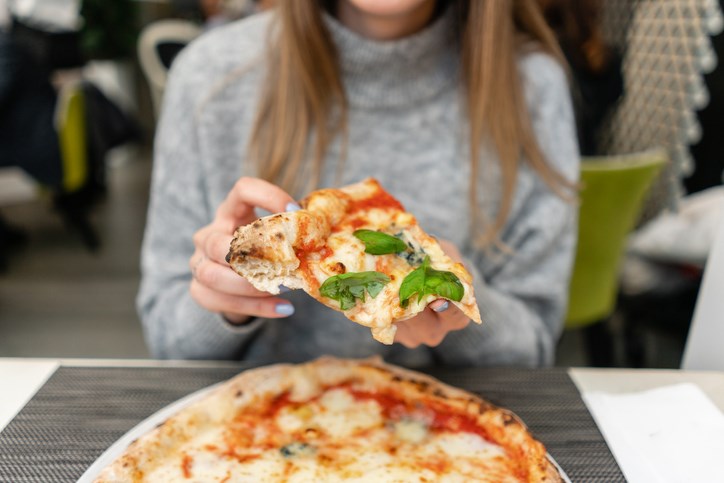 15. The Pie Pizzeria | Salt Lake City, Utah
Sometimes you have to go a little deeper to get what you want, and that is certainly the case with The Pie Pizzeria. By "deeper" we mean go underground — this pizza joint lives in a basement under a pharmacy. What used to be a church is now a place where people go to praise pizza, and great pizza at that.
Branch out your dough options with The Pie Pizzeria's ApocalyptDough. It is described like this: "The dough and pizza taste the same but with a creeping, unique burn that slowly approaches and has an undetermined lingering effect." If that isn't alluring, we don't know what is.
This casual place is a hit for college students, as it is basically on the University of Utah campus, but pizza lovers of all ages will enjoy the 'zas served at The Pie Pizzeria.
Learn more here.
KOAs nearby:
Salt Lake City KOA Holiday
Springville / Provo KOA Journey
Brigham City / Perry South KOA Journey
16. Pizza Rock | Las Vegas, Nevada
The options are a plenty here at PIzza Rock and the hardest part of coming here is going to be choosing what you want. Even choosing the style is a giant hurdle to overcome. You can choose from Neapolitan, Classic Italian, Classic American, Siciliam, Roman, and Gluten Free. And then what goes on top will really have you feeling indecisive.
May we suggest some of the award-winning pizzas, including the Burratina Di Margherita (made with Burrata cheese, cherry tomatoes, basil, EVOO, and balsamic reduction) or the Napoletana-style Margherita (made with San Marzano tomatoes, Mozzarella Fior de Latte, basil, EVVO and sea salt), or our person favorite, the Cal Italia (made with asiago cheese, mozzarella, imported gorgonzola, sweet fig preserve, prosciutto di parma, parmigiano-reggiano, and balsamic reduction).
Open late, this spot is great for those nighttime pizza cravings.
Learn more here.
KOAs nearby:
Las Vegas KOA Journey at Sam's Town
Laughlin / Avi Casino KOA Journey
17. Del Popolo | San Francisco, California
Del Popolo started out quite differently than most pizza joints — it started out not just as a regular old mobile pizzeria, but rather an extravagant pizza place on wheels, wheels of a glass-enclosed shipping contained on a Freightliner truck (with a small price tag of $180,000, we might add).
The truck garnered such recognition that owner Jonathan Darsky opened a brick-and-mortar spot in Nob Hill. But fear not, the truck is still up and running.
At Del Popolo you can choose from eight different pizzas, including our favorite House Made Sausage that also features mozzarella, butternut squash, leeks, and thyme.
Learn more here.
KOAs nearby:
San Francisco North / Petaluma KOA
Santa Cruz North / Costanoa KOA
18. Emilia's | Berkeley, California
"The wait time varies a lot. It could be 10 minutes or 4 hours." We love honesty, and the brutal honesty on Emilia's website has us really feeling like this place is a must-visit.
Four nights a week this place serves up what some deem to be the best pizza in California. However, if you're looking to dine in, your chances are pretty slim. There only happens to be one employee, and just one table to sit at (talk about exclusive!). So either try your hand at getting that one table, or pop into this place for some takeout pizza.
Learn more here.
KOAs nearby:
San Francisco North / Petaluma KOA
Santa Cruz North / Costanoa KOA
19. Dino's Tomato Pie | Seattle, Washington
The menu here isn't as extensive as some of the other spots on this list, but what is here is perfection. In fact, the website states that "Dino would like you to know that more than three toppings will be expensive and won't be any better." So, we are keeping it simple, and loving it.
We are thinking the Hot Salami is our top pick — a tomato sauce base topped with fresh and aged mozzarella, Zoe's spicy salami, and onions. But If you're one of those weirdos that likes pineapple on your pizza, then don't miss out on the Weekend at Dino's. This one will bring to you a tomato sauce base, with fresh and aged mozzarella, Zoe's bacon, pineapple, and house pickled jalapenos.
Learn more here.
20. Moose Tooth Pub & Pizzeria | Anchorage, Alaska
Few combos are more iconic than pizza and beer and the Moose Tooth Pub & Pizzeria certainly has mastered this dynamic duo.
The menu here has some great options, and a ton for those who are lovers of chicken, as well as those who are not lovers of any types of meat. The Popeye pizza is a great vegetarian option that serves up pizza with spinach, roasted red peppers, red onions, mushrooms, mozzarella, provolone, feta, parmesan, oregano, and garlic oil.
And, if you're a meat lover we are going to guess you'll love Santa's Little Helper — pepperoni, blackened chicken, grilled steak, bacon, red peppers, cilantro, mozzarella, provolone, and marinara.
Learn more here.
Clearly this list does not include every delicious pizza place in the United States — that would be a truly impossible feat. However, we do think it highlights what aren't always the hottest pizza places in the country, but certainly the ones that serve up the pizza that will warm both your belly and your heart.
There are few foods that seem more "America" than pizza, and as the list above shows, places have done a darn good job of representing one of America's favorite foods all across the country.
So grab your appetite and your map, and get out there on the road to try as many top pizza places as you can.
---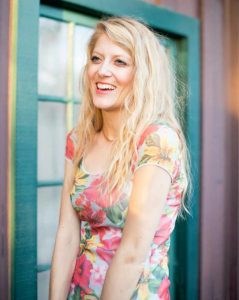 Leslie, a.k.a. Copy Girl, is a copywriter who gets butterflies from telling stories through words.
Her voice comes from a place filled with passion, dreams, and lots of sugar. "Cake over steak" is her go-to motto.
With over 10 years of experience in crafting words, and years of embarking on travels that have taken this Montana girl to some incredible places, Leslie love the adventures of both body and mind her writing takes her on.
Everywhere she goes, she takes this advice with her:
"Hold on to your divine blush, your innate rosy magic, or end up brown." – Tom Robbins, Jitterbug Perfume
To see what Leslie's up to in the writing world, visit her website here.
---