Hiking, like most any activity, is better with a dog by your side. Whether road tripping around the country or simply taking a long weekend, traveling with pets is always a fun adventure. The national parks are particularly exciting destinations to explore together, but not all parks are suitable for our four-legged pals — after all, you want to make sure you can take your companion everywhere with you on your trip. Thanks to their safer trails and minimized risk of dangerous animal confrontation, these are some of the best national parks for dogs in the U.S.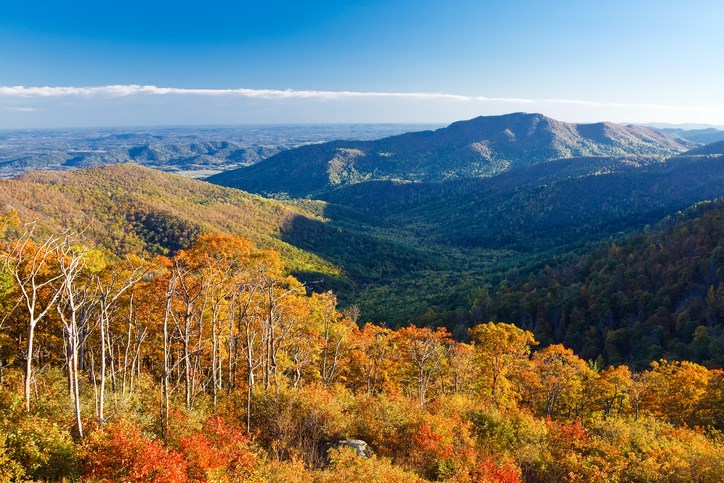 Shenandoah
This mountainous Virginia marvel is one of the few parks in the national park system that allows dogs on most trails. Of the 500 miles of trails in the park, there are less than 20 total miles where dogs aren't allowed, providing ample opportunity to get out and explore with man's best friend. An easy drive from both Washington, D.C., and Richmond, it's an accessible getaway for day trips and weekends, teeming with mellow hikes, peaceful forests and waterfalls. The only requirements are that dogs remain on leashes less than six feet in length at all times, to protect wildlife and vegetation. Some standout hikes especially suited for dogs include Overall Run, a 5.1-miler in the northern section of the park, which winds to Shenandoah's tallest waterfall, with spectacular mountain vistas along the way. In the center of the park, Mary's Rock makes for a picture-perfect sunset jaunt. Less than 4 miles in length, it's easy to tackle in a few hours. It's no wonder Shenandoah Valley is an adventurer's paradise.
Nearby KOA: A stone's throw from the park, Harrisonburg / Shenandoah KOA Holiday  is a great retreat for families with dogs. In addition to activities like tether ball, ping pong and ice cream socials, your furry companions can have some fun of their own at the dog playground.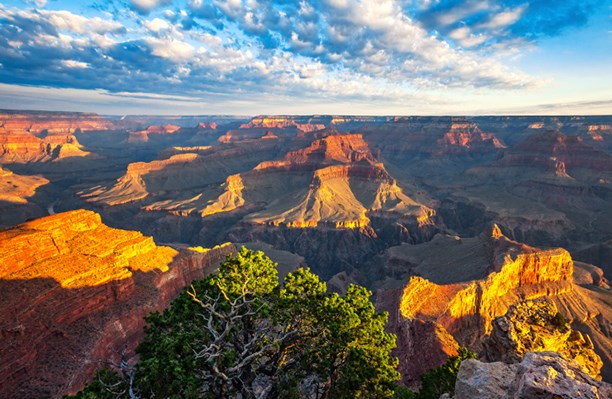 Grand Canyon
Every year, millions of visitors descend upon the iconic Grand Canyon, many of whom bring their pets along for the ride. Though dogs aren't allowed in the canyon interior (that role is reserved for the much more level-footed mule), they can certainly drink in the views with you from the Grand Canyon South Rim. They're also allowed on trails in the area, while on six-foot leashes. On the less-visited north rim, leashed dogs are welcome to join their humans on the Bridle Trail and the segment of the Arizona Trail that connects to the park entrance station. Beyond that, the national park boasts some pretty impressive amenities for dogs that should keep them nice and pampered while their human companions hike down into the canyon. The Railway Pet Resort at the Grand Canyon Railway Hotel is a climate-controlled facility with an air-purifying system and private indoor/outdoor space for each animal. Outdoor areas, including the exercise yard, are covered to shield from the elements, especially the hot sun. Dogs are welcome to bring their favorite toys and snacks to the resort as well.
You can enjoy your trip to this national park by camping at the Grand Canyon with your dog at a pet-friendly KOA Campground.
Nearby KOA: The closest KOA to this natural wonder, the Grand Canyon / Williams KOA Journey dog-friendly campground has its very own KampK9®. Humans, meanwhile, can enjoy the Cowboy Cafe, swimming pool and camp breakfast.
Other KOAs in the Area:
Williams / Exit 167 / Circle Pines KOA Holiday
Seligman / Route 66 KOA Journey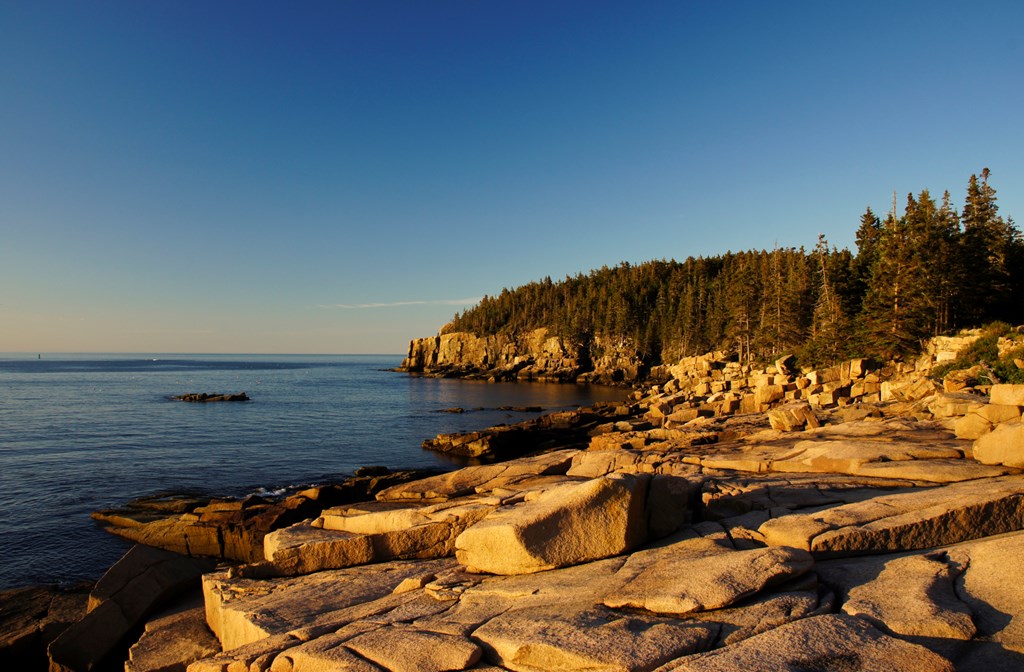 Acadia
With more than 100 miles of dog-friendly hiking trails in this majestic seaside park, there are plenty of opportunities to explore with your canine comrades. With the exception of a few trails and beaches, a vast majority of Acadia is welcome to dogs on leashes six feet or less. A unique addition is the implementation of Acadia's "Bark Ranger" program, which enables dogs to become certified rangers by completing a short checklist and following the rules of B.A.R.K. Dogs will then be officially sworn in and owners can purchase a special "Bark Ranger" collar tag. Take your four-legged ranger to trails like Great Head, an easy coastal trek through woods and past ocean views, that clocks in under two miles roundtrip. Or check out the 2.3-mile Beech Mountain South Ridge Loop, which weaves through serene forest before ascending a gently sloped rocky staircase. The views of Long Pond at the peak are well worth it. Turn your trip to Acadia into a camping trip with your dog and visit a KOA Campground close to the park.
Nearby KOA: Located right outside the front gates of Acadia National Park, the Bar Harbor / Oceanside KOA is a restful respite while still being as close as possible to all the hiking action. This pet-friendly campground features a dog park, heated pool and sites ranging from tents and cabins to full-service RVs.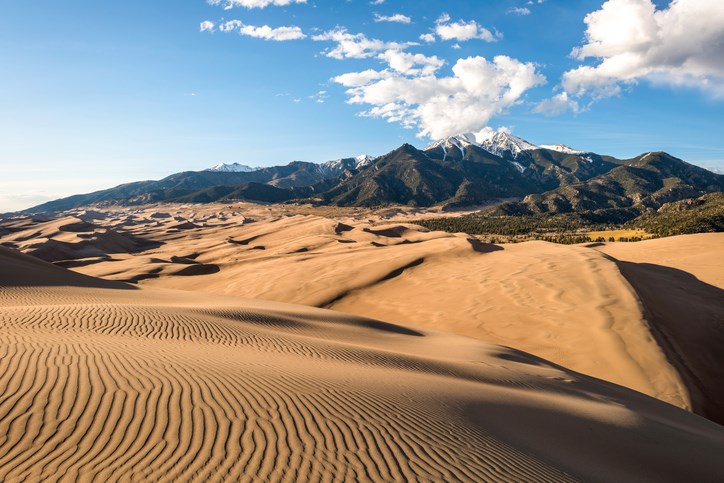 Great Sand Dunes
Brimming with creeks, lakes, forests and the continent's tallest sand dunes, this Colorado park and preserve is like a giant playground for humans and dogs alike. The exceedingly dog-friendly oasis permits leashed dogs on the first ridge of dunes, throughout the preserve and on trails like Mosca Pass and Dunes Overlook. Keep in mind that sand gets quite hot during the summer months, so dogs are not advised out during the afternoons especially. Fortunately, Medano Creek is a fun place to splash around and refresh.
Nearby KOA: Nestled amid the San Juan Mountains, Sangre de Cristo Mountains and the park's soaring sand dunes, the Alamosa KOA Journey is an apt retreat for travelers with dogs. A dog park is on-site to let your companion burn off some of that dune-fueled energy, and there's a pool for you to do likewise.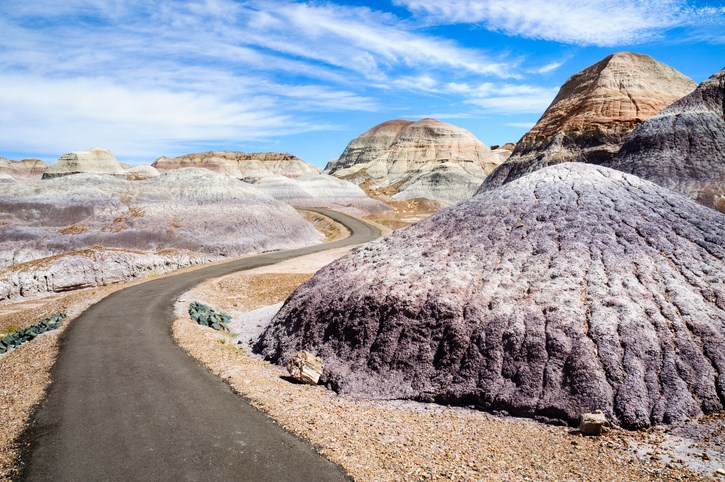 Petrified Forest
Not only is Arizona's Petrified Forest a great, accessible option for solo travelers, but it's equally inviting for those with dogs. This is the standout park where dogs are allowed on all trails (with leashes, of course), as well as wilderness areas if you're looking to hoof it into less-trafficked terrain. Considering trails here aren't too steep or lengthy, it's a good option for easy little jaunts that won't over-expose you to the sun. Remember that while the park is littered with petrified wood, these are not the kinds of branches to play fetch with.
Nearby KOA: A quick 20 minutes away from Petrified Forest's Painted Desert, the Holbrook / Petrified Forest KOA Journey feels like a trip back in time to the Wild West-era, what with its Route 66 memorabilia and close proximity to wigwams, a Navajo Reservation and stores slinging silver and turquoise. Golf courses are also close by, and fishing holes abound in the area as well.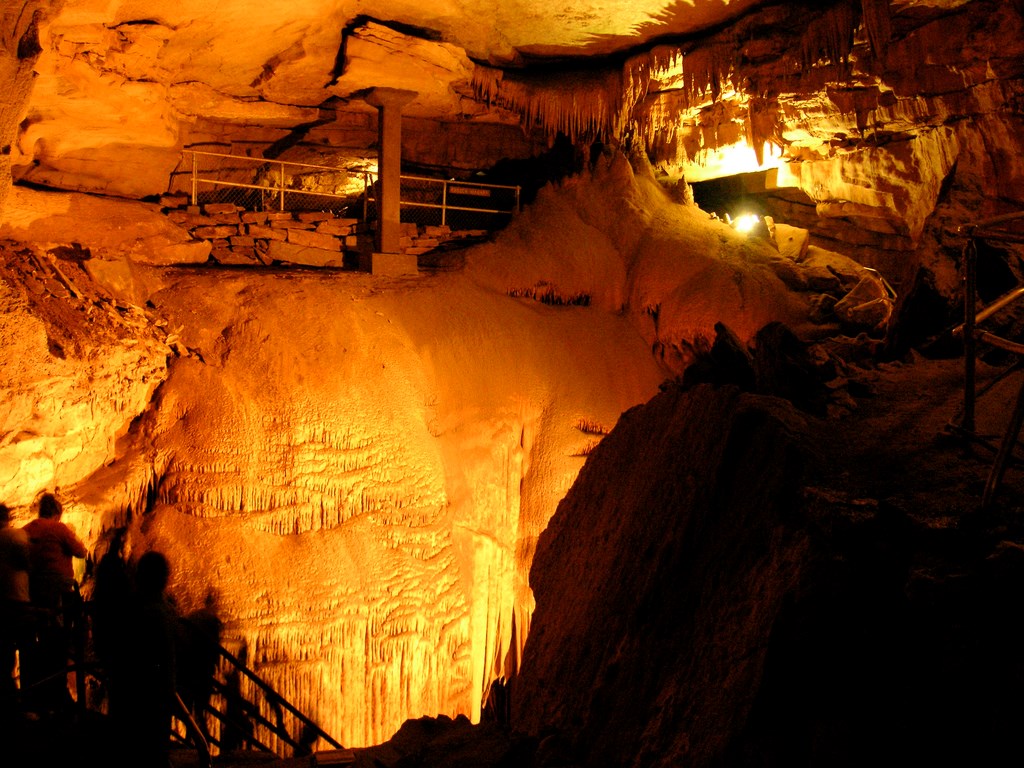 Mammoth Cave
Easily the most surprisingly dog-friendly park in the country, no one would expect that a park anchored by the world's largest cave would be particularly appropriate for canines. But then you consider the fact that Mammoth Cave is much more than subterranean tours. Above ground, there is much to explore as well. In fact, there are more than 70 miles of dog-friendly trails through forests and past waterfalls and riverfront. Seeing as this isn't mountainous terrain, nothing here is too grueling, making each hike an entirely pleasant and scenic stroll with your furry pal by your side.
Nearby KOA: Keep the cave theme going with a stay at nearby Horse Cave KOA. The dog-friendly camp sports a swimming pool, dog park and mini golf course, and it's a quick 10 miles from Mammoth Cave itself.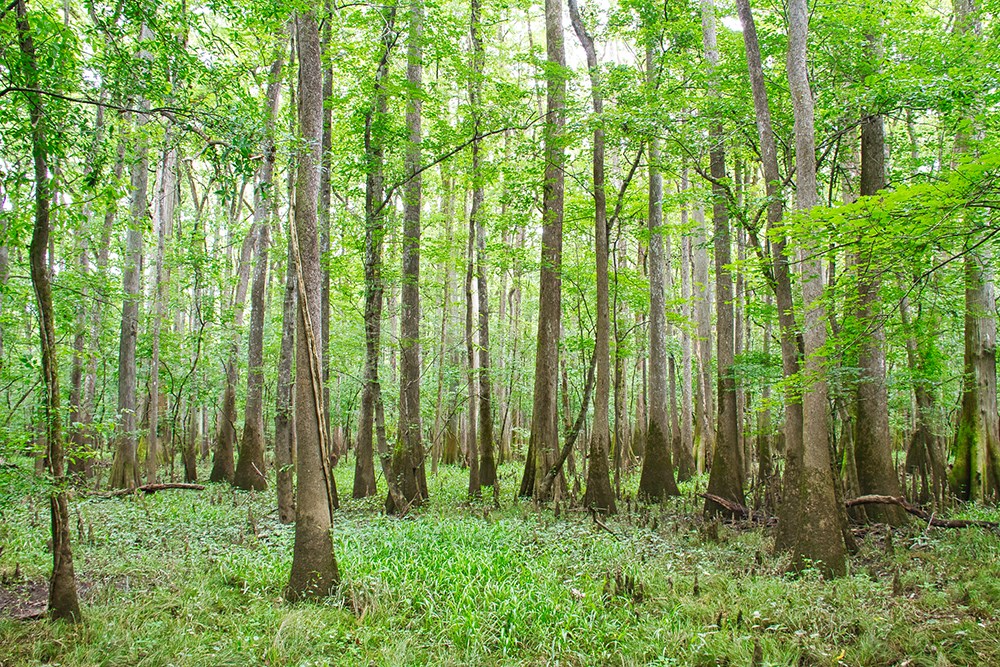 Congaree National Park
Congaree National Park is located in South Carolina and is home to the largest bottomland hardwood forest in the Southeastern United States. This park is the perfect location to view different wildlife and plants native to the area. Some of the best ways to explore this park are by water with a kayak or canoe or walking along the boardwalk with your furry friend.
Nearby KOA: At Santee / Santee Lakes KOA Journey, you can enjoy picturesque lake views and the many amenities onsite, including KampK9 for your furry travel companion. The campground is also close to I-95, providing easy access to other nearby attractions as well.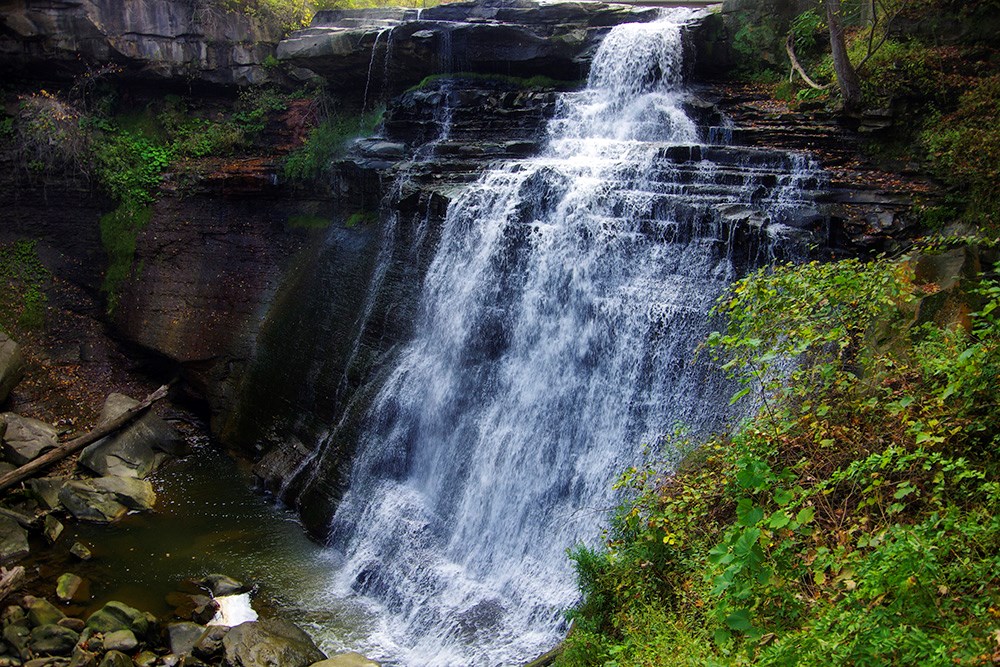 Cuyahoga Valley National Park
The Cuyahoga Valley National Park is a recent addition to the list of national parks, and it is one of the best national parks for dogs. You can explore trails venturing through wetlands, fields and woodlands. You can take in the beauty of Ohio while enjoying a hike with your dog.
Nearby KOA: In addition to being just a short drive away from Cuyahoga Valley National Park, Streetsboro / Cleveland SE KOA Holiday is close to Cleveland, OH — the Rock and Roll Capital of the World. Onsite you will also find fishing lakes, a playground, KampK9 and a General Store featuring locally-made fudge and delicious ice cream.
Other KOAs in the area:
Lake Milton / Berlin Lake KOA Holiday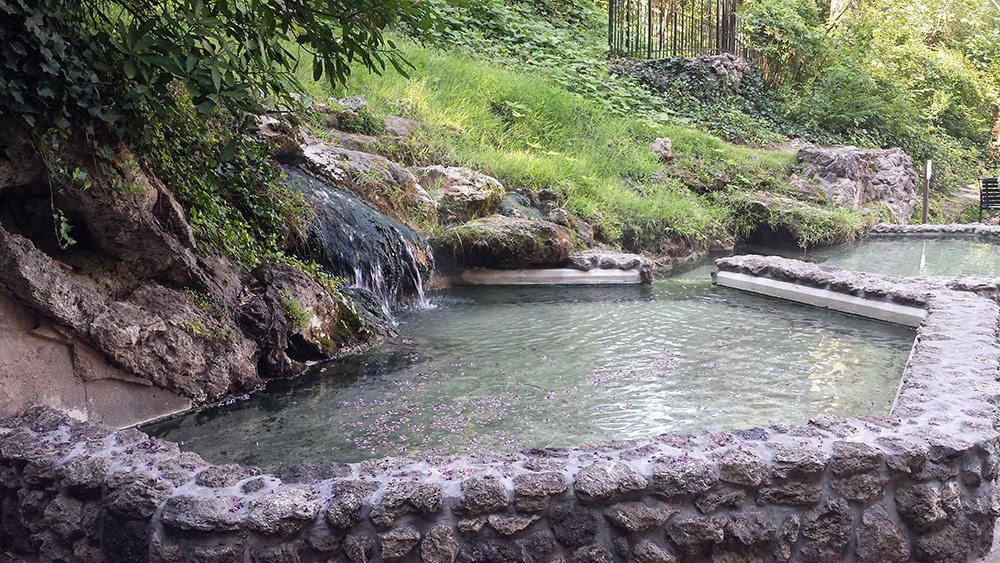 Hot Springs National Park
Visit the beautiful state of Arkansas to explore Hot Springs National Park with your pet. Hot Springs National Park is well known for its stunning nature trails and bathhouses from the hot water that seeps from the mountain slope in the park. This historic park offers extensive trails you and your companion can walk through to enjoy the scenery.
Nearby KOA: After a day of exploring the national park, head back to Hot Springs National Park KOA Holiday. You will be in close proximity to ideal locations for crystal hunting, boating and fishing. You will also have a variety of amenities for you and your pup to help make your stay in Arkansas even more memorable.
Other KOAs in the area:
Little Rock North/JCT. I-40 KOA Journey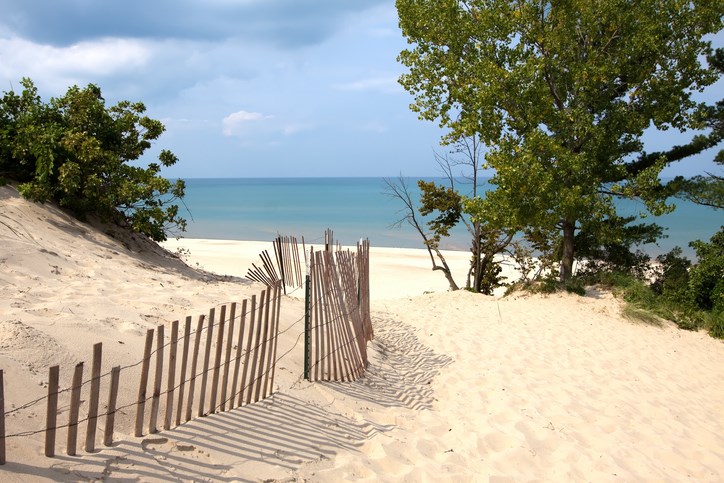 Indiana Dunes National Park
Soak in the sun and enjoy the refreshing water from the coastline of Lake Michigan at the Indiana Dunes National Park. This location offers an extensive sandy shoreline for you and your dog to take a stroll on. Make sure you take your pet to the east side of the park because the swimming beach is for people only. You and your pet can also walk along the walking trails inside the park with a few exceptions. Make sure to check the park rules to know where you can take your furry friend.
Nearby KOA: At Elkhart Co. / Middlebury KOA Holiday, you can truly disconnect and relax in the heart of Indiana's Amish Country. Enjoy mini golf, a sand volleyball court and plenty of spaces to explore with your dog.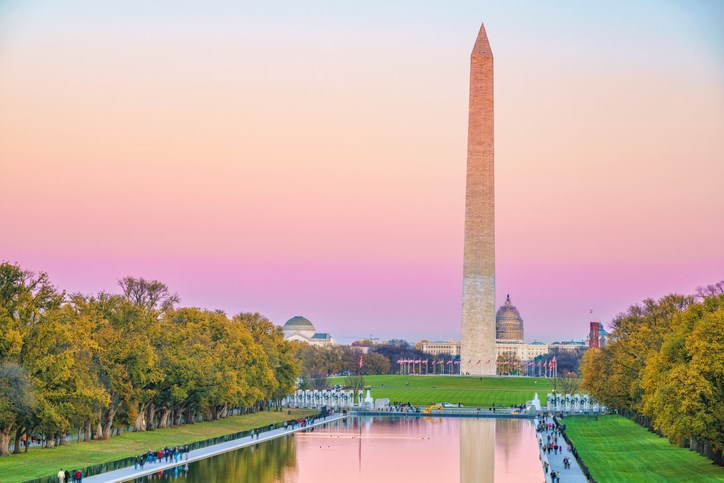 National Mall and Memorial Gardens
If you want to explore a large city and learn more about American history, check out the National Mall and Memorial Gardens in Washington, D.C. You and your pet can look at all of the historic monuments and visit memorials that pay respect to the people who gave their lives for the United States. The National Mall and Memorial Gardens run from the Lincoln Memorial to the U.S. Capitol.
Nearby KOA: When you are done exploring the historical marvels of our nation's capital, Washington DC / Capitol KOA Holiday will be ready for you. Enjoy the pool with a lifeguard, a beautiful nature trail, KampK9 and a variety of exciting onsite events throughout the year.
Other KOAs in the area:
Harpers Ferry / Civil War Battlefields KOA Holiday
---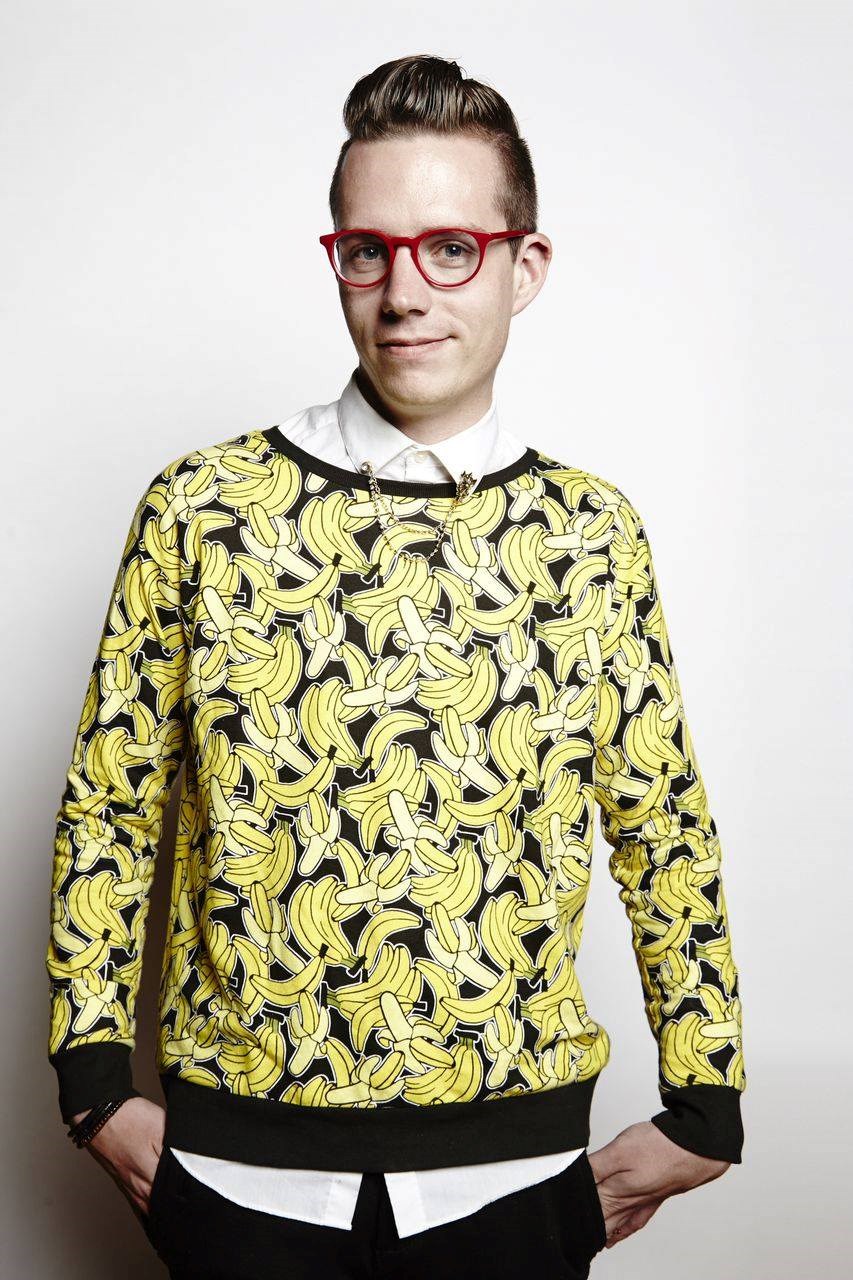 Born and raised in New Hampshire, Matt Kirouac grew up with a love for camping and the outdoors. Though he's lived in Chicago since 2006, he's always on the lookout for new adventures. He writes about travel and food for outlets like TripExpert, Money Inc, Upventur, DiningOut, Food Fanatics magazine, Plate Magazine and Zagat, and he currently serves as Chicago editor for What Should We Do?! He's the author of The Hunt Guides: Chicago (2016) and Unique Eats & Eateries of Chicago (2017).
---