Texas Camping Guide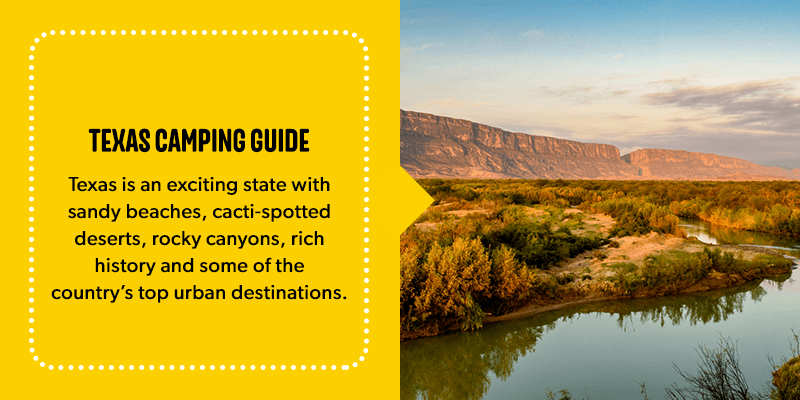 Texas is an exciting state with sandy beaches, cacti-spotted deserts, rocky canyons, rich history and some of the country's top urban destinations. Read on for your camping guide to all things Texas, including when to go, where to stay for the best camping in Texas and how to make the most out of your time in the Lone Star State.
Best Time of Year to Camp in Texas
No matter if you plan to go camping in Texas in November, July or somewhere in between, any time is a good time for a Texas camping trip:
Texas camping in summer: Texas heat is certainly no myth, but it should not stop you from having an outdoor summer camping experience. For a safe trip, choose a destination that has plenty of water-related activities for your family to enjoy, like a water park or public beach. Look for a campsite that offers shade and on-site swimming facilities so you can stay cool, especially if you plan to sleep in a tent. Make sure you are drinking plenty of water and applying sunscreen regularly throughout the day as well.
Texas camping in autumn: Autumn in Texas is warm and comfortable, and it often comes accompanied by vivid fall colors. It is the perfect weather for any type of camping trip, including tent camping, rustic cabin camping and RVing. Camping in autumn is also a great opportunity to try out some new hearty and homestyle campfire recipes.

Texas camping in winter: The fun does not stop in Texas when winter rolls around. After all, winter is Winter Texan season! Winter Texans are those who come to Texas during cold months to escape harsh northern weather, and they often say they prefer the wintertime visit for the mild temperatures and smaller crowds. The best winter camping in Texas is spent around a warm campfire outside your cozy cabin. You can also search for winter RV parks in Texas. Make sure you pack for a winter camping trip, as it can still get chilly or even snowy during winter in the Lone Star State.
Texas camping in spring: Texas camping in the spring means warm temperatures and an abundance of fresh, blooming flowers. Outdoor recreation is very popular during the spring, including fishing, boating and hiking. When selecting a spring camping destination, look for one that offers easy access to canyons and forests or cultural festivals and other spring attractions. A good rule of thumb for any season in Texas — but especially the spring and early autumn — is to always assume it will rain and pack accordingly.
Ways to Camp in Texas
There are many different ways to camp in Texas, including sandy beach camping, primitive canyon camping and fun-filled adventures at KOA. The decision comes down to the region of Texas you want to explore, the types of amenities and features you are looking for and what activities you want to do while on your vacation.
KOA has plenty of on-site features and several different types of lodging available:
RV camping: KOA offers Back-In and Pull-Thru 30- and 50-amp RV Sites. Each site is clean, spacious and level, with access to nearby restrooms, laundry facilities and more.
Tent camping: All KOA Tent Sites are level, making it easier than ever to pitch your tent. Each KOA Tent Site has a fire ring and access to nearby restrooms with hot water and laundry facilities. Select KOA locations offer group tent camping options, perfect for reunions, parties or any trip with a large group.
Cabin camping: KOA has both Camping Cabins and Deluxe Cabins available. Camping Cabins are log-cabin style and have full electricity, so you can enjoy a comfortable outdoor experience. Camping Cabins sleep four to six people in either one- or two-bedroom layouts. Deluxe Cabins are similar to Camping Cabins, but with private bathrooms. Select Deluxe Cabins also have kitchenettes and other features.

Unique lodging: Some campgrounds provide unique lodging options as well, including vintage Airstream trailers, teepees, yurts, converted train cabooses, safari tents and tree houses.
KOA Campgrounds in Texas
No matter what area of Texas you want to explore on your camping trip, there is a KOA for you. To inquire about specific amenities, lodging options or pet policies, contact your chosen KOA directly.
1. Abilene KOA Journey
Established in 1965, Abilene is home to Texas' first KOA. Each year, Abilene holds the Outlaws and Legends Music Fest, which draws crowds from all over the country. The city's downtown cultural district — adorned with sculptures of iconic literary characters — is also known as the Storybook Capital of America. Abilene KOA Journey features a dog park, an on-site snack bar and extended-stay campsites for guests who want to stick around a little longer.
2. Amarillo KOA Journey
Experience the authentic Old West at Amarillo KOA Journey. Spend your day riding horses, taking pictures at Cadillac Ranch or exploring Palo Duro Canyon State Park, home to the country's second-largest canyon. The campground features a dog park, bike rentals and yard games, including ladder ball and cornhole. Amarillo KOA Journey also offers guests limo rides to and from The Big Texan, where you can tackle the world-famous 72-ounce steak challenge.
3. Austin East KOA Holiday
Whether you are hoping to visit one of East Austin's restaurants or cultural centers — or just want to experience everything the city has to offer — reserve your stay at family-friendly Austin East KOA Holiday. Your whole family will love the on-site outdoor games, heated pool, playground, sandbox and recreational room. Visiting with friends? Austin East KOA Holiday offers buddy sites.
4. Brookeland / Lake Sam Rayburn KOA
If you are looking for a laid back, outdoor Texas experience, look no further. Located in the Piney Woods region of Texas, Brookeland / Lake Sam Rayburn KOA is a nature-lover's paradise. Bring your horse and live like a true Texan, with acess to a 45-stall horse barn and more than 200 acres of riding trails. The campground offers a community fire pit and community games, and you also have the option to rent paddle boats, kayaks or a canoe to fish and explore Lake Sam Rayburn.
5. Burkburnett / Wichita Falls KOA Journey
The Burkburnett / Wichita Falls KOA Journey is dog-friendly and offers cornhole, ladder ball, a game room, playground and a horseshoe pit. The Wichita Mountains Wildlife Refuge in Oklahoma — which includes 59,020 acres of prairies and preserved wildlife — is just a short drive away from the campground. Downtown Wichita Falls is also bicyclist-friendly and full of dining and shopping opportunities.
6. Canton KOA Holidy
Canton KOA Holiday is all about having a good time on your Texas camping trip. The campground has a basketball court, paddle boat and bicycle rentals, a community fire pit, games, a horseshoe pit and even an escape room. The campground also hosts seasonal activities throughout the year, like crafts, slip-and-slides and more. The fun continues in nearby Canton, where you will find Splash Kingdom Waterpark, the perfect place to cool down on a hot summer day.
7. Corpus Christi KOA
The Corpus Christi KOA is nestled along the sweeping waters of the Laguna Madre. The campground offers comfortable RV and tent sites that all feature waterfront views that are hard to beat. Enjoy all of the fun of nearby Corpus Christi or just kick back by the bay. This new-build campground is sure to keep you coming back to stay again and again.
8. Cotulla / Nueces River KOA
Texas longhorns once sipped from the spring-fed gravel quarries on the property that's not home to the Cotulla / Nueces River KOA. Now campers can splash away in the crystal clear swimming pool with friends or spend an afternoon exploring the expansive 73 acre property. If you're a fisherman, you'll want to check out the bass fishing on the Nueces River.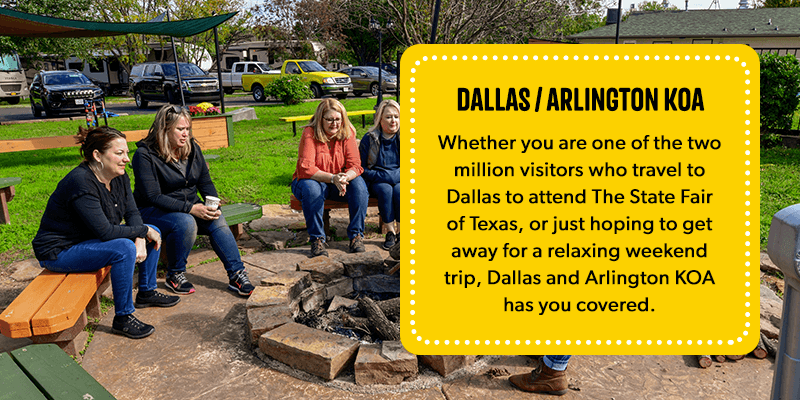 9. Dallas / Arlington KOA Holiday
Whether you are one of the two million visitors who travel to Dallas to attend The State Fair of Texas, or just hoping to get away for a relaxing weekend trip, Dallas / Arlington KOA Holiday has you covered. This campground is equipped with everything you need for a memorable vacation, including a family park and picnic area, bike rental, a horseshoe pit and ladder ball, a playground, a pool, Kamp K9® Dog Park and on-site facilities to cook and enjoy your own Texas-style barbecue.
10. Fredericksburg, Texas KOA
Fredericksburg is in Texas' Hill Country, which is famous for its wine production. Travel the Fredericksburg Wine Road to sample what the area has to offer, or venture downtown to experience Fredericksburg's historic German roots. Retire to Fredericksburg, Texas KOA and swim in the pool, visit the dog park with your four-legged friend or enjoy weekend entertainment.
11. Kerrville KOA Journey
Kerrville KOA Journey celebrates seasonal activities, including events during the Super Bowl and the holiday season. The campground also has a horseshoe pit and RV rally facility, as well as information about a three-day driving tour for those interested. Kerrville lends easy access to the beautiful Guadalupe River, which is part of the five-mile Kerrville River Trail. Make sure you stop by Stonehenge II, Texas' replica of the famous Stonehenge structure.
12. Lake Conroe / Houston North KOA Holiday
The Lake Conroe / Houston KOA Holiday has something for everyone. Take a dip in the hot tub or pool, take your dog to play in the pet area, participate in planned activities, play a game of horseshoes or spend the day fishing a fully stocked fishing lake. Kids will also love the Jumping Pillow and playground. Travel to the charming historic town of Montgomery — the birthplace of the Texas state flag — or to the bustling city of Houston. Lake Conroe is also minutes away, which promises plenty of outdoor recreational opportunities.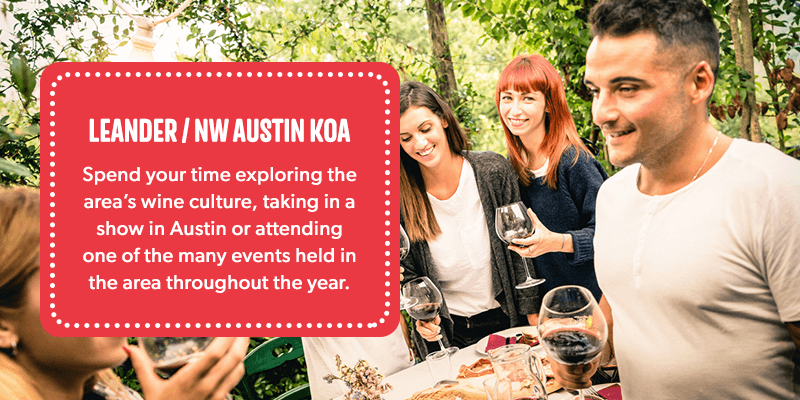 13. Leander / NW Austin KOA Holiday
Experience the best of Texas Hill Country and the Live Music Capital of the World when you stay at Leander / NW Austin KOA Holiday. Spend your time exploring the area's wine culture, taking in a show in Austin or attending one of the many events held in the area throughout the year. At the campground, you have all the amenities and features you could want, including basketball, a book exchange, a clubhouse, curbside trash pickup, a hot tub, pet area, movie rentals and a pool with a waterfall.
14. Lubbock KOA Journey
Lubbock is an interesting blend of ranching history, outdoor recreation and a booming arts and culture scene. Enjoy a visit to the National Ranching Heritage Center, take in a chorus or performance at one of the music and art venues or stay cool at Buffalo Springs Lake. At Lubbock KOA Journey, you can relax after your busy day in the hot tub and sauna or heated indoor swimming pool, or enjoy a movie with your friends at the drive-in theater.
15. Lufkin KOA Journey
Lufkin KOA Journey offers some of the best camping in east Texas. It is a horse-friendly campground that is situated among a beautiful established ranch. It features amenities like fishing, checkers and handmade gifts and specialty food items available for purchase. In nearby Lufkin, you will find miles of endless forest and beautiful lakes, as well as plenty of parks, playgrounds and museums.
16. Mount Pleasant KOA Journey
While you are in Mount Pleasant, your first stop should be Efurd Orchards to try a juicy, fresh Texas peach. Afterward, consider touring the Edison Phonograph Museum or the Mid America Flight Museum. After a day of exploring, come back to the Mount Pleasant KOA Journey and enjoy a kid-friendly fishing pond, a dog park or a dip in the pool.
17. Port Lavaca / Matagorda Bay KOA Holiday
Port Lavaca / Matagorda Bay KOA Holiday is located on the Gulf of Mexico, making it a seaside paradise. At the campground, reserve a waterfront site to wake up each morning to breathtaking views before spending the day on a rented kayak or fishing from the pier. If you decide to venture out, Halfmoon Reef Lighthouse is a short drive away and makes for a pretty photo opportunity. Matagorda Beach is also nearby for boating, swimming, sunbathing or bird watching.
18. Rusk KOA Holiday
Rusk KOA Holiday offers its guests unmatchable views of the sunset in quiet, peaceful surroundings. At the campground, you will find a basketball court, a clubhouse, bike rentals, a horseshoe pit and tetherball, a saltwater pool and hiking trails. You can also catch an old-fashioned ride on the nearby Texas State Railroad, located in Rusk.
19. San Angelo KOA Holiday
There is a lot to discover in San Angelo. Hike the Red Arroyo Trail, go horseback riding or geocaching at San Angelo State Park, see a show at the San Angelo Stock Show and Rodeo or view the exhibits at San Angelo Museum of Fine Arts. Then, come back to San Angelo KOA Holiday and relax under the mesquite trees, cook a meal at the barbecue pits or play a game in the game room. You can rent a bicycle with your friends or attend one of the campground's planned events.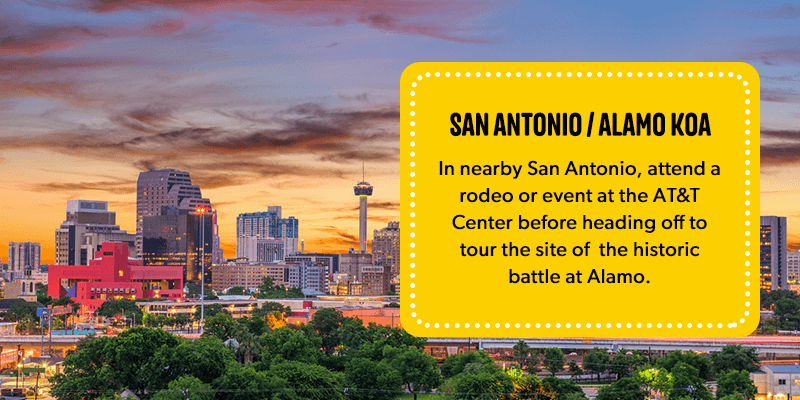 20. San Antonio / Alamo KOA Holiday
San Antonio / Alamo KOA  Holiday offers the perfect balance of nonstop action and immersive historical attraction. At the campground, take advantage of unique amenities like an on-site restaurant, bicycle trail, swimming pool and on-site pizza. In nearby San Antonio, attend a rodeo or event at the AT&T Center before heading off to tour the site of the historic battle at Alamo.
21. Sanger / Denton North KOA Journey
Sanger / Denton North KOA Journey is a short drive away from attractions like the Texas Motor Speedway in Fort Worth, the Fort Worth Stockyards and numerous Dallas-Forth Worth museums, restaurants and events. The big-rig friendly campground is one of the newest KOA additions to the Lone Star State and offers a pavilion, stone fireplace, fishing access, a pool and a dog park for your favorite furry friend to enjoy.
22. South Padre Island KOA Holiday
With 70 miles of protected seashore and the world's longest stretch of barrier island, Padre Island is a slice of paradise on the Gulf Coast. See marine wildlife in their natural state at the South Padre Island Dolphin Research Center or learn more about birds and alligators at the South Padre Island Birding and Nature Center and Alligator Sanctuary. When you stay at South Padre Island KOA Holiday, you do not have to leave any of it behind at the end of the day — instead, catch the sunset from the KOA sunset deck overlooking the water or from the on-site waterfront restaurant. You will also find a fun sandy playground for the kids and a swimming pool.
23. Texarkana KOA Journey
Celebrate the RV lifestyle at Texarkana KOA Journey and explore the RV art gallery or hold your RV club meeting or rally at their on-site facility. Camping in the summer heat? Texarkana KOA Journey has a refreshing seasonal pool, and the city of Texarkana is home to family-friendly Holiday Springs Water Park.
24. Weatherford / Fort Worth West KOA Journey
The Weatherford and Fort Worth area of Texas has a taste of everything — the quaint, family-oriented town of Weatherford and the tourist hotspot of Fort Worth. Find unique, local souvenirs in the Weatherford historic shopping district or spend the day at the Fort Worth Zoo or Six Flags Over Texas. Back at Weatherford / Fort Worth KOA Journey, you can swim in the pool or spend time with your favorite traveling companion at the dog park.
Camp Near Top Attractions in Texas
Still unsure where to go? Texas is full of attractions of all types, including the following popular tourist spots:
Big Bend National Park: Enjoy the view of cacti, limestone canyons, vast desert and experience peaceful solitude at Big Bend National Park.

The San Antonio River Walk: Each year, 13 million people visit the urban San Antonio River Walk to experience miles of shopping, dining, music and cultural events that happen along the water.
The City of Austin: Austin is a hot spot of activity. Whether you just want to explore the Austin arts or food scene, attend Rodeo Austin or have tickets to see the Austin City Limits Music Festival, the city promises entertainment for all.
Tips for Planning a Camping Trip to Texas
Once you have chosen your destination, here are some tips to help you figure out the details of your Texas camping trip.
1. Be Prepared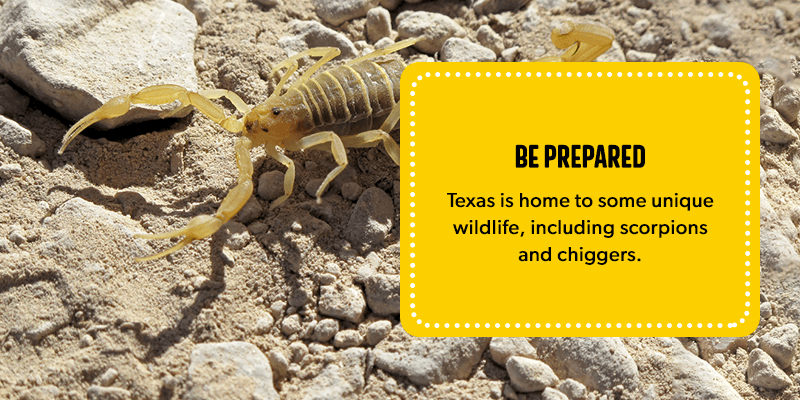 For a successful Texas camping trip, make sure you pack all the following essential items in addition to your standard camping supplies:
Lightweight layers
Waterproof sunscreen with a strong SPF
Insect repellant, preferably with DEET
A portable fan if camping in the summer
Plenty of water
Texas is home to some unique wildlife, including scorpions and chiggers. While neither of these pests is cause for too much concern, they can cause some discomfort or pain if you come into contact with them:
Scorpions: Scorpions are native to the Southwest and typically prefer dry climate. The most common is the striped bark scorpion. This scorpion is known for making its home in fallen logs and dead vegetation. The striped bark scorpion is a shade of tan or yellow with two distinctive black stripes running along its abdomen. While there are no confirmed scorpions in Texas whose sting is fatal, the sting of a striped bark scorpion can be very painful. Other symptoms of a scorpion sting include numbness, swelling and skin that is warm to touch. If you or anyone in your party experiences these symptoms — especially if they are a young child — seek prompt medical attention.
Chiggers: Chiggers are also known as "jiggers" and "redbugs," depending on where you are. You can pick up chiggers on your skin or clothes when walking through tall grass. Some types of chiggers can bite, which leaves intense itching and red bumps in the affected area. If you suspect chigger bites, take a hot shower or bath and apply an over-the-counter itch cream. To minimize your risk of attracting chiggers, wear long pants and covered shoes when hiking in weeded areas.
2. Narrow Your Scope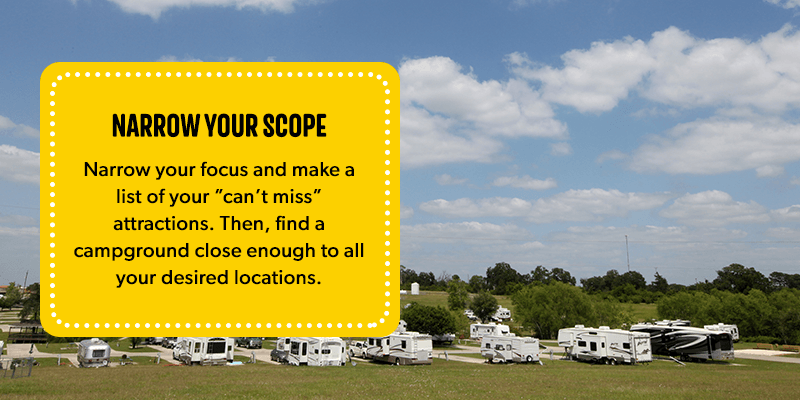 Texas is an enormous state, packed full of different things to do and see. It is impossible to visit every Texas attraction in a single trip. Instead, narrow your focus and make a list of your "can't miss" attractions. Then, find a campground close enough to all your desired locations. Do not forget to reserve your campsite early. With so many annual events and tourist attractions, you want to be sure your chosen lodging is available when you need it.
3. Leave No Trace
No matter which campground or campsite you choose to stay at, you should learn the basics of no trace camping. Leave No Trace camping is based on seven principles that promote leaving your campsite better than you found it, and it encourages campers to take care of the land and leave no waste or damage behind.
Plan Your Texas Camping Trip at KOA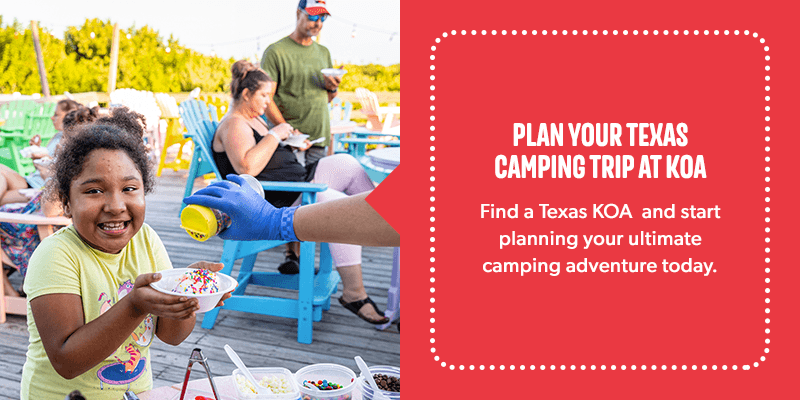 No matter the time of year or destination, KOA is here to help you make the most of your camping trip to the Lone Star State. Find a Texas KOA and start planning your ultimate camping adventure today.
---