Backing in a trailer can be tough, but these tips will make it easier.
In this informative video, RV expert Mark Polk offers some helpful tips on how to back a travel trailer or 5th wheel trailer into a site at your favorite KOA when there is a driver and a spotter.
Top Tips From This Video
Determine what communication method works best for both the driver and the spotter before backing in
If you decide to use hand signals, makes sure both people are clear on what they mean
Walk the site prior to backing in and consider placing cones to improve visability
Remember, the pivot point is the center of the axles on the trailer – this is the point where the trailer will turn when backing into the site
Have the spotter stand toward the front of the vehicle to make communication as easy as possible
Backing in takes practice – have patience
---
About the Expert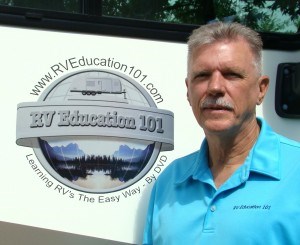 KOA's resident RV expert, Mark Polk, and his wife Dawn started RV Education 101 in 1999. Since that time RV Education 101 has helped educate millions of RV owners and RV enthusiasts on how to properly and safely use and maintain their RV. Mark's favorite past times are RVing in their 35-foot Type A motorhome, and restoring vintage RVs, classic cars and trucks. For more information on using, enjoying and maintaining your RV visit RV Education 101.
---
Save