How to Plan a Fall Glamping Getaway
The shorter days and cooler temperatures of autumn are upon us, bringing some of the year's best conditions to go glamping. By definition, glamping (glamour + camping) combines the rustic appeal of the outdoors with the creature comforts of home. The result? On a frosty morning, you can wake up warm and dry, hike and bike under a gold and amber canopy of fall foliage, and relax by a roaring campfire before tucking into bed inside your cozy accommodations.
Make the most of your comfy base camp and maximize your time outdoors with some advanced planning. Here are some things to consider before you book your next glamping getaway.
Consider a Cabin
Choosing a destination you'll enjoy, along with the right amenities to fit your lifestyle, is an important first step in planning your trip. It's end of the season for pools and lakes, so choose a campground with cooler weather activities like hiking, biking, dog parks, and playgrounds. If you have little ones, look for minigolf and a snack bar on site. For longer stays, you may appreciate laundry facilities and a convenience store. To make it easy, you can research campgrounds by destination and amenities at KOA.com.
Give yourself even more activity options by choosing a campground near a state or national park, a quaint downtown, or close to a fall festival. Some KOA campground even host their own Halloween festivities and themed weekend celebrations. Look up historic sites nearby and plan your sightseeing itinerary to include everyone's top picks.
There's loads of unique glamping accommodations out there, but a cabin is a great place to start. KOA's Deluxe Cabins have private baths, electricity, kitchenettes in most units, comfortable beds and extras like cable TV. A KOA Camping Cabin is an even more economical vacation option, with electricity, full and bunk beds and a shared bathhouse nearby. Reserve a Deluxe Cabin with a KOA Patio™ to cook on the grill and dine at the patio table. Some camping cabins have barbecues and a front porch swing to relax in with your morning coffee. All come with a campfire ring and are pet-friendly.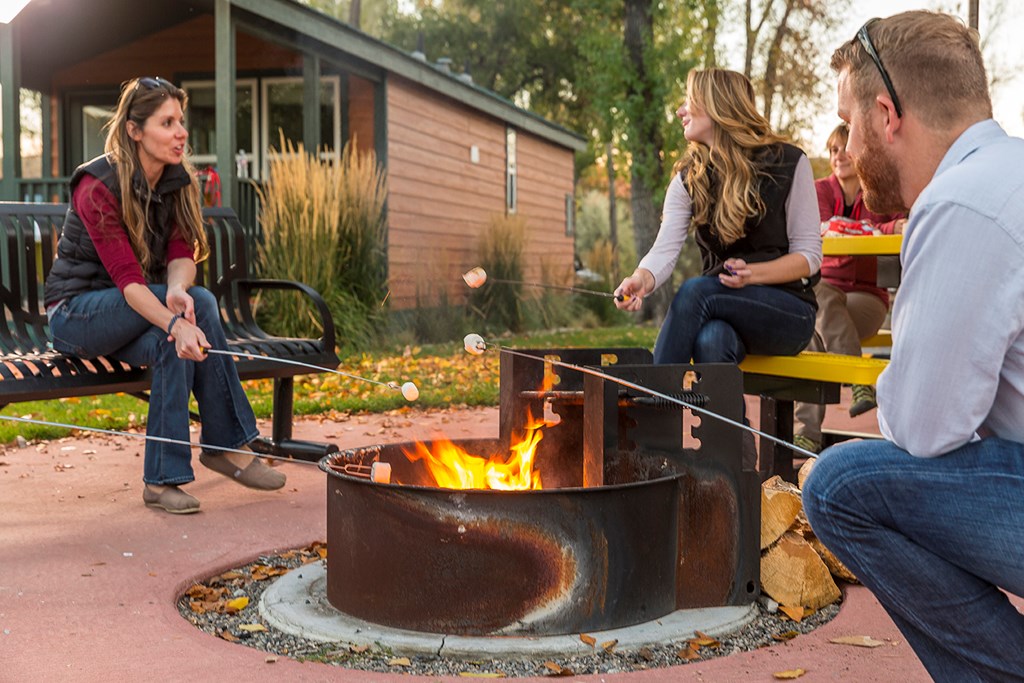 Bring Your Toiletries
You'll never be far from a hot shower and bathhouse when you're glamping To fully enjoy your step up from a tent, bring soap, shampoo, cosmetics, shower shoes, and a hairdryer. Pack plush towels and clothing layers for warm days and cool nights, especially if you're walking from your cabin to the bathhouse. A comfortable set of pajamas and slippers will round out your wardrobe for lounging around camp.
Packing: Don't Hold Back
Another advantage glamping has over tent camping is that you don't need to bring tents, air mattresses, lanterns, and other outdoor gear. Most likely, you'll be able to park right outside your cabin, so bring along all those nice-to-have non-essentials, like indoor and outdoor games, string lights, camp chairs or a hammock, and outdoor gear like kayaks, stand-up paddleboards, backpacks, and bikes.
Pack your suitcase with plenty of layers to stay warm. With access to bathroom facilities, you can even throw in a dressier outfit or two for fancier dinners in town. Campground WiFi and electricity let you keep electronic devices charged so you can read your Kindle, post the day's adventures on Instagram, or stream a movie after dinner.
Kick it up a notch in your glamping kitchen by planning simple yet gourmet meals that you couldn't dream of fixing over a campfire. Bring luxury items like ice cream and a coffee maker, and pack freezer bags to freeze leftovers for the ride home. Disposable plates, cups, and utensils are the easiest solution for meals, but if you prefer to bring your housewares, clean up in the sink is easy with dish soap and a towel.
Leave Your Survival Skills at Home
If you're new to camping, glamping is the way to learn the ropes while having a fantastic weekend in the outdoors. You don't need to know how to pitch a tent, identify wild animal tracks, start a fire, or tie knots. But you're surrounded by nature and have the option to unplug any time you want.
A glamping getaway is the perfect time to try a new sport or learn outdoor skills. Practice building a fire and test some simple campfire recipes. Plan a nature scavenger hunt with the kids, then gather round the picnic table to make a collage. Pick up a field guide to identify plants and animal tracks during a hike. Or just sit back and relax on the front porch swing, knowing you have a home-cooked meal, luxurious shower, and warm bed waiting for you at the end of the day.
---
If travel and food writer Ann Gibson isn't hiking, backpacking, paddling, biking, running, or skiing, she's most likely in her RV, writing about the sports she loves and the best destinations to enjoy the outdoors. She splits her time between home base in the Carolinas and the life of a digital nomad, traveling, writing, visiting, and volunteering in America's parks with her husband and two Aussies.
---