Stuff We Gotta Have: Game Night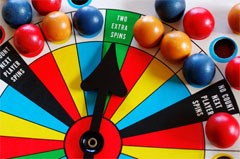 One of the best ways to relax, unwind and spend quality time with friends or family is to play a favorite card or board game. So we asked our Facebook friends which ones they enjoyed.
For Ann Young, "Yahtzee" was a favorite, while Martha Foley Schaefer reported that "Sorry" had become a family tradition. And lots of folks, like Cathy Gibbs, Deborah Davis and Wade Barb said that Uno was a go-to when it came to a getaway.
But several folks mentioned ones that we'd never heard before, like Mad Libs, Spinnerz, Bananagrams and more. That's why we went out and bought a slew of games—both old and new—and asked for folks who'd be willing to test them for us and give us their reviews. Five of them were chosen, at random, from the more than 110 kampers who entered.
Here's how they'll be rating them:
5 marshmallows: More fun than we know what to do with—it's our favorite!
4 marshmallows: We really had a great time playing it and will do it again soon!
3 marshmallows: It was fun, and we'll probably play it again.
2 marshmallows: Overall it was okay; probably won't be our first choice.
1 marshmallow: Well, it's just not right for our family…
0 marshmallows: We just tossed it in the fire and are roasting s'mores with it.
We also tossed in a deck of cards and asked our product testers to tell us what game they decided to play with them, too!
---
Clint Doss
Product Reviewer and Mississippi KOA Camper
Game Ratings:
| | |
| --- | --- |
| You Gotta Be Kidding | |
| The Game of Life | |
| Sorry Revenge | |
| KOA cards | |


Testing products for KOA was fun, to say the least, thanks for the opportunity!
The first game up was a new one to all of us, You Gotta Be Kidding! On
the outside it looked like fun. Well, the adults didn't enjoy it much. Sure the questions elicited comments but coming up with why you would pick one option over the other……….really you wouldn't so the fun just wasn't there. After running through all the other games I turned You Gotta Be Kidding! over to the teenagers and they played and shared it with some of their friends. As a result the game was moved up a few marshmallows after they reviewed it.
The Game of Life was up next this is an old standby we have in our camper and it was played with familiarity and fun. 3 marshmallows for this game that everyone including the 4 yr. old can play!
The third game in the rotation [was] Sorry Revenge–the card game. Based on the same concept as the board game it was fun and entertaining. 3 marshmallows. This game was enjoyed by the teenagers and adults, no room for the 4 yr old and 7 yr old.
The deck of KOA kards were last up for our gaming pleasure! Go Fish was up first, fun! Lol. Admittedly the deck of cards elicited the most fun for the whole group! The game of choice was spoons! You simply can't go wrong with a game of spoons!
While our family didn't find a new "cool" game, we really enjoyed the time
we were able to spend together playing games laughing and talking to one
another, "A Family that Plays together stays together!'
Thanks for that, KOA!
---
Tasia Cornelius
Product Reviewer and Arizona KOA Camper
Game Ratings:
| | |
| --- | --- |
| Blokus To Go | |
| Twister | |
| Scrabble Slam | |


Twister is such a fun game for any age. My four year old niece loved playing it and so did i. It helps kids with color recognition, the difference between right and left, and coordination. It is definitely a game the family should bring along on their camping adventures.
Best: Fun and easy to play
Least: The mat got scrunched up in the grass, but was fun to play regardless.
I give it 4 marshmallows!

Scrabble Slam!: We liked this game, had fun playing as a family and it kept us on our toes. This game is perfect for older children to adults for its fast paced playing but not so fun for the little ones.
Best: Trying to beat the other players, the competitive nature of the game.
Least: It was hard to include the whole family to play but is good spelling lesson tool for the little ones.
I give it 3 marshmallows.
Blokus To Go!: This game would be perfect to play at the picnic table and is great for children. It was fun to play and is travel friendly. Its a game of strategy and and you play to win.
Best: Travel friendly, but did have small pieces that might get lost.
Least: The small pieces.
I give it 2 marshmallows.
Deck of Cards: We played Speed and Solitaire with a deck of cards. Its fun playing Speed solo or another player. The deck of cards are good old fashion fun.
---
Ann Sweeney
Product Reviewer and Maine KOA Camper
Game Ratings:
| | |
| --- | --- |
| In a Pickle | |
| Guesstures | |
| Yahtzee Hands Down | |
| KOA Kards | |


Thanks for the Rainy Day Games. The deck of cards will be handy at night for solitare as I am night owl while my husband sleeps. We tried out Yahtzee Hands Down, In a Pickle and Guesstures. By far, the Guesstures game was the most exciting (for 2 old folks) but the dog even got excited and add her 2 cents worth. We can tell this will be a hit with our grandchildren. The only problem with the Guesstures game is the storage box. It is not sturdy at all for storage, very flimsy.