Following the Yellow Brick Road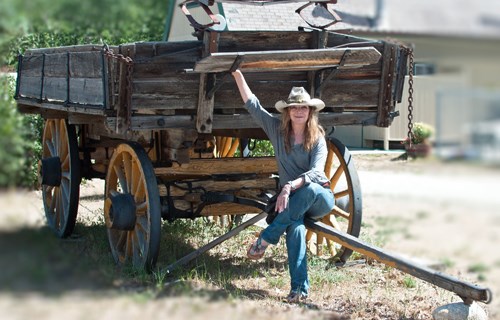 By Jennifer Grambs
Photos: Jeff Grambs
There were moments this summer during our 7,000-mile, cross-country camping trip when I felt like Dorothy in the Land of Oz, following a bright yellow brick road from campground to campground.
Splashes of KOA yellow — a tee-shirt, pair of clogs, that familiar sign, the handles of our KOA Rollaroaster, a staffer in head-to-toe yellow finding our lost keys — all of these reassured my husband and me that we were settled into a new home each night. Yellow meant sleeping under the stars in a happy place. People to meet. Places to explore.
We left New York City during a heat wave with two goals. The first was to take an old Stetson back to Montana to visit its original owner. The second: we wanted to be happy wanderers and go where the wind carried us.
There would be only minimal advance planning as we made our way westward stopping at various KOAs, some familiar from previous trips — and others, new. We rarely reserved a site more than a few hours in advance. Sometimes, we just showed up and hoped for the best: backpacks stuffed and tossed into the car, tent, sleeping bags and solar-powered LEDs in place; our shaggy dog, Roxy, nestled in her makeshift bed dreaming of KOA doggie playgrounds.
We were ready for rugged camping but open to creature comforts. Who would have thought we'd spend a Great Falls, Montana KOA night in a lovely KOA Deluxe Cabin, munching freshly-picked raspberries that grew steps away from our private deck overlooking acres of wheat fields that were…Yes! Yellow!
Wait, is that David Letterman strumming a banjo in the Kamping Kitchen?
No, it's Richard Baker whose uncanny resemblance to Letterman years ago landed him guest appearances on the star's TV show. Letterman-like features aside, he'd rather sing, play the fiddle, banjo or guitar, and trade cowboy wisdom and music with his partner, Diane Stinger, which they do every summer night.
"Here we are after 23 years singing at the KOA," he banters with delighted campers.
"And they said I'd never amount to anything."
Not every KOA offers a celebrity look-alike, but each one has a personality you remember: accommodations, owners, the people in yellow who work there and the setting. I'm reminded of the Greybull, Wyoming KOA. We arrived on a blistering hot day and the owners, Cor and MaRia, greeted us with bottles of ice-cold water. We hadn't even checked in. And that wasn't the last of their kindness. We spent our first night in a pretty, custom-built cottage. True to form, we hadn't reserved, so it wasn't available after that. But they put us up in their personal RV, a new and fun experience.
Greybull was our gateway to the Bighorn Canyon Recreation Area where wild horses trotted alongside our car and winked at me, I'm certain. We looked down at Devil's Canyon from a thousand feet above and headed up and over the Bighorn Mountains.
Whenever we tented, the women's restroom was always a gathering place to meet and chat. For my husband, there was the pool. At the West Glacier, Montana KOA, I gave sage advice to newbie hikers about the importance of wearing hiking boots. If any of those hikers are reading this, you'll be amused to know that I sprained my hiking-boot-less ankle the very next day.
Another restroom chat in South Dakota made a real fashion statement. A gracious woman from India touring with her family showed me how to design a sari from the single length of silk fabric she was wearing. It would cover my ankle cast, she giggled.
On the positive side, it was that bad ankle that earned Roxy and me special rides on the Red Lodge KOA's electric cart. That's how I got to their picturesque old buckboard wagon for a Montana photo op in my cowboy hat, newly adorned with dried yellow wildflowers from a field near Hungry Horse.
We arrived there after a wonderful ride through Yellowstone National Park. Then, we climbed onto the scenic Bear Tooth Highway, a marvelous winding ascent that takes you up almost 11,000 feet. You look out on breathtaking canyons and scurrying mountain goats crossing patches of snow even on the hottest days. The bicyclists amaze you as they pedal to the top, testing their endurance.
Our free-spirit approach sabotaged us in the end.
Remember? Our primary goal was to take that grungy cowboy hat back to Montana where I first laid eyes on it. Still covered with prairie dust, it was given to me by a sheep and cattle ranching couple, Don and Emily Mae Rebish, whom we met at a cafe in Dillon in 2004. After a surprise evening of great conversation, Don took off that old Stetson I admired, signed his name inside the crown and did what Em said cowboys do or, at least, what Don does: he gave it away.
Since then, that hat and I have traveled all over the West to Canada and up to arctic Alaska, even strolled down Fifth Avenue in New York's Easter Parade.
Wherever we are, we always send a postcard to our Montana friends asking: "Where in the World is Don's Hat Now?"
We missed seeing the hat's rightful owner this time. Not calling far enough ahead was our undoing. When we phoned them just hours before arriving, Em was 120 miles away and Don was way up in the mountains moving sheep camps. He was probably herding the now grown-up sheep that were soft, cuddling baby lambs last trip when the Rebishes gave us a crash course in how to be ranchers. It was an adventure we'll never forget.
Riding the wind is risky. So, as we head north to New England this autumn to camp among the falling leaves and marvel at their colors, one thing is certain. We will call ahead.
#####
Jennifer Grambs is a journalist who has published three books about traveling in the United States as part of the American Traveler series. Jeff Grambs is a photographer with a website at GrambsPhoto.com and former broadcast news writer.