9 Ways to Go from Camping to Glamping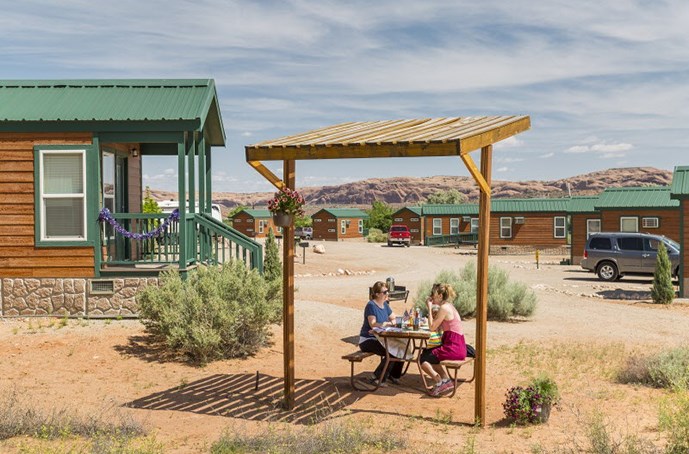 While there are few things in life we love more than a good camping trip, there are those times where you really want to take your experience to the next level and add a bit of luxe to your life.
Enter: glamping.
Chances are you've heard this word before and possibly even rolled your eyes at it. The outdoors is not a place where you imagine glam existing.
We are here to debunk the myths about glamping by showing you how you can take your camping experience to a glam one that will have you convinced the glamping is the way to do it.
Here, the ways to go from camping to glamping.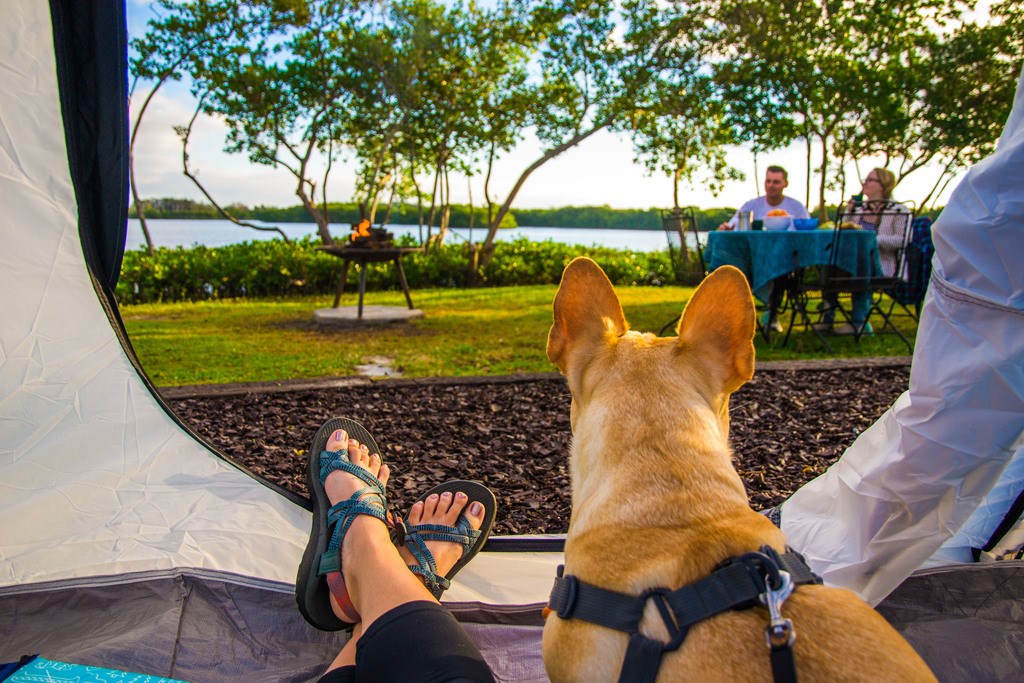 How to Turn That Camp into a Glamp
1. Use a tent, but elevated.
Yes, there are some resorts that have glamping experiences that are so over the top, you can't even imagine. However, you don't need that in order to glamp. In fact, you can glamp in a regular tent.
All you've got to do is find some ways to make it more glamorous. Here are a couple ways you can do just that.
Get a tent you can stand up in. Elevate your camping experience and turn it into glamping by doing something as simple as getting a tent that you can stand up in. You'll be surprised at what a difference it makes to not have to crouch around your tent.
Double the size. Normally you purchase a tent for as many people as will be sleeping in it. The different between that and glamping is that with glamping, you want to get a tent that is twice as big. So, if you're camping with 2 people, get a 4-person tent. This will give you more space to roam around and better enjoy your accommodations.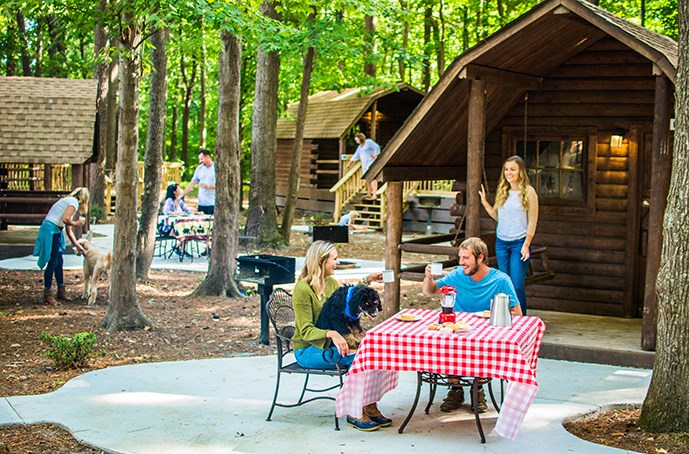 2. Bring comforts of home with you.
One of the things that makes glamping such a wonderful experience is that it feels as if you are sleeping in the comfort of your own home, but you've got the beautiful outdoors right there.
Those comforts of home come in a few different shapes and sizes.
Bedding
Spending the night in a sleeping bag with maybe a sleeping pad is the way you camp. But it isn't the way you should glamp. Instead, you'll want to invest in a cot or a fluffy mattress that is easy to transport.
And then you'll want sheets. Yes, sheets in your tent. Treat this cot or mattress just like your bed at home and bring the proper bedding: soft sheets, a comforter, and all the pillows you want.
Rug
You're reminded that you're camping when you step out of your sleeping bag onto the cold floor of the tent. When glamping, you don't want to experience that. And you don't have to. Simply bring a rug from home to put down underneath your bed and you'll be amazed at how much of a difference that first step onto a soft rug makes.
Side table
If you really want to complete the experience and make it feel like you're right at home, you can bring a side table to put some candles and a book on. Candles are a great way to glamp your space — just be careful!
Decoration
You may choose to take the decorating part seriously and bring along with you some art, some fresh flowers, a mirror, and really anything else that will make you feel a bit on the fancier side while out in the wild.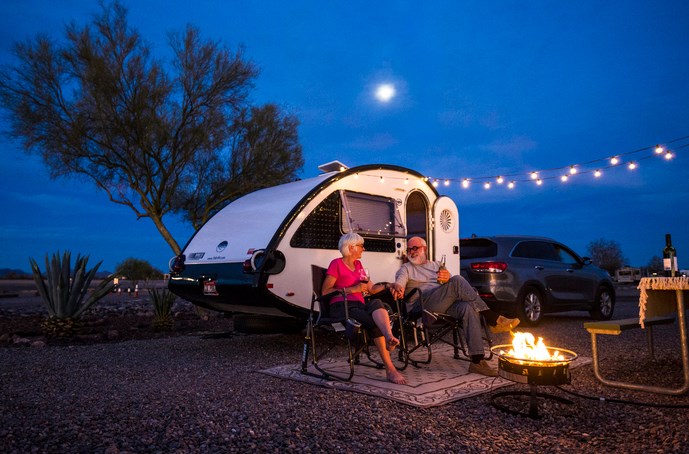 3. Light it up.
In addition to candles (which you may want to opt for fake ones to ease your worries about the fire hazard), bringing some cafe lights or twinkling lights will make your glamping feel magical. Solar powered lanterns are a great option as well. Our motto is the more lights, the better. Nature is quite dark and when you can light it up with some fancy lights, you'll feel oh-so-glamorous.
4. Have a proper dinner table.
Though this seems over-the-top, really nothing is over-the-top when you're glamping. Having a dinner table where you can enjoy your meals is absolutely key to your experience.
It doesn't need to be anything crazy fancy, but a table with chairs, a tablecloth and proper table setting is a guarantee that you won't feel like you're camping.
No eating around the campfire in fold-up chairs when you're glamping.
If possible, we suggest bringing real cutlery, real plates, and real napkins. None of that plastic or paper stuff that makes your trip feel disposable.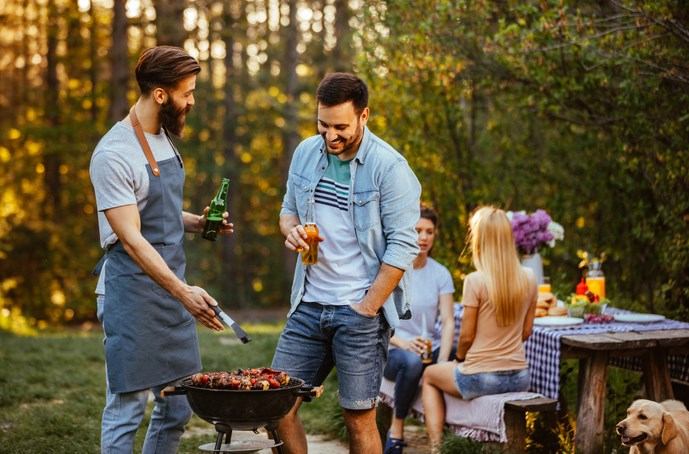 5. Cook gourmet meals.
An integral piece of glamping is the food you consume. Rather than reaching for hot dogs and potato chips, opt instead for things like smoked fish and artisanal salads that will make you feel as if you're eating at a fine restaurant.
In order to make this happen, you will definitely want a big cooler to keep everything refrigerated, as well as a cast iron skillet and possibly even a stove with multiple burners that will allow you to make a few things at once.
If you're in need of some recipes, be sure to check out our collection here for meals that will cover your glamping needs.
6. And don't forget good wine.
Your trip can go from camping to glamping fast simply by opening up a good bottle of wine. Or by mixing up a good drink. Give yourself a break from the beer in a coozie and step it up with some fine wine or a mixed drink.
Bonus points if you bring glassware to match.
7. Sit pretty.
While fold-up chairs around the campfire are great for camping, when it come to glamping, you're going to need to step it up.
You can opt for a hammock or some inflatable lounge chairs that provide much more comfort than your typical camping chair.
8. Bring next-level entertainment.
If you feel like your glamping experience would be complete with wine and a book, perfect. But if you're looking for a bit more, then look into entertainment that is elevated. Think an outdoor movie theater, complete with a projector, popcorn, and of course your favorite movie theater candy. If that doesn't sound like fun, we don't know what does.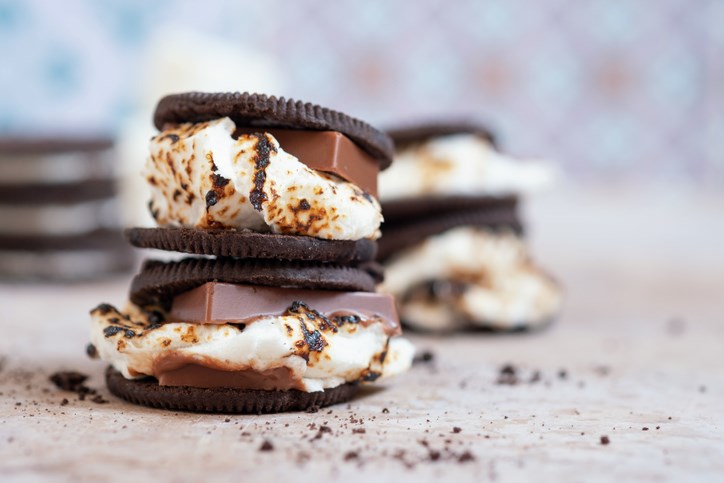 9. S'mores, but better.
S'mores are a camping staple, and are something we fully believe should be a part of your glamping experience as well.
In order to make the typical s'more more fancy, get some decadent chocolate and replace the graham crackers with gourmet cookies.
Warning: once you have these glamping s'mores, you might not be able to go back to the normal ones.
You'll enjoy your glamping experience even more when you're saving money thanks to a KOA Value Kard Rewards. With this, you will save 10% every time you camp, and you'll also gain access to thousands of dollars in savings for all your glamping gear with our coupon program.
---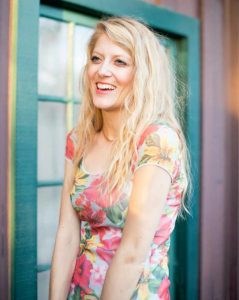 Leslie, a.k.a. Copy Girl, is a copywriter who gets butterflies from telling stories through words.
Her voice comes from a place filled with passion, dreams, and lots of sugar. "Cake over steak" is her go-to motto.
With over 10 years of experience in crafting words, and years of embarking on travels that have taken this Montana girl to some incredible places, Leslie love the adventures of both body and mind her writing takes her on.
Everywhere she goes, she takes this advice with her:
"Hold on to your divine blush, your innate rosy magic, or end up brown." – Tom Robbins, Jitterbug Perfume
To see what Leslie's up to in the writing world, visit her website here.
---