Imagine this: You're breathing in the fresh, crisp air. You're feeling the sun on your face. The colors around you are vibrant. There is a slight breeze, but all you need is a light jacket. You've got your hiking boots on and you're ready for an adventure.
Few things sound more beautiful than exploring the great outdoors as the leaves are changing around you and fall is in full swing.
If this sounds like your cup of tea, then you're in luck. Today we are rounding up all the trails that you want to hit this fall (or as many of them as possible).
Though these trails are undeniably beautiful other times of the year, there is something about the aspects of an autumnal hike that makes nature even more stunning.
Here are the best places to hike in the upcoming fall months.
15 Trails to Hike In The Fall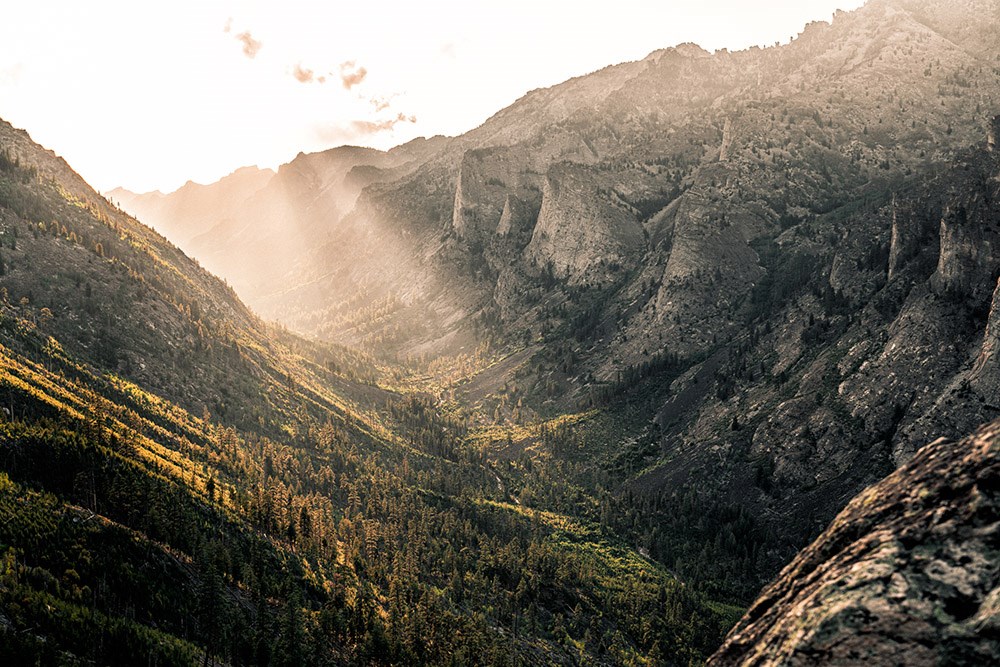 1. Blodgett Canyon Trail | Hamilton, Montana
Montana is one of those lucky places where all four seasons are photo-worthy and epic each in their own way.
But when it comes to Blodgett Canyon, fall is the time to be here. This spot is located in the Bitterroot Mountain Range near the small town of Hamilton. And here you can expect to see all sorts of fall colors that will have you in awe.
The trail is an 8-mile trek through these stunning mountains. Along the way, you'll get an eyeful of cliffs and spires, and at the end of the road, you'll come to a waterfall, which is the ideal place to take a break and enjoy some lunch.
Blodgett Canyon is also home to all sorts of wildlife, so keep your eyes peeled for all sorts of different creatures including elk, mule deer, and bighorn sheep.
KOAs nearby: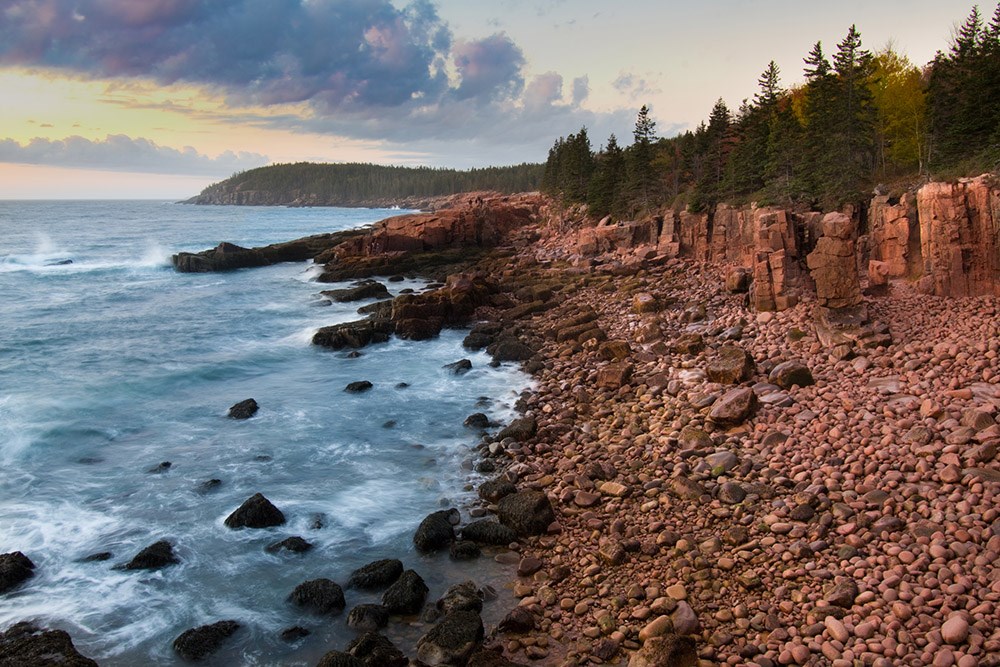 2. Ocean Path Trail | Acadia National Park, Maine
Acadia National Park is one of the most visited parks in the United States, and a lot of this traffic hits come fall.
Why? Because the fall foliage here is the stuff you see in your dreams. The colors will blow your mind and you'll be convinced you stepped into a movie set.
There are plenty of trails to explore in this park, but our top pick is a hike that is easy and friendly for all levels. It's called the Ocean Path Trail. Though it only spans 2.2 miles, it takes you along the shoreline of the Atlantic Ocean.
Just wait until you see the ocean meet the fall foliage and we guarantee you'll make this hike an annual excursion.
KOAs nearby:
Bar Harbor / Oceanside KOA Holiday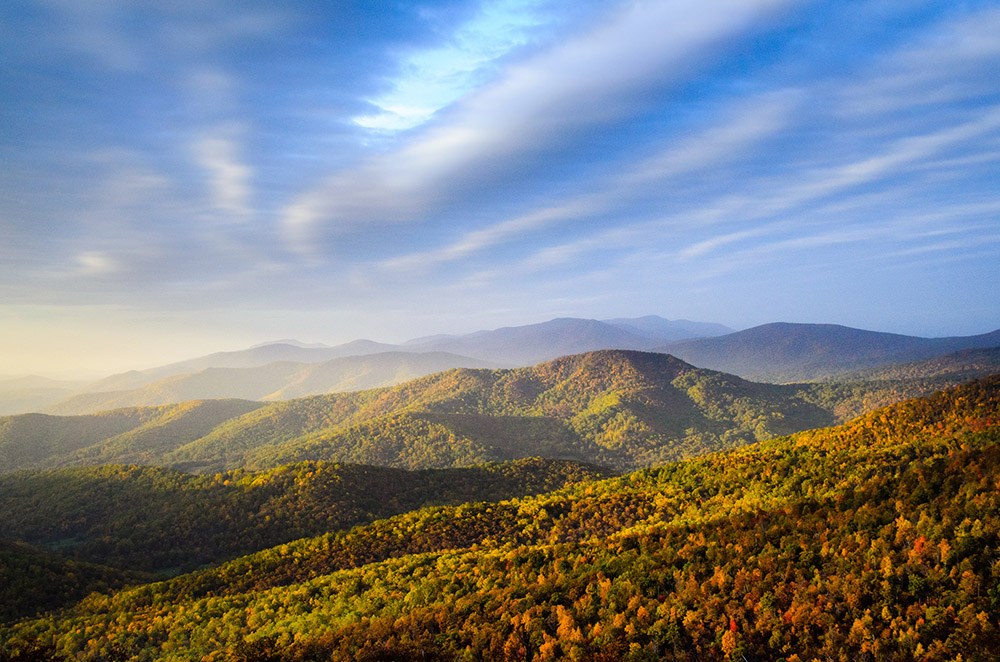 3. Spy Rock Hike | Blue Ridge Mountains, Virginia
The Blue Ridge Mountains are a favorite spot in the country to see fall at its finest. Head here in October for the Spy Rock Hike gives you 360-degree views of these stunning mountains in all of their glory.
Just be prepared to deal with crowds, because this area is known to get busy in the fall with everyone flocking to see the foliage. But, we think the crowds are worth it. If you can, aim to take this hike during the week as opposed to the weekend to save yourself a bit of the foot traffic.
Once you take off on this 3.1-mile hike, you will be feeling nothing but joy. This moderate hike takes you through the mountains and up to the top where Spy Rock sits. Here is where you can stop, take a breathe, and soak in all the beauty that completely surrounds you.
KOAs nearby:
Charlottesville KOA Holiday
Richmond North / Kings Dominion KOA Holiday
Fredericksburg / Washington DC South KOA
Lynchburg / Blue Ridge Parkway KOA
Natural Bridge / Lexington KOA Holiday
Harrisonburg / Shenandoah Valley KOA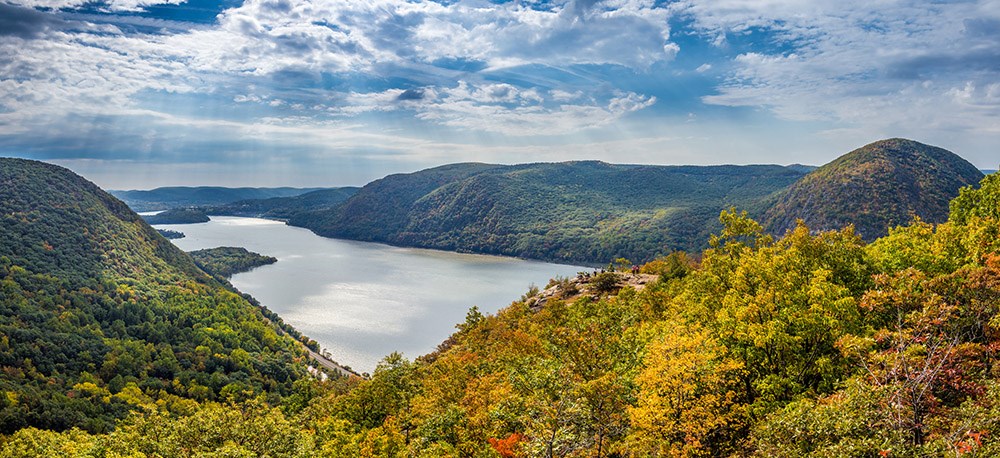 4. Breakneck Ridge | Cold Spring, New York
Don't let the name of this trail keep you from visiting it. Once you get to the top you'll realize that the only reason it's named this is because you'll break your neck from taking in all the views.
This trail's proximity to New York City makes it a great opportunity for those who don't have a car to get out and enjoy nature. This place really shines in the fall when the colors show off.
Though the loop is only 3 miles roundtrip, it is a tough hike that is quite steep, so be ready to get in a good leg workout while trekking on this trail.
Once you get through some of the rock scrambling that this trail requires, you will get to sit back, relax, and enjoy the panoramic views of the Hudson River Valley.
KOAs nearby:
New York City North / Newburgh KOA Holiday
Deerpark / New York City NW KOA Holiday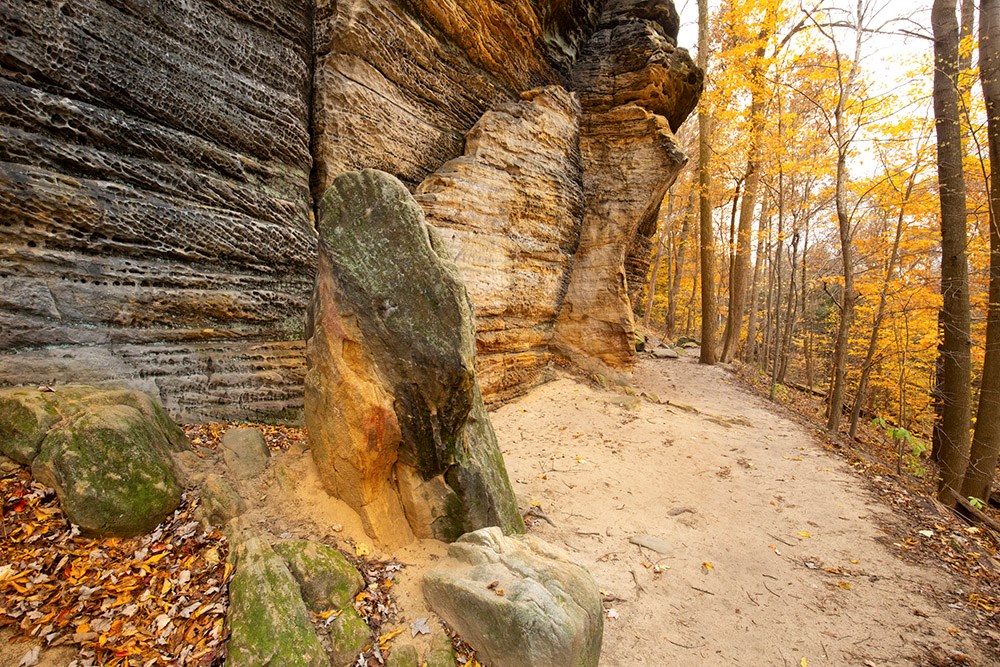 5. The Ledges | Cuyahoga Valley National Park, Ohio
Expect to see all the best parts of nature when you head to Cuyahoga Valley National Park including rivers, forests, hills, farmlands, and more. This park has it all.
And when you embark on The Ledges hike, you'll see even more.
This two-mile loop shows some of the incredible beauty of this area along the Cuyahoga River between the cities of Cleveland and Akron. The Ledges hike is on a rock outcropping that gives you completely unobstructed views across the entire valley.
The best time to head up here is sunset to see the variety of colors as the sun goes down. You'll also spot moss-covered rock formations, ferns, a cave called the Ice Box Cave, and more.
This hike is technical and rocky, however, so ensure you feel comfortable with your footing and have footwear that has lots of traction.
KOAs nearby:
Streetsboro / Cleveland SE KOA Holiday
Lake Milton / Berlin Lake KOA Holiday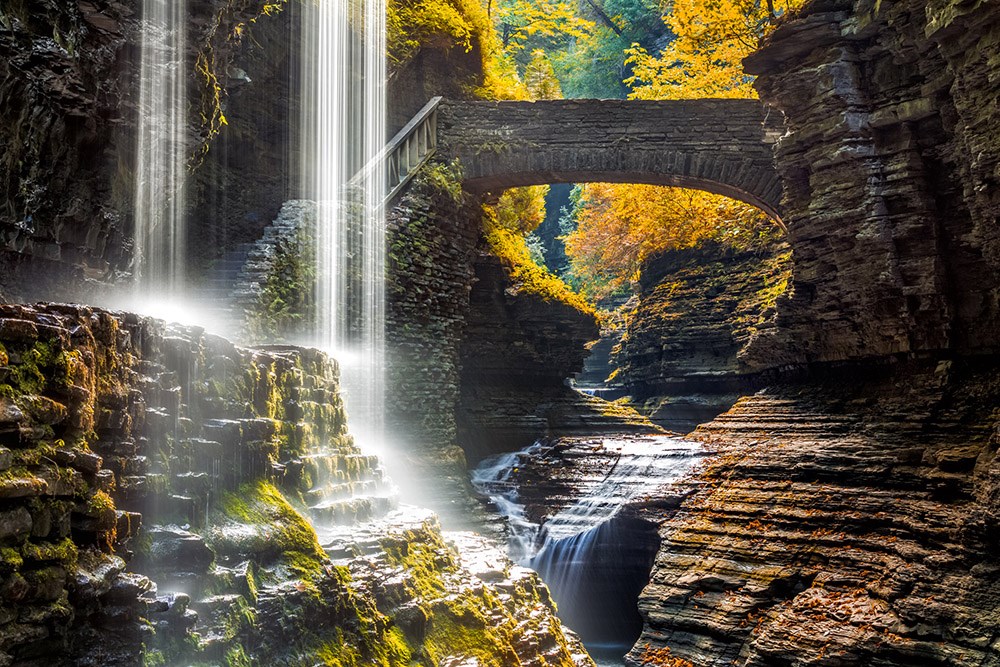 6. Gorge Trail | Watkins Glen State Park, New York
Feel as if you've traveled to another time and place when you step foot in Watkins Glen State Park.
You may not have heard of this place before (especially if you live in the west), but we are here to put it on your radar so that you can experience it yourself.
The Gorge Trail here is an easy-to-moderate hike that has plenty of stairs, making it accessible for most. Along the trail, you will take in all sorts of stunning scenery, including a whopping 19 waterfalls. Yes, you read that right: 19! The trail actually descends 400 feet and has you walking past 200-foot cliffs over and under waterfalls.
Get your camera ready because you won't want to miss photos of this spot.
This park was chosen from the over 6,000 different state parks in the United States as the third-best in USA TODAY Readers' Choice Poll for Best State Park in the United States. So start planning your trip today.
KOAs nearby:
Watkins Glen / Corning KOA Resort
Hammondsport / Bath KOA Resort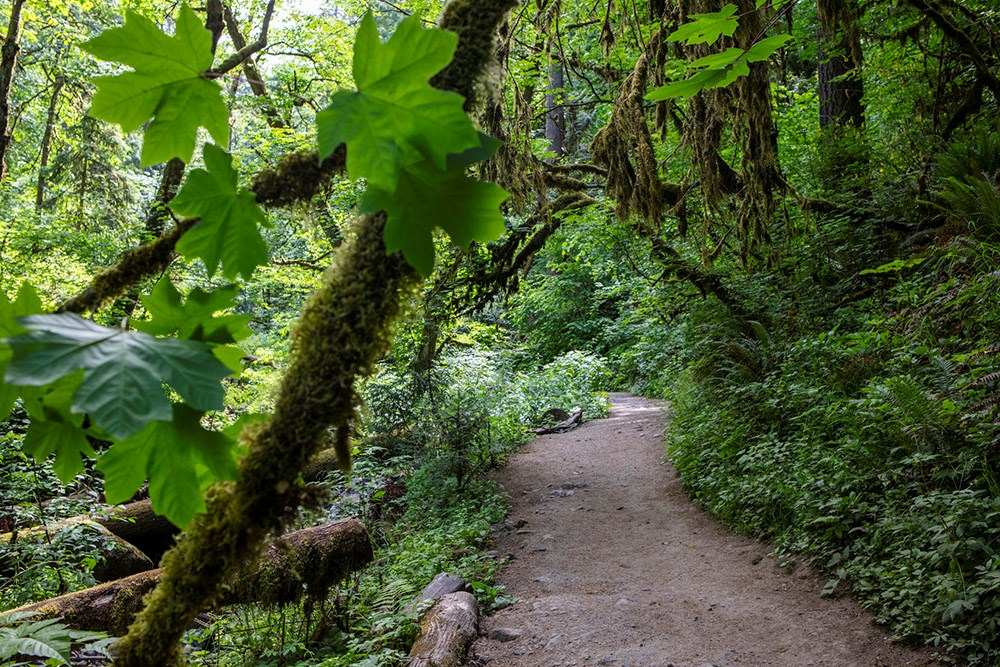 7. Wildwood Trail | Portland, Oregon
The pacific northwest is quite beautiful in the fall with all of its lush land and vibrant colors. And Portland is one of our favorite spots in this part of the country.
Though the city itself has a lot to offer, you'll really enjoy getting out in nature here and heading to the Wildwood Trail. This 30-mile long trail winds through some of the best parts of the city including Hoyt Arboretum and will give you views of the Japanese garden and much more.
If you get caught in the rain while on this trail (as is likely in this neck of the woods this time of the year), don't worry – you've got Douglas firs all along the way to protect you.
The trail loops you back right where you started to hop into the city and grab some of its delicious food.
KOAs nearby:
Cascade Locks / Portland East KOA Holiday
8. Redwood & Coyote Peak Loop | Bothe-Napa Valley State Park, Calistoga, California
For some movie-worthy foggy views (we promise it's gorgeous), head to Bothe-Napa Valley State Park.
Hiking through coastal redwoods is even more beautiful than it sounds. The Redwood & Coyote Peak Loop takes you along Ritchey Creek through the trees to the summit of Coyote Peak and then loops you back for a total of a 4.5-mile-long hike.
You'll love the fall views here and the trail is moderate enough for families to enjoy.
KOAs nearby:
San Francisco North / Petaluma KOA
Cloverdale / Healdsburg KOA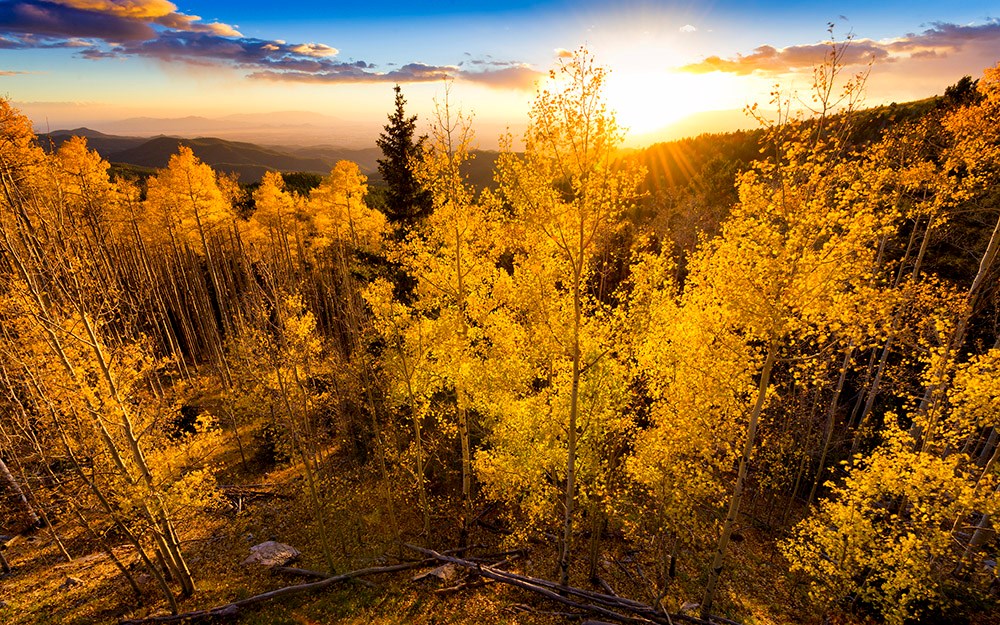 9. Aspen Vista Trail | Santa Fe, New Mexico
Santa Fe might not be a spot that comes to mind when you think of hiking, but we are about to change your mind. This winter hot spot is about to be your new favorite place in the fall.
The Aspen Vista Trail is just as its name says: a trail where you can take in incredible views of the aspen trees. The colors that these trees produce in the fall will have you saying "wow" at every glance. Photographers flock to this spot to catch the epic views, and you'll also see mountain bikers along the way.
Enjoy your stroll through the ponderosa and aspen trees, but be sure to walk slowly. The altitude is quite high and can almost literally take your breath away if you're not used to it. We promise it's worth the extra time, though.
KOAs nearby:
Santa Fe KOA Journey
Las Vegas, New Mexico KOA Journey
Albuquerque North / Bernalillo KOA Journey
10. Eastern Lake Trail | South Walton, Florida
Have you ever wanted to see a butterfly migration? If you haven't thought about it, now we've got it on your mind. And we've got the perfect place for you to experience.
Head to South Walton, Florida,mile-long and out on the Eastern Lake Trail to see the incredible monarch butterflies make their way south. It is an incredibly unique experience that will be unlike anything you've ever seen.
There are miles and miles of trails in this area, but our favorite one is the Eastern Lake Trail. It is an 11-mile loop that is moderate and will present some challenges along the way. But the best part (besides the butterflies, of course)? Once you've completed the hike, you can plop down in the sand of Miramar beach and relax.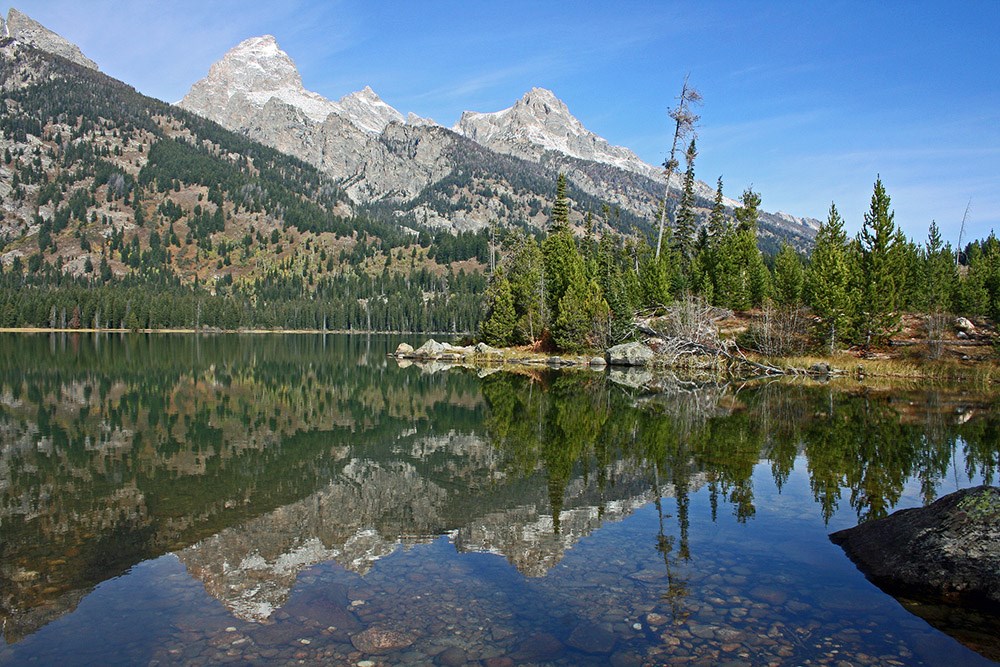 11. Taggart Lake and Bradley Lake Loop | Grand Teton National Park, Wyoming
If you want to get a wide assortment of views in one hike, then this hike will do that for you. The Taggart Lake and Bradley Lake Loop provides you views of a creek, the two lakes, wide-open spaces, stunning fall-colored aspen trees, and the Grand Tetons with snow upon their peaks.
If that's enough, keep your eyes peeled for all sorts of wildlife on this loop including moose and deer. The 5.3 miles of this trail have a little bit of everything. You'll even spot horses when you pass by a ranch along the trail.
This hike is easy and friendly enough for all levels, just know that it will take you at least a couple of hours to do the loop.
KOAs nearby:
Dubois / Wind River KOA Holiday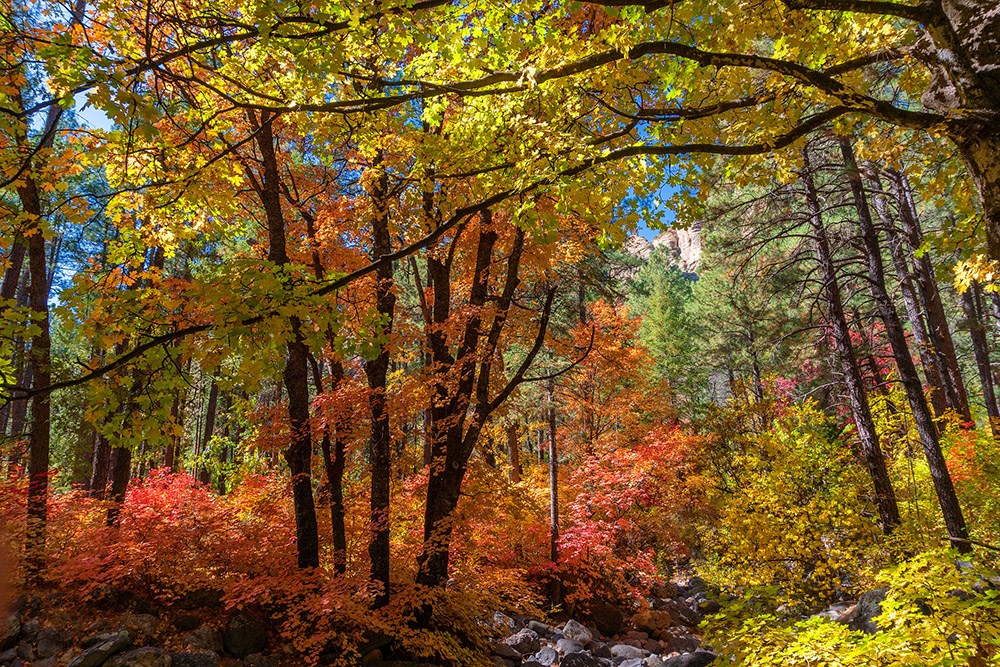 12. West Fork Trail | Oak Creek Canyon, Arizona
This part of the country is known for its stunning red rocks and while they are an incredible sight to see (and we highly suggest you take the time to explore them), this hike in Oak Creek Canyon is honestly our favorite.
We aren't the only ones who think so, however. This is a popular spot as it gives you a peek of the iconic red rocks of the area but also takes you through the West Fork of Oak Creek with maple trees and Gambel oaks along the way. These trees really show their true colors in the fall, and you are going to love them.
The West Fork Trail is 6 miles roundtrip and has lots of share along the way, so don't stress about the Arizona heat. You'll cross the creek multiple times on this trek, so be sure to bring shoes that are okay getting wet.
KOAs nearby:
Flagstaff KOA Holiday
Williams / Exit 167 / Circle Pines KOA Holiday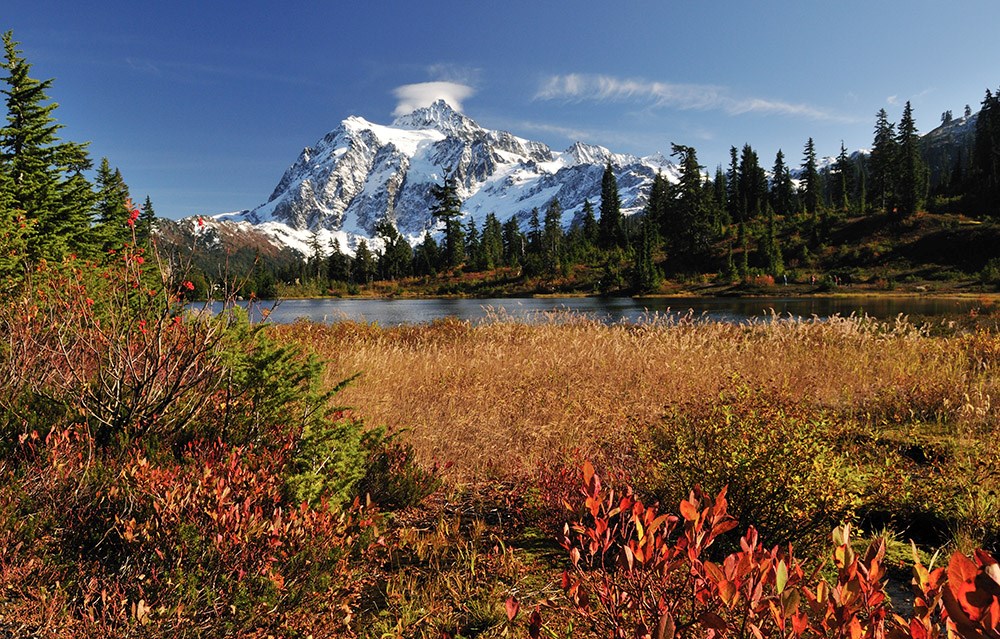 13. Skyline Divide Trail | Mount Baker-Snoqualmie National Forest, Washington
For views that will help keep you going, head to Mount Baker-Snoqualmie National Forest and give the Skyline Divide Trail a chance. Though it is over 7 miles, you have some of the most stunning scenery to motivate you to keep going.
The forests you'll spot here will give you all the beautiful fall colors you're after along with the snow-capped peaks of Mount Baker and Mount Shuksan.
This is one of the most popular hikes in the area and once you're here, you'll understand why. Skyline Divide Trail is beautiful any time of the year, but especially in the fall.
KOAs nearby:
Concrete / Grandy Creek KOA Holiday
Burlington / Anacortes KOA Holiday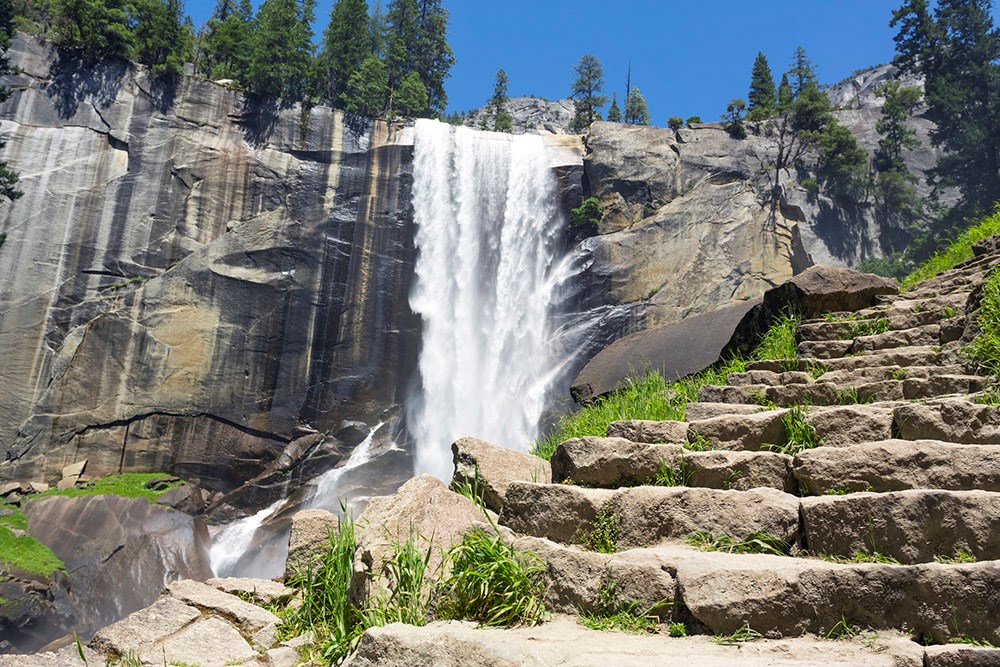 14. Mist Trail | Yosemite Valley, California
If you're up for a challenge, then check out this hike in Yosemite Valley. Though it is only 3 miles roundtrip, Mist Trail is a pretty steep uphill climb but gives you views that will make you happy you pushed yourself.
It takes you up the gorge of the Merced River and provides close-up views of Yosemite's most popular waterfalls: Vernal Fall and Nevada Fall. The hike gets its name from the spray of the falls, though you may not experience that in the fall – it is primarily an early summer trick.
Though you will pass through some water, do not swim in it! The current here is stronger than it looks.
KOAs nearby:
Coleville / Walker KOA Holiday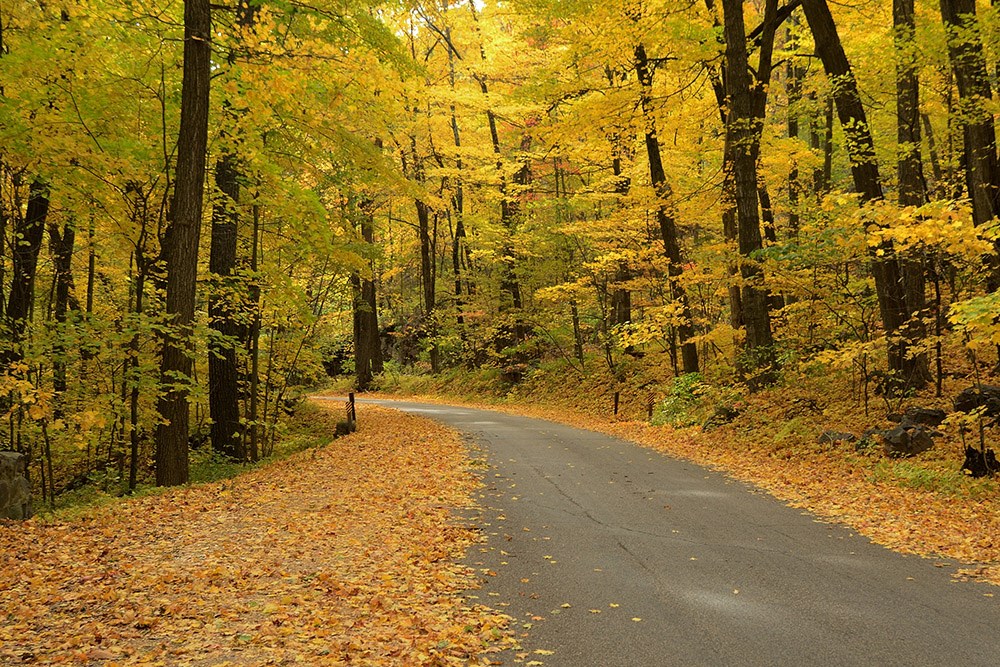 15. Ice Age National Scenic Trail | Wisconsin
Imagine walking through the place where mammoths, saber tooth tigers, cave lions, and more lived 15,000 years ago. Well, get your hiking boots on and make your way to Ice Age National Scenic Trail because that's exactly where you'll be walking.
During the Ice Age, Wisconsin was covered in glaciers (I know – hard to imagine). This trail takes you through that land where you can take in the current beauty of the area, but also gain an appreciation for its rich past.
The trail spans a whopping 1,000 miles through Wisconsin, so do some research to find out which part of the trail you're interested in tackling. Our favorite part is near the town of Elkhart Lake (which also happens to have a lake called Elkhart Lake). There is much natural history to be seen here.
KOAs nearby:
Fond Du Lac East / Kettle Moraine KOA Holiday
Looks like you've got a busy fall ahead of you making your way around the country crossing as many of these hiking trails off your list as possible. Don't worry – there is always next year. And we are thankful for that, as this list just skims the surface of all the incredible autumnal adventures that await.
From rolling hills to waterfalls, from snow-capped mountains to the old stomping grounds of mammoths, these hikes all pack their own unique adventure and we hope you enjoy.
---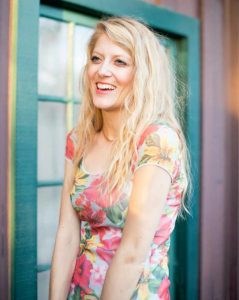 Leslie is a travel writer, copywriter, and web designer who gets butterflies from telling stories through words and visuals.
Her voice comes from a place filled with passion, dreams, and lots of sugar. "Cake over steak" is her go-to motto.
With over 10 years of experience in crafting words, and years of embarking on travels that have taken this Montana girl to some incredible places, Leslie loves the adventures of both body and mind her writing takes her on.
To see what Leslie's up to in the writing and design world, visit her website here.
---