When traveling across the country in the summer, it's important to keep cool, and nothing fuels a road trip like a scoop (or two, or three) of ice cream. Across the United States, there are many unique, destination-worthy scoop shops to be found, where ice cream comes in an array of flavors, colors, and textures. From classic ice cream cones in America's Dairyland to lavish sundaes in the Bay Area, here are 13 road trip-worthy ice cream shops to visit this summer.
Purple Door Ice Cream, Milwaukee
When it comes to ice cream, it makes sense to satisfy said cravings in America's Dairy State. In Milwaukee, Wisconsin, Purple Door Ice Cream is a summertime staple, with a multitude of flavors made with farm-fresh milk. The farm-to-cone effect makes for ice cream with a pure flavor and silky-smooth texture, available in flavors both classic (chocolate, mint chip, butter pecan) and contemporary (cinnamon roll, honeycomb, black licorice). For the most Wisconsin flavor, get the cocktail-inspired Brandy Old Fashioned, scented with brandy, orange, cherries, and bitters from Milwaukee's own Bittercube.
Nearby KOAs
Milton KOA
Big Softie, Atlanta
When the talented minds behind one of Atlanta's prized bakeries opens a soft-serve ice cream shop, you know it's going to be good. The adorably named Big Softie comes from Little Tart Bakeshop's owner Sarah O'Brien, who branched out in the Summerhill neighborhood with an ice cream shop alongside her beloved bakery. Her same proclivity for seasonal, local, and wholesome ingredients carries over at Big Softie, where organic cane sugar and milk from Southern Swiss Dairy form the foundation for soft-serve flavors like vanilla, coffee, and of course, Georgia peach. The shop uses fresh waffle cones made next door at Little Tart, and they also offer whimsical toppings like custom-made sprinkles, pink pralines, peanut crunch, and strawberry dip.
Nearby KOAs
Cartersville / Cassville-White KOA Journey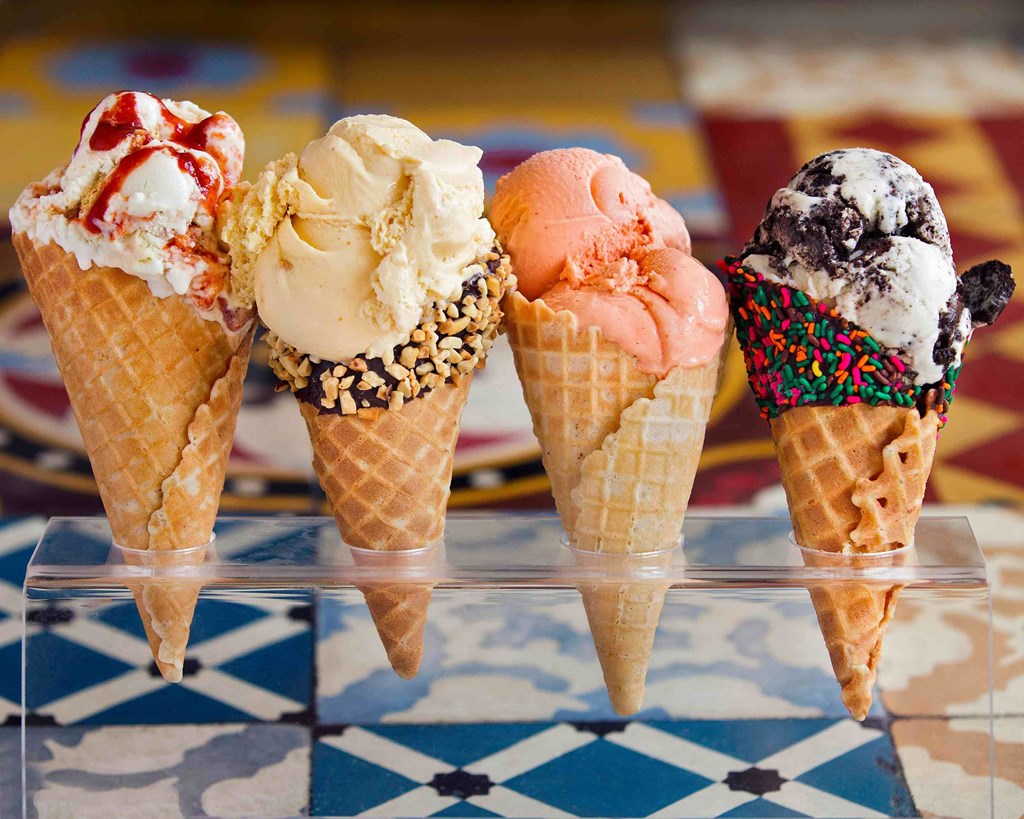 Azucar Ice Cream, Miami
In a city all too familiar with heat, ice cream is requisite. Miami's Azucar is the best defense against Florida's sweltering sunshine, because not only is the ice cream top-notch, but most flavors are punched up with tropical fruits and other quenching ingredients. This includes plantains sourced at nearby farmers' markets and mamey from a fruit stand down the street. Being in Little Havana, the shop aptly makes iconic Miami flavors like cafe con leche, caramel flan, and a vanilla flavor infused with guava, cream cheese, and cookies.
Nearby KOAs
Hollywood KOA
Davie / Ft. Lauderdale KOA
Memorial Ice Cream Shop, Mount Rushmore National Memorial
Thomas Jefferson famously helped author the Declaration of Independence, but there's another important thing he wrote: America's first documented ice cream recipe. So not only does the U.S. have Jefferson to thank for liberty, but also for sweet summer comfort food. Go straight to the source by visiting the ice cream station at Mount Rushmore National Memorial, where you can taste the rich and buttery vanilla ice cream Jefferson helped invent, still utilizing vanilla beans sourced from the same place the President did back in 1780.
Nearby KOAs
Mount Rushmore KOA Resort at Palmer Gulch
Custer / Mount Rushmore / Black Hills KOA Holiday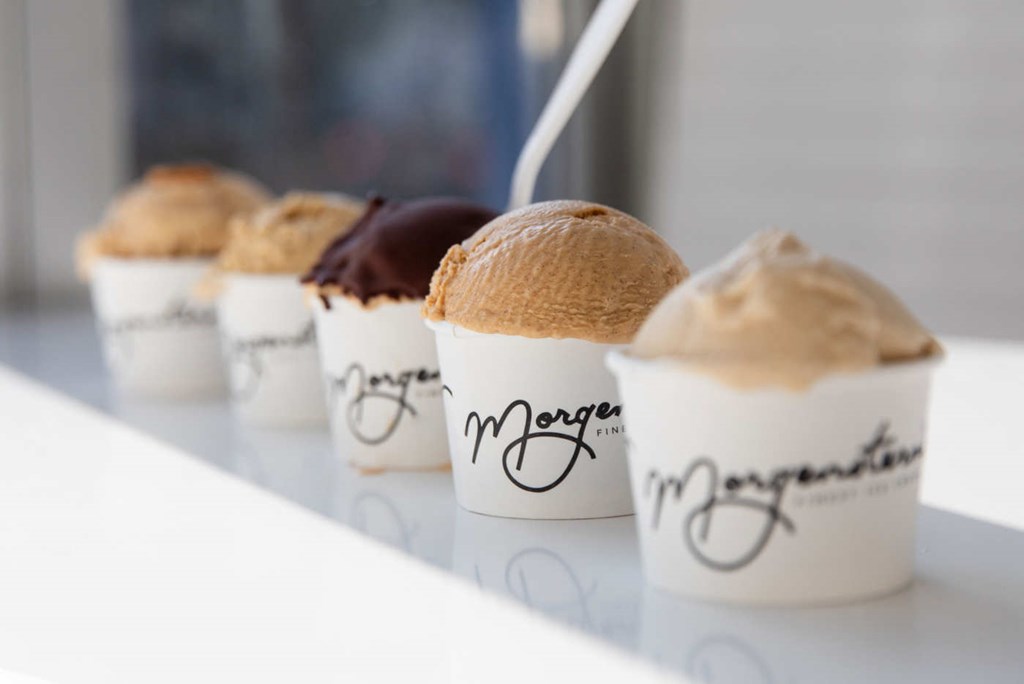 Morgenstern's Finest Ice Cream, New York City
New York City is a melting pot of cultures and communities—and also ice cream, melting in the summer humidity. In a metropolis rich with unique ice cream shops, Morgenstern's stands out as an absolute must. The shop is the handiwork of Nicholas Morgenstern, an esteemed pastry chef with such a penchant for ice cream that he dutifully tailors specific recipes for each new flavor. It's an involved process, but the rewards for hungry customers are myriad, as the sleek shop stocks irresistible flavors like salt and pepper pine nut, chocolate oat, Fernet black walnut, and green tea pistachio. And that's just the tip of the iceberg. In addition to straight-up scoops, Morgenstern's also offers elaborate sundaes, brownies a la mode, ice cream pies, floats, and even cocktails.
Nearby KOAs
Deerpark / New York City NW KOA Holiday
New York City North / Newburgh KOA Holiday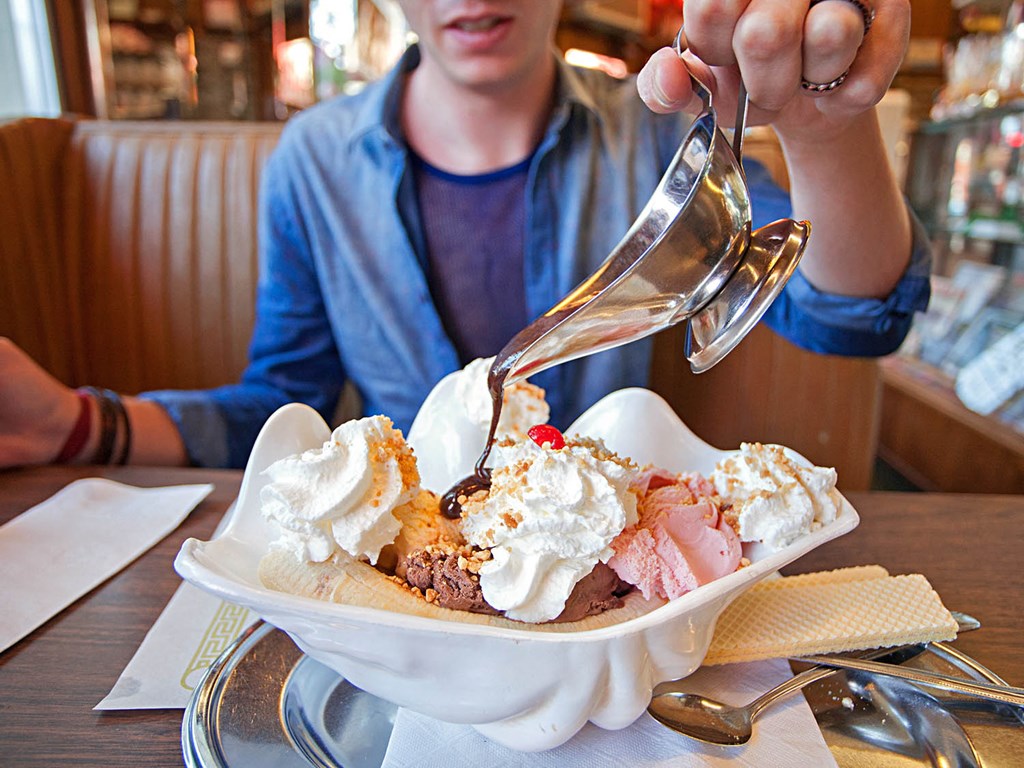 Margie's Candies, Chicago
Ice cream shops, more so than any other kind of cafe or restaurant, are best when they look and feel like a vintage parlor preserved in time. Such is the case at Chicago's enduringly popular Margie's Candies, an icon that's been pouring carafes of hot fudge for decades. The shop is sure to transport you back in time to 1970, with its old-school candy counter and squishy vinyl booths equipped with music machines that are long past their prime (in the most heartwarmingly endearing way). Unsurprisingly, classic ice cream flavors are the bill of fare here, and they're best as part of a banana split or extravagant sundae strewn with crushed peanuts and wafer cookies.
Nearby KOAs
Chicago Northwest KOA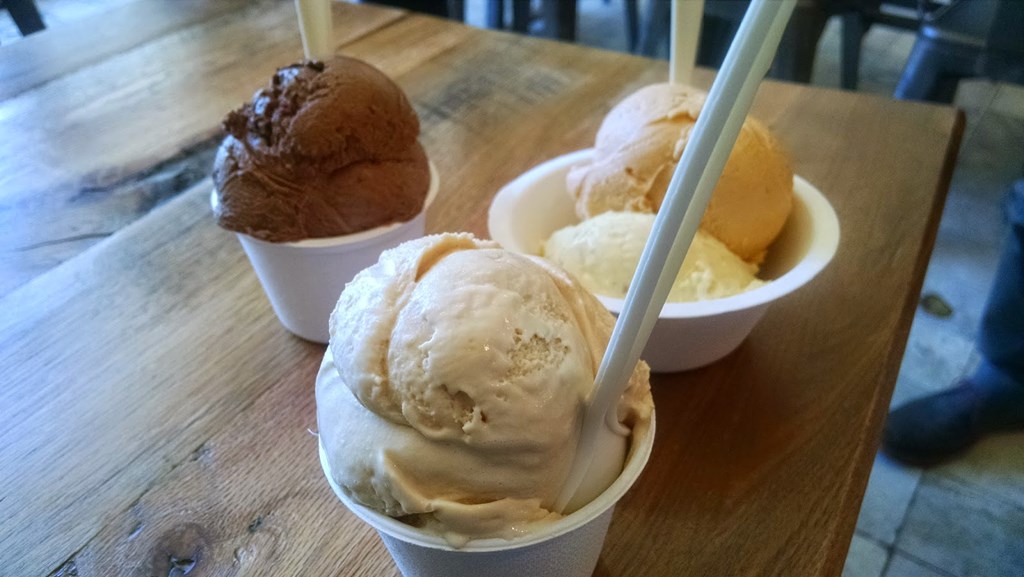 The Parlour, Durham
When husband-wife duo Yoni and Vanessa Mazuz moved from Philadelphia to Durham, Vanessa started tinkering with ice cream recipes while Yoni attended Duke University. What started as a fun hobby to share with friends evolved into a full-blown business and eventually, a permanent storefront in 2013. Using milk from local dairy farms, along with seasonally inspired ingredients and recipes rooted in childhood nostalgia, The Parlour churns out crowd-pleasing flavors like salted butter caramel, cookies & cream, blueberry, and toasted coconut, along with sorbets, vegan ice cream, and more "culinary" options like geranium and Vietnamese coffee.
Nearby KOAs
Greensboro KOA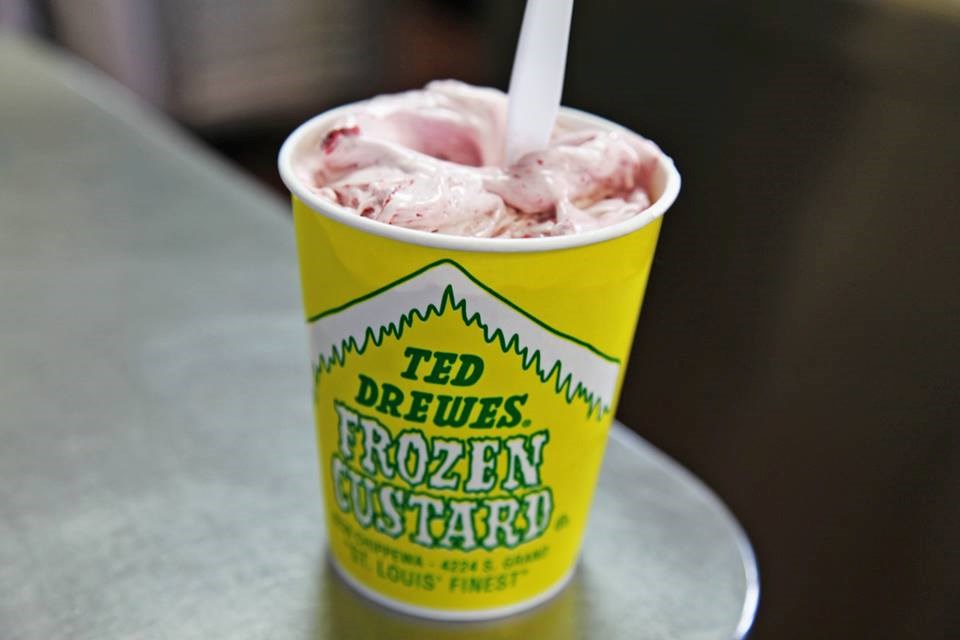 Ted Drewes, St. Louis
One of the most iconic ice cream shops in the country doesn't even technically make ice cream. Rather, the habit-forming creations at St. Louis' Ted Drewes are actually frozen custards, made with the addition of egg yolks in its recipes to ensure a smoother, richer texture and flavor profile. The resulting mixture, once frozen, is thick enough to create what Ted Drewes bills as "concretes," confections that are so dense that you could flip your cup upside-down, and it wouldn't spill. For the better part of a century, Ted Drewes has been peddling these decadent treats, available in interesting flavors like Muddy Mississippi (peanut butter and cone pieces mixed with vanilla custard), Hawaiian (pineapple, banana, coconut, macadamia nuts), and Lemon Crumb (vanilla custard mixed with lemon cream and graham crackers).
Nearby KOAs
St. Louis N.E. / I-270 / Granite City KOA Journey
St. Louis West / Historic Route 66 KOA Holiday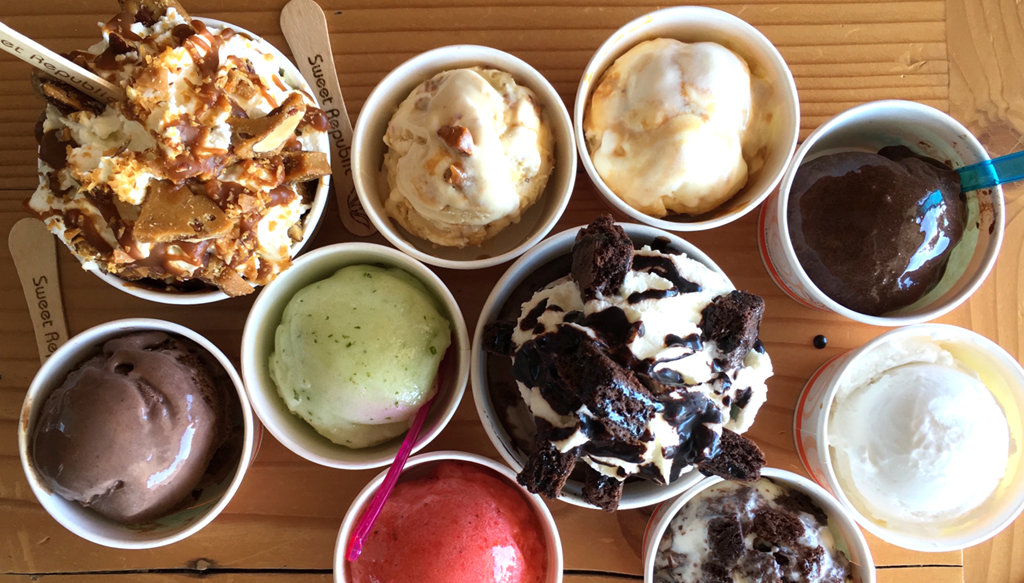 Sweet Republic, Scottsdale
In the summertime, it's typical for Scottsdale to see 100-degree days for weeks on end, so it's of the utmost importance to maintain a steady diet of ice cream. Sweet Republic is a sweet refuge that uses dairy from Arizona farms and makes everything from scratch, from the hot fudge and the marshmallows to the waffle cones and cookies. The sunny shop boasts a dizzying array of flavors, too, with innovative options like peaberry espresso, matcha, sweet corn, and honey lavender joining staples like Belgian chocolate, mint chip, and strawberry buttermilk.
Nearby KOAs
Mesa / Apache Junction KOA
Gila Bend KOA Journey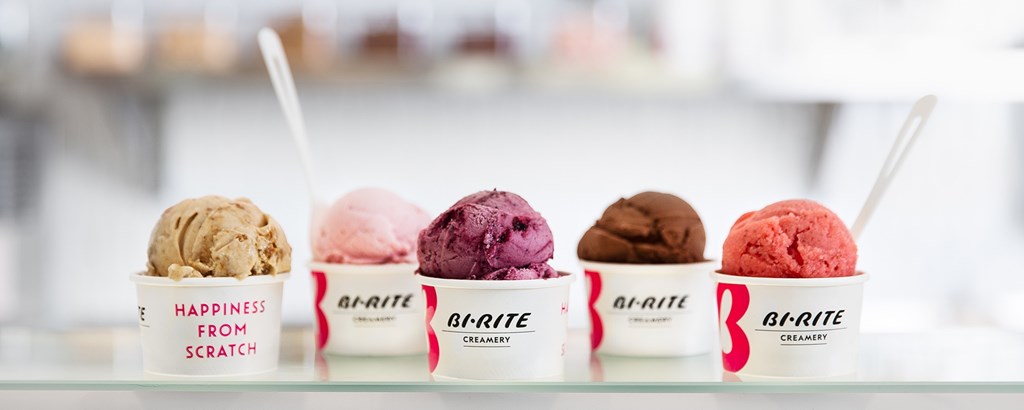 Bi-Rite Creamery, San Francisco
When it comes to America's staple ice cream shops, few can hold a candle to San Francisco's Bi-Rite Creamery. A local institution and summer pastime since 2006, Bi-Rite Creamery got bigger and better with its newly designed shop that helped open up the space and add more pastel colors to its motif. It's the most idyllic atmosphere in which to enjoy some of California's finest ice creams, enriched with local ingredients and seasonal inspirations. Bi-Rite also has a knack for whimsy and creativity, like with their soft-serve ice cream made with buffalo milk and stuffed inside a brioche donut from Mr. Holmes Bakehouse. If you're looking for a regular scoop or cupful, there's plenty to salivate over, with options ranging from balsamic strawberry and cream cheese carrot cake, to black sesame, roasted banana, and coffee toffee. Look out for intriguing vegan options, too, like cinnamon maple oat crunch made with oat milk.
Nearby KOAs
Santa Cruz North / Costanoa KOA
San Francisco North / Petaluma KOA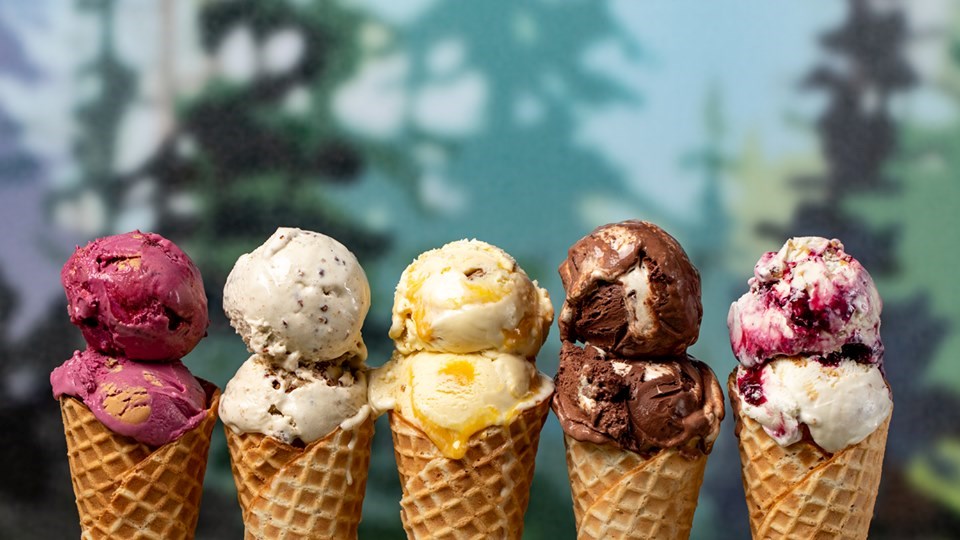 Salt & Straw, Portland (and other locations)
An ice cream success story for the ages, Salt & Straw has evolved from its Portland roots to become a West Coast sensation, with scoop shops in Los Angeles, Seattle, San Francisco, and San Diego. But Portland will always be home base for this dessert sensation, famed for its quirky riffs on classic ice cream flavors, savory options, and rotating seasonal series, like the summertime "camping series," which currently includes ice creams like campfire s'mores, spruce tips, and a breakfast-inspired treat flavored like buttermilk pancakes, bacon, and eggs. Other eye-catching selections include pear and blue cheese, cinnamon snickerdoodle, Arbequina olive oil, and strawberry-honey-balsamic with black pepper.
Nearby KOAs
Cascade Locks / Portland East KOA Holiday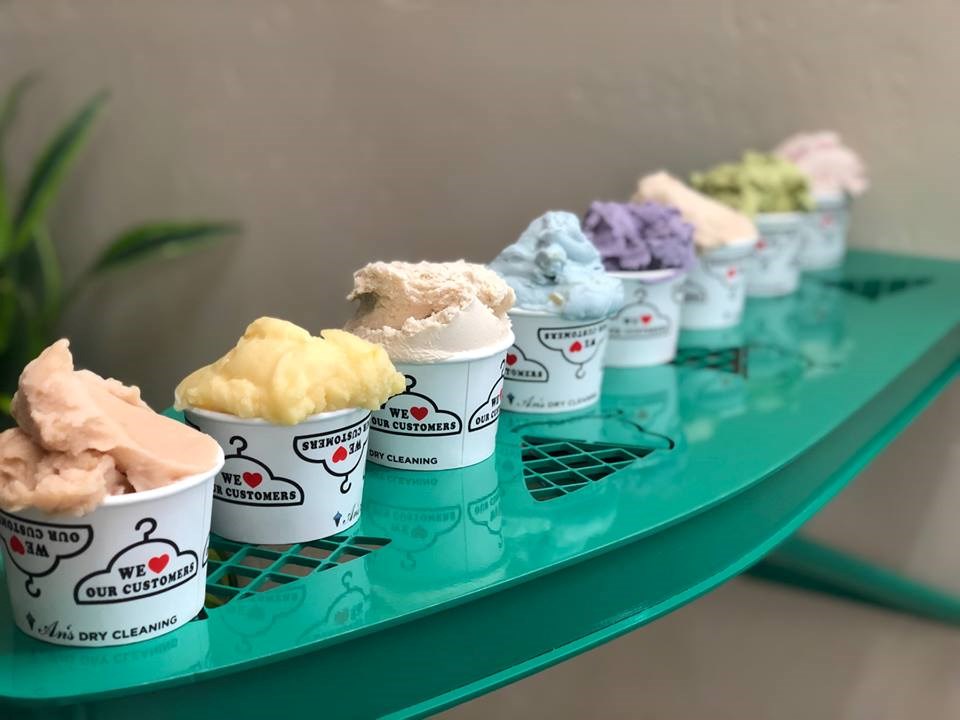 An's Dry Cleaning, San Diego
In spite of its name, and the fact that flavors are listed as "fabrics," An's Dry Cleaning is not actually a place to do laundry. Rather, it's a place to satisfy dessert cravings. Housed in a building that used to contain a dry cleaning service, An's preserved the old name while completely changing its focus from laundry to gelato. The result is one of the coolest—and most unusual—places in which to enjoy this summery treat, available in cheekily named flavors like linen (pineapple and basil), cotton (rice milk and cinnamon), and cashmere (goat cheese and honey).
Nearby KOAs
San Diego Metro KOA Resort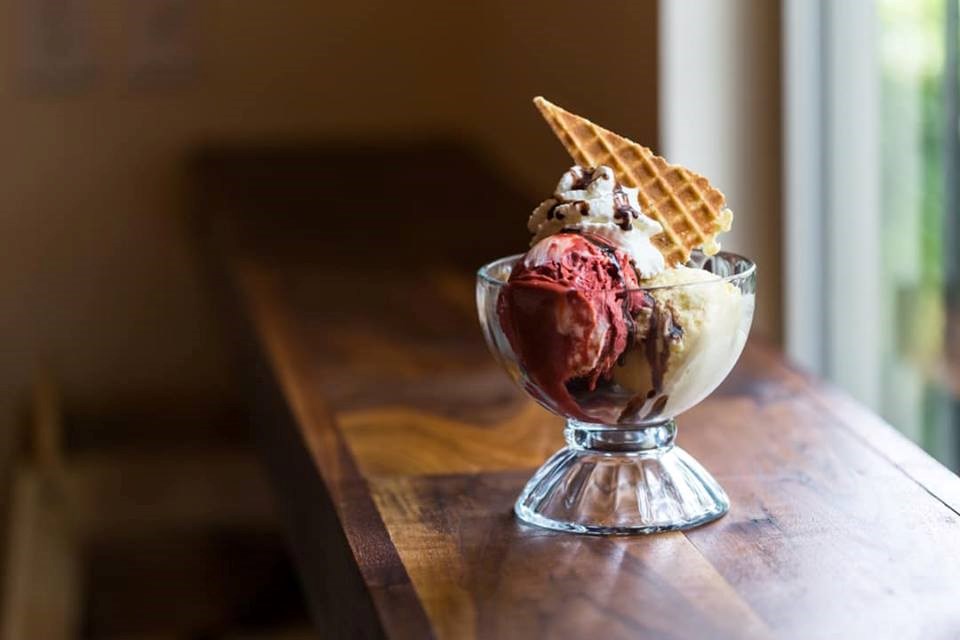 Prohibition Creamery, Austin
As the name hints, Prohibition Creamery is all about boozy ice cream, milkshakes, and even cocktails, served up in a hip parlor that looks more like a saloon than your standard ice cream shop. And, fittingly, the ice cream flavors read more like mixed drinks, with options like prickly pear mezcal, the Green Fairy (absinthe and cacao), whiskey chocolate, and pecan buttered rum. If the ice cream wasn't boozy enough, pair it with a cocktail like a spiced chocolate old fashioned or a tamarind whiskey sour. For those who don't drink, fear not: Prohibition Creamery also makes plenty of ice creams and milkshakes that are totally booze-free.
Nearby KOAs
Austin East KOA Holiday
Leander / NW Austin KOA
---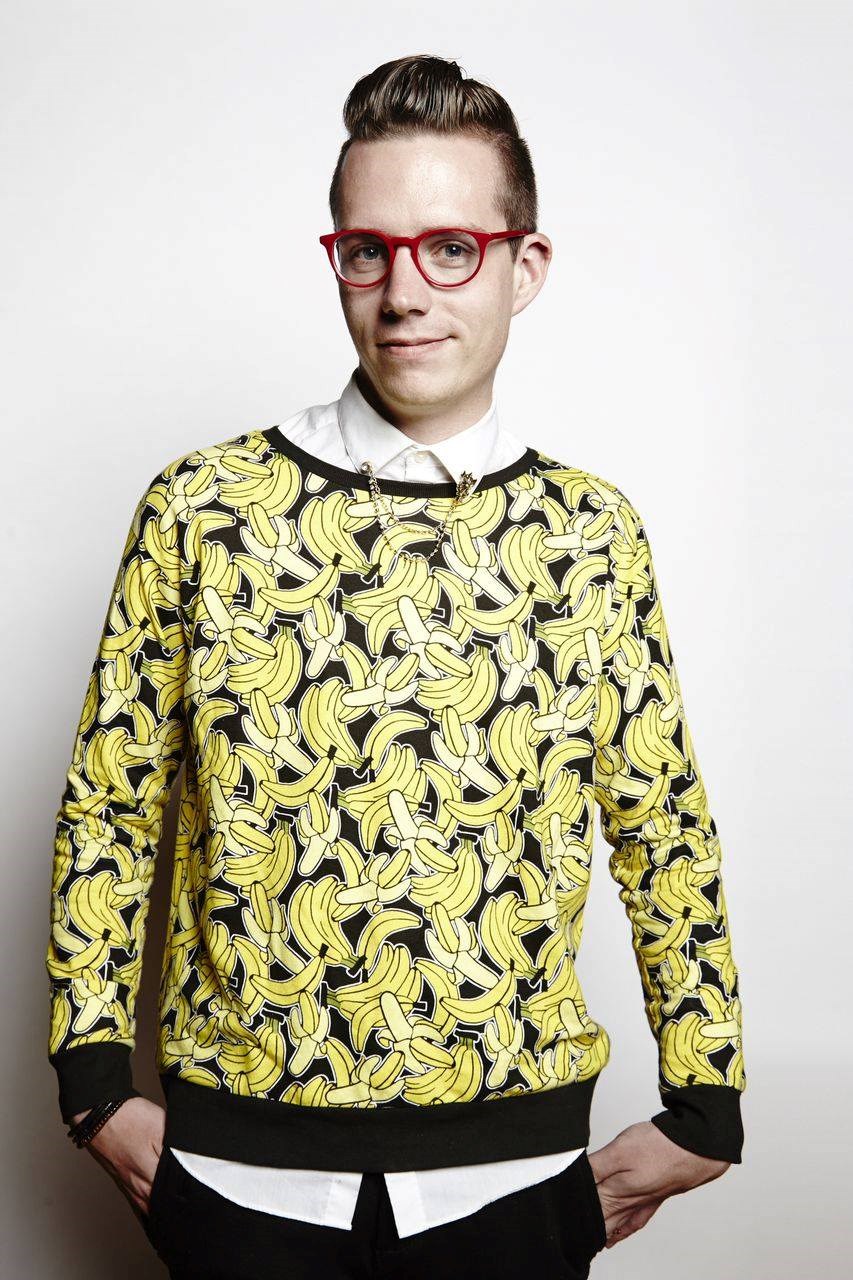 Born and raised in New Hampshire, Matt Kirouac grew up with a love for camping and the outdoors. Though he's lived in Chicago since 2006, he's always on the lookout for new adventures. He writes about travel and food for outlets like TripExpert, Money Inc, Upventur, DiningOut, Food Fanatics magazine, Plate Magazine and Zagat, and he currently serves as Chicago editor for What Should We Do?! He's the author of The Hunt Guides: Chicago (2016) and Unique Eats & Eateries of Chicago (2017).
---