12 Campground Games to Play On Your Next Camping Trip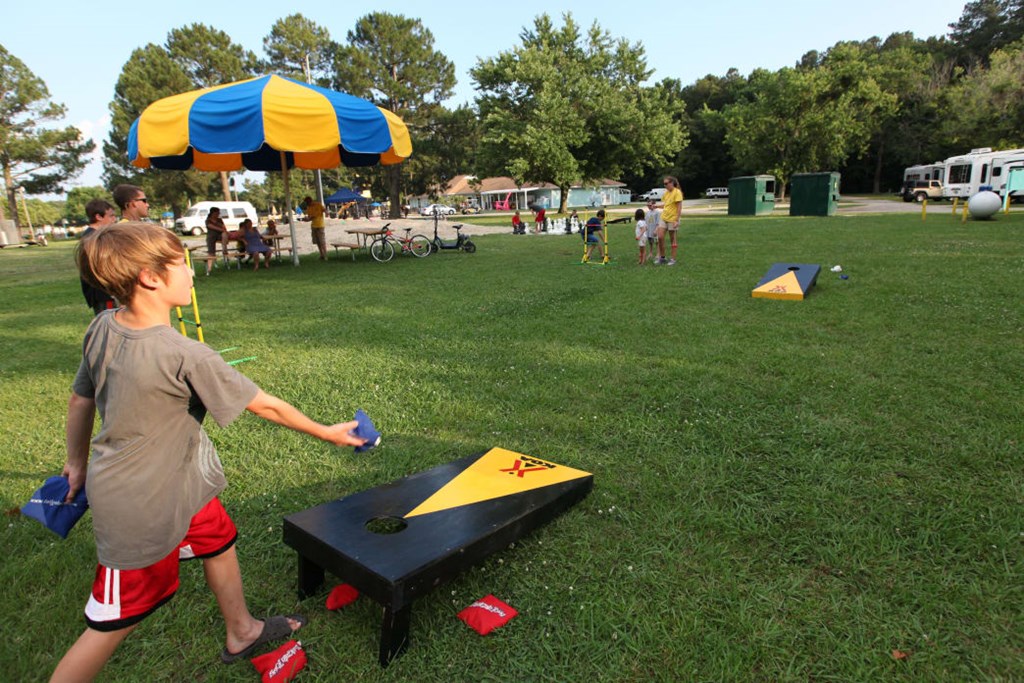 Try these fun games for your camping trip.
If you're going to camp at KOA—whether it's in your RV, your tent, in a cabin, or in one of KOA's unique lodging options—it stands to reason that your activities should be things that get you outside with the people you love. After spending the day hiking in the mountains, paddling the river, or even exploring a nearby city (KOA has tons of urban campground options, too), there's nothing better than returning to your campsite and relaxing with a fun game.
Don't worry, you don't need to crowd your tent with Monopoly, Risk, and Scrabble to play a few games at your campground—some of the options on this list only require a pen and a piece of paper, or in some cases nothing at all. Here are 12 campground-friendly games to enjoy with your crew while at a KOA.
1. Glow in the Dark Bocce Ball
Bocce is the perfect backyard summertime game that makes for an excellent camping game as well. Next time you stay at KOA, take your bocce game to the next level with glow-in-the-dark bocce that can be played under the stars. For the unfamiliar, a bocce set comes with eight large balls and one smaller ball. You'll split into teams and take turns throwing the smaller ball (called a pallino) and trying to toss the larger ones as close as you can to it. No need for a bocce ball court when playing glow-in-the-dark bocce while camping—you can play it right at your campsite.
2. Cornhole
Cornhole is an awesome and straightforward game, and it's perfect for camping at KOA. Just load your boards into your car and set them up at your campsite. Teams of two will take turns tossing bean bags into the holes on the cornhole board. Each bag that goes into a hole is worth three points, each bag that lands on the board without going into the hole is worth one point. Tally the points in each round, counting the difference toward the team with a higher number. (If you score seven while your opponent scores five, you get two points.) The first team to get to 21 wins. This is a great game for larger groups or families, as you'll need at least four players.
3. Jenga
Got a picnic table and an hour to kill? Jenga is the perfect game to play when you're hanging out at your campsite before dinner. The classic Hasbro game is easy and super packable, which is great for RVers who don't have a ton of space for bulky board games. Outdoor enthusiasts will love Jenga's national parks edition. If you're worried about weight and space, there's a version of the game called Outside Inside Backpack Tumbling Tower, which comes in at under a pound and is packed in a convenient drawstring pouch.
4. Add to the Story
After a long hike or even just a long drive, sometimes you don't always want to play games that require you to be up on your feet. For a mellow, around-the-campfire activity that allows you to get cozy in your camping chair, grab a piece of paper, something to write on and a pen. Have someone write a few lines to a story, then fold it over so that only the last sentence is showing. The next person does the same thing and passes it along. When you reach the end of the page, you've got a fun and oftentimes hilariously nonsensical story to read around the campfire
5. Lawn Bowling
Did you think bowling was a strictly indoor activity? Think again. It's easy to find a lawn bowling set both in stores and online. Find a space at your KOA campground where you can set up the pins and then start knocking them down. The uneven surface of the ground will provide for some fun, expected challenges.
6. Mini Golf
Mini golf is an ideal family-friendly activity. You play a few rounds, find out who is able to get a hole in one and then the loser buys everyone ice cream. OK, you don't have to make the ice cream bet (although we do recommend it), but you should definitely stay at a KOA with a mini golf course, a feature that's available at many campgrounds.
7. Marco Polo
Staying at a KOA with a pool? Then you can't go wrong with a good old-fashioned game of Marco Polo. You know the drill. You all get in the pool. One person closes his or her eyes and calls out "Marco," everyone else keeps their eyes open and yells "Polo," and then Marco tries to tag Polo. If you haven't played since you were a kid, this is a great throwback pool game.
8. Charades
This classic is nice because you can involve everyone in the party. Write down the names of movies, plays, famous people, a well-known phrase, etc., on a slip of paper and throw each of them in a hat. Take turns trying to act out the words on the paper without using your voice. Give the game in a camping theme, where all the suggestions have to be outdoor related.
9. Spoons
You'll need a picnic table, a deck of cards, and one fewer spoons than you have people for this game, but the kids absolutely love it. Put the spoons in the center of the table, within reach of everyone. Deal out four cards to each player. The dealer looks at the next card in the deck and either keeps it or passes it along to the person to his or her left. That person does the same, and the cards continue to move around in a circle as the dealer goes through the whole deck. The goal is to get four of a kind, and once you do, you can grab one of the spoons in the middle. Try to be sly, as once the first person grabs a spoon, anyone can grab one. The person without a spoon is knocked out. To keep everyone involved, givet the loser of the round a point. The one with the fewest points after a certain number of rounds is the winner.
10. Horseshoes
If you love playing horseshoes, stay at a KOA with a horseshoe court. This on-site amenity is the perfect way to unwind at the end of the day. It's a great game for campers who want to chat and enjoy each other's company while partaking in a timeless game.
11. Two Truths and a Lie
Want a game that requires nothing but you, your friends and a trip to your favorite KOA campground? Gather 'round the campfire and play Two Truths and a Lie. Each person will take a turn saying two truths and one lie about themselves and the rest of the group will have to guess which one is the lie.
12. Bananagrams
Board games can be cumbersome to pack, but Bananagrams is simply a (banana-shaped) pouch filled with tiles that's easy to fit in a pocket of a backpack. It's similar to Scrabble, in which you create words out of single-letter tiles in a crosswords-style pattern, but it's much faster paced, as each person works on his or her own puzzle. There's no board—all you need is a flat surface like a picnic table. There's lots of interaction as people add and discard letters. Your goal is speed, not length of words, so it's a game multiple ages can play together, and it's not hard to come up with some workarounds to allow the youngsters to be included.
Written by Krista Diamond for RootsRated Media in partnership with Kampgrounds of America.
---