Alert
As of June 24th WE ARE OPEN and following CDC and Covid best practices. All guests and must be registered on a site with a max of 6 people per site. Sorry No Visitors. Currently the playground, jumping pillow and other group recreation is closed. (POOL IS OPEN! with restrictions reservation are required for a time slot) Our grocery store, laundry facilities, petting farm, dog park and propane are available with social distancing and more frequent sanitizing for your protection. Facial coverings are required inside buildings. Reservations can be made online www.petalumakoa.com (recommended) or at (707)763-1492. We look forward to seeing you all back for another great summer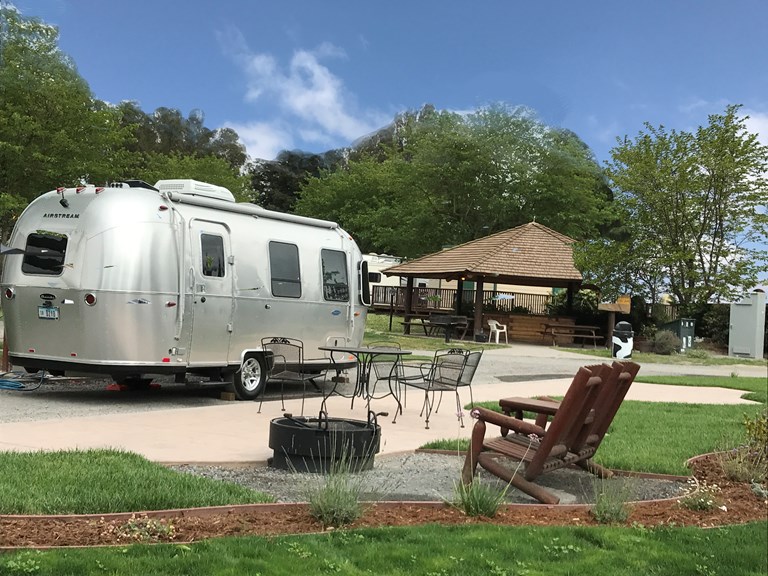 San Francisco North / Petaluma KOA Reviews
Directions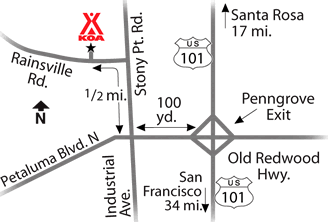 US 101 at Exit 476 - Penngrove. Most Northern Petaluma exit. Proceed to South/West side of freeway. Right turn on Stony Point Rd and Left on Rainsville Rd. See you Soon
Get Google Directions
May 29, 2020
Clean, family-friendly campground! Lots of trees and shade.
May 28, 2020
Beautiful campground with lots of shade. Very clean and peaceful.
May 28, 2020
My stay was exactly what I was looking for.
May 27, 2020
Beautiful site, well maintained and extremely friendly staff and owner. Had never been here before but will come back ( with our dog though)! Can't wait to use all the facilities once covid19 is over.
May 26, 2020
It was wonderful to get out during the pandemic and have a enjoyable stay at this park. We love the location. The only thing we had issue with is how high the sewer hook up are since they did remodel. We stayed in site 161 and had to build a ramp higher so we could drain properly. Noticed a lot of the newer remodeled sites had tall sewer caps not sure if it is an issue to anyone else.
May 26, 2020
Obviously not the fault of the KOA but with all amenities being closed a discount on the price would have been nice. Otherwise it was awesome and we will be back
May 26, 2020
Right next to us was a VW wagon and they kept dumping something out of the bottom of their van. They did not have the decency to dump into a dump station or in a bucket. I was told that only vehicles that were self contained were allowed. Duping onto the pavement isn't self contained! I was very disappointed.
May 26, 2020
This camper comment has been removed by KOA due to profanity.
May 26, 2020
We had a good stay, it was quiet due to Covid but the staff made us feel safe.
May 26, 2020
It was great . I was given a great spot too. Unfortunately Covid 19 didn't allow us to use the facilities to it full extent . I would definitely like to return .
May 25, 2020
I love this KOA every spot is beautiful. Thank you to Matt for making the adjustments to my reservations upon arrival and I always love it when Mike stops by our spot to say hello. It feels like family at Petaluma KOA!
May 25, 2020
The staff was so friendly and welcoming during our stay. They spaced out all the campers so well we almost felt like we had the place to ourselves. It was a wonderful way to get away and forget there was a pandemic happening! Thank you KOA!
May 24, 2020
Hate this campground. Too expensive for what you get & always has the most obnoxious campers ... lots of kids running through site, noisy etc. But it's the only game in town to visit family so we bite the bullet and just do it.
May 24, 2020
Beautiful, well kept grounds, the staff are friendly. Very good place to relax!
May 24, 2020
We loved staying here. It is a beautiful park and everyone working there was super nice. Pauline, what a happy pleasant time we had chatting with you. I wish we could have stayed 2 weeks in site 22! We will be back. Thank you for our stay so nice. Susan Turner
May 23, 2020
We have stayed here several times, every time it has been a great experience! Look forward to our next visit.
May 23, 2020
Our favorite KOA! Everything is always perfect. Thank you.
May 23, 2020
We had a great stay and would highly recommend this place to our friends and family. The location was convenient and the staff was welcoming and friendly. The grounds were well maintained and had plenty of trees and plants to offer a sense of privacy.
May 23, 2020
Love this site! Decided to stay again on way home.
May 22, 2020
Nice campground and store. I'm sure when not in Covid lock down has much to offer!!!! We were very pleased and will stop again thus fall
May 22, 2020
Great spot and they did a job of trying to keep distance between the RV where possible. Great organization of the campground during these times.
May 20, 2020
This is a very beautiful camp ground. Staff was very friendly. Will definitely be coming back.
May 20, 2020
Very pleased with the sites. The trees are beautiful and create a very private and peaceful setting. Thank you!
May 19, 2020
I love the landscaping at Petaluma KOA. Thank you Mike for stopping by and checking on us during our stay. Can't wait to come back!
May 18, 2020
Nice pull through spot. Just a chance to shelter in place somewhere different. Due to Covid-19, all public areas, restrooms, pool etc. were closed. Store open limited hours, but we didn't need to use it. We did walk around a lot, and I will say thank you... the park is kept very clean and for the most part, quiet.
May 18, 2020
Great camp sites. You should be proud of yourself and your teams. Beautiful setting. I was a bit disappointed in the fact that you charge $ 30 more for holiday weekends. I booked for Memorial Day after staying there this passed week but soon cancelled due to the high increase in camp fees. Not happy about that hugh negative.
May 18, 2020
All the staff was very helpful and fully aware of the coronavirus by keeping their distance and wearing face masks .
May 17, 2020
I appreciated all the services you were able to provide during these difficult times.
May 17, 2020
Stayed just one night this time. Will definitely be back for a longer stay!
May 16, 2020
Considering the covid19 restrictions it was still a nice comfortable stay... Staff very friendly and park well maintained... ..
May 13, 2020
My only issue is that space 148 (and others around it) are not very user friendly with regard to the sewer hook up. They did a really nice job making concrete utility pads but kind of messed up by making the sewer inlet too high. The inlet was about 6" higher that the discharge on my 30' Imagine travel trailer. As we all know, stuff doesn't flow uphill! Site would be fine for a DP motorcoach.
May 13, 2020
We enjoyed our stay; with the exception of the incessantly barking German Shepard of some campers near us through the duration of our stay. We are glad that we got the site that we did, because most other RV campsites were on top of each other. We would not have been happy with those sites. We are glad that we got the site that we did, because most other RV campsites were on top of each other.
May 12, 2020
Excellent and responsive staff. Very clean and well set up sites.
Jul 10, 2020
Clean! Friendly!
- Alison Young on Google
Jul 07, 2020
great location, nice & clean with lots of trees for shade
- Denise Gonçalves on Google
Jul 08, 2020
We were thrilled to come across a great campground after our dump we stayed at in Eureka. The only downside to our stay at this KOA was not everything was available due to COVID rules. It would have been kind of KOA to not charge full price when the amenities were not available. If the campground was fully operational it would have been worth staying at more than one evening.
- rwheeler1977 on Trip Advisor

San Francisco North / Petaluma KOA
Open All Year
20 Rainsville Road
Petaluma, CA 94952
Check-In/Check-Out Times
Accommodations
Check-in: 3:00 pm, Check-out: 11:00 am
RV Sites, Tent Sites
Check-in: 2:00 pm, Check-out: 11:00 am
San Francisco North / Petaluma KOA
Get Google Directions

© 2020 Kampgrounds of America, Inc.