Directions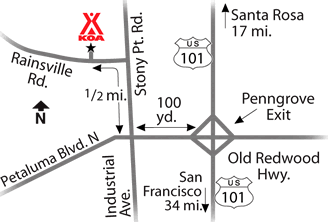 US 101 at Exit 476 - Pennsgrove. Most Northern Petaluma exit. Proceed to South/West side of freeway. Right turn on Stony Point Rd and Left on Rainsville Rd. See you Soon
Get Google Directions
Sep 20, 2021
Very clean facility and glad the pool heater was finally fixed!
Sep 20, 2021
It was perfect! We loved everything about it! My kids had a ball. We will definitely be back. Everything was so organized and clean. Very impressive. Friendly people and a great family atmosphere!
Sep 20, 2021
As usual our stay was great except for a couple of minor issues, this time we used your washers and dryers but most of them didn't work or had issues like stopping in the middle of the wash cycle and not continue. Some would take the money and just refuse to work.
Sep 20, 2021
I'd suggest one change. In was in camping cabin V274 (I believe), near a big tree stump and a smallish parking spot. If you park just right, you don't see it on the way out because it's too low. So you hit it -as I dig - and damage your car for $1,000. Just remove the stump please.
Sep 15, 2021
We wanted to hit several places along the California coastline and this campground was perfect, centrally located, and within a descent driving distance to several tourist attractions. The campground was clean, organized, secure and friendly. Great stay. � thanks.
Sep 13, 2021
Everything was clean and everyone was friendly. We loved having a pool and the jump area/petting zoo were wonderful as well. I would definitely stay here again.
Sep 13, 2021
Having recently visited another KOA location in northern California I was blown away by the Petaluma KOA. It's clear the owners take pride in their property and ensuring their guests have a great experience. Everything was clean and well taken care of. Our family and friends had a great time and will be back.
Sep 13, 2021
Loved it- so many great things to do for the kids. We loved being right across from playground.
Sep 10, 2021
Cabin was too small and tight . Things are too compact
Sep 07, 2021
First two nights were great everyone & everything is quite from 10pm. Unfortunately on our lastnight a large group checked into the cabin next to us & we're very loud until the early hours 1.30-2am. I did see a worker come by at 10.30 to tell them to keep it down but it didn't stop the nose. Kids have a great time here - I would like to see a staff member monitor the jumpy pillow all day.
Sep 07, 2021
Beautiful site with tons of activities for the kids They kept the place clean. My only complaint was the sometimes rude staff who seemed annoyed to be helping people.
Sep 07, 2021
This is an amazing place especially for families. The staff were all very friendly and engaging with it came to the tye dying or visiting the store. Everything is well kept and clean. For activities they have playground, jumping pillow, pool/hot tub, petting zoo, mining and corn hole. This is our new favorite place to stay and we'll be back soon!
Sep 03, 2021
This is our first staying at this KOA. When I checked in, reception asked how many adults/child. I said 4 adults, 3 kids, but the little one is 5-year-old. As stated on website, 5-year-old stays for free. However, reception used a very aggressive tone said, your cabin can only sleep 6 people, and I have to charge you the little one. I'm ok to be charged, however, her attitude is very bad and harsh
Sep 02, 2021
We loved our stay! Bathroom were very clean! Staff was friendly!
Sep 01, 2021
Cabin was huge! We had an issue with out cabin and tent site being so far away but the gentlemen who helped us was so amazing! Camp ground was clean and amenities where amazing
Aug 31, 2021
Overall, we had a wonderful time and look forward to coming back next summer. We were sad to see the cabin in need of a few repairs and the BBQ was very rusted. Guests were respectful of social distancing at the pool, but the playground was a nightmare. There were a lot of unsupervised kids all without their masks.
Aug 31, 2021
Great experience. Looking forward to my next visit.
Aug 30, 2021
Great fun with the pool and the bounce pillow, kept my grandson busy! The firepits by the cabins were such fun at night for family to come together and enjoy smores.
Aug 30, 2021
Very relaxing mini getaway. Restrooms located close enough to cabins and clean. Staff was very helpful and accommodating. We'll be back. This was my parents first experience and they can't wait to come back.
Aug 30, 2021
We had a marvelous stay! The camp ground is spot less and the staff works hard to keep it so. So many activities for children to do, thank you! There were areas to chill and isolate or to join in a larger group activity should you choose. Staff was more than accommodating and so helpful in locating and saving a lost pair of glasses until we could return to pick them up. Wonderful stay for all.
Aug 30, 2021
Very nice property, conveniently located.
Aug 24, 2021
Because we did not have younger children it was too noisy for us. Groups around us did not respect the quiet hours. The jets were not very strong in hot tub. I basically picked to stay here for the pool and hot tub. Definitely not like the nice brochure. I would have preferred going to a hotel .
Aug 24, 2021
one thing i noticed that i'd call you out on was the filthy concrete outside our cabin,by the propane grill. not just our cabin's, the concrete on the front patio of the cabin next to ours was filthy. powerwash it, if possible, and i'd have no complaints.also,can you have taco trucks(doesn't have to be TACOS)more frequently. there was a taco stand outside the gate one night; it was an awesome idea
Aug 24, 2021
We had a great time thank you. Only suggestion is to have mandatory dog leashing. There were a lot of dogs.
Aug 23, 2021
It was great. Cabin was so cute and comfortable
Aug 23, 2021
Loved our weekend stay at San Francisco North/Petaluma KOA! Cabin and all facilities were all very clean and kept up. Loved all the activities and amenities for the kids. We will definitely be back!
Aug 23, 2021
All good! Neighbors kept walking through our site which was annoying and their kids were loud 24/7. But the campsite and facilities and staff were great! It's camping we can get passed the loud kids but their parents walking through our site was rude. Also a lot of people not wearing masks. Thank you!!
Aug 21, 2021
We loved the cabin and the facilities at this KOA, and the staff were incredibly helpful and friendly!
Aug 21, 2021
Clean Cabins are very nice Would stay here again
Aug 20, 2021
Friendly staff, professional Chalet clean, lovely stocked Grounds clean, equipment available Great communication via text with concierge
Aug 19, 2021
It was wonderful, but the activities were limited and they ran out of banana bikes for bigger kids. The rental time frame should definitely be longer than 2 hours. Plus the picture online is a little deceptive because the bike that they display shows the bikes seats 3 people. Other than that I would definitely be back..
Aug 19, 2021
Really enjoyed the environment at Petaluma. Staff was great. Still working on collecting shot glasses at each KOA.
Aug 18, 2021
This place was awesome. We rented a cabin here instead of being in a hotel and really liked having a stove. There are loads of activities and a really nice pool.
Aug 17, 2021
We loved everything about the KOA, staff and amenities. The only negative was the mattress was too soft for us. Cabin was clean, pool was clean, communal bathrooms were clean. Staff were friendly. The kids loved the playground and the jumping pillow
Aug 17, 2021
Everything was fine except for the fact that the reason we stayed there at your site was for the bouncing pillow, which wasn't functioning, the pump was down. I don't get my Granddaughter that many times so I try to make the best experience every time she comes. I wanted to know if since I literally live 2 miles away from your site, if the next time she comes to my house can we have a two day
Aug 17, 2021
as always a pleasant stay. I would have to say the only negative..and not KOA'S fault..are the dogs down the way barking all the time..like a kennel or something. Is non stop. But KOA..the stay was very nice.
Aug 17, 2021
As our first time camping we are very please with the campground. The staff were helpful and the grounds, facilities were clean.
Aug 17, 2021
It was good , but no internet connection and no privacy of outdoor cabin for this cabin
Sep 14, 2021
Awesome campground, well maintained. Perfect location for Petaluma, Bodega Bay visits.
- Magda Sanchez on Google
Sep 18, 2021
Very nicely organized. Nice privacy. Excellent extras.
- bruce sramek on Google
Sep 13, 2021
It was pretty good
- Johnny Harrison on Google