Directions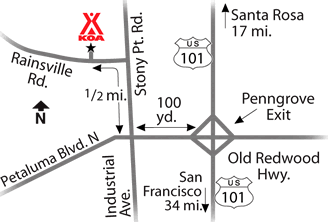 US 101 at Exit 476 - Pennsgrove. Most Northern Petaluma exit. Proceed to South/West side of freeway. Right turn on Stony Point Rd and Left on Rainsville Rd. See you Soon
Get Google Directions
Sep 13, 2021
We love this KOA! Great amenities great location and large patio sites. This is our 3rd time staying there. With that said this most recent stay there was a bit of an issue. Apparently I had booked a site that had VIP pumping. ( no sewer hookup) It worked fine until checkout day when we were delayed by 2 hours because we had to wait for the pump truck. We won't do that again.
Sep 13, 2021
We were there for the Tour de Fuzz bicycle event in Santa Rosa. We plan on making it a annual event. We had friends in the spot next to us in their RV. Next year, we expect more rv's since we are going to spread the word to our cycling club. For those in our group that stay elsewhere, would they be allowed to join us one afternoon for dinner?
Sep 13, 2021
Very clean, friendly staff..
Sep 13, 2021
Nice expansive camp ground. We had a nice pull through site. Very roomy for our smaller travel trailer. Many different types of camping choices, full hook ups, pull thru, premium sites with patios, tent sites, and cabins. Staff was very helpful, check in was a breeze. Firewood delivered. Family liked the petting zoo. Good location to head to the beach and downtown Petaluma.
Sep 13, 2021
We were in town for 2 night for a wedding, I feel lucky we were able to get a spot this is obviously a popular park. It is well run and well maintained and has some great amenities. while here my wife liked it so much she booked and RV site and a tiny house for a girls trip to wine country.
Sep 13, 2021
We had a great 3 days at Petaluma KOA! We stay in the Valley View area, no sewer, they come & empty every morning. It was quiet, watching the cows roam was awesome. We will be back!!
Sep 13, 2021
Nice stay, site 123 ok even with out sewer. Prices out of line in store.
Sep 13, 2021
It was difficult to navigate our 40' fifth wheel. The site was great for the size of the fifth wheel but not much room for the truck. I noticed this in many of the sites which also made it hard to navigate because so many vehicles had to partially park in the road. Great place for families but we're retired so really didn't take advantage.
Sep 13, 2021
Loved the campground.
Sep 13, 2021
Great campground!
Sep 13, 2021
It was very clean and everyone was very friendly! Close to lots of activities, plus lots of things to do at the campground. Very kid friendly!
Sep 12, 2021
Our site was lovely but phone calls and check in were most unpleasant. Same woman on the phone checked us in and she was rude, annoyed and very curt. Most unpleasant experience. Makes me think twice about ever returning.
Sep 12, 2021
Beautiful property, exceptional customer service, clean and quiet.
Sep 12, 2021
We checked in late due to my husband having to work late, but once we got settled and had a right night setting up for our first trip we took advantage of the fun things for kids. We didn't get a chance to try out the pool because we had to check out at 11 but it was great stay. I would recommend fixing the fencing in the play area. There are a lot of rebar sticking up out of the ground.
Sep 12, 2021
It was our first time staying here. We were very pleased with the campgrounds. It was very nice.
Sep 11, 2021
Great park!!
Sep 11, 2021
We've stayed in a million KOA's. LOL…. And you're is absolutely one of the best. Largest variety of RV sites we've ever encountered. Even though it was only for one night it was memorable and we will definitely stay here again. Thanks.
Sep 10, 2021
Our stay was very enjoyable. The campground was very well maintained and the staff was very nice and helpful. We will definitely be back!
Sep 10, 2021
They say they have quiet hours but do not enforce: 2 am and kids playin, adults talking loud, yelling, we notified koa by txt they sent after checkin cause there was no number on their brochure, but the response was "it'll be quieter the next night" So if you're looking for a quiet night, don't stay there on a holiday weekend cause they don't enforce the quiet time.
Sep 09, 2021
Great place. Landscaped sites, cabins, lots of amenities, close to wine country. Will be back!
Sep 09, 2021
Everything looked clean & pleasant but did find some bottle caps & straw covers on our spot when we arrived. Bathroom/Showers very clean. Some mild odor of farm animal dung noticed during night. Nice to see that the redwood trees around the camp were being watered by drip system. Very woodsy feel & lots of shade. Lots of nice decorative plants.
Sep 08, 2021
Always a great time!
Sep 08, 2021
I have been going to your campground for more than a few years and I must say I'm having some issues in the last two years. I have done a lot of camping and ALL other campgrounds have a specific area for long term stay guests. This last Monday the pool deck was littered with garbage. On the plus side good job watering the Redwoods to save them.
Sep 08, 2021
Arrived at campsite that was unkempt, firewood left in very damaged fire pit, picnic table at different site and next door semi-permanent site looked like a homeless camp. All this for $95 a night.
Sep 08, 2021
We were in the expensive part of the park and there was bird poop and stuff on the patio and tables were dirty when we got there. Then we didn't have Wi-Fi for our 3 night stay and the staff was very rude about it when we told them and they ignored it.
Sep 08, 2021
Staff were great, facility was clean and well maintained. Check in process was easy. Plenary of fun activities for keeping the kids busy! Doggie areas were great.
Sep 07, 2021
Annual family vacation and have been coming for years! …never disappoints..we look forward to this KOA every year
Sep 07, 2021
Busy weekend but felt like we have a great space
Sep 07, 2021
Staff are amazing and so nice! So much for the kids to do, they never got bored. Only bummer was the full hooks aren't really full hooks as the description said, you have to have someone come around and dump your black tank. Wasn't super happy since we were leaving at 8am and they come around at 9:30-10. Just know for next time, which spots to reserve.
Sep 07, 2021
Always a good time here
Sep 07, 2021
Everything was great until the sprinkler came on Monday morning and soaked all her stuff!
Sep 07, 2021
We had a patio on an end cap site which gave us more privacy. It felt unsafe driving around with so many young children walking and biking in the roadway. Maybe a pedestrian lane/line could be designated within the campground to keep everyone from haphazardly walking in the roadway.
Sep 06, 2021
Nice location. Super clean
Sep 05, 2021
Had a great time. Nice, Safe and Clean for the whole family. They also went 110% on the COVID procedures.
Sep 05, 2021
Great family place to stay. The only thing I would love to have changed is to have a smoking and non smoking area. We found a ton of cigarette butts at our campsite (at least 15-20). The people next to us on both sides were smoking and it was pretty gross. Otherwise, it is a fun place for kids. Lots of activities to do. The staff were helpful and very friendly.
Sep 05, 2021
This KOA is Excellent. We had a deluxe patio RV spot. It included very nice patio furniture. The spots are nicely terraced which gives a feeling of privacy . Our stay was cut short. We had been evacuated from our home , for 18 days, because of fire. We got word that we could return home and this KOA gave us a full refund for the nights remaining on our reservation. The restrooms/showers were great
Sep 05, 2021
We really enjoyed our stay. Staff were very accommodating and I loved the texting option for concierge service. The facility was clean-staff were always around cleaning the property.
Sep 05, 2021
Good. One problem. Way over priced. Great place for kids. Traveling as single adult-not so much a great place. $80 for H2O/Elec.? $98 w/sewer? Outrageous! Stayed in sites just as nice or new for $50-$60 w/full hook-ups. This by far the most expensive site in a 3 week trip across 5 states! Won't return unless desperate. Take hard look at your pricing! Using San. Fran. in your name justify price?
Sep 14, 2021
Awesome campground, well maintained. Perfect location for Petaluma, Bodega Bay visits.
- Magda Sanchez on Google
Sep 13, 2021
It was pretty good
- Johnny Harrison on Google
Sep 10, 2021
overpriced
- Abeer B on Google