Alert
As of June 24th WE ARE OPEN and following CDC and Covid best practices. All guests and must be registered on a site with a max of 6 people per site. Sorry No Visitors. Currently the playground, jumping pillow and other group recreation is closed. (POOL IS OPEN! with restrictions reservation are required for a time slot) Our grocery store, laundry facilities, petting farm, dog park and propane are available with social distancing and more frequent sanitizing for your protection. Facial coverings are required inside buildings. Reservations can be made online www.petalumakoa.com (recommended) or at (707)763-1492. We look forward to seeing you all back for another great summer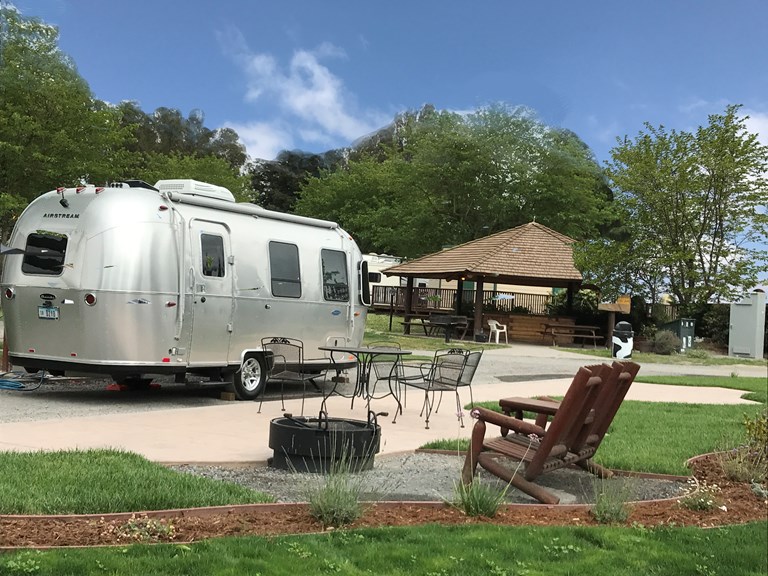 San Francisco North / Petaluma KOA Reviews
Directions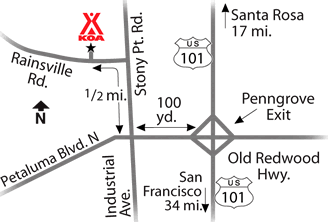 US 101 at Exit 476 - Penngrove. Most Northern Petaluma exit. Proceed to South/West side of freeway. Right turn on Stony Point Rd and Left on Rainsville Rd. See you Soon
Get Google Directions
Jul 10, 2020
The spot was difficult to get into, although there were many vacant spots I received an awful ugly one, the area smelled like poop, the internet didn't work, my code didn't work for the showers. NEVER AGAIN
Jul 09, 2020
It was very quiet and clean. The staff was accommodating. Thank you!
Jul 09, 2020
Everything was so clean and the campground is always quiet and beautiful!!! They did great with the cleanliness and social distancing rules at the pool! We live in Penngrove but it felt like we were hours away so nice!
Jul 07, 2020
Very Clean and Very friendly people
Jul 06, 2020
We have stayed here a couple of times-tent camping-and will continue to come back! The staff is super friendly and accommodating, the grounds are clean and attended to regularly. There is a lot of activities available so there is never a dull moment.
Jul 06, 2020
I have always loved staying here. It's very clean and the staff are always so hard working and nice. Although we were surprised that only 2%of the people we saw were wearing masks, which was surprising because it's stated everywhere. We always wear ours but since there was no one enforcing it, or the 6ft distance, we're probably not going to come back until these restrictions are released.
Jul 06, 2020
The site is very well managed. Very clean bathroom and shower facility. Only downside is that the tent site is close to highway so you can hear the traffic at night. This is mainly a RV site with a few tent sites. The tent sites are very close to each other. Depending on what neighbours you end up with, it could get very noisy.
Jul 04, 2020
Great experience. The restrooms were not cleaned as regularly as I'd hoped, but they were at least easily accessible. There were multiple rvs setup in front of the restrooms, which blocked access to the showers. Walking through people's camp sites wasn't that bad. They're all very kind people. Overall, I had a great experience at SF Petaluma KOA. :)
Jul 03, 2020
Shower room was kind of small, there were no shower curtains, got my Dry clothes get wet , turn the shower on and waited so long to the luke warm water!!! Feels like they have no customer service on mind.
Mar 10, 2020
There are very few tent sites...poor positioning of the sites as well.
Feb 02, 2020
My daughter and her boyfriend wanted to camp for by themselves for her 26 birthday, because my wife was dropping them off she was told it's weird and couldn't stay this is after she was already charged for stay and set up complete site.
Dec 03, 2019
Great pool and spa, staff wonderful!
Nov 23, 2019
Internet didn't work, bathroom didn't work. Tent site was advertised as overlooking a vineyard. All we overlooked was a fence. Over priced. Smelt like manure and cannabis.
Nov 03, 2019
Place itself is great. BUT, we were evacuated due to the fire and camped IN A TENT. The woman at the front desk was cold, with no compassion or humor. Not who I would want greeting guests. We checked out at 3 on Wed when the evac order was listed and you still charged for that night. Other places discounted stays or even let folks stay for free, but not here. Bottom line was more important.
Nov 02, 2019
I have stayed at this place before and I am glad you are there always � plan to stay there in future Thx hope renovation went well
Oct 31, 2019
We came here because we evacuated from the fires. We were so thankful there was space available for us and several of our family members. We made great memories!
Oct 30, 2019
Really nice little kampground
Oct 30, 2019
Beautiful park with great facilities. However bathroom facilities are below par. So if you don't need to use these facilities then you will have a great stay.
Oct 22, 2019
We had a wonderful stay. The staff were friendly and helpful. We were disappointed that the closest bathroom to our tent was under construction, but we made do! It would have been nice to see more pictures of the tent sites before arriving.
Oct 17, 2019
Activities for kids A+, made it worth the $. Tent sites are small & not close to bathrooms (they are if you cut through someone's site, which we did not do). Water spigots and trash were also far away from site. I guess to have all these things near, I need to pony up more money for a cabin or hook up tent site, as they seemed to have water/trash in each site. Free hot showers, clean restroo
Oct 14, 2019
Stayed at a tent site. Very disappointed, it was dirt and rocks next to a private residence who hosted a party that night. Staff was great, kids had fun, but avoid the tent sites.
Oct 13, 2019
I mistakenly booked my stay for the wrong "year" and was in a panic to get the correct date. They worked with me on such short notice and were able to get our party in on our desired date. Thank you!
Oct 12, 2019
There was a large amount of dog poo in the tent site area that was not cleaned up. Didn't get to enjoy the services they offer. Pool hours limited. Should have later adult only hours. Also it is a good place to be able to get down to San Fran.
Oct 07, 2019
We had a GREAT time and appreciate all the friendly staff! Spoke with the group next to us and heard how you let them know we were with scouting and wanted to make sure they wouldn't be drinking, etc. around our kids. LOVED that you took the extra time to help keep our kids safe. And the people next to us were AWESOME. They thought it was cool and wanted us to know what you'd done for us. THX
Sep 30, 2019
Nice campsite. :) relaxing hot tubs �
Sep 30, 2019
Beautiful campgrounds if you are in a rv. Tent camping area is horrible and way to close together. Our site 296 had a huge tree that was dripping sap al over our table and our site. The tree was dropping sap all day so we all had it all over us. Staff is very friendly.
Sep 20, 2019
I was sent to a "premium" grassy campsite that had no grass, was rutted and non-level and turned into a mud bowl with a few drops of rain. They jam the sites together not even leaving space for a pathway to the bathrooms. Good for kids though with those amenities. Lots of road noise and construction guys start heading out to work at 5 am.
Sep 16, 2019
Tent camping is very congested small place. nearest showers will give you the slightly warm water after some wait. 2 stars is because we felt like we didn't get what we paid for.
Sep 16, 2019
Previous 13 stays have been glorious over the last 4 years. This stay was the pits! It's a great place but good lord do y'all need to get on the same page. Don't harass ppl for money when you've told them on the phone they are all taken care of! I felt totally violated and harassed not to mention given the worst spot on the grounds. I distinctly remember hot showers and grass tent spots.
Sep 04, 2019
We have 25 years going to Petaluma koa every time we go we love to stay at the camp people is very friendly like family we never have any problems we any body thanks
Sep 04, 2019
Good for first timer. Great staff
Sep 03, 2019
Staff was friendly but working too hard at keeping the place shipshape to visit much! This is a very big campground but was orderly and quiet. A great place to base camp for a great vacation!
Sep 03, 2019
Its the third time we have stayed at this camp and the new bathrooms are super!
Aug 25, 2019
Thanks all good
Aug 16, 2019
When I sign a document stating the time of "quiet time" I expect that that applies to everyone on site. I expect that there will be a process in place to ensure that this happens. It does not at this KOA. Don't stay here if you want sleep is the message I will be telling people.
Jul 10, 2020
Clean! Friendly!
- Alison Young on Google
Jul 07, 2020
great location, nice & clean with lots of trees for shade
- Denise Gonçalves on Google
Jul 08, 2020
We were thrilled to come across a great campground after our dump we stayed at in Eureka. The only downside to our stay at this KOA was not everything was available due to COVID rules. It would have been kind of KOA to not charge full price when the amenities were not available. If the campground was fully operational it would have been worth staying at more than one evening.
- rwheeler1977 on Trip Advisor

San Francisco North / Petaluma KOA
Open All Year
20 Rainsville Road
Petaluma, CA 94952
Check-In/Check-Out Times
Accommodations
Check-in: 3:00 pm, Check-out: 11:00 am
RV Sites, Tent Sites
Check-in: 2:00 pm, Check-out: 11:00 am
San Francisco North / Petaluma KOA
Get Google Directions

© 2020 Kampgrounds of America, Inc.