Alert
As of June 24th WE ARE OPEN and following CDC and Covid best practices. All guests and must be registered on a site with a max of 6 people per site. Sorry No Visitors. Currently the playground, jumping pillow and other group recreation is closed. (POOL IS OPEN! with restrictions reservation are required for a time slot) Our grocery store, laundry facilities, petting farm, dog park and propane are available with social distancing and more frequent sanitizing for your protection. Facial coverings are required inside buildings. Reservations can be made online www.petalumakoa.com (recommended) or at (707)763-1492. We look forward to seeing you all back for another great summer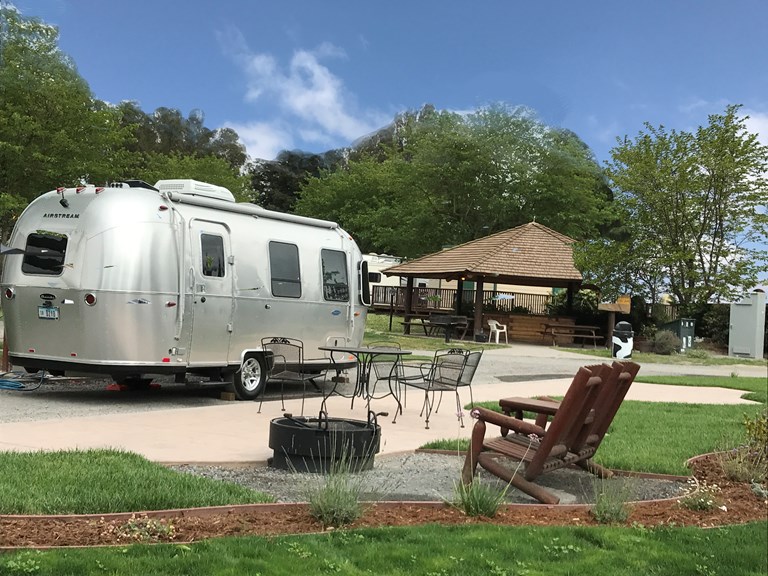 San Francisco North / Petaluma KOA Reviews
Directions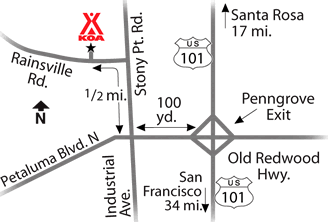 US 101 at Exit 476 - Penngrove. Most Northern Petaluma exit. Proceed to South/West side of freeway. Right turn on Stony Point Rd and Left on Rainsville Rd. See you Soon
Get Google Directions
Jul 10, 2020
Great location and clean private sites
Jul 10, 2020
The cabin we stayed in was amazing!!
Jul 10, 2020
We love it here; we've been here many times and will keep coming back. It's clean and well-maintained. They have a variety of site types, and the staff id helpful and friendly.
Jul 10, 2020
My wife, 2 dogs, and I stayed for 8 nights and were very impressed with how well run it is. Campground and facilities were always clean and well kept, even through the holiday weekend.
Jul 10, 2020
Nice, very well kept and clean grounds/facilities, friendly and helpful staff. Nice location and great amenities included in the campground.
Jul 10, 2020
The spot was difficult to get into, although there were many vacant spots I received an awful ugly one, the area smelled like poop, the internet didn't work, my code didn't work for the showers. NEVER AGAIN
Jul 09, 2020
Very accommodating.
Jul 09, 2020
Super friendly front desk staff. I appreciated the clean restrooms and showers up on the Vineyard Terrace. We had fun! Staying here allowed us to social distance from others and spend time with our family. Thanks!
Jul 09, 2020
Very quiet at night, even though it was 4th of July weekend.
Jul 09, 2020
I have stayed at KOAs many times. This experience was just okay. We rented a Deluxe cabin. The cabin looked nice, however it got very hot since there is no AC. It's like an oven. Also when we went to play bocce ball, there were no balls to play with. Was told we had grill supplies and there were none. The cabin was also very expensive, almost twice as much as a hotel room. Staff was very helpful
Jul 09, 2020
It was very quiet and clean. The staff was accommodating. Thank you!
Jul 09, 2020
Beautiful campground.
Jul 09, 2020
Everything was so clean and the campground is always quiet and beautiful!!! They did great with the cleanliness and social distancing rules at the pool! We live in Penngrove but it felt like we were hours away so nice!
Jul 08, 2020
Lodges were great
Jul 08, 2020
We had the best time!! It felt very safe in terms of COVID. Cannot wait to go back!
Jul 08, 2020
This camper comment has been removed by KOA because it contained inappropriate content.
Jul 08, 2020
Campsite #48 was excellent choice...extra room. Felt comfortable despite a lot of people camping that weekend. We hung lights up on the trees for extra ambience/light and to help deter kids cutting through our site, but were asked to take them down. :( All staff were friendly. No issues overall.
Jul 08, 2020
The facilities were nice, but crowded. The people we stayed near were a bit noisy and kids ranged everywhere on bikes and scooters. It was great to see kids bring kids and it would have been better if parents were keeping a closer eye. Finally, during these times, I wish that more people followed safety and social distancing measures.
Jul 07, 2020
Very nice stay. Only suggestion is to have staff pick up trash daily at site like they do at KOA Santa Cruz.
Jul 07, 2020
The grounds are beautiful, the staff is friendly we couldn't ask for a better experience.
Jul 07, 2020
This camper comment has been removed by KOA because it contained inappropriate content.
Jul 07, 2020
Had a great time at an excellent
Jul 07, 2020
Very Clean and Very friendly people
Jul 07, 2020
Really liked being escorted to my site, hope this continues after COVID 19
Jul 07, 2020
I think if all the amenities are going to be closed down then the price should be lower.
Jul 07, 2020
The RV site and cabins we reserved were great. They were super clean and comfortable for our group. We also appreciated how nice and helpful all the staff were...everything from booking the sites, to check-in and check-out. Service and amenities were awesome! We had never stayed at a KOA before, but will definitely be looking for them in the future.
Jul 07, 2020
Very good social distancing at the pool. I enjoyed the 4th of July decorations throughout the park. Thank you to Natalie for always being so wonderful and helpful!
Jul 07, 2020
love this location; very clean grounds, lots of trees for shade, nice little store with a good amount of necessities.
Jul 07, 2020
Employees living next to us who abused their position, made the children stop playing over an hour before quiet time.They were not even my children. If employees live on property then keep them to their own corner and not bother those of us who are on vacation. Worst stay we have had at this KOA, and it had nothing to do with the Covis-19 precautions. Too much money there r cheaper more fun place
Jul 07, 2020
My electricity did not work. Spend 3 nights in the cold and 2 days with no ac. This was reported to management but were unable to do anything for me.
Jul 07, 2020
We always stay here. It's clean. Staff is great. Big spaces, so you don't feel cramped. Always a great time!! Thanks!!
Jul 07, 2020
The peaceful and relaxing environment was greatly appreciated during this pandemic. Our family was able to swim, play and enjoy nature. Friendly staff and guests.
Jul 07, 2020
We slept in our trailer there and spent the day visiting family and friends in the area. The campground is way overpriced!
Jul 07, 2020
We thank god that you opened your pool area, it makes the already (#10) stay a number (#11) All your staff is very helpful and courteous. bathrooms are in excellent and very clean.
Jul 06, 2020
Park is always a great place to stay ! just concerning that when inquiring about staying additional nights at the front office and on the phone that they could not assist with dates, yet when going to the app on my phone I was able to find those additional days without issue.
Jul 06, 2020
Facilities are first rate except for the concierge sewer service was not good. The usual horde of unwatched children 12 hours a day is not the campgrounds fault.
Jul 06, 2020
Well maintained. Clean and nice
Jul 06, 2020
We had space 32. Excellent location had fun. People in the park where great. Would come back anytime. Only downer was the tree roots. They need to add enough dirt to cover the Roots. Could not put Chairs around tree at all. Which means less shade. That tree needs to be replaced also, Dead most of the way up. Small branch's fell when the wind came up.
Jul 06, 2020
It's a beautiful, peaceful, clean place to stay. Thank you.
Jul 06, 2020
Have a nice time and enjoyed the spot that was assigned to us. Than you!
Jul 06, 2020
We have stayed here a couple of times-tent camping-and will continue to come back! The staff is super friendly and accommodating, the grounds are clean and attended to regularly. There is a lot of activities available so there is never a dull moment.
Jul 06, 2020
Outstanding experience
Jul 10, 2020
Clean! Friendly!
- Alison Young on Google
Jul 07, 2020
great location, nice & clean with lots of trees for shade
- Denise Gonçalves on Google
Jul 08, 2020
We were thrilled to come across a great campground after our dump we stayed at in Eureka. The only downside to our stay at this KOA was not everything was available due to COVID rules. It would have been kind of KOA to not charge full price when the amenities were not available. If the campground was fully operational it would have been worth staying at more than one evening.
- rwheeler1977 on Trip Advisor

San Francisco North / Petaluma KOA
Open All Year
20 Rainsville Road
Petaluma, CA 94952
Check-In/Check-Out Times
Accommodations
Check-in: 3:00 pm, Check-out: 11:00 am
RV Sites, Tent Sites
Check-in: 2:00 pm, Check-out: 11:00 am
San Francisco North / Petaluma KOA
Get Google Directions

© 2020 Kampgrounds of America, Inc.