Directions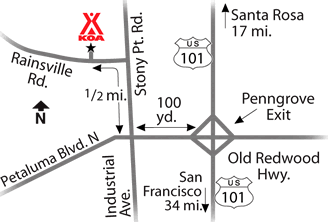 US 101 at Exit 476 - Pennsgrove. Most Northern Petaluma exit. Proceed to South/West side of freeway. Right turn on Stony Point Rd and Left on Rainsville Rd. See you Soon
Get Google Directions
Oct 19, 2021
Wish the website had activities posted because nothing was, yet when we arrived we were handed a full schedule of activities for the weekend. We had no idea there would be trick or treating on a Saturday mid-October. Would have been great to know in advance to bring my kids' costumes and bring candy and decorations. Also, wish the pool was heated. Was chilly!!!!!!!!!!
Oct 19, 2021
Sites were heavily wooded which might be good for some, but pulling a 42 fifth wheel was challenging. Our site, like many, was heavily graded, to the extend that we could not properly level. People were nice and facilities were above average. Good for families with lots of kids and dogs; older couples, not so much.
Oct 19, 2021
Great camping sites. Very clean and well kept. Friendly and helpful staff. only problem was that we didn't know about the Halloween festivities planned. We were parked in the middle of things and probably would have asked for a more out of the way spot if we had known. All around a nice visit.
Oct 19, 2021
Awesome staff and friendly residents
Oct 18, 2021
We absolutely love the KOA and we come back every year for the last 4yrs. The only reason I am giving it a 3 is the pool temp. The first 2 years we were told the heater was broken, but it has never been fixed. I have to bring my kids wetsuits and they still avoid going in. Adults start to get in and get out right back out; they don't get to play as a family The hot tub is over run by frozen kids
Oct 18, 2021
Your KOA provided us with just what we needed to explore the valleys. The laundry was very convenient too. They only negative we could say is that sometimes the animal smell from the nearby farms was a little too strong.
Oct 18, 2021
Our first Time at KOA! We Absolutely love everything about this place! We even joined the KOA membership! Can't wait to be back next Oct!
Oct 18, 2021
Had a wonderful weekend. Surprised with the trick or Treating. It was a good weekend. See you next time �
Oct 18, 2021
We had a great stay. The campground was clean and well maintained. The staff was friendly and helpful. We're definitely booking another stay.
Oct 18, 2021
We had so much fun this past weekend, the kids really enjoyed trick or treating and dressing up. Loved how people decorated their trailers and how there is so much to do with the kids. Definitely going back next year.
Oct 18, 2021
Everything was great other than your staff doing dump service to our neighbor trailers at 9am when we were trying to eat breakfast outside. Very loud and smelly.
Oct 18, 2021
Overall we enjoyed it very much. The only suggestion we have is to put chairs or benches in the restroom so we don't have to sit on the floor putting on our shoes after taking a shower.
Oct 18, 2021
Everything was open and we enjoyed our stay
Oct 18, 2021
Amazing place to stay, super friendly staff. Stayed in October so on Saturdays all the kids were able to trick/treat at the trailers that put out decorations and candy. Had a great time!
Oct 18, 2021
This was perfect for a first timer camping trip. My niece is 4 and this was her first time out camping. We pitched a tent and our campsite was very large for some reason. We had lot's of room to set up. There was so much to do during the daylight hours and so much entertainment in the evening, that we are definitely coming back again!
Oct 18, 2021
We love this place, however one reason we booked it was because we were excited about swimming in the heated pool. However, when we got there, they said they only heat the pool through September. And the pool was FREEZING. You should not advertise a heated pool if you are not going to actually heat it. This is false advertising. Same with the renting of bikes, which also was only a 'summer' option
Oct 18, 2021
It is Great place to relax and enjoy your friends and family the cabin are so cute
Oct 17, 2021
It may cost more, but it is so very worth it. The park is clean and beautiful, it's a joy to walk around and look at everything.
Oct 17, 2021
One of the better KOA's we've stayed at.
Oct 16, 2021
Camp operators very friendly and helpful. Beautiful place in the woods. Nice for a quick get away from a near by city.
Oct 16, 2021
Stay was enjoyable and facilities. Playground was too close to our assigned space.
Oct 15, 2021
Nice and quiet, very relaxing. The only thing was the watering every night, it was too much and our campsite was wet every morning.
Oct 15, 2021
great little house, friendly staff. The grounds were well kept, beautiful. My sister and I stayed 2 nights and were very comfortable.
Oct 14, 2021
Always a great place to bring the grandkids. Sadly this time in 2021, you had reduced activities because of Covid, but still tons to do. We've been to many KOA's across the country and Petaluma is definitely a "destination" KOA. See you next year!
Oct 14, 2021
1st time I was upset and dropped a star. I highly recommend you post online any amenities that are closed (the rock wall closed and store closed most days), when closed this should be advised ahead of time when campers book there stay and posted online. We were short items we would normally get at the store. You turned on the water for the gold mining, yet we could buy the mining bags.
Oct 14, 2021
We live nearby & enjoyed our stay during a fire evac. We purchased a new motorhome & stayed 3 days to work things out. Everything was great! Had 2 things: 1 The dealer said there was no antenna booster but there is. An employee stopped by & checked the signal to the MH end of my coax; all fine. 2 My septic drain was lower than the site septic connection. I need to watch for this in the future!
Oct 14, 2021
Big trees and quiet very nice park will return to
Oct 14, 2021
We were only able to stay one night. We had stayed there many years ago. We loved it. Quite park, so well set up. Loved the beautiful trees. I was able to get a great walk in. Wish we would of had more time. Lots to do there. Friendly people.
Oct 13, 2021
Great campground. Nice people. I loved that the campground had decorated for Halloween, as did about half of the campers. It's nice to see people get out and enjoy the upcoming holiday. Our cabin was clean. (Personally I thought the bed was horrifically soft, but that's just my opinion.) We will stay there again.
Oct 13, 2021
Poor communication prior to arrival of activities. Terrible cell phone reception and wifi.
Oct 13, 2021
We have stayed here many times in the past. This times was not up to the standards that we had previously. Lack of masking inside areas, cluttered full timer sites, construction equipment in our site when we arrived that we had to find the men to move. Not sure we will be back.
Oct 12, 2021
We enjoyed it very much. Everything was clean, easy, comfortable and the kids had a great time. We were also pleasantly surprised by the Halloween themed activities and events for the kids.
Oct 12, 2021
very accommodating and had everything we needed at site wish we had more blankets though :)
Oct 12, 2021
Great campground. Nice staff and really nice, clean facilities. My only issue is making reservations. We tried to get in one night early. We figured out after the office was closed that we needed a site for the night before our original planned arrival. There was no way to make a reservation via the campground or KOA. We ended up in a loop between the two. That was very disappointing.
Oct 12, 2021
Love all the Halloween Decorations!!
Oct 12, 2021
By far our favorite RV Park. So much fun! So many things to do. Will definitely try to come back here.
Oct 12, 2021
It was a nice stay. Quiet and relaxing. The smell and fly's were overwhelming but the letter with our check in that explained why made us understand. Will definitely be back
Oct 11, 2021
Enjoyed the beautiful grounds and the quiet atmosphere.
Oct 11, 2021
Trick or Treating was such a fun surprise! Already booked next year!
Oct 11, 2021
The KOA is maintained impeccably.It was an absolute blast.Loved the Sat night Trick-or-Treating,the KOA Pumpkin patch & pumpkin painting.The only complaint we had was our location.It was a blessing & a curse.We loved how close we were to the jumping pillows, pool & store but hated being backed up to a cow pasture.We had tons of flies in our RV. At times the smell was pretty bad too.Still had fun!
Oct 11, 2021
The check in was fast and easy, open til 8PM, and had ice for sale which we desperately needed haha. The shower/restroom facilities were very nice and our tent site had plenty of room and a fire pit! The only downside to this location is it smells like cow poop everywhere, but it didn't bother us too much as we only stayed one night.
Oct 18, 2021
This was perfect for a first timer camping trip. My niece is 4 and this was her first time out camping. We pitched a tent and our campsite was very large for some reason. We had lot's of room to set up. There was so much to do during the daylight hours and so much entertainment in the evening, that we are definitely coming back again!
- Jason Peneyra on Google
Oct 15, 2021
Our family heads up here annually with our son's class. Great place for the kids to be kids with the pool and riding bikes. We parents can relax and enjoy the time outside the busy city.
- lucy rezig on Google
Oct 15, 2021
A1
- Deneen Montoya on Google