Directions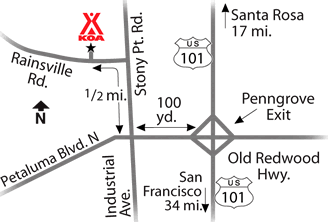 US 101 at Exit 476 - Pennsgrove. Most Northern Petaluma exit. Proceed to South/West side of freeway. Right turn on Stony Point Rd and Left on Rainsville Rd. See you Soon
Get Google Directions
May 08, 2021
Very clean. The bed was so comfortable.
May 08, 2021
The new patio sites are great! The staff is always friendly and helpful. We have stayed here many times and we've never been disappointed.
May 08, 2021
The operators of this KOA were not very respectful to our family and visitors. Calling the front desk for help was a challenge as the tone and demeanor were very cutting and rude. On one occasion someone interrogated our Uber eats driver asking .him what language he was speaking, he spoke better English than she did! On one call lady told me to "stop bobbing your head around" very odd
May 07, 2021
We loved Petaluma and our stay at KOA.
May 07, 2021
Great location for exploring San Francisco, Napa Valley, and Pacific Coast Highway without being in the city. Staff was amazing. Our only disappointment was spa being closed, while pool and jump pad were open and in use.
May 07, 2021
The premier sites are wonderful. The shower's on the other hand were horrible. No hot water at all, for myself and my husband. Very small need to definitely be upgraded.
May 06, 2021
Because some of your amenities are closed, I cannot give a 5 star rating. The animals are a nice touch!
May 06, 2021
VERY OVERPRICED FOR THE EXTREMELY SMALL SPOT WE GOT. VERY NOISY. CHILDREN RUNNING THROUGH OUR CAMP CONSTANTLY - EVEN AFTER 9:00 PM. SHOWERS AND BATHROOMS WERE VERY CLEAN, BUT ONE OF OUR SHOWERS WAS COLD WATER ONLY. CONSTANT PARADE OF CARS DRIVING THROUGH THE CAMP. WE WOULD NOT PAY THIS RATE AGAIN FOR THIS EXPERIENCE. WE HAVE STAYED AT MANY PLACES THAT WERE NICER FOR HALF THE PRICE.
May 06, 2021
Great staff, clean sites, what's not to love?
May 05, 2021
Very enjoyable. Loved being somewhat spread out in the trees. Quietve, peaceful. Convenient location but not right on top of highway. Best KOA I have stayed at. Many sites not level, which is not desireable, although that can be remedied with blocks, and overall, would definitely come again and recommend to others.
May 05, 2021
Love the petting zoo, bouncy floor, dog park and swimming pool!
May 05, 2021
It was a lovely stay!
May 04, 2021
We stayed for one week then needed to stay another and were able to change sites. Staff was very friendly and helpful. Children loved the bouncy pillow and playground. Laundry facilities were clean and well maintained, as were the bathrooms. A very well run and managed campground.
May 04, 2021
Clean, friendly and well run. Great location.
May 04, 2021
Very clean and beautiful grounds
May 03, 2021
Cabin was nice, perfect location for relaxing, beach is in driving distance, lagunitas is close by and old Chicago pizza. I would pack extra silverware and sharp knifes. barely enough silverware for a max of 6 people. They have a k cup coffee maker with only 3 reg and one decaf, So bring your own. Fire ring was pretty sunk down which was unusual. I prefer them to be above the ground.
May 03, 2021
The park was very well kept, the spaces clean and level, and in general is a very nice place to stay. Some of the row signs are either missing or covered by vegetation and that made navigating tricky on the way to the site the first time, but we managed to find our site and get settled in. Some of the guests in the nearby tiny houses were pretty noisy. Blaring music outside at night is not cool.
May 03, 2021
Not all sites are equal. Some are well maintained and others not
May 03, 2021
Stayed in the deluxe cabin for 2 nights it was stocked with kitchen basics. All you need to bring is BBQ and campfire needs. Would recommend that you bring a baby gate and kids utensils if traveling with small children. The pool, pillow bouncer, petting area and playground kept the kids entertained all weekend.
May 03, 2021
Great grounds - cabins were very well maintained
May 03, 2021
My 7 yo nephew had the best time. There was so much to do and it kept him really busy. He loved every moment.
May 03, 2021
Had such a great time! Will stay again as soon as I can! Friendly, helpful staff, clean and great experience! Thank you!
May 03, 2021
It seemed like a party weekend, I would like if the staff enforced the mask rule for adults walking around in public (employees don't get the back talk other guest get when asking other guest to put on third mask please, because an employee can ask them to leave the KOA..
May 03, 2021
We can't wait to book our next stay. Our site was awesome and the property was so well maintained. Public restrooms were so clean!
May 03, 2021
We love this place! Has it all and is very dog friendly. We've stayed here before and plan to visit in the future.
May 03, 2021
Absolutely stunning! We had a comfy bed, couch & the kids were comfy up in the loft. From the play structure, letting zoo, swimming pool and the jumpy pillow the kids had no shortage of fun things to do. Campground was well maintained. My favorite part was the smell of redwood trees in the air as soon as I stepped on the patio, crispness of fresh air, beautiful views of rolling hills of sonoma co.
May 03, 2021
So fun for kids!
May 02, 2021
My wife and I are full time travelers and let me just say that this park is wonderful. It's like an oasis to escape the chaotic and grime east Bay Area. The staff is extremely helpful and friendly as well. We had an amazing time staying here and highly recommend this KOA if u need an escape from the hustle and bustle of east bay living. The groundskeepers do an OUTSTANDING job!!! Thank you all!
May 02, 2021
Our 14th year at koa. Always a well run operation.
May 02, 2021
Lovely campground- one of the best. Well m maintained
May 02, 2021
Stayed 3 months. Well run, friendly. Maintained well. Gets a little hectic on weekends. Great family destination.
May 02, 2021
Not as noisy this time. Off season not as many kids. Had family and friends in Petaluma so a very convenient stop.
May 02, 2021
Nice campground. Family friendly. Lots of activities. Site indicated "full hookups," when in reality had concierge pumping, meaning they came to your site each day to pump your tanks. This was confusing to us when making our in-line reservation, but understand the wording now. Also, this made it difficult to leave early in the morning, as we had to wait for the truck.
May 02, 2021
Campground is more like a permanent trailer park with many permanent residents all tightly mocked in. No good natural spaces for kids to play. Better as a cheap hotel than a fun family spot. Cannot recommend
May 02, 2021
It is as lovely with other campers and families and laughing children. It was a happy place! The one thing that kind of annoyed me was. The camper next to us was spraying his rig to clean it while our stuff and we we getting wet from it outside in our little lawn area! Allowing folks to wash their campers is nice, I suppose (we always go to an actual car wash), but it makes mud and hurt feelings.
May 01, 2021
Nice, clean campground. Had a great time with the family and friends.
May 01, 2021
Five day stay. Love the deck/patio and outdoor furnishings. Highly recommend and will most definitely be back.
May 01, 2021
Great! Lots of camping choices and activities for the family.
- Kelley z Jensen on Google
Apr 27, 2021
I have camped at this KOA about four times now. It's nice relaxing place. I go during what might be considered off season. So there are less people than the summer. Every employee is nice and helpful.
- Kenneth Self on Google
Apr 24, 2021
This campground was absolutely amazing! All the amenities including a petting zoo, giant pillow bouncer, great playground, full hooks ups and amazing customer service to boot! Decided to leave early due to weather, called to reschedule a reservation we already had the month following and they reimbursed us for our night early! Plus proximity not only to the beach but for tons of breweries, wineries, and even an urban center in Santa Rosa. Five stars without a doubt!
- BTeacher17 on Trip Advisor