Directions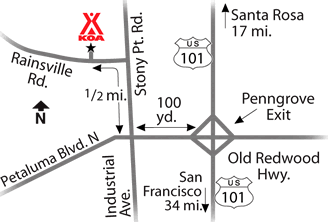 US 101 at Exit 476 - Pennsgrove. Most Northern Petaluma exit. Proceed to South/West side of freeway. Right turn on Stony Point Rd and Left on Rainsville Rd. See you Soon
Get Google Directions
Jul 27, 2021
Actually a great place to stay especially for kids but their cable TV service is poor. We pay extra to reserve an end site which is wonderful but three different stays, TV reception was poor. We're told it's because it's at the end of the line so signal can be disrupted. They check it out and they say signal is strong outside. We camp KOA's and never have an issue except here.
Jul 27, 2021
2 enjoyable nights. Very clean. Kids enjoyed the playground and pool.
Jul 27, 2021
Loved the site, was a very nice place. We will be staying again in the future
Jul 27, 2021
The spot we were in had no grass, but most other sites did. Price is high for what you get.
Jul 27, 2021
Great place to stay. Helpful and friendly staff. Facilities are very clean
Jul 27, 2021
Such a wonderful place and we look forward to seeing you again soon!
Jul 27, 2021
Quick response from friendly staff, clean grounds, family fun.
Jul 27, 2021
We stayed here our last night on our virgin RV vacation. The resorty ambiance and full hookups were appreciated .
Jul 27, 2021
Brought our grandkids, they had a blast swimming & riding their bikes. They restrooms were exceptionally clean.
Jul 27, 2021
Great staff and campground. Clean facilities. Our place to go twice a year.
Jul 27, 2021
I was just there to visit with my daughter & stay over night on my way to Montana. I saw a lot of people having a lot of fun doing many different activities, but that was not my reason to stay, I needed a safe quiet place to stay. I got that!
Jul 26, 2021
Great fun, clean and will be back again.
Jul 26, 2021
The stay was great. I just wish their prices hadn't gone up so much in the last few years. Can't afford to go there as much as we used to.
Jul 26, 2021
We booked this weekend specifically for the themed events advertised. My kids were so disappointed to discover there were no special activities and absolutely nothing themed about the weekend. We stay here often and we have always had a great time but the false advertising has left a bad taste
Jul 26, 2021
Good except for confusion on banana bike times we thought they were closed but they said they were still until 3:00 we paid and went down and waited for 10 mins and then a person said we are closed
Jul 26, 2021
They advertised that is was carnival weekend and there would be carnival festivities. Nothing was offered.
Jul 26, 2021
We had a great maiden voyage in our travel trailer. The staff was wonderful and the facilities were great. We've already booked another trip. We did scope out sites and did pick one next time on the end and with a patio. The site we were in had a bit too much dry grass and dirt that our dog lived to get filthy in and drag in the trailer �Ϝ
Jul 26, 2021
We had a wonderful time! Our cabin was super clean and comfy. The staff was kind and helpful. The KOA had so much to do with our toddler. It was a great vacation!
Jul 26, 2021
The cabin was super cute. Well maintained. The website description is misleading. It said there were twin beds. They are not beds they are matts. Although comfortable still not a bed. Also in the description it doesn't say the loft is only 3ft high. For someone who has never been there this was misleading. Just give people a heads up about that so they can plan accordingly.
Jul 26, 2021
This was our 1st time stay and we came because of features listed on the website, but some were not available so the little kids were a bit disappointed ie: snow cones & cotton candy, the wagon ride, rock wall etc, and the kids bike rental shut down at noon which seems odd during the peak of summer. Maybe update the website? Regardless, they had an absolutely wonderful time and we'll be back.
Jul 26, 2021
Great time as always! Love the economical electric/water sites. Affordable with all the great benefits of the campgrounds. Will return again as this is our sons favorite local spot.
Jul 26, 2021
We had to chang sites as the dumpsters were right there and they stunk really bad.so we requested another site downgraded from what we had otherwise awesome place
Jul 26, 2021
We had a ton of fun with the kids at the pool and the playground. I wish there were a little closer dishwashing station than the one we had to walk to across the park. Also, we had a bunch of dog poop in our tent site, so a couple marks off there :) But overall a great weekend.
Jul 25, 2021
Excellent KOA. Site 18 for a week was amazing. Great facilities overall
Jul 25, 2021
Our stay was very fun, especially for the grandkids. Loved all the activities for the youngsters.
Jul 25, 2021
The facilities and amenities were very nice, however there was a very large group of extremely loud partyers nearby that really dampened our experience. This went on well into the evening until I finally had enough of the noise and called management at 10 pm. Luckily, the noise stopped after that.
Jul 25, 2021
Great staff and this KOA has extensive amenities. Our first site was not level enough fir our 38' rig and they moved us quickly to another location that worked well for us. Would stay here again.
Jul 25, 2021
Loved this campground; clean and well-run, and super organized! The only disappointing thing we encountered was we had to change sites. It takes a lot of time to break down camp and set up again. Everyone was nice about it though!
Jul 25, 2021
We are new to the rv life and enjoyed our stay very much. We were so impressed to see so many camping options available.
Jul 25, 2021
Super friendly and fun environment! The staff was friendly and super helpful!
Jul 25, 2021
Very congested, very difficult to pull a large motorhome into the spot. And car barely enough room. Very disappointed. As walking we saw some wonderful large spots. Would like to find out about them.
Jul 25, 2021
Thank you for the excellent service from staff members. The stay was quiet and peaceful. Beautiful!
Jul 25, 2021
So many things to do!! We loved the pool, goats, gems sifting and the dog park was amazing!!
Jul 24, 2021
We were so appreciative that you connected us with Douglas Chatigny who came out and replaced the black water valve on our RV so we could continue our trip. He was awesome!! Thank you so much!!
Jul 24, 2021
Beautiful well kept Park. The only complaint we have is they need to have showers and they need to be handicap available
Jul 24, 2021
Our site H95 had a lot of trash & debris on the ground (bottle caps, cigarette butts, juice box, plastic wrappers and a huge dog poo) the pool was fun but there was a group of 8-10 older teenagers playing Marco Polo for about 2 hours with no regard for the kids trying to swim. Everyone else eventually had to just stay on the side and look out for them. Not a fun experience.
Jul 24, 2021
Floors were very dirty in our lodge. Stove did not work. Small pieces of trash were all around the campsite. Cannot have 2 vehicles at camp site even though there are 2 spaces. Arcade gone. Banana bikes are now from 10:00A to 12:00P vs 10:00A to 5P, You cannot use ANY CASH at this camp ground. Garbage needs to be picked up daily. It is not. No air conditioning. People were nice, office was nice
Jul 24, 2021
It was great
Jul 24, 2021
Clean bathrooms & laundry facilities
- Gina Spain on Google
Jul 22, 2021
Great family place clean and treated well
- Lucas Carlson on Google