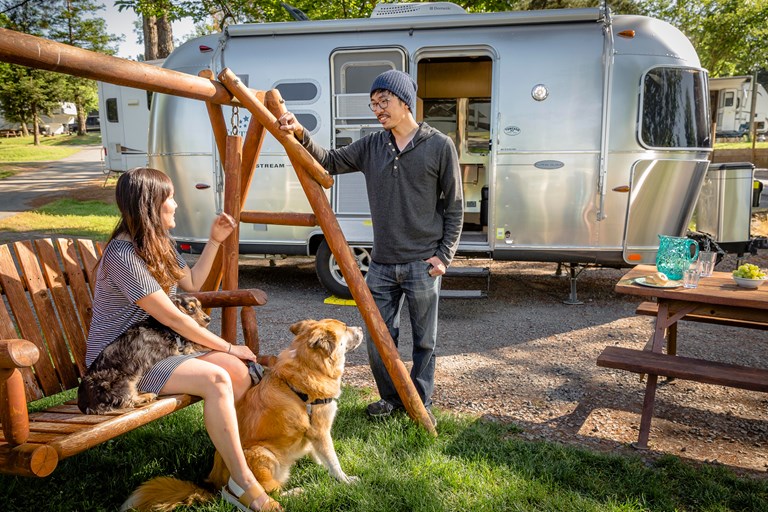 San Francisco North / Petaluma KOA Reviews
Directions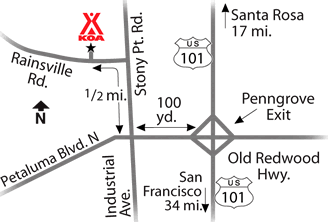 US 101 at Exit 476 - Pennsgrove. Most Northern Petaluma exit. Proceed to South/West side of freeway. Right turn on Stony Point Rd and Left on Rainsville Rd. See you Soon
Get Google Directions
Nov 27, 2020
Everyone in the campground appeared to respect the Covid=19 restrictions. Visit at another time so use of the attractions and recreational features of the campground itself would have been appreciated. Facilities appeared to be maintained except the plumbing in one of the men's showers did not work properly and had to move to another shower stall. Would
Nov 27, 2020
Was almost turned away due to the breed of my dog. It is prejudice and unbelievable.
Nov 26, 2020
We visit often, staying closer to home during the pandemic. Stayed on the opposite side of the park for the first time. Deluxe Patio spot. Very nice, clean well maintained and quiet. Even though some services are limited due to COVID restrictions, we were very comfortable! Can't wait for our next visit!
Nov 26, 2020
Thought grounds were very nice and clean. One thing I would say I didn't like is all campsites were on top of each other .fire pit was 6feet away from a pop out .
Nov 26, 2020
Loved the campground, dog park, laundry, animals, clean, nice staff. However, water was turned off twice. My husband spent 3 hours out in the cold trying to fix our plumbing and then was told by the neighbors that this KOA was famous for turning off the water and lowering the pressure. Would have been nice for them to advise of those times beforehand so guests could shower, etc.
Nov 26, 2020
Nice, quiet, and clean.
Nov 26, 2020
Very friendly staff, super clean and updated grounds. Will be staying there again.
Nov 25, 2020
Campground was very clean, spacious, great for kids
Nov 25, 2020
A bit tight getting around, however the landscaping and diverse areas are very interesting and well done
Nov 24, 2020
We loved our stay, kids had a blast, everyone who worked there was amazing!
Nov 24, 2020
Showers and restrooms were very clean. The patio area was fantastic and the grill over the fire pit was perfect for flame broiled steaks that were out of this world! Very clean and very nice! We hope to find more KOA locations with similar amenities. Thank you!
Nov 24, 2020
Very rude. Even the management. They made a mistake on my billing and reservations and treated me like a delinquent. I was very insulted and they did not offer an apology.
Nov 23, 2020
Great place, beautiful spots.
Nov 23, 2020
We had a most enjoyable stay and we look forward to returning soon. The only issue that we did not care for was that the site was dirt and not grass. We tracked mud into the motorhome which added to the cleanup. If you are not going to have grass we would encourage you to put gravel or something that is not going to stick to your shoes and be tracked in to the RV. Not a deal breaker. Thanks much
Nov 23, 2020
Very nice clean area bathrooms where great
Nov 23, 2020
Enjoyable stay! Clean kid friendly RV park. We booked a deluxe site and looked for sewage hook up to find out our tanks are empty for us each morning. Will definitely stay here again!
Nov 23, 2020
The staff was friendly and welcoming throughout my stay. I very much enjoyed my time at Petaluma KOA.
Nov 23, 2020
This little getaway was just what I needed. So impressed with this KOA property. Very spacious and tons of camp sites. I stayed in a cabin, and the amenities were very nice, helping to make my stay easy and comfortable. I highly recommend!
Nov 23, 2020
Organized, clean and quiet! We really enjoyed our stay!
Nov 22, 2020
We stayed in a Deluxe cabin. It was perfect for my husband and I. So fun and cozy!
Nov 22, 2020
A final thank you to Michael and his staff for a comfortable stay. We would definitely recommend your park.
Nov 22, 2020
Need stronger WiFi access
Nov 22, 2020
Great facilities! Very popular and full campground.
Nov 21, 2020
very clean, beautiful redwoods, family oriented
Nov 21, 2020
Enjoyed the stay
Nov 19, 2020
Friendly staff, great space. My only issue is a broken umbrella- but never needed it.
Nov 19, 2020
We had a great time. Showers very clean but tiny. Very clean and well maintained. Definitely stay here again.
Nov 17, 2020
This is a wonderful KOA and will definitely stay there again.
Nov 17, 2020
Cabin is nice and we all fit perfectly, although the cabin was really dusty it made our allergies come out, and alot of spiderwebs by the top windows. Also our gas grill was out of gas.... this is our 3rd time staying here and it all had been great until this last reservation.
Nov 17, 2020
super clean and fun
Nov 16, 2020
This KOA was one of the most well maintained locations we've stayed at. I was a little disappointed in the WIFI that constantly dropped. We are enjoying the freedom of distance learning and needed to sign our two kids on mid week to check in, but were not able to due to poor internet connection. Other than that, the location is very well maintained.
Nov 16, 2020
We had a wonderful spot and everything was very nice! My one critique would be to see if anything can be done about the dog park. It is very muddy, especially by the gate. We went there daily, for our puppy's first time camping. But the mud was a bit much. Thank you, we will be back. We love all the improvements.
Nov 16, 2020
It was our inaugural trip, so we stayed closer to home (just in case). The check-in process was easy. I found the grounds to be very clean, and well kept. The grounds were quiet and close to other locations to visit in the area. The bathrooms were kept clean for the most part, but ran low on stock items. The showers needed shower curtains (unless I was supposed to bring my own.
Nov 16, 2020
Nice clean campground, friendly staff
Nov 16, 2020
Great place and great people, sites are nice with large trees around, not far from 101 but far enough to it hear it
Nov 16, 2020
We were a little disappointed to arrive and find the pool and bounce pillow closed after the website said they were both open. In addition, a mask-required policy was posted but not enforced. 90% of visitors, while using community spaces did not wear a mask. Had we known the policy was not being enforced we would not have chosen to stay at this KOA.
Nov 16, 2020
Great place to stay.
Nov 16, 2020
Our first visit and we will definitely be back! We stayed in the Valley View area and loved it. Great end spot to enjoy the cows and trees and views. The staff were friendly and everything was in line with safety in mind. We look forward to using more of the many amenities the campground offers in the future, for this stay, we kept to our site more and enjoyed walks and visiting nearby Tamales Bay
Nov 28, 2020
Our favorite koa
- Don Schatzel on Google
Nov 15, 2020
Amazing. The perfect t nearby get away!
- Penny Schatzel on Google
Nov 08, 2020
The campground is beautiful and so peaceful. Tons of stuff to do within a short drive. We will definitely be back!
- Monica M on Google

San Francisco North / Petaluma KOA
Open All Year
20 Rainsville Road
Petaluma, CA 94952
Check-In/Check-Out Times
Accommodations
Check-in: 3:00 pm, Check-out: 11:00 am
RV Sites, Tent Sites
Check-in: 2:00 pm, Check-out: 11:00 am
San Francisco North / Petaluma KOA
Get Google Directions

© 2020 Kampgrounds of America, Inc.