Directions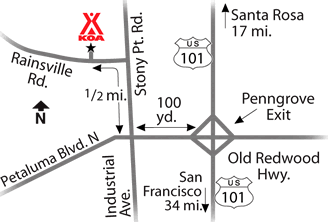 US 101 at Exit 476 - Pennsgrove. Most Northern Petaluma exit. Proceed to South/West side of freeway. Right turn on Stony Point Rd and Left on Rainsville Rd. See you Soon
Get Google Directions
Feb 21, 2021
Beautiful campground. Deluxe patio site was very nice.
Feb 21, 2021
Thank you for another fun weekend. We love this KOA and will continue to visit. I appreciate the phone concierge. Is there any way to add sand or turf to the dog park. And a dog wash station would be great.
Feb 21, 2021
The KOA was great except for the dog park area. It rained while we were there and the dog park became a muddy mess.
Feb 20, 2021
By far the nicest KOA we've ever stayed at. Though we are empty-nesters, we were impressed by all the family friendly amenities including a large playground as well as a petting zoo. I took a star off for our only complaint: as we were on the edge of the campground, across from a dog park, few campers (or employees?) observed the posted 5 MPH speed limit, especially the large pickup trucks
Feb 19, 2021
Beautiful Park. Unfortunately it rained most of our stay, and was really Muddy at our site, but this was not the campsites fault. This was our 1st camping trip on our own and 1st to this location so we have marked which spots we would Like for future stays (winter/summer)
Feb 19, 2021
Clean and cared for. Excellent base for all kinds of adventures to beaches to vineyards to cities.
Feb 18, 2021
It was very loud, busy, and expensive. But also very nice.
Feb 18, 2021
The signage is very difficult to see at night. We took 20 minutes finding our cabin in the dark. No reflective signs or clear row signage. There were cob webs on the ceiling fan and it looked like the bathroom fan had never been cleaned. TV remote never worked at all, even after my husband was given new batteries for it by the office staff. KOA floors dirty as always. Good location. Nice staff.
Feb 18, 2021
Campsites 252 and 253 are completely unacceptable. There's not a single flat spot in the entire site. Sideways tent, sideways picnic bench, sideways fire pit. Did I mention the bright lamp right outside our tent that never turns off? The 2 sites are on display for all to see. No privacy. The positive, bathrooms were very clean. Save your 80 bucks and go to a real campsite.
Feb 18, 2021
We had a wonderful stay! I'm spoiled with the patio with umbrella table and chairs. Everyone was helpful and cheerful.
Feb 18, 2021
Great place to stay
Feb 18, 2021
The grounds and cabin were immaculate. The only problem we had was with the wifi. It would not work until our 2nd evening. Looking forward to coming in July with my whole family. I was the scout and we booked several cabins and other sites as a result. Thank you
Feb 17, 2021
Love that the buddy site is so close to the park for our kids! Stupid COVID!! Was really forward to the crab feed, so maybe next year.
Feb 17, 2021
First time there for 2 nights my kids loved it will be in June. Thanks great place for family
Feb 16, 2021
Very nice facility. Clean well organized and maintained. My grand-daughter totally enjoyed the play area and watching the baby goats.
Feb 16, 2021
Very quiet even though park was full. Staff super helpful with tv connection issue. Petting zoo a plus even for adults. Baby goats hilarious.
Feb 16, 2021
Fabulous. Nice and clean, even with a lot of remodel upgrades taking place, it didn't feel like a work zone. Very large. Nice feature to have VIP dump when there was no sewer. Petting zoo was a fun feature we weren't expecting.
Feb 16, 2021
For my first time, it was awesome! I wish I could have stayed longer, closer to the doggie park and without the rain.
Feb 15, 2021
Great place to camp, friendly people at desk, spots are fantastic. The only down fall is for some people $118 A night for camping is a lot of rent.
Feb 15, 2021
Friendly staff, very clean grounds
Feb 15, 2021
Our cabin smelled like cigarette smoke when we arrived, it took 2 days to get it out.
Feb 15, 2021
The campground was clean and all staff were very friendly. We enjoyed a large patio site that provided plenty of space and privacy. We will definitely return again and again.
Feb 14, 2021
A great location! The park is lovely and well maintained. We love the end sites with the swings and chairs and enjoy the fire pits. The concrete pads are going to be nice. The park is very quiet, especially for its size and no road noise. The exception being the dogs left at a site that barked a lot, not the fault of the park. Thank you for having us, we appreciate your hospitality.
Feb 13, 2021
We love this campground. Wide variety of sites, good amenities, always clean and very well maintained. The premium sites are awesome and well worth the money.
Feb 12, 2021
This Koa is charging way too much for a week stay at 554.00 . That being said the park was clean and well taken care of.
Feb 12, 2021
Way overpriced $85, for a one night stay, in a mud, dirt site. Plus you wouldn't accept cash for a grocery item. Ridiculous.
Feb 11, 2021
Very friendly and efficient staff! The bathroom and kitchen areas are well built and well maintained. I would stay there again. The only thing I wish were a bit different was the wifi - it was unstable and slow at the site I had. Also note that noise from the freeway traffic can be heard at the sites closest to the freeway. Earplugs or a white noise app could be helpful.
Feb 10, 2021
The lack of flatware & dishes was a bit surprising, but paper plates work just fine on a camping trip, so no big deal there. Everything else was 100% perfect, as usual !
Feb 09, 2021
Had a great time with friends social distancing for the Super Bowl. Had a great buddy site, seems to be a lot of long term folks there but that area has been hit with multiple wild land fires over the past year. Everyone was very friendly and no issues with noise from the nearby Hwy101. Great place for a quick weekend getaway.
Feb 09, 2021
This is my go to KOA and I've of my absolute favorite. The staff is amazing and the beach is less than 30 minutes away. So much to do and great places to eat. Don't forget to go wine tasting.
Feb 09, 2021
We had a great time on our maiden voyage with our new 5th wheel this last week. This is very conveniently located right off the freeway but you don't hear the noise. It was very clean, beautiful bathrooms, an excellent playground for kids, petting farm, pool (closed due to Covid), a variety of types of spaces & cabins. I think this is a great place for anyone! Dogs being allowed = awesome!
Feb 08, 2021
We love to stay here. The only bummer was which is that we got the extra grass site because in the description they have log swing benches. My son wanted it for his birthday and our particular site, E49 only had the chairs.
Feb 20, 2021
They have goats and donkeys and horses to pet 6 stars. Also 🐔, but those are less petable.
- Jan Hertsens on Google
Feb 16, 2021
Can not wait to return! Rented the larger Kabin even though just 2 of us. That gave us full kitchen, bath, patio, BBQ, room to store purchases & luggage, even Linens provided. Spotless clean & so beautiful! Tour bus leaves from campground and hits the highlights. The People of Petaluma were so friendly and helpful. Small town feel, quick drive to San Francisco. Four Seasons couldn't hold a candle to our 5 days at this KOA! cheaper than Hotels in San Fran or surrounding area and never heard one complaint of bedbugs.
- Warrine Terpening on Google
Feb 13, 2021
Beautiful place
- Marian Lindo on Google