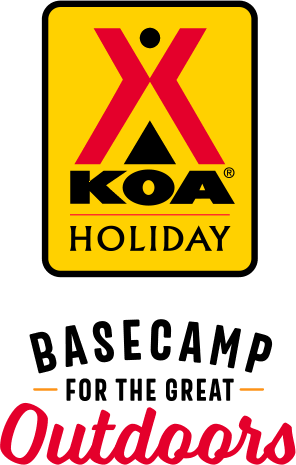 KOA Holiday Campgrounds
Whether you're exploring the local area or hanging out at the campground, KOA Holidays are an ideal place to relax and play. There's plenty to do, with amenities and services to make your stay memorable. Plus, you'll enjoy the outdoor experience with upgraded RV Sites with KOA Patio® and Deluxe Cabins with full baths for camping in comfort. Bring your family, bring your friends, or bring the whole group – there's plenty of ways to stay and explore.
KOA Holidays Feature:
RV Sites with a KOA Patio®
Deluxe Cabins with full baths
Premium Tent Sites
Group meeting facilities
Directions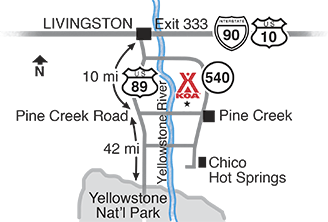 From I-90 Exit 333: Head south for 10 miles towards Yellowstone Park. Turn left on Pine Creek Rd. Drive slightly more than 1 mile, our KOA is on the left just across the bridge.
From Yellowstone Park: Take Hwy 89 north towards Livingston. Take a right Pine Creek Rd between mile marker 43 and 44. Drive just over one mile. 
The road getting to our KOA is at times a little rough. The state is planning to redo the road, but that project is a few years out. Please take your time and drive slowly. 
GPS: N45.51206. W110.57971
Get Google Directions
Jul 08, 2020
Beautiful campground. Very cordial, helpful and accommodating staff. We truly appreciated the manager's attention to making us feel welcome there.
Jul 08, 2020
Very friendly staff and well maintained grounds. Will definitely be back.
Jul 08, 2020
Sites are small. The gravel sites are good. The grass sites are too muddy. Nice large trees. Good Verizon signal. No cable TV. Good over the air TV. Clean bathrooms.
Jul 08, 2020
Wonderful cabin, and great location, my daughter loved the pool and play area, everyone was friendly and helpful especially the manager. Would recommend to anyone wanting to get away for a weekend or longer with great hospitality from the staff.
CAMPGROUND RESPONSE / COMMENTS:
Thanks for the kind words. We feel very fortunate to be here and appreciate your appreciation.
Jul 07, 2020
Friendly Employees, beautiful location by Yellowstone River and less than am hour drive to Yellowstone National Park.
Jul 07, 2020
Enjoyed the view of the mountains and friendly staff and guests! Very clean!
Jul 07, 2020
It was quick and easy to register. Staff was very helpful and nice
Jul 07, 2020
it was perfect for our first night out in our new teardrop camper. The site had everything we needed.
Jul 07, 2020
Great location. The views around the campground and the immediate area were amazing.
Jul 07, 2020
We used to stay here 5+ times each summer. Haven't been here for five years as we just could not ever get a site. We will be back. Enjoyed reminiscing the memories made here over the past 15 years.
CAMPGROUND RESPONSE / COMMENTS:
This is a great review. We hope that you will come back to see us again.
Jul 06, 2020
Wounderful staff! One the best location to spend time relaxing - Yellowstone river, mountain views & nice facilities. All the other RV'ers had similar comments!
Jul 06, 2020
Great place, staff was very friendly and extremely helpful.
Jul 06, 2020
The facilities are always clean and the easy access to the river makes it very nice for rafting.
Jul 06, 2020
Friendly staff, everything was maintained and cleaned often--very relaxing and enjoyable!
Jul 06, 2020
Great visit with family.
Jul 06, 2020
The KOA staff were very friendly and helpful! The cabins and grounds were clean and well maintained. The only reason I rated it a 4 instead of 5 is because the pavilion that we rented was quite dirty. When asked, a maintenance person came and cleaned the grill (which was filthy), but the tables remained dirty and sticky, and the floor needed a good sweeping.
CAMPGROUND RESPONSE / COMMENTS:
Thanks for the review. We're glad you enjoyed your stay. I apologize for the state of the pavilion. We usually have cooking/cleaning in there 5 days a week during a normal season, so it's usually pretty clean. We had it swept out that morning, and the grill had not been used, so it was dusty as it i
Jul 06, 2020
This review has been removed by KOA due to profanity.
Jul 06, 2020
Wow! This KOA is awesome! Clean, friendly, scenic views, along the river, close to Yellowstone, Crazy Mountains, Livingston Peak, Pine Creek and more:) Thank you!
CAMPGROUND RESPONSE / COMMENTS:
Thank you for the great review! We hope you can come back and see us again soon!
Jul 04, 2020
The staff was nice, and got us a 30 AMP back in site (we wanted to upgrade from a tent site). However, the WiFi is terrible / non-existent.
Jul 04, 2020
Beautifully situated in the environment, deluxe cabin met all my expectations and very pleasant staff.
Jul 04, 2020
Cabins are not as nice as the other KOA cabins we have stayed in. Sink in our bathroom leaked all over the floor. There was tape so they obviously knew about it. Price was very high when you had to bring all your own linens and towels. Other KOA deluxe cabins were the same price with everything included
CAMPGROUND RESPONSE / COMMENTS:
This review is not very accurate. The old owners of this KOA put the tape on that sink. We will fix it now that we know about it of course.
Jul 03, 2020
Only stayed one night. Staff was very friendly and helpful.
Jul 03, 2020
The employees are friendly. The area is in a nice location. The bathrooms were a bit dirty. The cabins were very close to each other but better than some other KOAs we have stayed at. Nice amenities at this KOA. Can't beat the location as it is so close to Yellowstone.
Jul 03, 2020
Everyone was helpful and friendly! The campground was beautiful and maintained well.
Jul 03, 2020
The cabin was clean and tidy with a wonderful location. The shower/bathroom which was the building with only 2 was covered in water. The campground was packed with kids, we expected that. I feel that the cabin is overpriced, but here again that's just my opinion.
Jul 03, 2020
It was very loud and noisy. Lots of teenagers and kids playing around at night. Seemed to have residential homes right next to the park giving the park an almost unsafe feeling. I had to put earplugs in to sleep and we decided to leave the next day. No refund was issued for the 2 unused nights. They said only if it was an emergency. Other than that, it was clean, and office staff was nice.
CAMPGROUND RESPONSE / COMMENTS:
I had talked with this guest. Very nice people. They go to bed at 9:30. Our quite hours start at 10pm. I'm the GM. I live in the house with my girlfriend and out dog. No need t worry there. Though it does need to be re-sided and could look a little spooky to some. :) We hope you found somewhere quieter to camp as we are pretty busy with families.
Jul 02, 2020
A beautiful setting along the Yellowstone River. A great little restaurant (Pine Creek) a mile up the hill
Jul 02, 2020
The scenery was outstanding! Yellowstone River was In walking distance from our site. The view of the Absaroka mountain range was phenomenal! Seeing these snow capped mountains from where we were was breathtaking. The staff was friendly and professional. The facility was clean. Some of the campsites were a little too close together. This KOA was only 10 minutes To Bear Paw Outfitters trail riding.
CAMPGROUND RESPONSE / COMMENTS:
Thanks for the great review. We are very grateful to be here. And the folks at Bear Paw are the kindest folks on the planet!
Jul 02, 2020
The staff was great and very friendly Helped when needed and great to see practiing Corbin 19 GUIDELINES. THANK YOU FOR A GREAT WONDERFUL STAY
CAMPGROUND RESPONSE / COMMENTS:
Thank you for this great review. We are working hard during these crazy times so we appreciate your appreciation.
Jul 01, 2020
Staff were very accommodating and friendly. They rearranged our campsite to allow us to be next to our family the second night. Lots of easy access bathrooms too. Very clean and lots of activities, Beautiful campground.
Jul 01, 2020
Beautiful, natural surroundings. Friendly staff. Spacious bathrooms close to our site. Communal sink for dish washing appreciated.
Jul 01, 2020
I paid extra to select a site (#1). I picked a site on the end that wasn't supposed to have any sites in front of it with the mountain view. When we got there it turns out there were campsites not on the list that were in front of our view. The map should be updated so people understand what they are selecting.
CAMPGROUND RESPONSE / COMMENTS:
I wish I could post a picture here of the view from site 1. If this guest was not pleased with the view of the mountains while having our staff parked between them and the view, then there isn't much that we can do about it. The mountains tower over the row of staff sites. It's a very beautiful view. Some parks just aren't for everyone.
Jul 01, 2020
This is a nice RV facility about 30 miles outside of the the North entrance to Yellowstone. It is well maintained (though the public 1.5 mile road from the highway is a bit rough) with a friendly staff. We enjoyed our stay.
CAMPGROUND RESPONSE / COMMENTS:
What a great review. Thank you. We are glad that you enjoyed your stay
Jun 30, 2020
Beautiful location. Quiet. We'll be back!
Jun 30, 2020
We had a great time ! The staff is great , and everyone in the camp ground was very respectful of each other and very quiet at night .
Jun 29, 2020
We had a very relaxing weekend staying at the KOA. We love the gift shop!
Jun 29, 2020
Great camp, great people, loved it.
Jun 29, 2020
Bathroom lights stay on too late, my site was right across from bathroom so it was glaringly noticeable
Jun 29, 2020
A Gem of a campground!!! Will be back!
Jun 28, 2020
Great shady location, awesome facilities and excellent staff. This was a very enjoyable stay!
Jun 28, 2020
We had spot 58 by the river. quieter than some of the other spots might be. River was lovely and the nights quiet. Park was full, we didnt use any of the amenities. enjoyed the stone terrace and chairs.
Jun 28, 2020
Nice view of the mountains but a lot of the landscaping was not maintained. It was mowed around our specific campsite but all the other common areas were overgrown. Especially the dog park, grass was too tall we couldn't take our dog in there. Definitely didn't look like pictures on website.
CAMPGROUND RESPONSE / COMMENTS:
We were optimistic that people would understand that due to COVID, we were working with half of the staff that we usually operate with. This past week we were finally able to get all of our staff on and working. We have since been able to opened the pool and are working very hard to get on top of all of the maint.
Oct 20, 2020
I enjoyed the place its everything you expect from a campground
- ww2 history boii on Google
Oct 02, 2020
Great campground with level sites. Ready in and out.
- Kim Autry on Google
Sep 30, 2020
Campground is right on the Yellowstone River. Cute cabins right on the shore that looked cool. We stayed in a full hook-up pull-through RV spot on the other side of the campground and it was an easy walk to the river. Gorgeous views of the mountains all around. Nice quiet atmosphere. About a 40 minute drive to Yellowstone which we were happy to do to avoid staying in West Yellowstone. Easy booking and check-in, super helpful employees. We needed a little later checkout and they accommodated us with no problems. Albertsons grocery right off the highway about 10 minutes away. Saw reviews saying they didn't like the highway noise but we heard none of that. Campground is about 1.5 miles off the highway-all we heard was cattle from the nearby ranch, and the river. Only reason for knocking off a star is that the facilities are pretty worn. Our patio was rough and the picnic table was pretty rickety. Laundry facilities (mostly) worked but machines look like they haven't been replaced in 30 years.
- MandiB75 on Trip Advisor