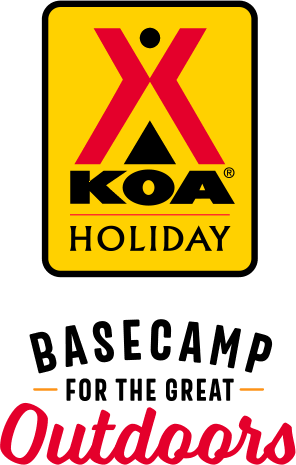 KOA Holiday Campgrounds
Whether you're exploring the local area or hanging out at the campground, KOA Holidays are an ideal place to relax and play. There's plenty to do, with amenities and services to make your stay memorable. Plus, you'll enjoy the outdoor experience with upgraded RV Sites with KOA Patio® and Deluxe Cabins with full baths for camping in comfort. Bring your family, bring your friends, or bring the whole group – there's plenty of ways to stay and explore.
KOA Holidays Feature:
RV Sites with a KOA Patio®
Deluxe Cabins with full baths
Premium Tent Sites
Group meeting facilities
Directions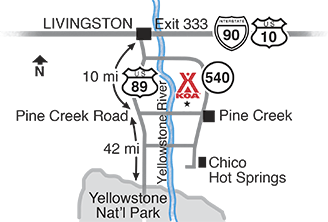 From I-90 Exit 333: Head south for 10 miles towards Yellowstone Park. Turn left on Pine Creek Rd. Drive slightly more than 1 mile, our KOA is on the left just across the bridge.
From Yellowstone Park: Take Hwy 89 north towards Livingston. Take a right Pine Creek Rd between mile marker 43 and 44. Drive just over one mile. 
The road getting to our KOA is at times a little rough. The state is planning to redo the road, but that project is a few years out. Please take your time and drive slowly. 
GPS: N45.51206. W110.57971
Get Google Directions
Sep 30, 2020
Very impressed with the staff and the facility. Location is excellent and perfect setting. Thank you.
Sep 22, 2020
Beautiful setting for campground next to Yellowstone river
Sep 21, 2020
Beautiful area, cute and clean KOA, close to Pine Creek Lodge!
Sep 16, 2020
Bathrooms old and not super clean. Dogs barking a lot. Safe place to stay just not as nice as other KOAs we have stayed at
Sep 07, 2020
It was very clean and easy to check in. Gave it 3 stars because it was quite loud ( trucks hauling rock), otherwise the campground was well taken care of and conveniently located close to Yellowstone Park. We were tent camping.
Sep 06, 2020
So retro...camping the way we remembered. The staff took quick action to any issues also. Highly recommend this "second US KOA" Kampground.
CAMPGROUND RESPONSE / COMMENTS:
Thanks for the great review! While we would love to claim the "2nd KOA", we were more like the 4th or 6th. Cody was actually #2! ;) We do appreciate the age of the campground too. It does create issues but it feels more like a campground than a parking lot.
Aug 31, 2020
The only negative comment would be that the shower curtain did not stay inside the shower stall which made the floor covered in water all the time. This was the bathrooms on the south end of the site. The curtain rod was too high. Also, there was no shower head or a very poor one. It shot out a single stream of water making it hard to wet and rinse during the shower.
CAMPGROUND RESPONSE / COMMENTS:
Thanks for the review! I appreciate your input. We are planning on remodeling those bathrooms before next season. Your input helps. Thanks again.
Aug 27, 2020
Not a bad camp site. I was very disappointed that your business is being the governments enforcer of dictatorial mask mandates. Being an American citizen means that you have rights. Our form of government does not allow governors to make laws, only elected officials. Just remember this, your favored party will not always be in power. What kind of country do you want your children to live in?
CAMPGROUND RESPONSE / COMMENTS:
A lot of guests appreciate the masks. It seems like such a small thing that we can do to help each other. We want to live in a country where we care for and look out for each other, which is what we do here. These ratings are supposed to reflect your camping experience. Not a political platform.
Aug 24, 2020
Needing able to take a shower a plus!
Aug 24, 2020
Excellent location great restroom facilities
Aug 23, 2020
Our campsite was right next to the pool. I think the constant smell was leaking propane. It was a bit unpleasant and we were concerned about starting a fire.
CAMPGROUND RESPONSE / COMMENTS:
Thankfully, it's not leaking propane. The site you were in is right next to the pool heater. Every time it kicks on, there will be an exhaust smell. A leak would have been very dangerous, and something would have been done about it. Our guests enjoy fires on a nightly basis so long as there is not a
Aug 20, 2020
It was everything we needed. And when we saw another spot we preferred the staff very easily helped us and changed our site. A+ staff this makes the trip experience memorable. The view and location was perfect.
Aug 18, 2020
The views are remarkable The staff is top notch They go out of their way to make your stay enjoyable Wonderful location 1 hour drive to Yellowstone
Aug 18, 2020
Ya'll were very nice! The bathroom wall and door could stand to get cleaned; otherwise it was nice.
Aug 14, 2020
This review has been removed by KOA due to profanity.
Aug 13, 2020
We had a nice short little stay. We spent 3 nights there and our time was great. The couple of neighbors we had kept to themselves (we were worried because of how close the sites were). Unfortunately, we had other plans the days we were there and we weren't able to explore the campground and it's many amenities. It was an easy drive to Yellowstone though!
Aug 10, 2020
Wonderful staff and location. So well kept and the staff went above and beyond to make our stay perfect. Thanks so much!!
CAMPGROUND RESPONSE / COMMENTS:
Thank you for the kind words! We have worked very hard to keep this KOA open this season. And our staff is always ready to help. We are glad that you enjoyed it. We hope to see you again in the future.
Aug 09, 2020
Wish we could have stayed longer! Beautiful place, fabulous site, LOVE the bathrooms/showers! Will definitely be back!
CAMPGROUND RESPONSE / COMMENTS:
Thanks for the great review. We hope to see you again soon!
Aug 03, 2020
Love you guys!!
Aug 03, 2020
The campsites are so close together it makes for a very unpleasant experience.
Aug 03, 2020
We had so much fun!
Aug 02, 2020
Very nice and clean KOA. A pleasant surprise after a long day of driving. The staff were extremely friendly, knowledgeable, and helpful. A nice surprise to hear the cattle or cows mooing in the morning. I had a camping area which was spacious. Very clean restroom facilities
Aug 02, 2020
We have stayed at this campground three times. Twice we have been put by the basketball court. I never again want to stay by the basketball court. Noisy people screeching way too long.
Jul 31, 2020
What a excellent campground! The staff, the grounds, and facilities are all top notch. I would recommend this over and over to anyone traveling to Montana or Yellowstone! We stayed 4 nights and loved it. Clean bathrooms, pool, laundry and a great gift shop plus groceries and NO BUGS. Can not rate this high enough !
Jul 31, 2020
Just a couple of incidents with noise/ inappropriate language but it was addressed immediately when reported to staff. Overall, very nice place in a great location.
CAMPGROUND RESPONSE / COMMENTS:
We appreciate you bringing those issues to our attention while we were still able to do something about them. We are happy to help our guests feel more comfortable and relaxed while they are here. We hope that you get a chance to come back for a more relaxed visit. Safe travels and happy camping!
Jul 31, 2020
Absolutely loved it there! Quiet , peaceful, friendly, BEAUTIFUL .. everything I could have asked for and then some, deff plan on coming back!
CAMPGROUND RESPONSE / COMMENTS:
Thanks for the great review. WE are glad that you had a nice time. We look forward to seeing you again!
Jul 29, 2020
Great customer service by the friendly staff.
Jul 29, 2020
Front desk lady wasn't very nice. She wasn't busy but made me wait. Was fairly rude and not friendly
CAMPGROUND RESPONSE / COMMENTS:
Thank you for the review. I am sorry to hear about your interaction with our staff. I have addressed a couple of complaints about our staff with the staff and we are hoping that it is no longer an issue. We hope that you get a chance to come back so that you can see our improved service.
Jul 29, 2020
Super friendly and knowledgeable staff. Kind, professional, and helpful in every way. This is the first KOA I have ever stayed at, and I have definitely been sold on the quality of service and facilities. Will be back in Livingston FOR SURE and looking forward to visiting other KOAs in the future. Thanks so much!!
CAMPGROUND RESPONSE / COMMENTS:
We are so glad to hear that you enjoyed our KOA so much! Especially as your first KOA experience! We hope that we get another chance to see you folks. Safe travels and happy camping.
Jul 28, 2020
Great communication, friendly staff, well kept camp sites, reasonable prices, one staff gave kids some Home Depot projects that were well enjoyed. The road is a little loud at our camp site but over all a very nice stay!
Jul 27, 2020
Great landscape, great people and a wonderful stay! As always Thank you!
Jul 27, 2020
This is our second time staying here for a couple nights when we go through Yellowstone. Our kids love looking for the butterflies for the scavenger hunt and playing in the playground. We take walks down to the Yellowstone River and watch the sunset. Very well kept and everyone who works there is polite.
CAMPGROUND RESPONSE / COMMENTS:
We appreciate you folks coming back for a visit! We are glad to hear that you enjoy your stays here. Hopefully you can come back when the COVID is over so you can experience more of our family activities! WE look forward to seeing you again. Safe travels and happy camping!
Jul 26, 2020
Every quite and peaceful nice people
Jul 23, 2020
Campground was very clean and staff was extremely friendly. Gorgeous views of the Yellowstone River!!
Jul 22, 2020
Staff was friendly. Pool and bathrooms were clean
Jul 20, 2020
We really enjoyed this KOA. The showers were great, the park was clean and inviting.
Jul 20, 2020
The campsite across from the bathrooms smell terribly. We loved your property and customer service otherwise!
Feb 07, 2021
Great service, good time. Liquor store has great selection.
- W Newhouse on Google
Jan 27, 2021
We stay here for 2 weeks in August of 2020 in order to get away from the brutal summer heat in Texas. Weather was perfect! We loved out site. The park was very quiet and peaceful. All the hookups for our Airstream were great too. We used their laundry rooms and it was fine. I couple of dryers didn't work, but that seems to be a common issue in RV parks all across the nation. We plan on returning again late this summer.
- Kev Lee on Google
Jan 25, 2021
We were lucky enough to go to Yellowstone the weekend it opened its Montana entrances after closures happened for Covid. I think it was the opening weekend for the Livingston/Paradise Valley KOA as well. It was a fabulous location - about 45 minutes from Yellowstone, so an easy morning drive before entering the park, and not too far away at night. Prices were incredible for the area - but the service and facilities were fabulous. Bathrooms are a little dated, but that is not an issue for my family. We enjoyed it so much, we came back and stayed again in September!
- cebaldwin on Trip Advisor