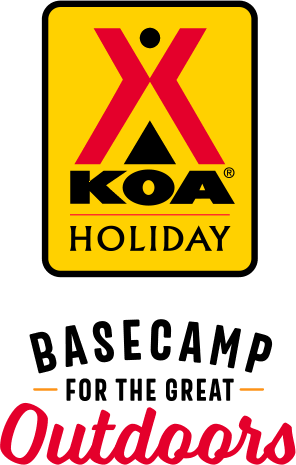 KOA Holiday Campgrounds
Whether you're exploring the local area or hanging out at the campground, KOA Holidays are an ideal place to relax and play. There's plenty to do, with amenities and services to make your stay memorable. Plus, you'll enjoy the outdoor experience with upgraded RV Sites with KOA Patio® and Deluxe Cabins with full baths for camping in comfort. Bring your family, bring your friends, or bring the whole group – there's plenty of ways to stay and explore.
KOA Holidays Feature:
RV Sites with a KOA Patio®
Deluxe Cabins with full baths
Premium Tent Sites
Group meeting facilities
Directions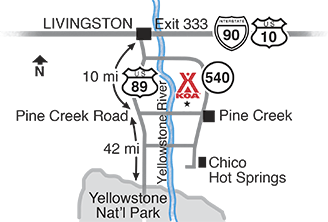 From I-90 Exit 333: Head south for 10 miles towards Yellowstone Park. Turn left on Pine Creek Rd. Drive slightly more than 1 mile, our KOA is on the left just across the bridge.
From Yellowstone Park: Take Hwy 89 north towards Livingston. Take a right Pine Creek Rd between mile marker 43 and 44. Drive just over one mile. 
The road getting to our KOA is at times a little rough. The state is planning to redo the road, but that project is a few years out. Please take your time and drive slowly. 
GPS: N45.51206. W110.57971
Get Google Directions
Oct 12, 2021
The park was closed for the season but they allowed our Sisters on the Fly group to stay there over a long weekend. The employee was helpful, kind and accommodating. Sites were quite level and in opposing angles to allow extra room between rigs. Each site had a table with 4 chairs and a swing bench. Full hookups and he had a bathroom building available to us. We had a nice Pavillion available.
Oct 08, 2021
Kind and helpful staff, beautiful outlook, good playground, great location.
Oct 07, 2021
This place is beautiful. Reasonably close to the park entrance. So quiet! Great for bird watchers!
Oct 07, 2021
Beautiful campground, we really enjoyed it! Everyone was very helpful, when we lost our trucks keys! Found them, but everyone helped look for them. We truly hope to revisit and will tell everyone how nice it was. Thanks
Oct 04, 2021
Had a 3 day stay and enjoyed it. Place was clean and staff friendly and helpful.
Oct 04, 2021
Beautiful cabin near the river. Clean campground and very friendly staff!
Oct 03, 2021
stay was just overnight so we really didn't get to see and use much of the place but it looks to be a nice campground and the cabin we were in had a fantastic 2 level deck and firepit
Oct 03, 2021
Beautiful view of the Yellowstone River from our site. Pluses: The site was level gravel and while close to the cabin and the next RV there was a nice patio and table and Adirondack chairs to sit and enjoy the river view among the Aspen trees. Negatives: The flies from the nearby cattle ranch, the poor water pressure and the furniture wasn't clean. We didn't use the bathrooms so can't comme
Oct 03, 2021
Very friendly, clean and helpful
Oct 02, 2021
This is a rather cramped KOA with sites sort of stuck all over. The tent sites looked great & private. In order to get to the Yellowstone River, you have to go almost in the yards of the cabins. Laundry facilities need some help. Washers didn't ring clothes & water could be heard in the drum when you removed items. Most of the dryers were out of order. Staff was friendly.
Oct 02, 2021
Very accommodating. Tranquil and relaxing.
Oct 02, 2021
Loved the area as it was close to so many things. Camp was clean and was quiet at night. Slept great in the cold Montana weather.
Oct 02, 2021
Clean bathrooms, quiet and peaceful area
Oct 02, 2021
Friendly staff and clean!
Oct 02, 2021
Super, friendly staff and helpful staff. Enjoyed our stay and would recommend
Oct 02, 2021
Very comfortable and quiet stay
Sep 30, 2021
Our stay was a stop over night on our way to Yellowstone. Staff was friendly, site was level and clean. We used the laundry facilities. While a couple of machines had out of order signs on them, I'm learning that this is not unusual. The camp was quiet as night approached and we slept well.
Sep 30, 2021
Wonderful and quiet. Beautiful campground.
Sep 30, 2021
Nice quiet time of year, staff was very helpful and friendly, and the place is very well kept up
Sep 29, 2021
Park was ok but too far from the Interstate.
Sep 29, 2021
It was great. Grandkids loved the playground, very clean.
Sep 29, 2021
The first night was not so quiet but the manager fixed that for the rest of my stay in a different cabin. I will definitely come again.
Sep 29, 2021
We were lucky enough to spend several days with you and very much enjoyed your KOA, your staff, your ambiance, your central position in a whole lot of great country and the town of Livingston. We will be back and look very much forward to staying with you again in the future. Doc Bill
Sep 29, 2021
Nice and clean KOA campground, we had space 61 which backed up to the Yellowstone river, easy access for fishing. If they can just guarantee catching a fish it would be a 10++
Sep 28, 2021
Beautiful setting, and respectful, friendly staff. Very close to our favorite hot springs, too. Already booked for next year!
Sep 28, 2021
Spaces lose together. Staff very courteous and helpful
Sep 28, 2021
Great location on the river
Sep 28, 2021
The staff was excellent and very accommodating!
Sep 27, 2021
We have stayed here many times. It is good, quiet, park.
Sep 27, 2021
Great staff and personal attention!
Sep 27, 2021
It was fantastic! Thank you!
Sep 27, 2021
Great location on the Yellowstone River
Sep 26, 2021
Loved our cabin (#7) everything was perfect ,lots of nice improvements see ya next year
Sep 26, 2021
Great location, friendly staff and nice clean facilities
Sep 26, 2021
Very clean and well maintained.
Sep 25, 2021
We've stayed here many times in the last three years, both with our 5th wheel and in the Nest Cabin. The staff is great and the views on the river are awesome. Look forward to coming back next summer.
Sep 25, 2021
I love this KOA! I've stayed there several times. The staff is always incredibly kind and helpful and the location is beautiful! So many fun things to do. It's in a nice neighborhood to walk around in.
Sep 25, 2021
The staff and site are wonderful! Very very clean bathrooms and showers! I only wish the tent sites were a bit more secluded from the cabin people. Cabin folks tend to be a bit more noisy and nosy.
Sep 25, 2021
Nice quiet, clean facility.
Oct 01, 2021
We really enjoyed our stay here. The campground was very clean, including the restrooms and showers, and the hosts were very helpful and pleasant. We recommend this KOA campground.
- Sheila Snyder on Google
Sep 17, 2021
It's a good home base for exploring Yellowstone and its vicinity. The park is very clean, and the staff are helpful.
- Michael Russell on Google
Sep 15, 2021
Great spot to stay if you're catching a show at pine creek.
- Josh Spinney on Google