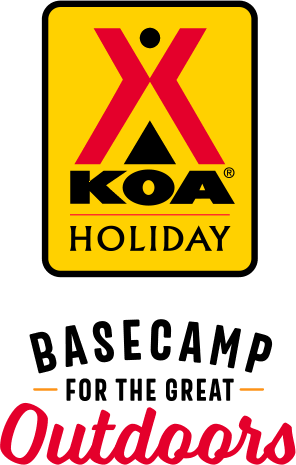 KOA Holiday Campgrounds
Whether you're exploring the local area or hanging out at the campground, KOA Holidays are an ideal place to relax and play. There's plenty to do, with amenities and services to make your stay memorable. Plus, you'll enjoy the outdoor experience with upgraded RV Sites with KOA Patio® and Deluxe Cabins with full baths for camping in comfort. Bring your family, bring your friends, or bring the whole group – there's plenty of ways to stay and explore.
KOA Holidays Feature:
RV Sites with a KOA Patio®
Deluxe Cabins with full baths
Premium Tent Sites
Group meeting facilities
Directions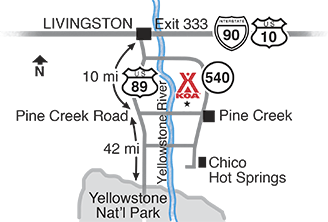 From I-90 Exit 333: Head south for 10 miles towards Yellowstone Park. Turn left on Pine Creek Rd. Drive slightly more than 1 mile, our KOA is on the left just across the bridge.
From Yellowstone Park: Take Hwy 89 north towards Livingston. Take a right Pine Creek Rd between mile marker 43 and 44. Drive just over one mile. 
The road getting to our KOA is at times a little rough. The state is planning to redo the road, but that project is a few years out. Please take your time and drive slowly. 
GPS: N45.51206. W110.57971
Get Google Directions
Jul 26, 2021
Wonderful KOA, great friendly staff, clean & quiet
Jul 26, 2021
The campground was ok. As with most campgrounds the WiFi is sparse.
Jul 26, 2021
Was there for one day, but it was great!!
Jul 26, 2021
The staff where nice and helpful.We like this place.
Jul 26, 2021
We had the best camping spot and the staff was so helpful and friendly
Jul 26, 2021
Beautiful views. Kids loved the pool and playground. Clean and courteous. Will definitely be back !
Jul 26, 2021
Nice site but kind of crammed in
Jul 26, 2021
The Campground was clean and the staff was very friendly. The price was high for the acomadations.
Jul 25, 2021
Pretty place. Friendly staff. Great location
Jul 25, 2021
Gorgeous views, friendly staff, comfortable accommodations, good times!
CAMPGROUND RESPONSE / COMMENTS:
Thanks for the great review. We love this place as much as we enjoy sharing it with you folks! Come back and see us again soon!
Jul 25, 2021
We were told we would have a back in site on the Yellowstone River. Instead they jammed us into a small back in between two cabins. One cabin had 3 vehicles of which one was parked 2 feet from our picnic table We asked to be moved. Rude staff. Campground is too packed in. Only positive was location near River and mountains but no view from campground
CAMPGROUND RESPONSE / COMMENTS:
We're sorry to hear that you were unhappy. We did move your reservation to a site that was closer to the river prior to your arrival based on a request to be close to the river. Unfortunately being as busy as we are, moving guests once on site can be impossible due to overlapping reservations.
Jul 24, 2021
Sites were clean!
Jul 24, 2021
Awesome location to stay to get to Pine Creek Lodge concerts, Yellowstone/Gardiner, Chico Hot Springs, and Livingston. Can't wait to return.
Jul 23, 2021
Beautiful campground, laundry was area was wonderful, we had a spot which backed right up to the water, I would stay again
Jul 22, 2021
Really enjoyed the park. The owners were super nice people.
Jul 22, 2021
This pl;ace could easily be a 5 if they fix two issues, Dog yard is very poor. Could be a haven for snakes. Second, very poor internet. KOA needs to realize we all live in a connected world these days for many reasons. Work, Home banking and many other items. We travel to explore & play BUT need to connect to the outside world for many reasons, High-speed quality internet is a must..
CAMPGROUND RESPONSE / COMMENTS:
Luckily, there are only a few pockets where snakes of concern live in the valley. They genrally don't like to be as close to the river as we are so no worries there. The internet in rural areas is a challenge for the nation. Due to lack of fiber optics, we have the best available to us in the area.
Jul 22, 2021
Super cute. Patio and patio set nicer than at home. Adirondak chairs too. Lots of trees. Great facilities. Off the hwy. secluded. Right on the river. Nice playground for the kids. Quiet.
CAMPGROUND RESPONSE / COMMENTS:
Thanks for the great review. We are glad to hear that you enjoyed your stay and hope to see you again soon!
Jul 21, 2021
This is not your average KOA, spaces are small, neighbors waste dump and services are right next to pad and picnic table. Gross.
Jul 21, 2021
Camp Cabins were nice, location, playground, pool and views were good. No pancake breakfast available. We had planned that for breakfast for our group of 8. No microwave or air conditoning in cabin. ~ others we have stayed in did have these and I was expecting both.
CAMPGROUND RESPONSE / COMMENTS:
We're glad to hear that you enjoyed your cabin. It is unfortunate that we were unable to get the staff in place to do breakfast. We do have it posted on our website. Our cabin descriptions are accurate with no mention of A/C or or microwave. But with as hot as this summer has been we understand.
Jul 20, 2021
Great location on the Yellowstone River in beautiful Paradise Valley. Our first night we saw an amazing sunset over the mountains and river. The store was well stocked with necessities and souvenirs. We traveled in and out of the north entrance of Yellowstone easily and also stopped at the Yellowstone Hot Springs to rejuvenate after our long travels.
CAMPGROUND RESPONSE / COMMENTS:
We are so glad to hear that you enjoyed the area! The local hot spings ARE amazing! We hope you folks have a great trip and get a chacne to come back and see us again! Safe travels and happy camping.
Jul 20, 2021
Dodi was extremely welcoming and a great host as she greeted me and checked me in. Nice trees and beautiful Mountain Views. A great spot!
CAMPGROUND RESPONSE / COMMENTS:
We are glad that you appreciated Dodi as much as we do. We hope that you folks get a chacne to come back and see us again real soon. Safe travels and happy camping!
Jul 19, 2021
We enjoyed our stay and would go there again if we are in the area. Our spot was relatively private and conveniently close to bathrooms/showers. This KOA is in a great location next to the river. We liked the ice cream in the evening!
Jul 19, 2021
Beautiful KOA right on the Yellowstone River!! The staff are friendly, helpful, and professional! The facilities are clean and functional. We had a great stay and can't wait to come back for another stay! Thank you for the fun memories!
Jul 19, 2021
Friendly staff. Nice location with clean grounds, with lots of trees and a great view of the mountains. The mattress in the cabin was very nice! And even though it was full - the location didn't feel overcrowded. Would love to go back and stay longer.
Jul 19, 2021
Quick stop, but it was beautiful and lovely. Would differently come back.
CAMPGROUND RESPONSE / COMMENTS:
Well we hope to see you folks again real soon! Safe travels and happy camping!
Jul 18, 2021
Had a wonderful time the spots were very clean and we had a great time by the river
Jul 18, 2021
We had a nice back in full hookup site next to a log cabin. It was a cozy site. We loved it. The Yellowstone River was very close. We walked down to it and watched the rafters and fisherman.
Jul 18, 2021
Nice campground. Their laundry facility & bathrooms could use some upgrading, but they had a nice playground and pool. We did have a view of the river from our site, which was nice.
Jul 18, 2021
Beautiful place, would be nice to have more floor fans in cabins to help stay cool at night. Loved the location, morning staff were friendly. We will return, Thanks!
CAMPGROUND RESPONSE / COMMENTS:
Thanks for the great review. Floor fans to help cool off the cabins is a great suggestion. We hope to see you again in the near future.
Jul 17, 2021
The cabin by the river had a nice deck, was clean and plenty of outdoor patio/deck space. The staff was friendly and helpful. The only drawback was that it is about 45 minutes from the park but if the drive doesn't bother you, I would recommend staying in their cabins by the river.
Jul 17, 2021
Stay at site 6 with a travel trailer and wasn't a fan. I bottomed out trying to pull into the site. This caused me to break my trailer hitch pin lock. I had to use a hammer and rock to break it the rest of the way off and replace with a regular pin. My stabilizers didn't work much due to the slope of the site. The scenery was nice and the location was great. The road is horrible.
Jul 17, 2021
Great hospitality, beautiful location...Thank you.
Jul 17, 2021
Wonderful surprise and how lovely the campgrounds were. I'd love to come back.
Jul 16, 2021
Stayed in a patio site for the first four nights and then since we added a night had to move to a non-patio site. Both were nice and the add-on night was a nice change of pace. With a nice Mountain View and backed into a meadow with horses that came visiting at the fence.
Jul 15, 2021
Only stand one night but thing where great, space work good and the area was very clean, Nice hot shower and bathroom nice and clean. The road in has a few pot hole but no wears then I-90. Sits on the Yellow stone river with great sunsets would stay a week if I had time. Thank You
Jul 15, 2021
Beautiful setting, clean and comfortable. Lovely hosts.
Jul 15, 2021
Loved the campground and its proximity to all the activities the Paradise Valley has to offer! The campground was clean and welcoming! Our only draw back was the pool. If we were to recommend anything would be to allow for more ventilation or flow of air. The pool building was quite hot and stuffy and not as enjoyable as we had been looking forward too.
Jul 15, 2021
Great location even though a ways from Livingston - our site was only a few yards from the river!
Jul 15, 2021
The campground was clean, the staff was friendly and our cabin was wonderful. It was a great stay and we will do it again!
Jul 14, 2021
Beautiful, breathtaking views. We stayed on a tent site right beside bathroom/showers and loved our stay. Campground was clean and facilities were also clean. We hope to visit again next summer.
Jul 23, 2021
Loved the cabin, the atmosphere, the staff, the town, great experience!
- Josey Pierce on Google
Jul 21, 2021
Nice place and nice people running the show. Overall the campground is clean and well run. The campground is literally on the Yellowstone River, it was really nice to be able to relax on the river after a day of seeing the sites. We never utilized the pool, it looks to be a bit outdated. But again, like the rest of the campground, it is clean. The play ground and exercise equipment (yes, they have outdoor exercise equipment at the play ground) are all new and were a nice touch. Unfortunately there was a fire ban when we got there so we could not cook out or have a camp fire, we were not even allowed to use a charcoal grill. It is roughly a very easy 40 minute drive to Yellowstone and maybe 10-15 minute drive to Livingston. Due to the fire ban, we explored some of the local restaurants, Livingston and the local area around the campground has many top notch places to eat and have a few drinks. They also could not open the breakfast tent because they were short staffed and were struggling to find help. We ran into multiple businesses in the area that had staffing issues so the campground was not unique in their struggles. I wouldn't hesitate to return, it is a very convenient area to camp while enjoying what the area has to offer.
- Jim Cote on Google
Jul 19, 2021
LOVED our stay. Great staff went out of thier way to make our trip great. Thank you and we will be back.
- VINCENT SECOR on Google