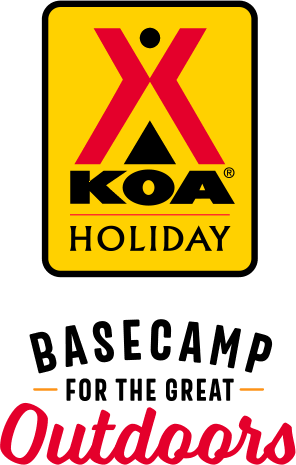 KOA Holiday Campgrounds
Whether you're exploring the local area or hanging out at the campground, KOA Holidays are an ideal place to relax and play. There's plenty to do, with amenities and services to make your stay memorable. Plus, you'll enjoy the outdoor experience with upgraded RV Sites with KOA Patio® and Deluxe Cabins with full baths for camping in comfort. Bring your family, bring your friends, or bring the whole group – there's plenty of ways to stay and explore.
KOA Holidays Feature:
RV Sites with a KOA Patio®
Deluxe Cabins with full baths
Premium Tent Sites
Group meeting facilities
Directions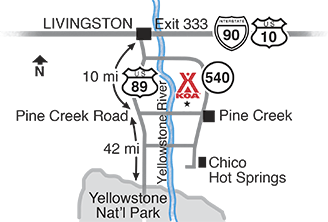 From I-90 Exit 333: Head south for 10 miles towards Yellowstone Park. Turn left on Pine Creek Rd. Drive slightly more than 1 mile, our KOA is on the left just across the bridge.
From Yellowstone Park: Take Hwy 89 north towards Livingston. Take a right Pine Creek Rd between mile marker 43 and 44. Drive just over one mile. 
The road getting to our KOA is at times a little rough. The state is planning to redo the road, but that project is a few years out. Please take your time and drive slowly. 
GPS: N45.51206. W110.57971
Get Google Directions
Jul 17, 2020
Love the Paradise Valley KOA. Staff is super friendly and make sure we are well taken care of. We visit there several times each summer. Gregory is top notch.
Jul 17, 2020
Your bathrooms are very dirty and the chair in cabin k 00 is in need of a good cleaning, other than that the staff are very nice, thanks
Jul 17, 2020
Convenient and centrally located to what we wanted to do
Jul 17, 2020
It was a last minute overnight stay and they were very accommodating. We've stayed before and it's a wonderful place to stay.
Jul 16, 2020
Very helpful and considerate staff. Extra attention via text was so helpful and appreciated. Very clean , quiet an well maintained campground. Beautiful surroundings!
Jul 16, 2020
Staff was excellent and very responsive, especially the manager Greg.
CAMPGROUND RESPONSE / COMMENTS:
Thank you folks. It was our pleasure having you here! We look forward to seeing you again. Safe travels and happy camping.
Jul 16, 2020
This is a lovely place. Super well run. Fun and friendly. But I do wish they were a little more in tune with current Covid concerns. The employees working inside the registration area/general store should be wearing masks. Mainly because they are working with a new traveler every second of the day. I was worried about them and about the visitors not wearing masks.
CAMPGROUND RESPONSE / COMMENTS:
Thanks for the great review. We are happy you enjoyed the park. Our KOA is strictly following all state mandates. Montana is now requiring all businesses to have their staff wear masks. All of our staff that can wear a mask, are currently wearing masks due to the state mandate. No need to worry.
Jul 15, 2020
The site we reserved was BEAUTIFUL, right beside the river, with the patio, etc. I wanted a quite, peaceful, really great stay. However, right after getting parked and set up we realized that we were between 2 campers who were there together, as well as the cabin next to them. So the people were walking back and forth across our patio area all evening and the next morning, going back & forth.
Jul 15, 2020
Beautiful campground. Clean bathrooms. Loved our short stay.
Jul 15, 2020
Very well maintained and wonderfully happy and kind people running it. Couldn't ask for more.
Jul 14, 2020
Our first time at a KOA, overall staff were friendly and grounds were well kept. Point off for campsites being stacked on top of each other.
Jul 14, 2020
We were only there for 1 night on our way to Glacier. The campground was very well kept and clean. We loved being right by the beautiful river!
Jul 14, 2020
We only stayed one night but we would definitely stay again!!!! I would just say that your access road needs some help!!! But all in all, we enjoyed our stay!!!
Jul 13, 2020
Bathrooms seemed redone and clean. The playground looked updated from two summers prior. Our cabin was cozy and not too crowded at the campground. Only complaint is no small fridge in cabin like other KOAs but no big deal. Only % dollars extra for pets.
Jul 13, 2020
The staff was wonderful- truly made my stay more enjoyable! The campground is beautiful and the sites are well laid out to give each camper a decent feeling of privacy. I will definitely be back!
Jul 13, 2020
Wonderful staff, helpful and courteous. Never had a bad experience in the 7 years we have stayed.
CAMPGROUND RESPONSE / COMMENTS:
Thank you so much for the great review! We really appreciate your return business and look forward to seeing you again soon.
Jul 13, 2020
The site was nice overall. The pool building was sweltering but water looked clean. Shop and staff were nice. A little girl was blasting away on a recorder all day both days and I was hoping staff might approach her to give it a rest since her parents didn't, but I know that's a tough area. It just made for a not-so-relaxing time for us. We'l probably just find a standard campground next time
CAMPGROUND RESPONSE / COMMENTS:
I appreciate your review. The recorder issue is a tricky one, like you were saying. We don't want to limit a child's learning. We won't approach a guest about something like this unless another guest mentions it to us. But we hope this doesn't keep you from coming back for another visit.
Jul 12, 2020
Very nice campground, everyone very friendly. We have stayed at many KOA's. Needs a few updates to playground. Cabins on site are beautiful and kept up. We didnt stay in one but they are very nice. All bathrooms extremely clean.
Jul 12, 2020
my site was miniature, and we had a hard time maneuvering within the space. My truck had to park over the fire pit and patio area in order to fit. it wasn't as it seemed according to my booking information.
Jul 12, 2020
Great service, nice quiet shady camps.
Jul 12, 2020
Everything was great just stayed one night but would definitely stay again and spend more time we had a cozy back in spot 64!
Jul 11, 2020
I know its not KOA fault but the road coming and leaving the park to get to the main road needs to be fixed. It is really bad. I heard other campers talking about it.
Jul 11, 2020
very accomodating. Had a great time. Lot's to do even during covid.
Jul 11, 2020
I will not recommend this to anyone. My brother lives in Livingston so we thought this would be a great option for the family to stay at when visiting. We had a horrible experience. The cabin cleaners spent all of two minutes "cleaning" each cabin around us which was pretty much taking the trash out from would I could see. The bathrooms were disgusting, and staff was very unfriendly!
Jul 11, 2020
We had reservations for 3 days and were put next to a big family reunion. They could have put us a couple of spaces away and put the single night campers in the spot we had
Jul 11, 2020
We had a wonderful stay and the employees were very helpful throughout our stay!! Especially Lisa She was a true joy, very helpful, sweet, happy to help. She was a pleasure to visit with!!!! Thank you so much
CAMPGROUND RESPONSE / COMMENTS:
Thanks for the great review. We really appreciate Lisa too! Safe travels and happy camping!
Jul 10, 2020
This was our first experience staying at a KOA and it was amazing. The staff were great to work with and the other campers were friendly and happy to be out enjoying life. We will be back!!!
Jul 10, 2020
Just LOVE this place and all the workers!!
Jul 10, 2020
Gorgeous view. Clean cabin. No ac. Not enough bathrooms and they were dirty. Heaters were good.
Jul 10, 2020
Easy online reservation, welcomed by great hosts, close to the river, and our base to explore Yellowstone without having to pull our fifth wheel thru the crowded NP. Wish we had more time to stay. Thanks
CAMPGROUND RESPONSE / COMMENTS:
Come back and see us again!
Jul 10, 2020
Spots are small and cramped. We had the worst site in the campground right on the road so everyone that left the campground drove by our spot. It was nonstop traffic day and night. We booked 3 nights and asked the 1st day if we could move to another spot but staff was unwilling to do anything to help us. The dog park is a joke, tucked in a corner full of rocks and trees. Not a good experience!
CAMPGROUND RESPONSE / COMMENTS:
Thanks for the feedback. Unfortunately we would have been unable to move you as we are very busy during the summers with all of our sites reserved. We wish you safe travels.
Jul 09, 2020
Place is week-kept, restrooms are clean, and store is nice. Not exactly close to Yellowstone but doable. My main problem was with what appeared to be a couple not so clean tenants that had a lot of clutter that detracted from the rest of the park. I notified the staff of Marijuana use in the site next to us that ruined our stay. Hopefully they take this concern seriously and address it.
Jul 09, 2020
Area is beautiful. Park personnel very friendly. Sights are a little close; seen worse but a wee more space between would be nice. Biggest complaint is that people drive entirely too fast! Laundry was good. Did not use showers or pool.
Jul 09, 2020
Friendly staff, well maintained campground.
Jul 09, 2020
Quiet and clean campground. Beautiful view of mountains. The road to campground is rough with lots of potholes.
Jul 09, 2020
Road to campground was very rutted and campground was very noisy with fireworks well past midnight.
Jul 09, 2020
Beautiful camp ground, obviously well taken care of. Sites next to river were awesome. Playground equipment was well invested in, lots of fun for kids.
Jul 08, 2020
We love the Livingston KOA and we will be back again
Oct 20, 2020
I enjoyed the place its everything you expect from a campground
- ww2 history boii on Google
Sep 27, 2012
Excellent. Very friendly, nice wood tent sites/no hook ups. It's not like some KOA's that are like parking lots. The washroom and shower were excellent.
- Acoustic Chris on Google
Oct 02, 2020
Great campground with level sites. Ready in and out.
- The Autry Experience on Google