With the complications in regards to air travel that aren't getting any less complicated, many people are tired of sitting at home and waiting for things to get sorted out. And we don't blame you. Travel used to be so much more simple and fun and less stressful.
But times have changed. Once the pandemic is over, there won't be a return to "normal." We already have a new sense of normal, and when it comes to air travel, that will look very different than it did pre-pandemic.
However, when things change, sometimes the best way to deal with it is by adapting. This certainly isn't the case for everything, but when it comes to air travel, it's probably best to accept and adapt to those changes rather than fight the fact that they're happening. Chances are you'll be much happier.
With that said, one of the things that we are excited about with these complications in air travel is the option to lean more into road trips. It's no secret that we here at KOA are big fans of road trips.
Sometimes a road trip may mean a quick 2 or 3-hour excursion to visit family, to go to a concert, or just to get away for the weekend. Other times, a road trip may mean an adventure that takes you across the entire country, through every kind of landscape you could imagine to see the strange, the beautiful, and the wild of the United States.
If that sounds up your alley, then buckle up because we are going for a ride. We are taking you through our top KOA-approved tips for planning a cross-country road trip that will likely be the trip of a lifetime.
So let's start the planning of your future expedition.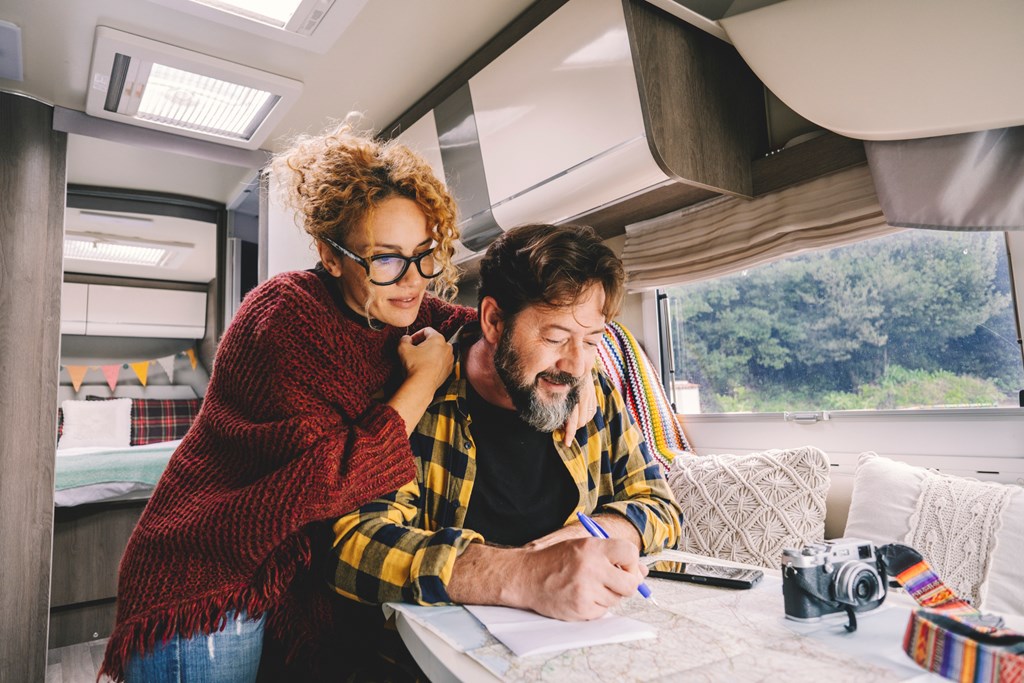 How to Plan a Road Trip Across the Country
Planning a big road trip like this is not as simple as hopping in your car and heading out on the open road. It means putting in some time beforehand to get the details sorted out so that the trip goes as smoothly as possible.
1. Choose your route
This is the first and most important part of your road trip. Deciding where to go is exciting, but takes some work.
How are you going to get from the east to the west, or from the north to the south? Which route are you going to take? What places are your must-sees along the way?
Take the time to sit down, do some research, and determine what is important for you to see in person. This will look very different for everyone. If you're doing this road trip with other people, you may each have different things that you want to see, so you want to try and incorporate as much of everyone's wishes on your route as possible.
Some people suggest planning your cross-country road trip around what inspires you. For some, this may be some of our country's epic national parks. For others, that may be famous roadside attractions. There is no right or wrong answer to this – it is merely understanding what it is that makes you feel something special and leaves you feeling better than you were before you saw it.
Once you've determined what inspires you, then you can start making a list of all the places you want to see. Google Maps is a great way to do this. Using this app you can create your list and you can visually see a route start to take place, which makes your life much easier.
If you want to go the old-school route, you certainly can do that too. Get a paper map of the United States, mark the different places you want to go to, and then start drawing routes to connect them.
However, we at KOA are big fans of technology when it comes to planning road trips and driving, so we suggest saving yourself the time and stress and using Google Maps unless of course, you get a thrill out of using a paper map instead.
Once you've got your route roughly planned out via Google Maps or an actual map, you can get an idea of how long it will take you to get across the country. Generally speaking, the shortest amount of time it takes to drive from the west coast to the east coast or the other way around is 4-6 days.
However, some people may want to take their time and enjoy the scenery, making long stops along the way. If this sounds like you, then you probably want to plan on a few weeks, maybe even a few months for your road trip.
Ultimately, this depends on how much time you want to be away, and how much time you can be away from responsibilities at home.
One of the silver linings of COVID is that many jobs went remote so if you are working, you may be able to continue your job while traveling across the country. This may allow you to extend your trip for a longer amount of time than you would have been able to pre-COVID.
Think about your ideal length of time on this road trip and then move on to the next step of planning.
We share some of our favorite cross-country road trip routes here, so be sure to check them out and see if any of them align with what you're looking for.
2. Choose the duration of each stop
With a general idea of your total travel time from place to place and the trip as a whole, you can next get into choosing how long you want to stay in each area that you want to stop. To make it across the country in 4-6 days, you'll need to drive about 8-10 hours per day, with minimal time stopping.
We are guessing this probably isn't what you have in mind for your cross-country road trip, and will likely want to spend more time at each stop. However, the amount of time you want in each place varies from person to person and place to place.
If you're more into the idea of a cross-country road trip to visit roadside attractions, chances are good you won't need as much time at each stop and rather will be making more, short stops.
However, if your cross country road trip looks more like stopping at national parks along the way, then you likely want to spend at least a night or two in each national park to explore all that they have to offer.
Decide roughly the number of nights you want to spend at each stop and add that to your driving time.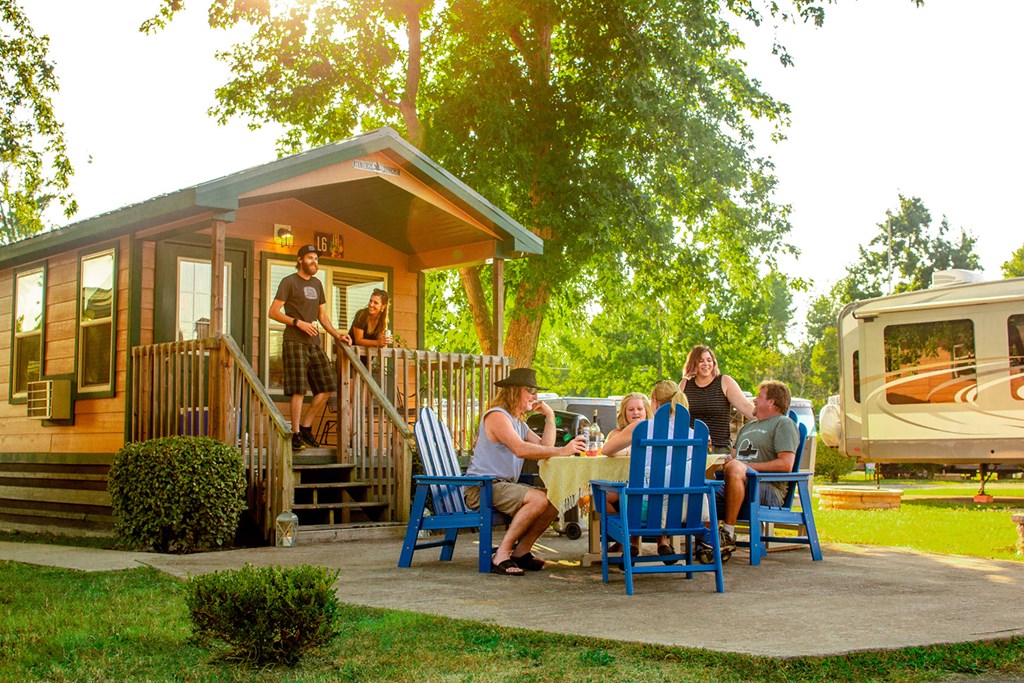 3. Reserve your camping spots
If you feel confident that you will stick to your plan, then your next step is booking your KOA campsites along the way.
Our Find a KOA tool allows you to find all the KOAs in the area nearby. This is a quick and easy way not only to see the options of where you can stay, but it also provides the links to the direct campsites so you can book your spot online before you head out. Even better, KOA now offers a shopping card option meaning you can complete all your reservations from coast-to-coast in one transaction.
If your plans change along the way, you can still utilize the Find a KOA tool to book your campsites accordingly.
Reserving your camping spots ahead of time is especially important if you are traveling in peak season or if you are looking to stay somewhere that is a very popular place (such as the Grand Canyon).
Remember: you snooze, you lose. Sure, you may be able to find other camping options last-minute but when you camp with KOA, you know you get great service as well as all the accommodations you need to make your camping experience an enjoyable and comfortable one.
4. Choose your vehicle
If you've already got an RV, then this step is easy for you. You're ready to rock and roll.
If you don't, you have a few different options.
You could take a regular car, bring your camping gear and plan to either car camp or tent camp along the way. Or, you could even stay in hotels or Airbnbs if that's more of what you envision for your cross-country road trip. Just be aware of the large additional costs that will add to your total trip costs.
You could also take a van that provides you with a place to sleep. This can either be a van you already own or you can rent one, too. The amenities in this van may vary, but it should have the bare basics of a place to sleep and store your gear.
Another option is to rent an RV if you don't already own one. An RV provides you with nearly everything you need for your trip all in one place. Though it is a more expensive option than a car in terms of rental price as well as gas prices, the convenience is nice and chances are good it ends up being cheaper than staying at hotels along the way.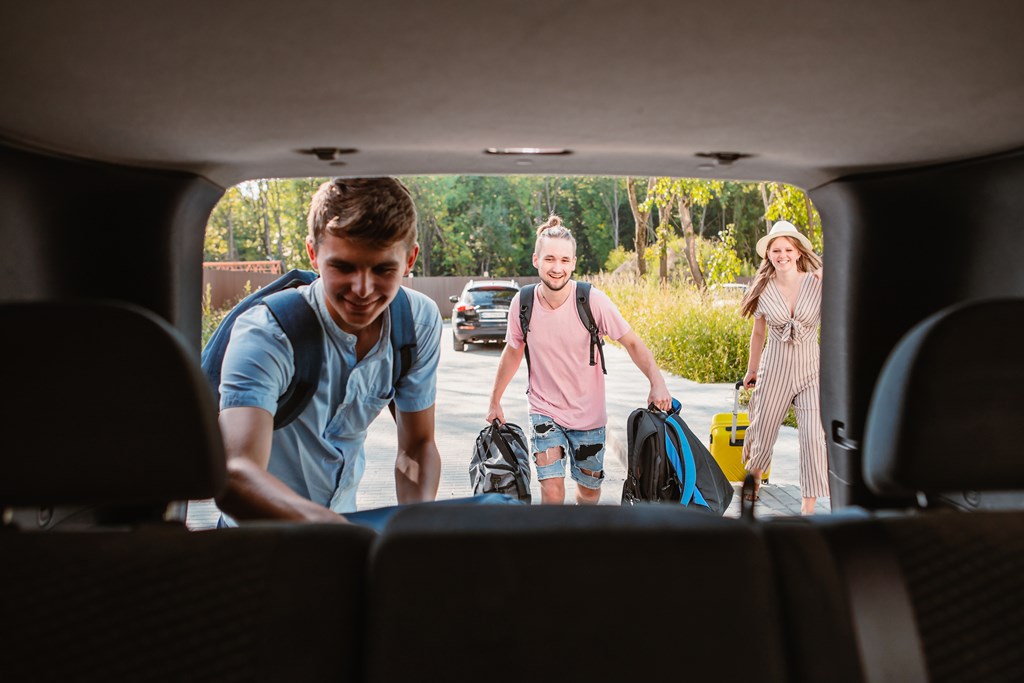 5. Make your packing list
This is something you do not want to leave until the last minute. Packing for a cross-country road trip requires planning ahead and getting everything organized well in advance.
What you take with you for your road trip across America depends on your journey. If you're tent camping, you need to bring all of that gear with you. If you're camping in a van, you won't need to bring as much. And if you're traveling via RV, you just need clothes, food, and any necessary RV accessories.
Regardless of what style of trip you're taking across the U.S., you want to pack as little as possible. This will simplify your life and allow you to focus on enjoying your trip more.
6. Double-check everything
Before embarking on your epic journey, you want to run through everything for your trip.
Check your route to make sure that all the roads are open and that you are taking the best route between your stops ("best" is a subjective term – for some "best" may mean shortest, and for others, it may mean the most scenic route).
Also, make sure that your KOA reservations are in place and that you've got most of your lodging sorted out.
Be sure to also check your gear to verify you've got everything you need to get you across the country!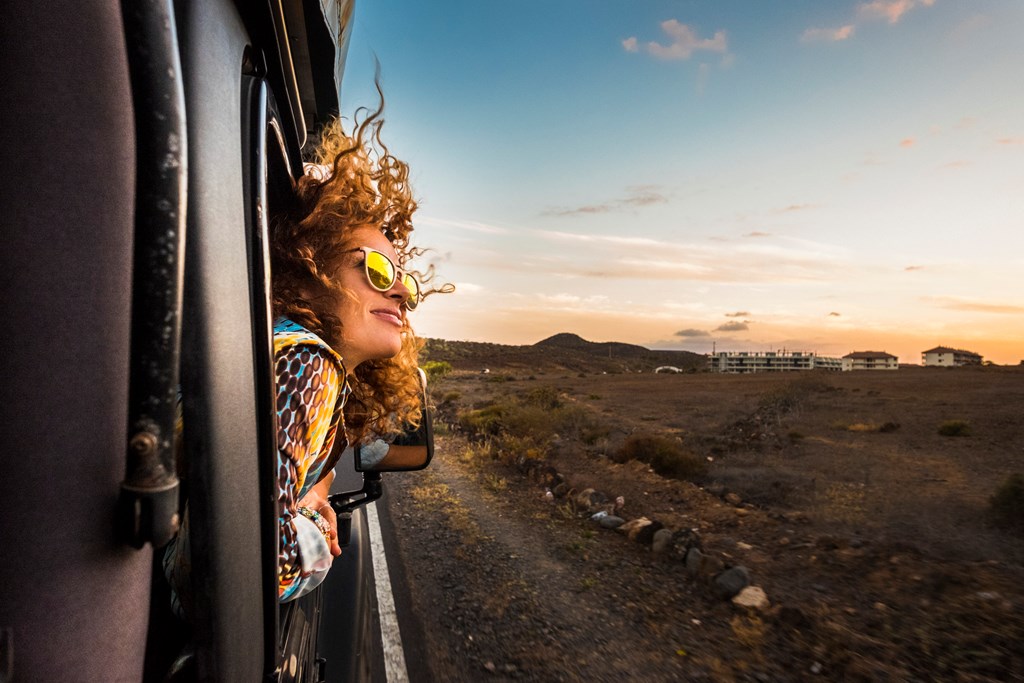 Our Expert-Approved Cross-Country Road Trip Tips
Now that you've got the plans all sorted out and you've read through steps 1-6 above, it's time to pay attention to the below expert tips that will make your road trip life easier and more enjoyable.
Plan ahead for national parks
Many parks have changed their entry restrictions since COVID hit the scene, so do your homework ahead of time and take a look at what each of the national parks you want to visit requires for entry.
Some require making reservations ahead of time, so don't make the mistake of failing to do that, and then not being able to get into the park after driving all the way there.
Make a budget
You may have a chunk of money set aside for travel that you plan to use for this road trip and aren't feeling worried about spending beyond that.
Regardless of how much money you have to spend on this trip, you want to set up a budget. That will keep things from getting too out of hand and will help you decide what areas you're willing to make a sacrifice in, if necessary.
For example, if you end up spending way more money on renting an RV than you expected, you may have to cut out one of the national parks you had your heart set on visiting.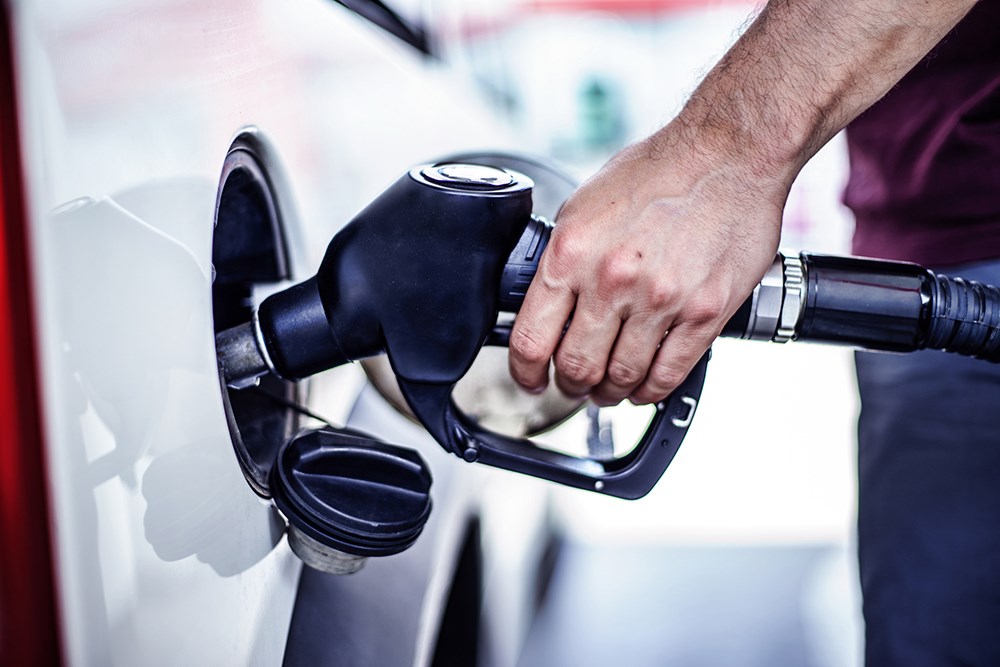 Use GasBuddy
GasBuddy is a great tool to use when you're on any road trip, but especially a road trip across the country. This app shows you the different gas prices in the area that you're located, which helps you to find the cheapest gas.
Avoid toll roads
Did you know that there is a setting on Google Maps that shows you driving routes that avoid toll roads? Though it may tack on a bit of extra time, we think it's worth it to save yourself the money. Tolls are more expensive than you think.
Plus, the alternative routes never take you too far off track, so you should still be able to get to your destinations easily.
Pack a cooler
Eating out for every meal while on this long road trip will get expensive quickly. Instead, pack a cooler that allows you to stop at grocery stores along the way and get some food to have on hand. These can be things like sandwiches, protein bars, fruit, and more.
Get a Wi-Fi hotspot
If you plan to work while on the road, you want a Wi-Fi hotspot. Relying on your phone's hotspot isn't always a safe bet, not to mention that it can rack up your cell phone bill.
Check your car, van, or RV
Before you head out on any road trip, you want to make sure that everything in your car is in working condition. This is even more important when you're going on a cross-country road trip. Check your lights to ensure they all work. Make sure your oil is in good shape. Fill your windshield wiper fluid.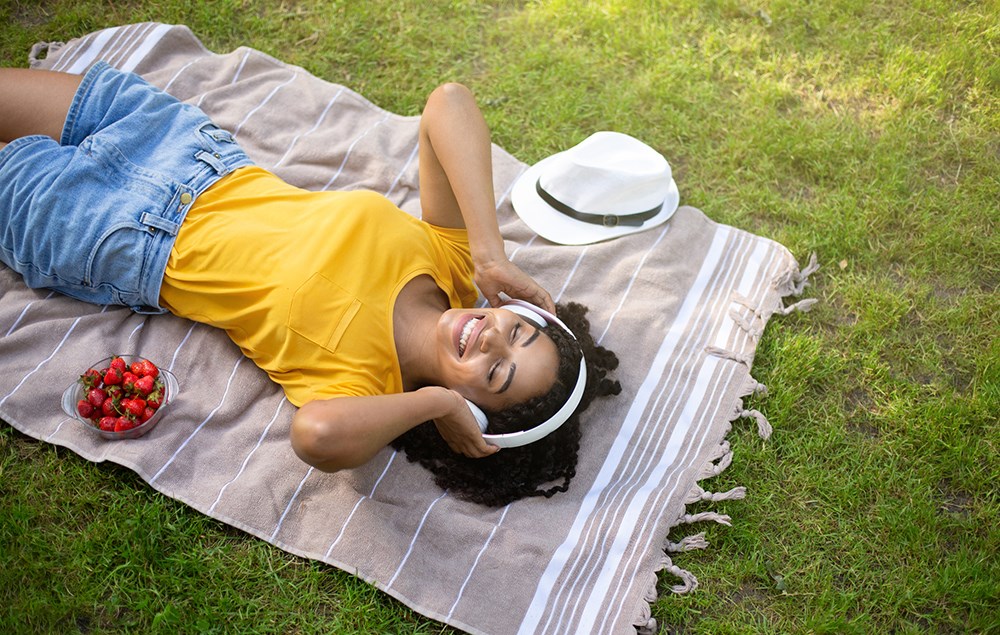 Make great playlists
With all the time you'll have in the car on the road, you want some good music to make it more enjoyable. Spend the time to curate playlists that you and your co-pilot(s) will enjoy. And offer up some variety. One playlist for when spirits are high and you need some energy; another playlist for more relaxed times. Need some inspo? Check out our Spotify playlists!
Bring toilet paper
Even if you're camping somewhere that has facilities, you never know when, on your road trip, you need to use the restroom and there is no bathroom in sight. Always travel with toilet paper and hand wipes in case of emergency.
Stop and stretch
You'll be surprised to find how exhausting it is to just sit in the car and drive down the road. To help bring your energy levels back up and to get your blood circulating again, stop regularly along the route and stretch for a few minutes. Your body and your brain will thank you.
Be ready for things to not go as planned
There's no way to tell what will throw a wrench in one or more of your road trip plans, but it's nearly a guarantee that something will. With so many uncontrollable factors including weather, traffic, and more, there is a lot of room for error.
So it's best you go into this trip knowing that everything will not go as planned and to be ready to jump to a plan B when necessary.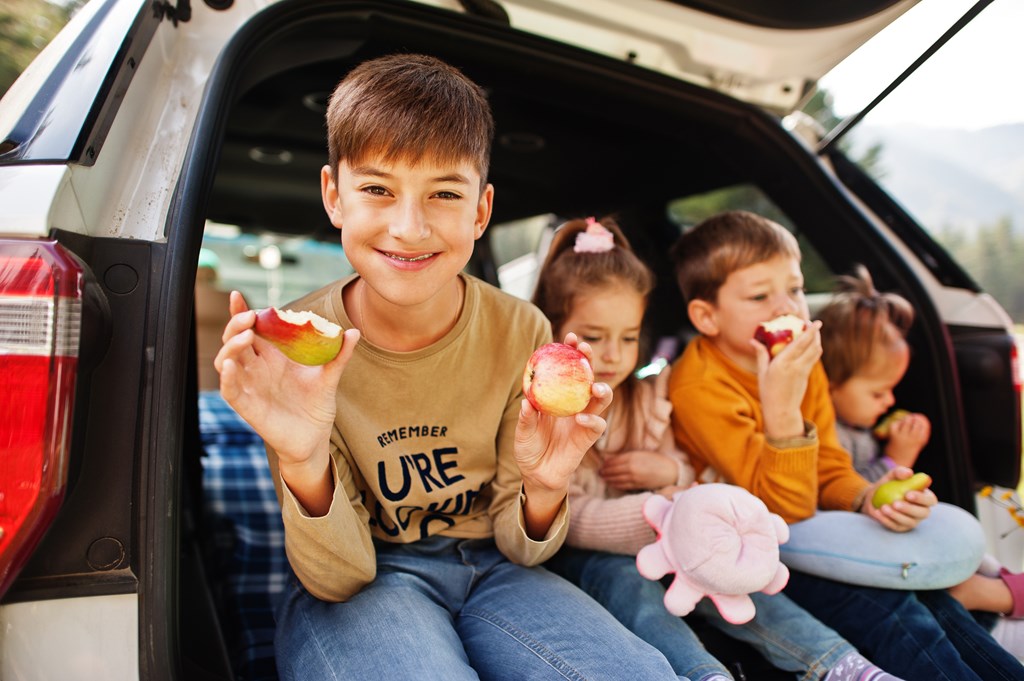 Eat well
Road trip food is one of America's claims to fame. We love having the ultimate collection of snacks on hand while driving down the road. But when you're on a road trip of this length, you want to focus more on having healthy snacks on hand. You also want to try and eat healthy meals along the way, too. There will be the inevitable roadside burger or two, the tasty local diner pie, and more, so allow yourself to indulge in those, but keep your other meals and snacks healthy.
This will help to keep your energy levels up and will also ensure your health stays in tip-top shape for the duration of your adventure.
Know when to call it quits for the day
As much as you may have your heart set on getting to a specific destination that day, sometimes the best choice you can make when everyone is exhausted, or when the weather turns is to stop driving for the day and enjoy a slow evening. You can pick up where you left off the next day, and you'll likely be in a much better headspace to continue the rest of your journey.
---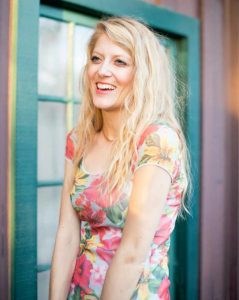 Leslie is a travel writer, copywriter, and web designer who gets butterflies from telling stories through words and visuals.
Her voice comes from a place filled with passion, dreams, and lots of sugar. "Cake over steak" is her go-to motto.
With over 10 years of experience in crafting words, and years of embarking on travels that have taken this Montana girl to some incredible places, Leslie loves the adventures of both body and mind her writing takes her on.
To see what Leslie's up to in the writing and design world, visit her website here.
---