For decades, piling the family into a car or RV and embarking on a cross-country journey has topped bucket lists for travelers and outdoor enthusiasts alike. The adventure is so popular that it has been dubbed "The Great American Road Trip" — referring not to a specific route but to the country-wide love and desire to explore as many states as possible without restraint.
There is no right way to road trip, but some routes are better optimized for sightseeing than others. These are some of the best cross-country road trips in the United States, with options traveling both east and west and north and south.
Plan the ultimate cross-country family road trip itinerary on one of these popular travel routes:
Best Cross-Country Routes — East to West
Traveling from the East Coast to the West Coast is one of the easiest ways to see as many states as possible while experiencing the country's many different geographical regions and nature parks along the way. Though these road trips begin on the East Coast, simply reverse the travel order if you start from a West Coast state.
1. The Loneliest Road/Route 50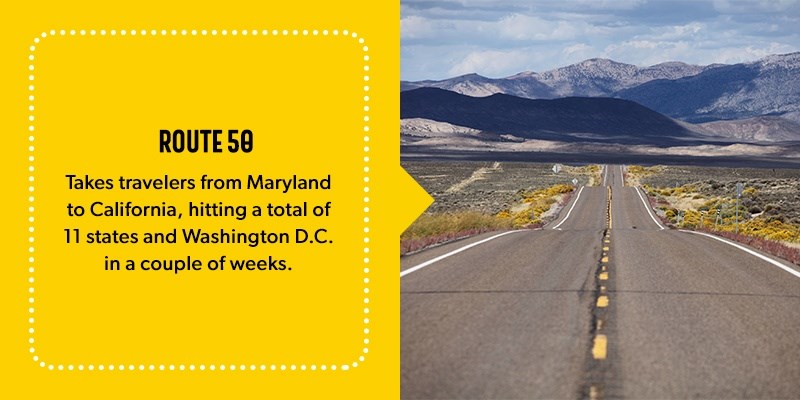 Route 50 — called The Loneliest Road after a travel article in the 1980s lamented its lack of attractions — takes travelers from Maryland to California, hitting a total of 11 states and Washington D.C. in a couple of weeks. Make it a three-week road trip across America — or longer, if you can not get enough of the sites — by starting in Delaware instead of Maryland and spending longer in heavy-hitter spots, like Washington D.C., Nevada and California.
The Loneliest Road is far from barren, though, with the perfect blend of farmlands, western-inspired attractions, nature trails, scenic drives and museums. Since this route takes you through some northern and Midwestern states, ensure you are prepared for potentially harsh travel conditions if you decide to do this trip in the winter.
Here is what to expect:
Maryland: Start your trip at Ocean City beach and boardwalk for some sun and surf before visiting Western-themed Frontier Town, with trails and parks. Pay a visit to the Harriet Tubman Museum in Dorchester before you leave the state.
Washington D.C.: Travel from Maryland to Washington D.C. and explore the abundance of historic sites, landmarks, memorials, art galleries and guided tours. Washington National Cathedral and the U.S. Capitol and Library of Congress are two cannot-miss attractions for a first-time D.C.-traveler. Plan your trip in the spring to see D.C.'s famed cherry blossoms in full bloom.
West Virginia: Route 50 takes you through Parkersburg, a small city with easy access to nearby Cathedral State Park in Aurora. Take an hour detour down south to Point Pleasant to visit the quirky Mothman Museum and other monster-themed attractions.
Ohio: Most of your Ohio journey from West Virginia to Indiana will be filled with rural scenery and small-town charm until you get to Cincinnati, a refined city where you can catch a Cincinnati Reds baseball game and feast on the famous Cincinnati chili, typically served over spaghetti.
Indiana: Indiana strikes a balance between upscale wineries and riverside dining options with natural havens like the Muscatatuck National Wildlife Refuge, West Boggs Park and Jackson-Washington State Forest. Bring your hiking gear to stretch your legs in one of the Midwest's prettiest states.
Illinois: The Illinois portion of your Route 50 trail travels through flat farmlands, small towns and fields of summer wildflowers. Stop at roadside diners along the way for the quintessential American road trip experience and fuel up before you get to Missouri.
Missouri: Pick up the pace when you get to Missouri by visiting the famous Saint Louis Gateway Arch National Park and the Missouri Botanical Gardens. Then, hit theme parks and museums for a day or two in nearby Kansas City to unwind before continuing to Kansas.
Kansas: Route 50 in Kansas is near the Tallgrass Prairie National Reserve in Herrington and sandstone landmark Pawnee Rock at the Pawnee Rock State Historic Site, perfect for a commemorative photo opportunity.
Colorado: Colorado is the ideal day trip spot for hikers and history buffs, thanks to Black Canyon of the Gunnison National Park near Gunnison and Curecanti National Recreation Area. Do not forget to drive through Tincup, an old picturesque mining town.
Utah: Utah is full of long scenic drives, with the chance to pull off and visit parts of The Great Basin Desert, Canyonlands National Park and Arches National Park.
Nevada: Nevada is where The Loneliest Road got its name, but today it is where you will find endless road trip opportunities, like sand dune viewing, wildlife watching and clear stargazing spots. Visit postcard-worthy towns like Fallon and Eureka, tour Great Basin National Park or visit a historic ghost town to learn more about your road trip route.
California: Your journey ends in San Francisco, the perfect high-energy way to celebrate a monumental adventure. See all of the Bay Area's highlights, including the Golden Gate Bridge, Alcatraz Island, Pier 39 and the nightlife at Union Square.
2. The Great Northern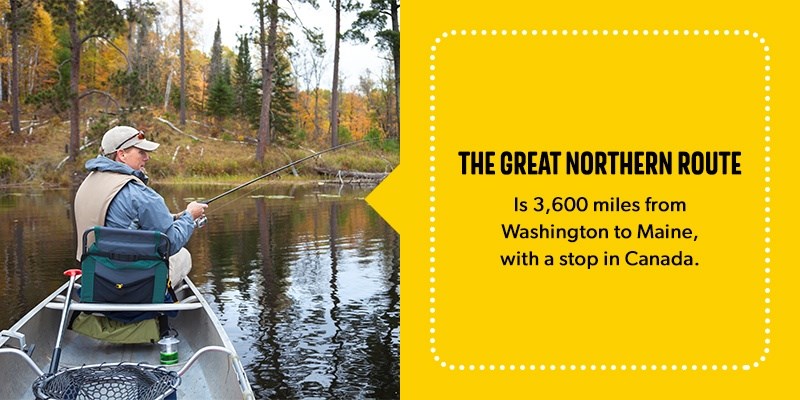 The Great Northern route, most of which is traveled along Highway-2, is 3,600 miles from Washington to Maine, with a stop in Canada. This is the perfect three-week cross-country road trip to visit the northern highlights, and you could easily extend your trip or shorten it by adjusting your itinerary in each state. As the name suggests, be prepared for potentially hazardous road conditions if you go during late autumn or winter.
Pack your passport and hit the road for an adventure through these 10 states and Canada:
Washington: Begin your Great Northern road trip by beachcombing on a Pacific Northwest beach, savoring a cup of Seattle coffee near the Space Needle, enjoying views of the Cascade Mountains and indulging in a celebratory diner meal at Frank's Diner in Spokane.
Idaho: Next, you will journey briefly through the Idaho Panhandle. Sit back and enjoy views of the water and mountains. Stop by the local lake and ski communities to shop the boutiques, too.
Montana: Glacier National Park in Montana offers miles of scenery filled with hundreds of lakes, valleys and a few glacier spots. You may see some bears, wolves or sheep, so follow all posted guidelines and stay at a safe distance while you are there. You can also tour points of interest at Blackfoot Indian Reservation, like the Museum of the Plains Indian and various archaeological sites along the route.
North Dakota: From the sweeping views at Theodore Roosevelt National Park to the historic Frontier Village and National Buffalo Museum, North Dakota is a great place for pull-off photo opportunities. This is especially true at the Roadside Giants, an eclectic collection of giant roadside artwork, like the World's Largest Buffalo.
Minnesota: Are you into angling? Minnesota is lake country, and you will pass by plenty of bait shops and places to try your hand at catching some common Minnesota fish, like bass, trout and yellow perch. Be sure to make time to also drive along the Skyline Parkway. This scenic 25-mile excursion offers epic area views.
Wisconsin: Wisconsin will take you on a small detour away from Highway-2 to Highway-13, delivering plenty of farmland and small-town views along the way. Stop by the Wisconsin Dells, or just "the Dells," a top tourist destination with over-the-top attractions that span several towns.
Michigan: Pictured Rocks National Lakeshore and Michigan's Upper Peninsula are next, where you can spend a few days exploring Copper Country State Forest and several small towns with rich histories in the iron and logging industry. Park your vehicle and take a small detour to Mackinac Island on Lake Huron, a historic Victorian-era island accessible by ferry only. There are no vehicles permitted on the island, allowing you to tour via walking tours, bicycles or a relaxing carriage ride.
Canada: Get your passports ready because Canada is next on your adventure. Montreal is a beautiful, historically vibrant region, with highlights like the Notre-Dame Basilica of Montreal, Montreal Botanical Garden and numerous French-inspired restaurants, museums and shops. As you spend a few days exploring Canada, do not return to the states without snapping a picture of The Big Nickel, a nearly 30-foot tall structure in Sudbury.
Vermont: Vermont will be one of your favorite stops on The Great Northern — especially if you travel during summer when you can visit the Champlain Maritime Festival and enjoy the small coastal town culture, or drive the Lake Champlain Byway. Cool off with a tour of Ben and Jerry's Ice Cream Factory in Waterbury, and indulge in your favorite scoop.
New Hampshire: You will not be in New Hampshire too long, so enjoy the breathtaking White Mountains while you can. Stop off for outdoor recreation at places like Flume Gorge, or take a self-guided nature walk around the area's waterfalls and covered bridges. You can also see things from a different perspective from a scenic chair lift ride, on a ziplining course or from the comfort of a train seat at Conway Scenic Railroad. Lengthen your stay by spending an afternoon at Santa's Village, a holiday-themed amusement park in Jefferson.
Maine: Though you will technically end your journey on mainland Maine, be sure to take at least a day to explore Bar Harbor. It is accessible by ferry and home to Acadia National Park, where you will see Cadillac Mountain, the highest peak around. The small island town itself features several scratch-made eateries — try something made with locally grown blueberries — and seafood restaurants. When you are ready, head to the city of Portland to get your urban fill.
3. Coast-to-Coast History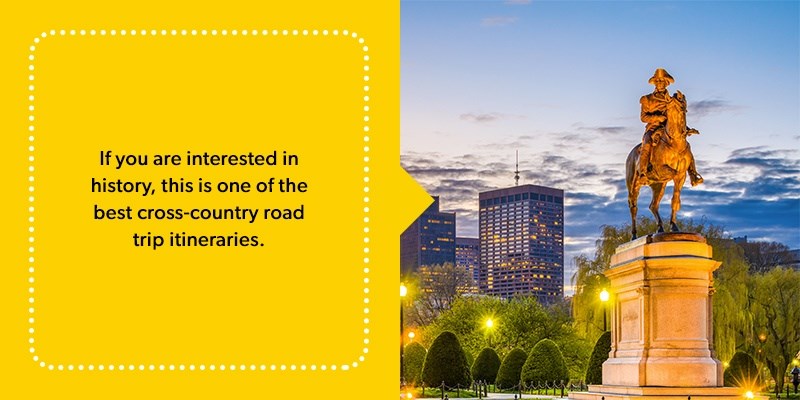 If you are interested in history, this is one of the best cross-country road trip itineraries that will take you to several exciting historical sites. You will also travel along portions of the Oregon Trail. The historic route stretches 2,000 miles from Missouri to Oregon and follows the path that American pioneers famously traveled in the 1800s to seek new lives and opportunities out West. Pioneers started their journey in spring or early summer to arrive in Oregon before winter. They traveled in lightweight wagons made from wood and oiled canvas, pulled by oxen or mules that fed on grasses along the way.
Get ready to explore early American history and see some of the top travel destinations in these 11 states:
Massachusetts: Start at Provincetown on the Cape Cod National Seashore or from the scenic Mohawk Trail for ocean and river views before exploring the history and bustle of Boston. Take your pick of famous restaurants, catch a game at Fenway Park and stock up on trip supplies before heading to Plymouth for a true kick-off to this historic American route.
New York: Journey from Massachusetts to New York and spend two or three days touring and sampling in wine country and Albany's Capital Region. Do not forget to visit Niagara Falls, so you can cross another travel spot off your bucket list.
Pennsylvania: Though your time in Pennsylvania is brief, Lake Erie is the perfect place to stop for a picnic, go fishing or see a show at the historic Warner Theater before continuing.
Ohio: Next, you will travel through Cleveland, OH, a busy city with award-winning restaurants and museums, including the Rock and Roll Hall of Fame, the Cleveland Museum of Natural History and the Cleveland Museum of Art. Catch your breath at the Cleveland Botanical Garden before you get back on the road.
Indiana: The highlight of your time in northern Indiana will undoubtedly be Indiana Dunes State Park, more than 2,000 primitive acres with towering sand dunes along Lake Michigan, hiking trails, birding opportunities and smelt fishing.
Illinois: Eat a slice of Chicago pizza while you see Willis Tower, snap a picture at Millennium Park and take a stroll around Grant Park before ending the day on Skydeck Chicago.
Iowa: Learn more about the Lewis and Clark expedition at Sioux City's Interpretive Center before exploring the Fourth Street Historic District, full of breweries, restaurants, live music venues and special touches paying homage to the region's Oregon Trail history.
Nebraska: Nebraska gives travelers an up-close look at the same views the pioneers would have seen on their journey, complete with preserved wagon wheel ruts and a pioneer cemetery near Lewellen. You can also venture through Agate Fossil Beds National Monument in Harrison or Fort Robinson State Park in Buffalo.
Wyoming: Expect to spend several days traveling across Wyoming and stock up on food, fuel and supplies accordingly. Though the drive is long, there is no shortage of things to do and see, like Yellowstone National Park, Legend Rock State Petroglyph Site, the Wyoming Dinosaur Center and the Oregon Trail Ruts State Historic Site and National Historic Landmark. Head to Casper to visit the National Historic Trails Interpretive Center, complete with simulated wagon rides and Independence Rock, which marked the halfway point of the trail. Settlers knew that if they reached Independence Rock by July 4, they were on track to complete their journey before winter started.
Idaho: Historically, Fort Boise in Parma was a busy supply stop for original Oregon Trail travelers. Today, it acts as a museum for early pioneer life. While you are in Idaho, visit Bruneau Dunes State Park to see the tallest single sand dune in North America, which sits at a mindblowing 470 feet tall.
Oregon: End your adventure in Oregon with a stop by the Oregon Trail Interpretive Center in Oregon City before exploring the urban streets of Portland or relaxing on the peaceful shores of Cannon Beach.
Some parts of this drive will take you along the Lincoln Highway, another historic road trip route. As the first transcontinental road designed for automobiles in the U.S., the 3,000 mile Lincoln Highway starts in New York, moves through Philadelphia and the Midwest before ending in San Francisco. Keep an eye out for signs and detours to learn more and lengthen your trip.
Best Cross-Country Routes — North to South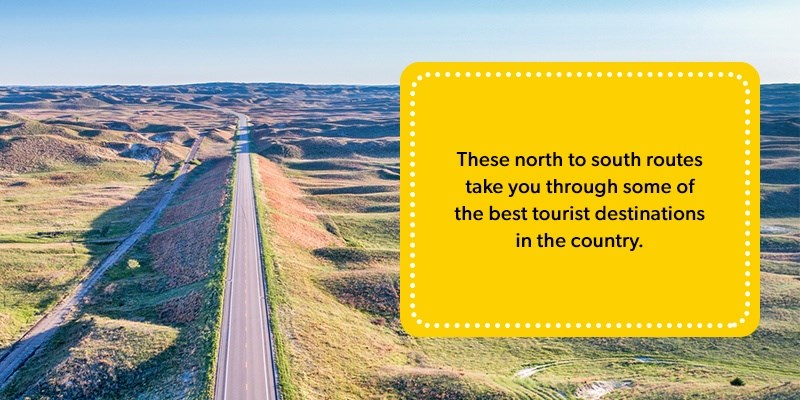 If you do not have time to invest in a coast-to-coast road trip, how about a border-to-border adventure? These north to south — or south to north, depending on your starting point — routes take you through some of the best tourist destinations in the country.
4. The Road to Nowhere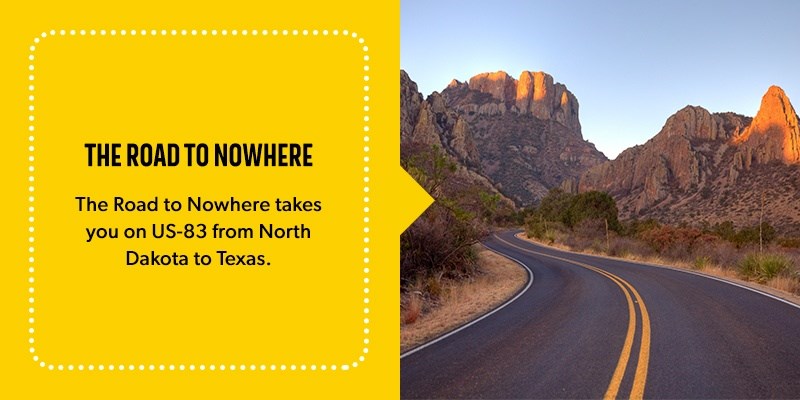 The Road to Nowhere takes you on US-83 from North Dakota to Texas, giving you a front-row look at how the country's landscapes, cuisine and events evolve as you move closer to the Canadian and Mexican borders. Though it got its nickname from its miles of roadway, the route is far from uneventful, with stops in:
North Dakota: Start the drive with some historical deep-dives at Knife River Indian Villages National Historic Site and Fort Clark Historic Site, where you will learn Lewis and Clark history and see preserved structures and archaeological remains of tribal settlements.
South Dakota: Visit the State Historical Society Cultural Heritage Center in Pierre before traveling to the Sitting Bull and Sakakawea Monuments near Mobridge. Then, grab a bite to eat at the Murdo Drive-In for classic road food in a convenient drive-in style.
Nebraska: Nebraska brings you to Fort Pierre National Grassland, more than 100,000 acres of grasslands, gentle hills and picturesque prairie flats, perfect for a picnic. Want more of the outdoors? Smith Falls State Park is home to Niobrara River, where you can go kayaking and hike near waterfalls and canyons.
Kansas: Pay homage to one of America's beloved classic films at the Land of Oz in Liberal, Kansas, where you will see Dorothy's house and different sculptures inspired by the film. If you are visiting during October, nearby Wamego hosts OZtoberFEST, a "Wizard of Oz"-themed downtown celebration.
Oklahoma: Venture off your route for a quick detour to Oklahoma City. Here, you can visit the National Cowboy and Western Heritage Museum, see animals at Oklahoma City Zoo, spend the day at the Western-themed Frontier City amusement park, tour museums and botanical gardens or experience exhibits at history and science centers.
Texas: End with The Road to Nowhere in Texas, which has everything from the historic site of the Alamo to the bustling city streets and cultural events in San Antonio. Boat on the Rio Grande, hike nearby canyons or track down the famous buffalo skull — the largest in the world — for a one-of-a-kind photo opportunity. Your final destination is South Padre Island on Texas' southernmost coast, where you can reward yourself with relaxing beaches and marine animals.
Extend your Road to Nowhere adventure by starting in Canada or ending in Mexico for a multicultural experience and a true border-to-border journey. You can also include more detours along your route by taking a curved or S-shaped path from north to south instead of sticking to the straight-lined US-83.
5. Pacific Coast Highlights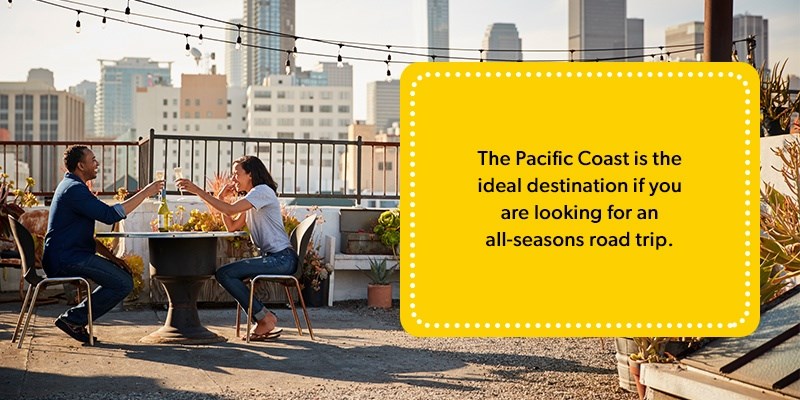 The Pacific Coast is the ideal destination if you are looking for an all-seasons road trip to adapt to your specific time constraints. If you have several weeks to travel, stop at as many highlights as you can fit into your schedule. If you are working with less time, just hit a few cities in each state before turning around.
See Pacific Coast highlights, including famous Highway 1, when you drive through these states:
Washington: Of course, you cannot leave Seattle without a cup of locally-roasted coffee, but the music scene is also something you have to experience first-hand to believe. Catch a show at the Paramount or Moore Theatre, or head somewhere like the Showbox for a live rock performance. Get an educational perspective on Seattle's top artists at the Museum of Pop Culture.
Oregon: Though Portland is brimming with concerts, comedy shows, shops and restaurants, Oregon's true beauty is in places like Haystack Rock, the Oregon Dunes National Recreation Area and Crater Lake National Park.
California: California will encompass a lot of your Pacific Coast trip, with stops in places like Eureka, San Francisco, Santa Barbara and Los Angeles before you reach the end of your route in San Diego. Along the way, you will find no shortage of beaches, piers, famous filming locations, museums, nature parks and historical sites.
6. Atlantic Coast Highlights
You can adapt this road trip to fit your starting point, favorite points of interest and season of travel. Since the Atlantic Coast encompasses so many states, you can split it into regions or dive deep into every state at once if you have time for a one or two-month road trip across the USA. You could likely make the entire coastal journey in three weeks or less if you stick to each state's highlight stops.
Get your fill of Atlantic seafood, charming small towns and historical sites in these Atlantic destinations:
New England: Maine, New Hampshire, Massachusetts, Rhode Island, Connecticut and New York make up the New England portion of your Atlantic Coast tour and offer plenty of variety when it comes to food, culture, highlights and landscapes. Snap pictures of lighthouses in Maine, tour famous early American historical sites in Boston, enjoy some Rhode Island chowder or take a fall foliage driving tour — the choice is yours.
Popular locations: If you want to hit the most popular Atlantic Coast cities and towns, focus your trip on places like Boston, New York City, the Jersey shore, Washington D.C. and the beaches of Delaware or Virginia.
Southern spots: For a more southern view of the Atlantic, the Carolinas are home to Wilmington and the Outer Banks in North Carolina and Charleston and Myrtle Beach in South Carolina. Visit Savannah in Georgia for a truly unforgettable tour of Southern city life at its finest.
Florida Keys: Your Atlantic Coast road trip will end in Key West, but Florida is full of family-friendly activities along the way. Dry Tortugas National Park is perfect for water lovers and thrill-seekers. You can also find the nearest bird or alligator refuge for a more educational and immersive experience. Be sure to mark the official end to your journey by getting a picture with the "Southernmost Tip of Continental USA" marker in Key West.
Kampgrounds of America — Your Road Trip Homebase
With over 500 locations across North America, KOA is your place to stay, no matter where your road trip takes you. Choose from cozy Camping Cabins or full hookup RV Sites. You can also set up your own camp at a Tent Site. If you would like to add even more adventure to your trip, explore unique lodging options, like renovated cabooses or tepees. Every location promises clean restrooms with hot water, spacious camping sites and fun on-site amenities when you want to stretch your legs in between car rides.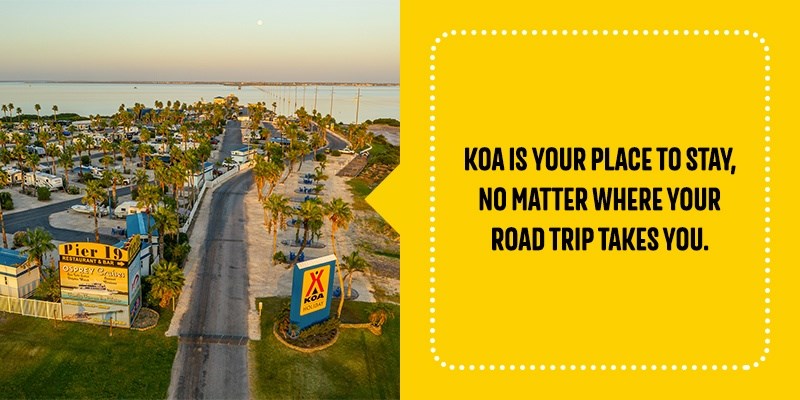 Use the KOA cross-country road trip planner to start planning your adventure and find convenient KOA Campgrounds along your favorite route. The trip planner will help you get a better idea of your cross-country road trip cost, lodging options, points of interest and anticipated travel time. Find a KOA near your road trip starting point to begin!
---
About the Author: Kampgrounds of America
Kampgrounds of America is the largest system of open-to-the-public campgrounds in the world, with over 500 locations across the United States and Canada. Founded in Billings, MT in 1962, KOA's family of campground brands – KOA Journey, KOA Holiday and KOA Resort – today serve more than a million camping families each year. KOA is dedicated to "connecting people to the outdoors and each other" by providing people with a variety of camping experiences and the information they need to make the most of their camping trip. Read more of their camping and travel resources by visiting KOA.com/blog.
---