From sea to shining sea, America and Canada are filled with all sorts of national parks, each with its own distinct atmosphere, vibe, and flavor — some are more about the urban history, others are more about the rugged hiking, while others still are mostly known for their wildlife. Whatever the draw, certain parks tend to boom in popularity, and for good reason. So as you map out your travel plans this year, here are the most popular parks on the continent, along with when to visit and what to do.
North America's Most Popular National Parks and When to Visit Them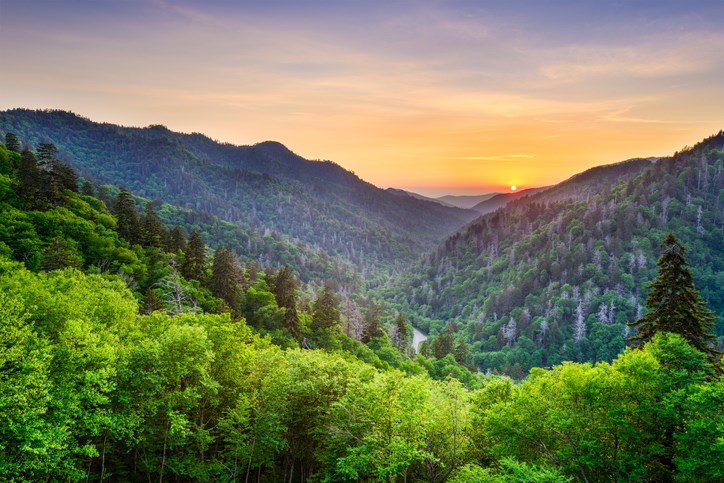 Great Smoky Mountains National Park, Tennessee/North Carolina
By far the most popular national park in America, Great Smoky Mountains routinely sees more than 12 million visitors flock to its scenic roadways and hiking trails. This staggering visitation is due to a few factors, namely the fact that it's conveniently located near multiple large cities and population areas, not to mention Dollywood. This, coupled with the fact that the park is free to enter makes its a popular stopover, even if just for a quick drive. But you'd be remiss not to spend more time in this Appalachian dreamscape, abundant with wildlife and sweeping panoramas. The iconic Clingman's Dome observation tower affords stunning vistas of the misty mountain range, and there are plentiful swimming holes for summertime refreshment. The best time of year to visit, though, is fall, when foliage brings a burst of color to this otherwise moss-green terrain. Plus, mosquitos have dwindled, the weather has cooled, and summer tourism has waned enough to give you a little more peace and quiet on the typically-crowded trails.
Nearby KOAs:
Townsend / Great Smokies KOA Holiday
Pigeon Forge / Gatlinburg KOA Holiday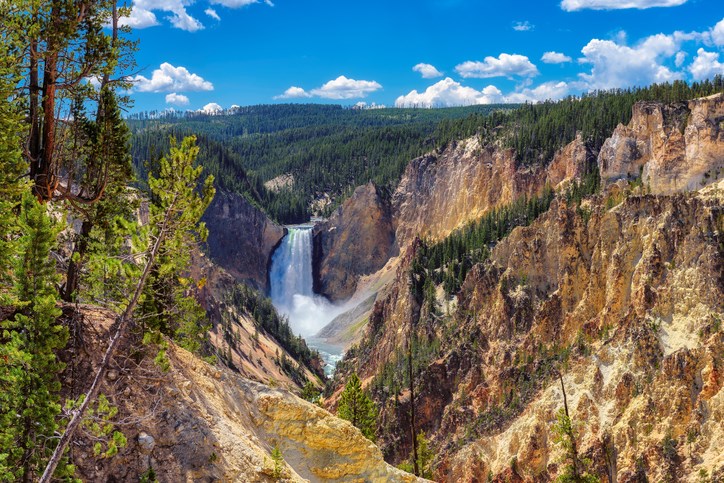 Yellowstone National Park, Wyoming/Montana/Idaho
Quite possibly America's most iconic national park (and the world's first), Yellowstone has rightfully risen up the ranks in recent years to become the second most popular park in America, with nearly 4 million annual visitors to this other-worldly corner of Wyoming. A mesmerizing place all year long, from the frigid solace of winter to the bumper-to-bumper traffic of summer, Yellowstone is a global draw for its peerless geological features, like explosive geysers, rainbow-hued hot springs, roaring waterfalls, and the mighty Yellowstone Lake, the largest highest-elevation lake on the continent, just waiting to be explored via kayak. In addition to jaw-dropping scenic drives and boardwalk hikes through thermal springs, the park boasts some of the most epic wildlife you're likely to see, including bison, grizzly bears, wolves, elk, otters, bald eagles, and foxes. Summer can be crazy busy here, with traffic snarling trailhead parking lots, but later-summer and early-fall tends to be quiet enough to drive and hike comfortably, before the winter tundra sets in for the season. That being said, if you're willing to bundle up enough and explore via snowmobile, Yellowstone in the winter is a special place of serenity.
Nearby KOAs:
Livingston / Paradise Valley KOA Holiday
Red Lodge KOA Journey
Cody KOA Holiday
Dubois / White River KOA Holiday
Yellowstone Park / Mountainside KOA Journey
Yellowstone Park / West Gate KOA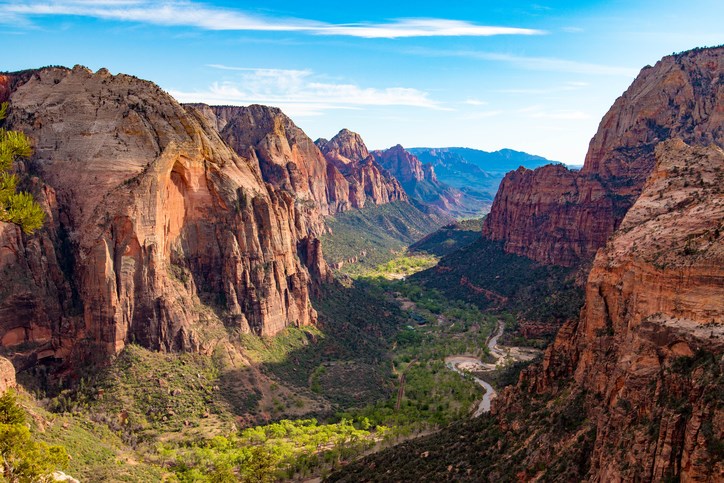 Zion National Park, Utah
The most visited national park in Utah has skyrocketed in popularity to become the third most-visited park in America, with roughly 3.6 million annual visitors. Despite how frustratingly crowded it can get in the summer months, this place is paradise for backcountry hiking, rock climbing, and repelling. In addition to quintessential treks like The Subway and The Narrows, Zion's slot canyons are particularly renowned, and Angel's Landing is among the most widely recognized — and intimidatingly narrow — hikes in the country. The best time to drink it all in? Visit during the much quieter winter months, or mid-fall when the foliage is still aglow but the tourists have waned.
Nearby KOAs:
St. George / Hurricane KOA Journey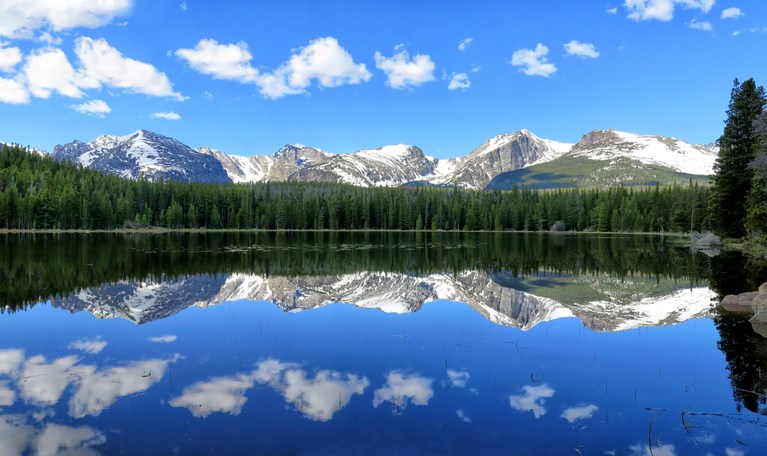 Rocky Mountain National Park, Colorado
Arguably the most iconic mountain range on the continent, the Rocky Mountains are at their most epic in Colorado's wildly popular national park of the same name. It's a high-elevation terrain of roving moose, alpine tundra, bugling elk, some of the most spectacular hikes in the country, and an amazing scenic drive along the "Highway to the Sky," the highest continuous paved road in America, which takes you above the treeline into a realm of quiet desolation and sweeping beauty. Great for camping, hardcore hiking, snowshoeing, and waterfall-chasing, Rocky Mountain also affords the possibility to see any number of wildlife. In addition to likely moose and elk, keep your eyes peeled for porcupines, pikas, and the rare mountain lion. The western portion of the park tends to be more lush and watery, while the eastern side is drier and more rugged. With its 150 lakes, 359 hiking trails, and more than 60 peaks above 12,000 feet, there's a lot to see and do here. When to visit is all a matter of taste. Summer affords the opportunity to drive the "Highway to the Sky," but fall is quieter (aside from elk bugling, which is quite thrilling) and more easy to navigate.
Nearby KOAs:
Estes Park KOA Holiday
Denver West/ Central City KOA Holiday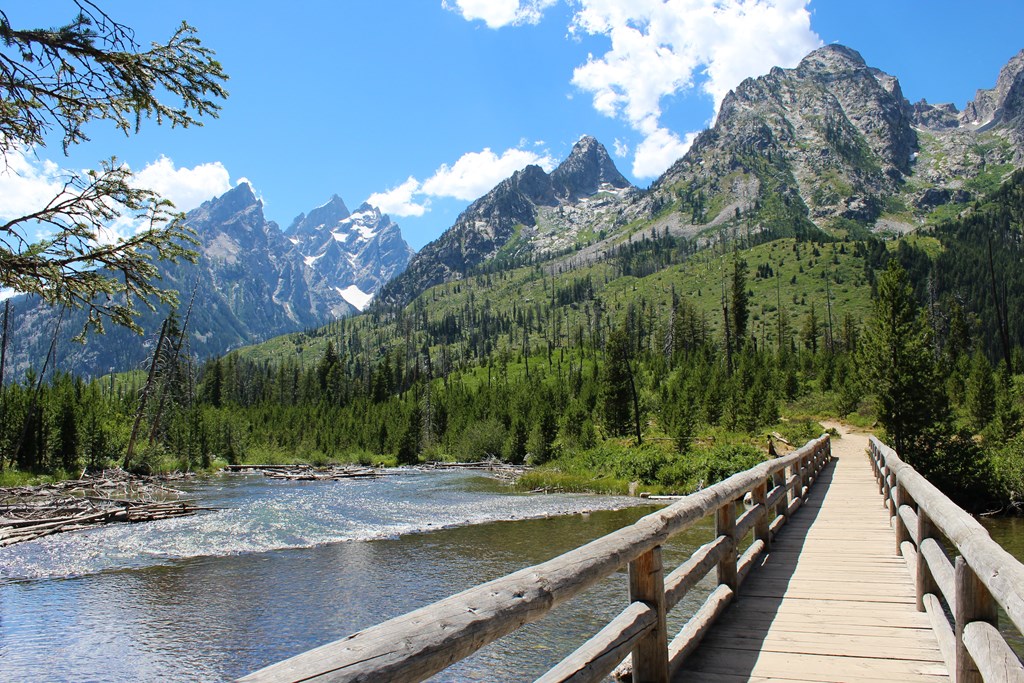 Grand Teton National Park, Wyoming
Not to be overshadowed by nearby Yellowstone, Grand Teton National Park manages to feel like a world all its own. This soaring mountain park in northwestern Wyoming might be lacking in Yellowstone's hydrothermal features, but it more than makes up for it in elevation, skiing, cascading waterfalls, shimmering lakes, glaciers, and luminous fall foliage. Some highlights here include hiking around Jenny Lake to Hidden Falls (or take a quick boat ride), embarking on a raft ride down the Snake River, or hiking to Amphitheater Lake, a prime spot for lunch under the snow-capped crown of the Tetons. Things get quite snowy and inaccessible here by mid-fall, and stay that way into spring, so the best time to maximize a Grand Teton visit would be in the peak summer months of July and August, unless you're looking to ski, in which case by all means visit in the gorgeous winter.
Nearby KOAs:
Dubois / Wind River KOA Holiday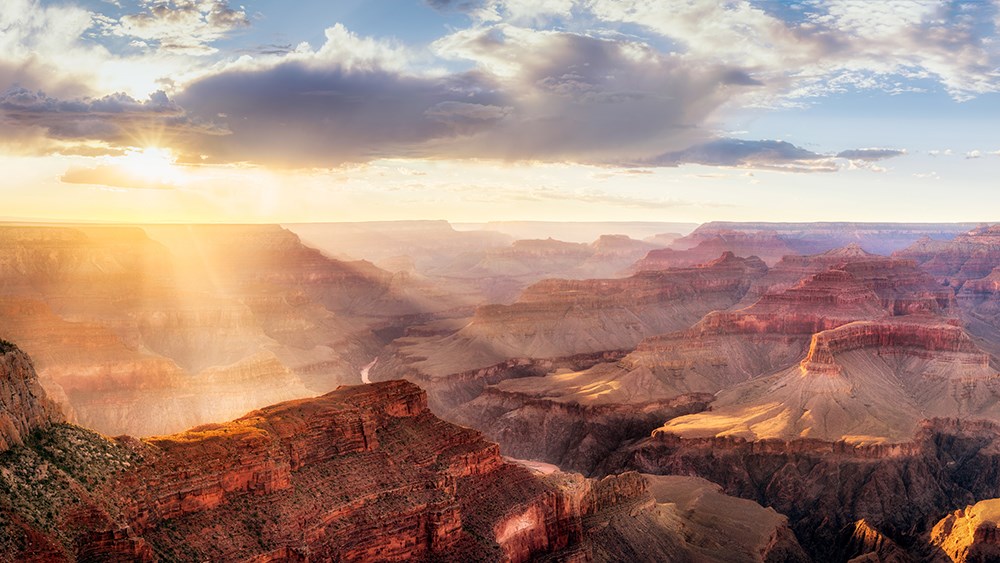 Grand Canyon National Park, Arizona
Considering that Grand Canyon National Park is also the only national park that's also one of the seven natural wonders of the world, it makes sense that Arizona's crown jewel ranks among the country's most popular. No matter how many times you've visited, whether it's your first time or your 50th, the captivating awe of this singular place is undeniable. There's really nothing like seeing the Grand Canyon at sunset, draped in hues of orange and pink. Beyond just staring awe-struck at the canyon rim, there's plenty to do here that's more intensive, like rafting the Colorado River down below, embarking on any number of trails that dip below the rim, or even hiking down to the canyon floor on a multi-day voyage. Summer can get quite congested here, so your best bet is to wait until things taper off in September and October. Keep in mind that the less-visited North Rim also closes in the winter months — things get a bit snowier over there.
Nearby KOAs:
Grand Canyon / Williams KOA Journey
Williams / Exit 167 / Circle Pines KOA Holiday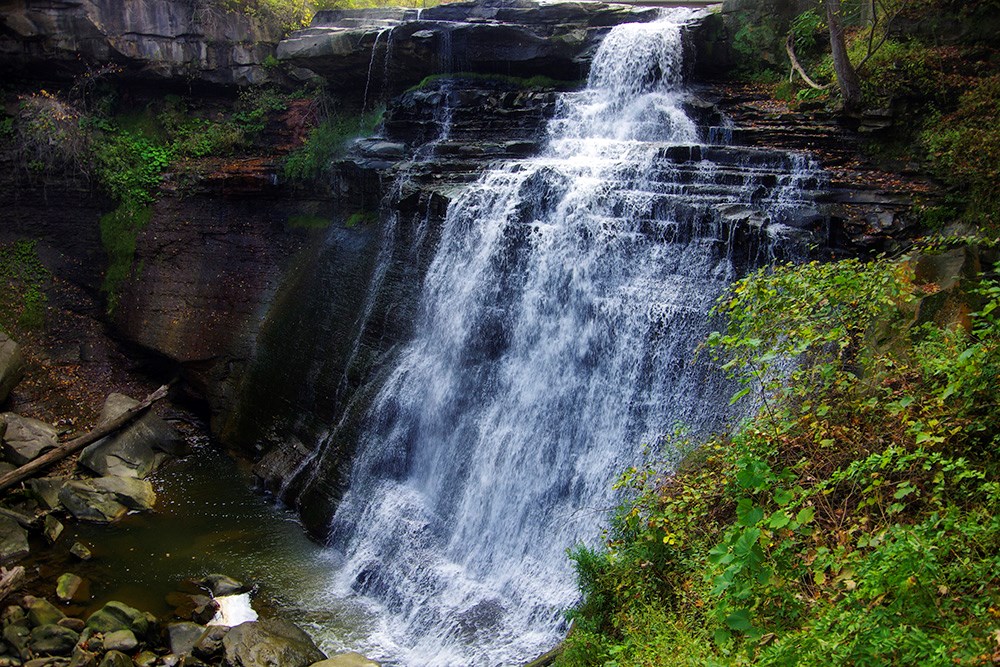 Cuyahoga Valley National Park, Ohio
A far cry from the sweeping vistas and craggy canyons of the American west, Cuyahoga Valley in Ohio is a national park like no other. The most visited park in the Midwest, with nearly 3 million annual visitors (and climbing), the lush forested park benefits from being close to urban centers in Cleveland and Akron, providing a natural zen escape for city-dwellers and tourists alike. A big draw here, along with the simple beauty and relaxation of the moderate hiking trails, is the sheer number of waterfalls throughout the park. Brandywine Falls, Buttermilk Falls, and Blue Hen Falls are a few fan-favorites, which also happen to have adorable names. Beyond the waterways, visitors can explore rock formations, caves, horseback riding trails, and even a historic railroad — the Cuyahoga Valley Scenic Railroad is a vintage train that treks through the park with themed rides like beer tasting excursions and murder mystery dinners. True to Midwestern form, things can get quite humid here in the summer months (and crowded), so fall and spring are optimal for the pretty colors, comfortable temps, and lessened crowds. The waterfalls are likely to be at their most powerful in the spring, too.
Nearby KOAs:
Streetsboro / Cleveland SE KOA Holiday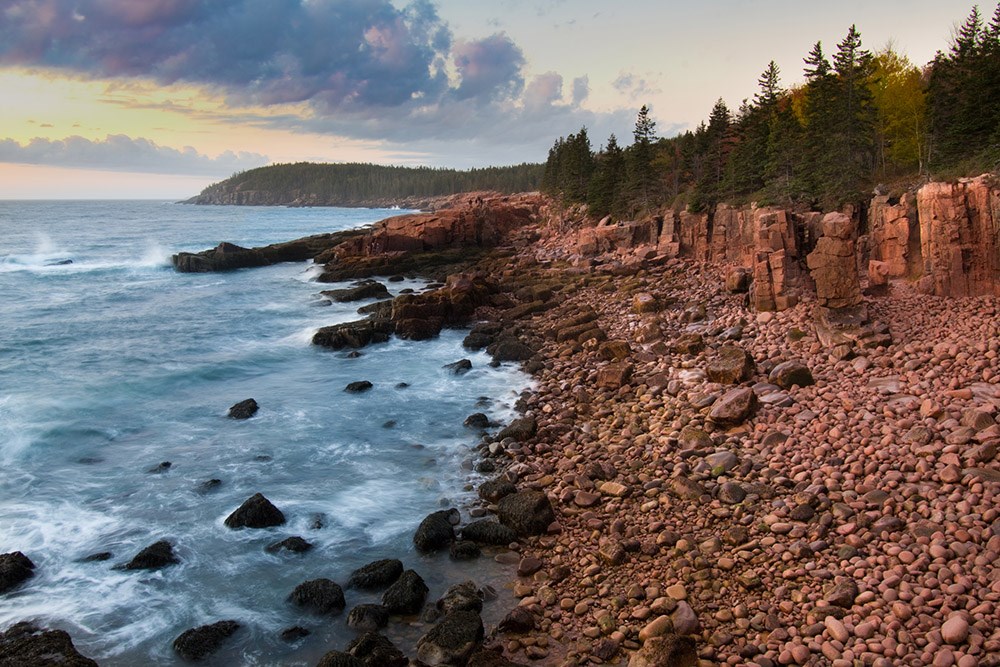 Acadia National Park, Maine
While much of America's national parks are clustered in the west, Acadia reigns as the oldest — and most popular — park east of the Mississippi River. By far the most visited destination in Maine, with 2.7 million annual visitors, Acadia stuns with quintessential sights like Jordan Pond Somes Sound, Frenchman Bay, and Cadillac Mountain, the tallest peak in the park and the first place in America to see sunrise, which feels poetic (don't worry, there's a road that you can drive your car up, so you don't need to hike in pitch blackness). Acadia also has 125 miles of hiking trails, many of which are also dog-friendly, and rocky beaches that are too cold for swimming, but majestic nonetheless. Be sure and spend time exploring Jordan Pond, one of the deepest and cleanest glacier-carved lakes in the state — there's an easy trail that surrounds it, and a good chance you'll spot (or at least hear) loons.If you're here in the summer, stop at Jordan Pond House for their famed popovers. Visit Acadia in October and prepare to be blown away by the foliage. This is also a great month to visit because black flies have disappeared for the year, and most of the peak-tourism has dwindled.
Nearby KOAs:
Bar Harbor / Oceanside KOA Holiday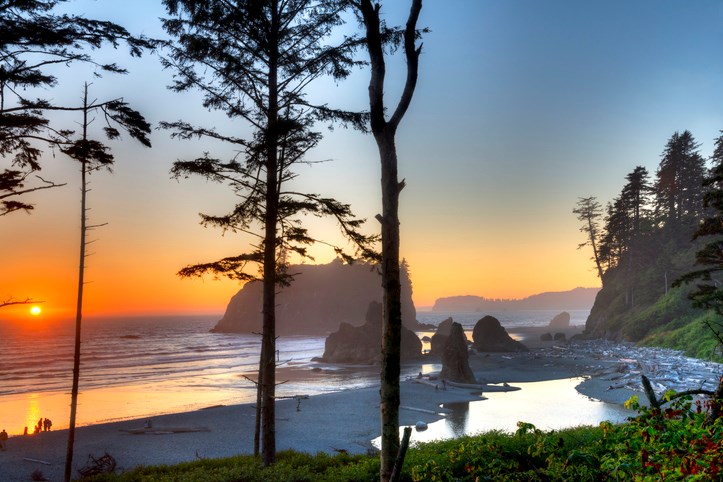 Olympic National Park, Washington
From snow-capped mountains to foggy beaches and temperate rainforests, biodiversity is on full display at Washington's Olympic National Park, the ninth most popular in the country with 2.5 million visitors. This enormous, sprawling park feels like three or four different parks in one, each distinct section brimming with hiking trails, lakes, and wildlife. Among the most famed spots are Hoh Rainforest, the only temperate rainforest in the contiguous U.S., where you'll be swept up by the overwhelming lushness of a forest so green it appears to glow. Not too far from here is the Pacific Coast, lined with log-strewn beaches like Kalaloch Beach or Ruby Beach — keep your eyes peeled in the distance for migrating whales. A bit inland, the enormous Lake Crescent is a tranquil setting to spot otters. If you want to navigate the mountainous region of the park, July and August are the best months for that, otherwise winter offers a nice bit of solace in the rainforest and along the coast.
Nearby KOAs:
Olympic Peninsula / Port Angeles KOA Journey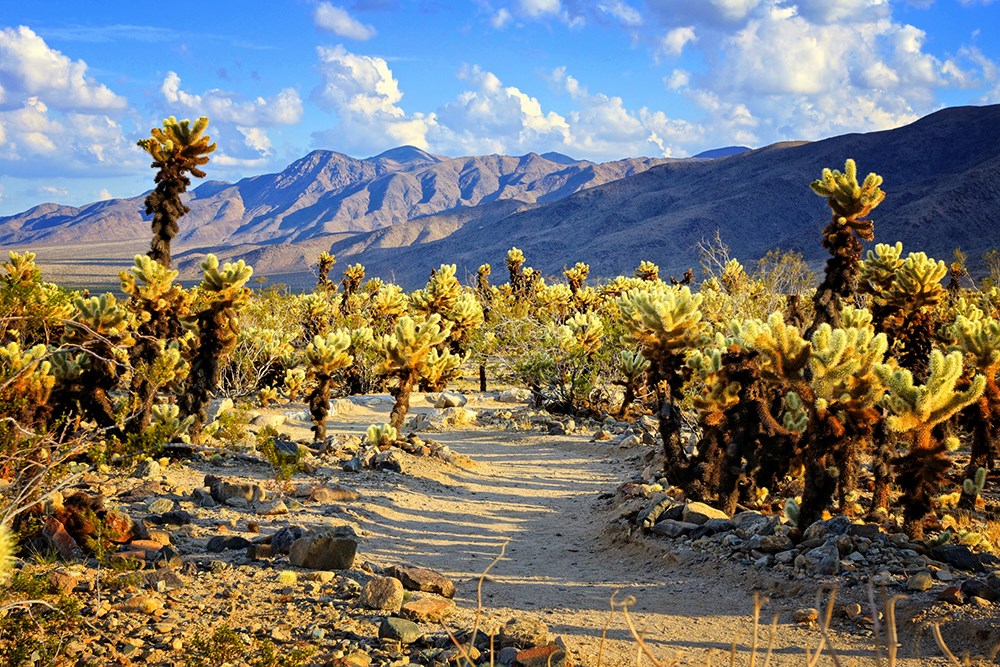 Joshua Tree National Park, California
Thanks in part to the popularity of nearby attractions like Coachella and Palm Springs, not to mention its easy accessibility from Los Angeles and San Diego, Joshua Tree National Park has boomed in popularity in recent years. Aside from those who visit the area for music concerts, many head to Joshua Tree for its striking rock faces or immersive trails, which zig and zag through the park's namesake trees. This sunny, dry desert landscape also boasts a ton of archaeological sites, not to mention nearby whimsy in the forms of ghost towns and UFO paraphernalia. Come nightfall, this is also one of the most spectacular places for stargazing. Considering this is an arid desert park, winter is prime time to beat the heat and enjoy the trails without risking heat exhaustion.
Nearby KOAs:
Palm Springs / Joshua Tree KOA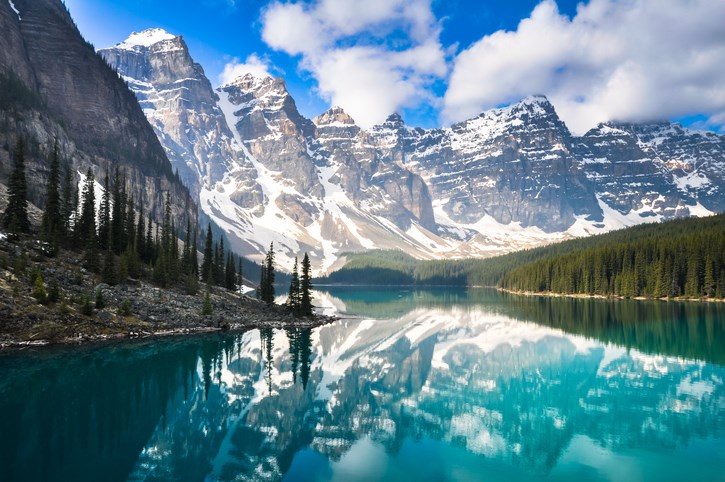 Banff National Park, Alberta
Banff is basically the Rocky Mountain of Canada. Any national park-lover visiting Alberta needs to have the deservedly popular Banff at the top of their bucket list. Located in the jagged Canadian Rockies, this is the kind of larger-than-life landscape that packs a punch with its wide range of activities and surreal sights. In Canada's first official national park, you'll find craggy, snow-strewn peaks as tall as you'll find anywhere in the country, offering incredible hiking trails in the summer and skiing in the winter. Almost turquoise-blue thanks to glacial melt, Lake Louise is among the most popular destinations in Banff, with a ski resort and skating rink in the winter and trails aplenty in the warmer months. No matter the season, the views of this twinkling glacial lake and its surrounding mountains are unlike anything else on North America. For winter activities, December through March is the best time for snowy fun, and although June through August are the most crowded months, it's also the warmest weather, thus affording the most amount of things to do outdoors.
Nearby KOAs:
Cranbrook / St. Eugene KOA Journey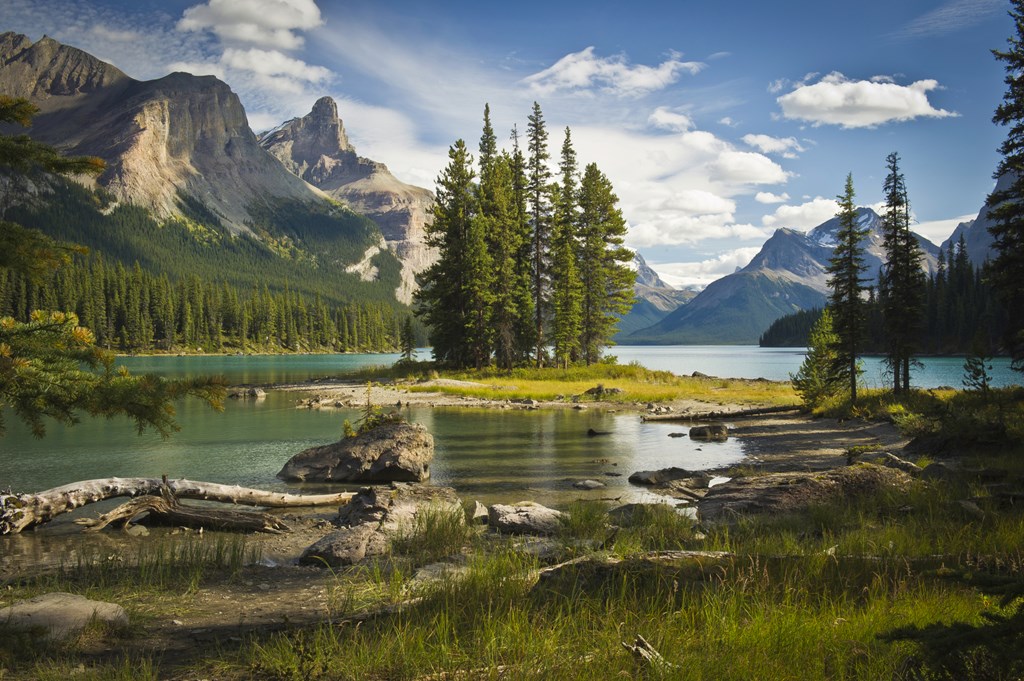 Jasper National Park, Alberta
Kinda like what Grand Teton is to Yellowstone, Jasper is to Banff. Alberta's second most popular park is a stone's throw from Banff park, uniquely all its own for its fertile green valleys, steep mountainsides, imposing glaciers, and the titanic Mt. Edith Cavell, a behemoth of a mountain rising over the park at 11,033 feet. No matter what you do, you'd be remiss not to drive along Icefields Parkway, one of the most scenic drives in Canada, winding its way from the city of Jasper through dense forests and arctic icefields. For warmer weather and cascading waterfalls, visit in May, when much of the park has thawed and snowmelt has enlivened its rivers and waterways, while the summer months are the best time of year for aquatic activities like boat rides and paddle boards.
Nearby KOAs:
Hinton / Jasper KOA Holiday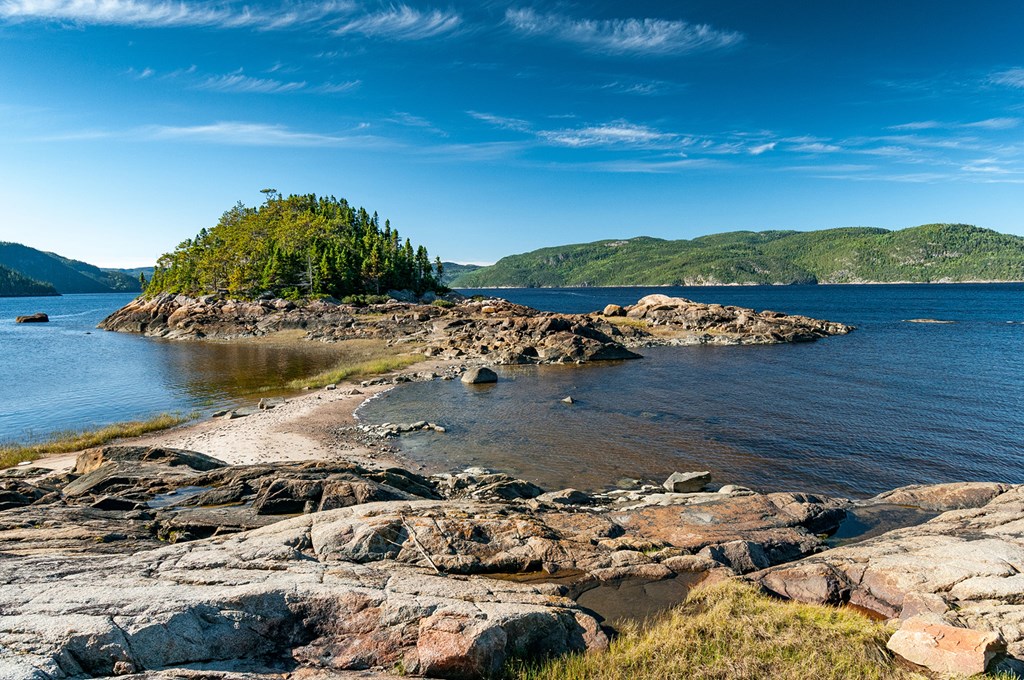 Saguenay-St. Lawrence Marine Park, Quebec
Water-lovers need to add Saguenay-St. Lawrence Marine Park to their must-visit itinerary this year. Located where the Saguenay River meets the Saint Lawrence River, this mostly aquatic park is the first of its kind in Quebec to protect a marine environment. This means the park's premiere wildlife are seals, seabirds, and whales, including the rarely-seen-in-the-wild belugas. To really experience and enjoy this watery wonderland, you gotta dive in (maybe not literally, the water is pretty frigid) with a kayak tour of the fjord, a sailboat ride, or a whale watching voyage. Those who are certified can even go scuba diving. Unsurprisingly, things can get quite brisk here in the winter months, and seeing as this is a water park, you'll want it to be as warm as possible, so visiting in the summer months offers the most things to do in the most comfortable climate possible.
Nearby KOAs:
Bas Saint-Laurent KOA Resort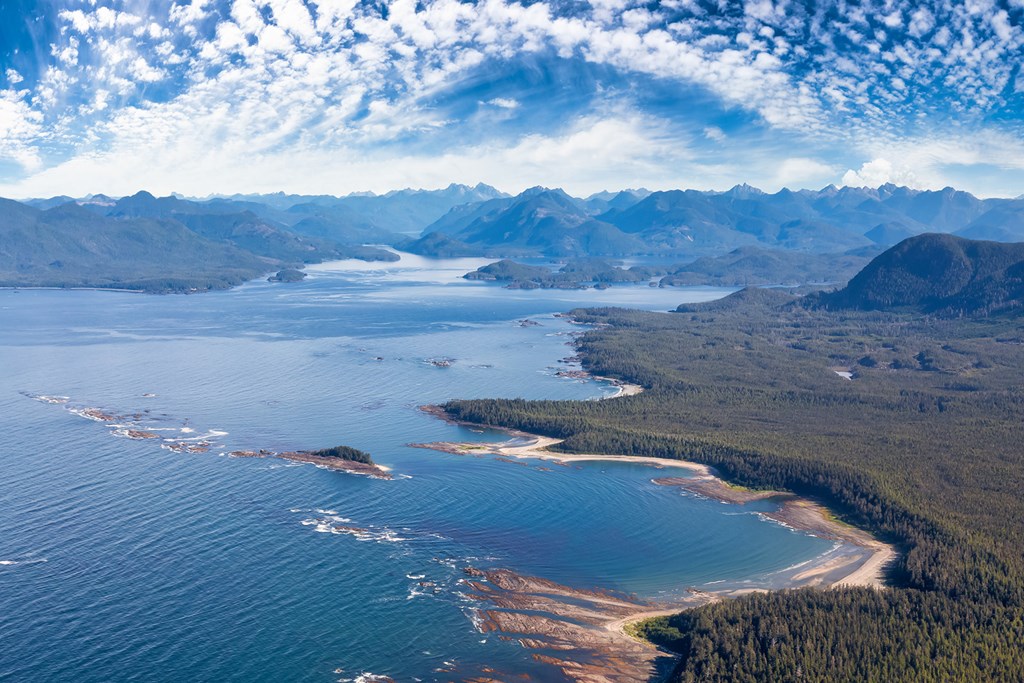 Pacific Rim National Park Reserve, British Columbia
The fact that Vancouver is an easy day trip away makes this one of the most popular parks in Canada, buoyed by the fact that it's divvied into three distinct sections — Long Beach, Broken Group Islands, and the West Coast Trail — each offering ample things to see an do. The Pacific Coast Mountains provide the stunning backdrop, with endless hiking opportunities and panoramic vistas along the way, including some through temperate rainforests. This is also a great part for diverse wildlife, with resident animals like humpback whales, wolves, sea stars, river otters, mink, red-legged frogs, and much more. In addition to hiking, visitors can go surfing or canoeing, and the colossal West Coast Trail is a bucket list-worthy, 75-kilometer voyage that takes explorers along a former survival route for woebegone shipwreck victims through centuries-old forests and over roaring rivers. Unlike many other Canadian parks, Pacific Rim is actually quite accessible year round, making winter a nice, quiet alternative for everything from hiking and kayaking to surfing.
Nearby KOAs:
Lynden / Bellingham KOA Journey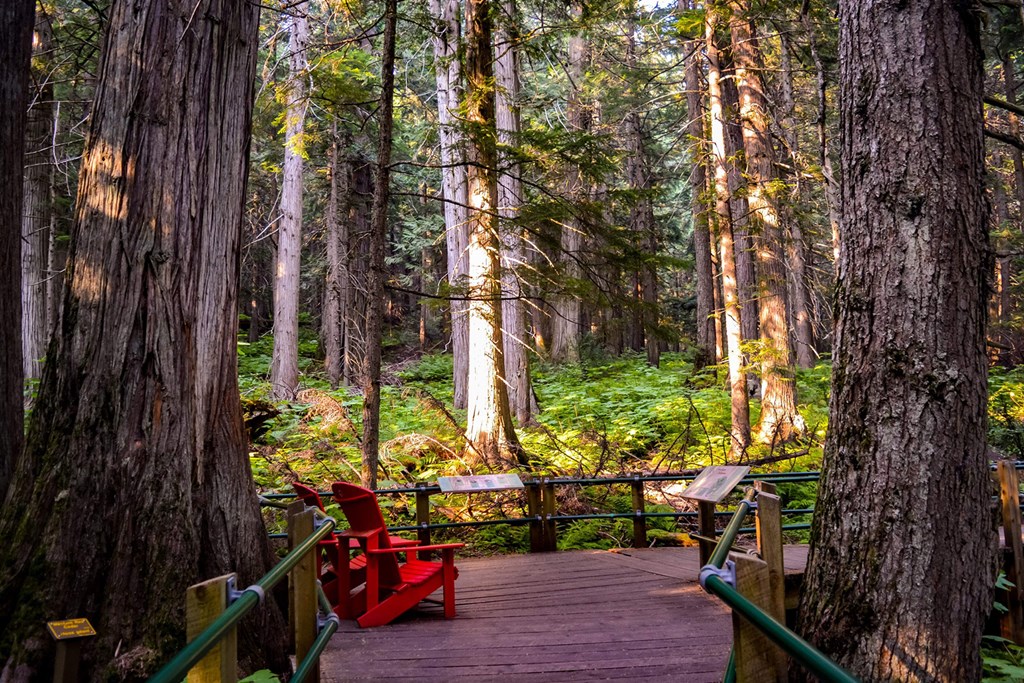 Mount Revelstoke National Park, British Columbia
Another popular British Columbia go-to is Mount Revelstoke National Park, a small-ish park that packs a wallop within its 260-sq.-km. It's nestled in the Selkirk Mountains, near Canada's Glacier National Park. It's part of the same spree of mountain parks as Banff, and it's equally as popular for skiing in the winter months, and mountain biking in the summer. Or if you've got fat tires for your bike, you can go biking along snow trails in the winter too! Other activities include hiking along a boardwalk through rainforest, hiking to the summit of Mount Revelstoke, or driving along the magnificent Meadows in the Sky Parkway. For much of the park, snow doesn't melt until July, making summer through early fall the optimal time to visit, unless you have the right equipment.
Nearby KOAs:
Lynden / Bellingham KOA Journey
---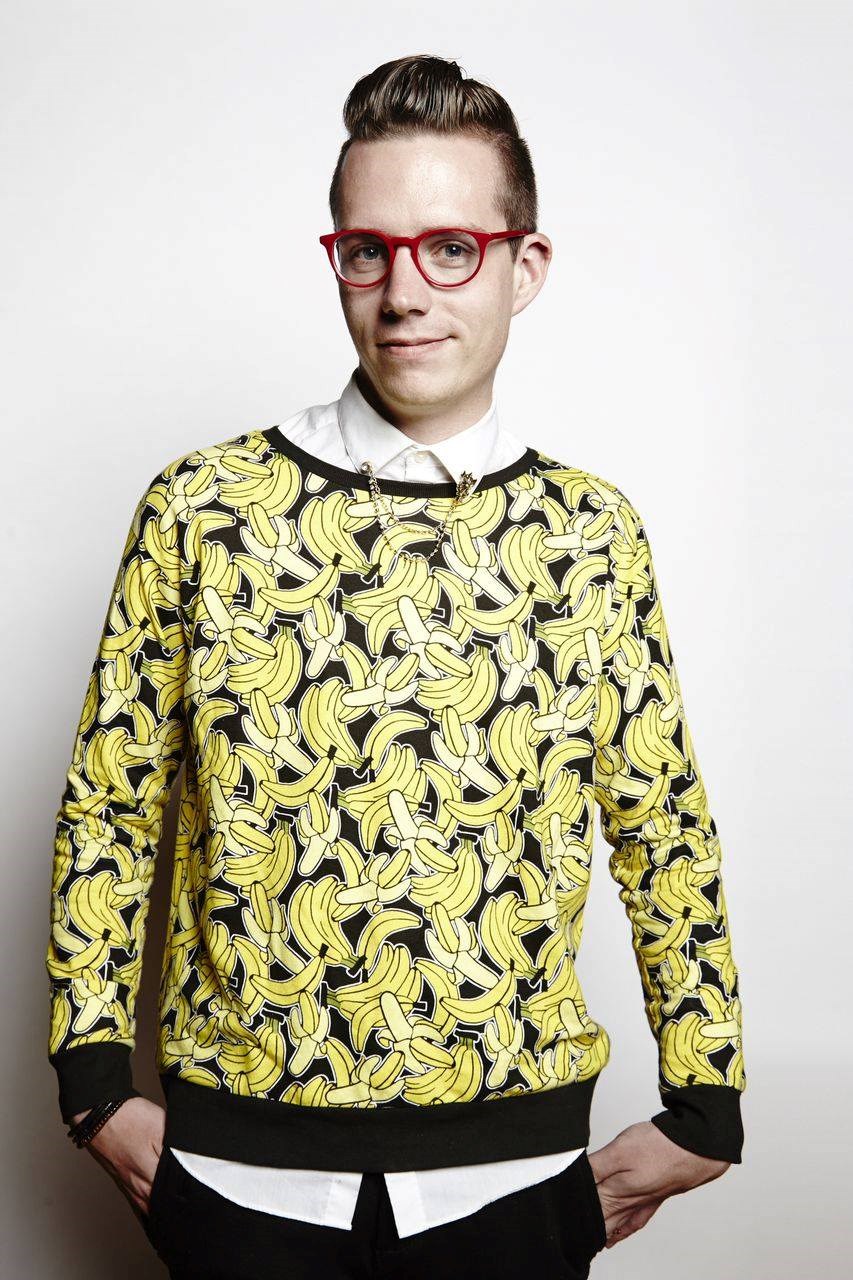 Born and raised in New Hampshire, Matt Kirouac grew up with a love for camping and the outdoors. Though he's lived in Chicago since 2006, he's always on the lookout for new adventures. He writes about travel and food for outlets like TripExpert, Money Inc, Upventur, DiningOut, Food Fanatics magazine, Plate Magazine and Zagat, and he currently serves as Chicago editor for What Should We Do?! He's the author of The Hunt Guides: Chicago (2016) and Unique Eats & Eateries of Chicago (2017).
---