America just isn't America with our iconic diners.
While dining out certainly isn't something exclusive to the American culture, dining out in a diner certainly is.
From the black and white checkerboard floors to the jukeboxes playing Elvis Presley; from the milkshake machines to the red vinyl booths, when you hear the word "diner," an image pops into your head that, generally speaking, is across-the-board exactly what all American diners look like.
And we couldn't love that image any more.
No road trip is complete without paying a visit to a diner or two for some all-American food.
While you can stop at any diner on the road and likely get the same burger you could get at the next one, there are some diners that take things to the next level and provide an experience that is truly unforgettable.
And we are here to share those top diners with you so that you can hit them up on your next road trip.
Or, if you're really feeling it, you can theme an entire road trip around the best diners in America. Now that's a true American road trip.
Without further ado, the top diners in the United States.
Our Favorite American Diners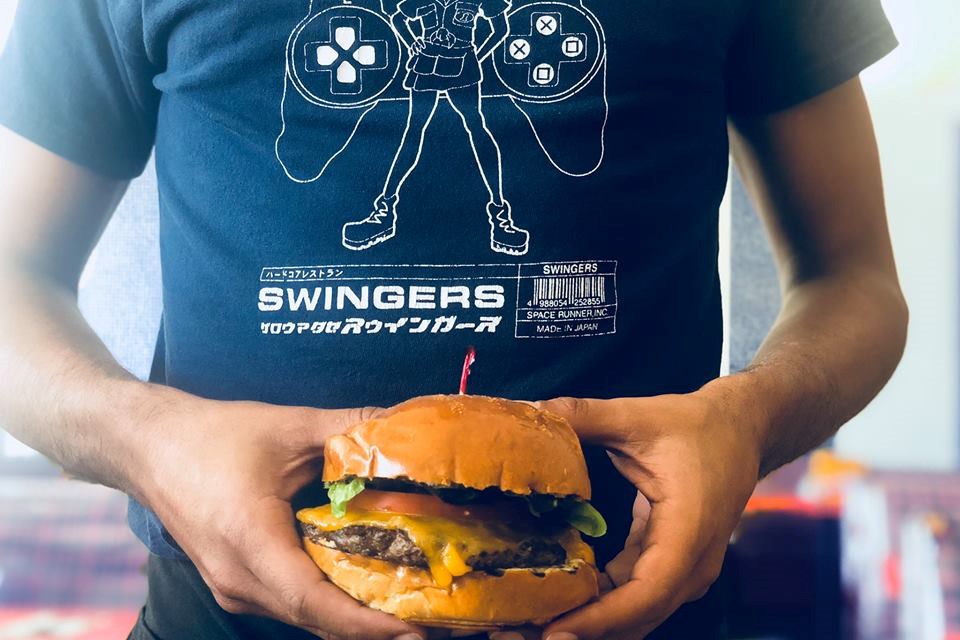 Swingers | Los Angeles, CA
The decor at this place is enough to make your head spin, but it does have a classic Americana feel about it that you'll love. But what you'll really love is finding a place to eat in L.A. that does not break the bank. The food at Swingers is cheap, but in this case, cheap does not mean low-quality. In fact, it means the exact opposite.
The breakfast here really steals the spotlight — we recommend the giant stack of pancakes for a classic dish that will make all your diner dreams come true. And it wouldn't be an L.A. diner without some vegetarian and vegan options, so if meat is not your friend, then Swingers has a number of dishes for you including a delicious soyrizo scramble and tofu chilaquiles.
KOAs nearby:
Acton / Los Angeles North KOA
Los Angeles / Pomona / Fairplex KOA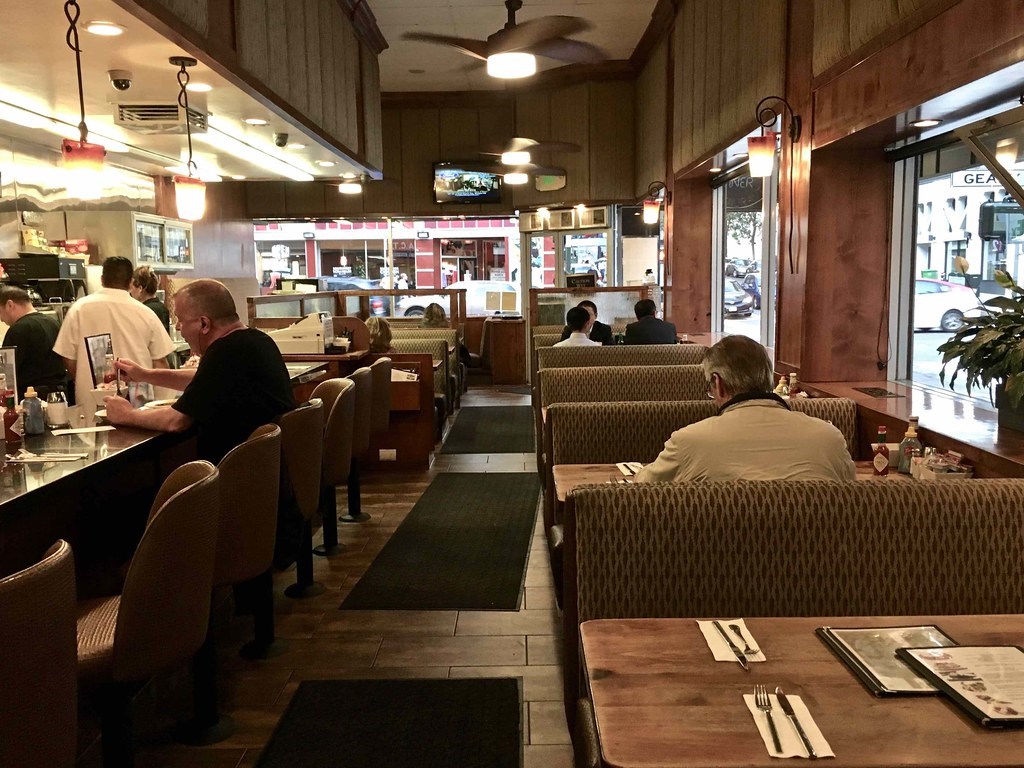 Pinecrest Diner | San Francisco, CA
Open 24 hours a day, this is a great spot to hit up when your hunger pangs hit — no matter the time of day. We love a good 24-hour spot, but our favorite part about Pinecrest is the fact that it serves breakfast all day. Everyone gets those cravings for french toast during non-breakfast hours and you can come here to satiate all those sugary morning cravings.
Just know when you come here that they will not serve you eggs poached or boiled. Rumor has it this is thanks to an incident over 20 years ago when a cook shot and killed a waitress over poached eggs. Truth or not, this place has history and that history includes keeping boiled and poached eggs off the menu and instead serving up other delicious egg options.
KOAs nearby:
Santa Cruz North / Costanoa KOA
San Francisco North / Petaluma KOA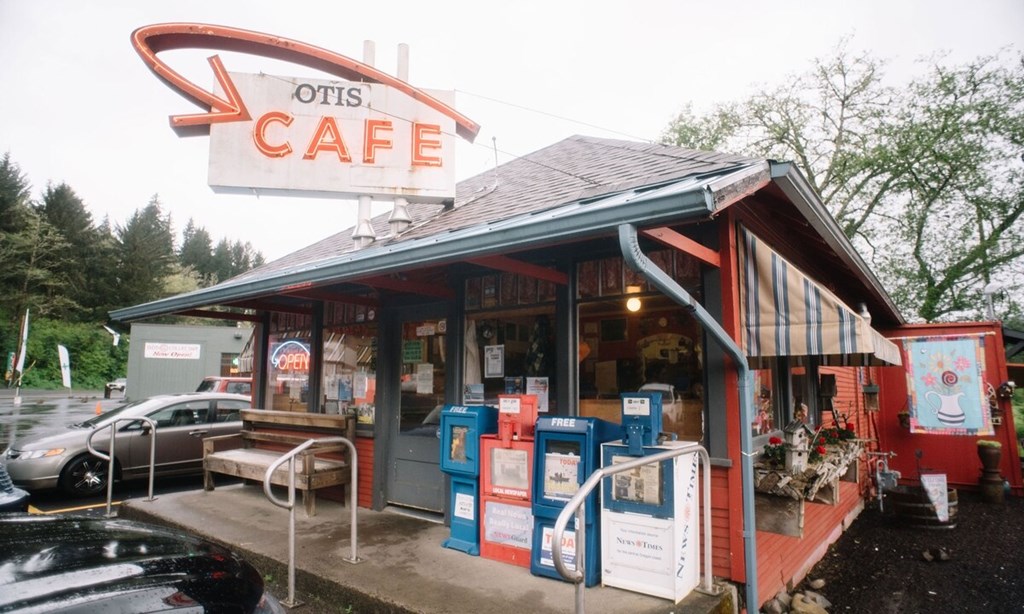 Otis Cafe | Otis, Oregon
The town of Otis may not have much to write home about but there is one thing that puts this place on the map — Otis Cafe.
People come from all over to experience the famous hash browns. What most people deem as a boring breakfast side dish, at Otis is the shining star, and deservedly so. Oregon is known for its fabulous cheese (hello Tillamook Cheese Factory), and local cheese is the heart and soul of these unreal hash browns.
Hash browns are served as a meal of their own here at Otis Cafe and you can add things such as bacon and eggs on the side. This cafe has reinvented the role of hash browns in breakfast, and we love it.
KOAs nearby:
Lincoln City KOA Journey
Waldport / Newport KOA
Albany / Corvallis KOA Journey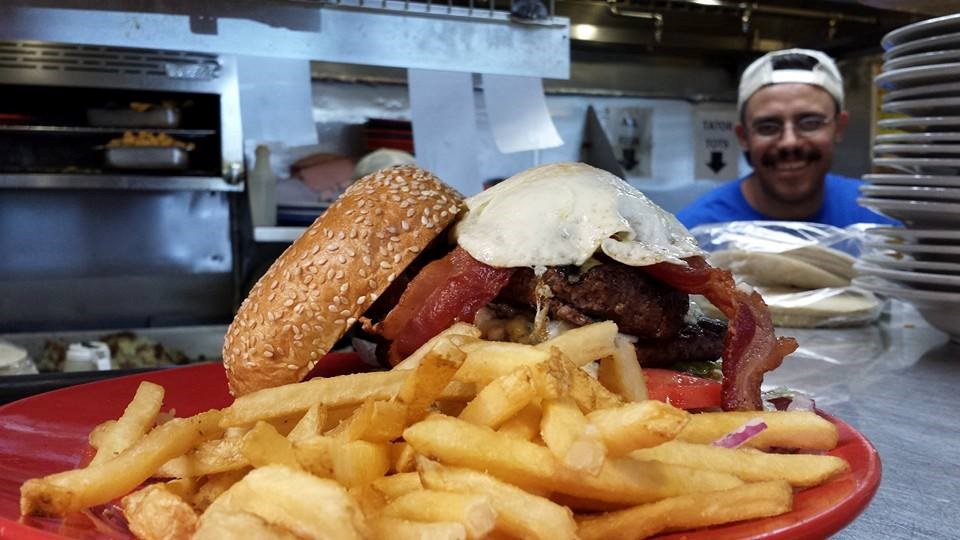 Sam's No. 3 | Denver, CO
There is no denying that Colorado really does a good Mexican dish. Somehow these guys have figured out how to rock the cuisine from our southern amigos.
And Sam's No. 3 diner is our favorite place to get down with some Mexican dishes. They know they're the best too — they call themselves "Denver's best diner."
Here at Sam's there are a number of all-stars on the menu. In fact we can't even count how many stars are on the menu — this menu is so massive it's going to take you quite some time to settle on a choice.
To help you out, we've picked out some favorites: the hand-rolled chile rellenos & eggs is a spicy option and you definitely can't go wrong with the Colorado-cut ribeye steak and eggs. But what really takes the cake here is the Kitchen Sink burrito. Picture this: a massive burrito filled to the brim with eggs, sausage, bacon, ham, cheese, and pork chili.
Our mouths are watering.
KOAs nearby:
Denver West / Central City KOA Holiday
Denver East / Strasburg KOA
Limon KOA Journey
Estes Park KOA Holiday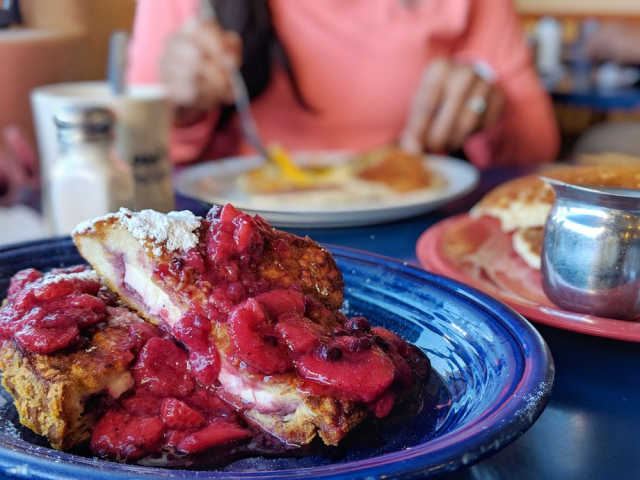 The Pantry | Santa Fe, New Mexico
The closer you get to the border, the more you're going to find delicious Mexican food but here at The Pantry, you're going to find the best Mexican diner eats.
We haven't tried the blue corn cinnamon cakes but just the thought of them makes us feel as if we've died and gone to heaven.
Our favorite thing to eat here is the tortilla burger. Yep — that's right. A burrito-burger hybrid that combines the two delicious worlds of Mexican and classic American, all in one bite.
The Pantry is also known for its Buenos Dias breakfast that is fries topped with eggs, cheese, and green chile. But you can't really go wrong with any of the choices here at The Pantry.
KOAs nearby:
Santa Fe KOA Journey
Las Vegas / New Mexico KOA
Albuquerque North / Bernalillo KOA Journey
Albuquerque KOA Journey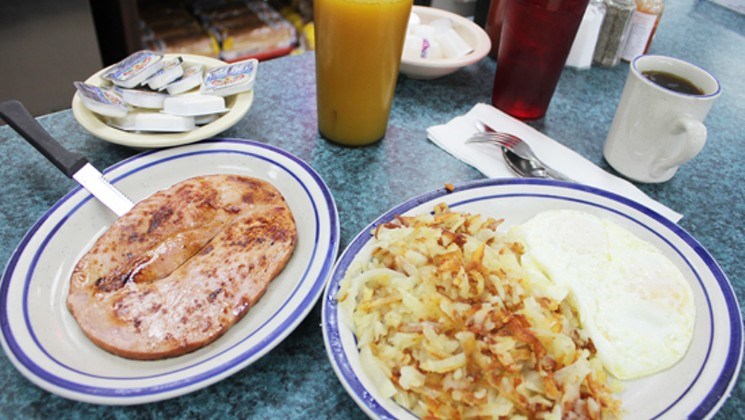 Tel-Wink Grill | Houston, TX
This classic Texan diner will have you feeling at home no matter how far from home you actually are.
Nearly everything here is predictable — but in the best possible way. You'll never be disappointed with what is placed in front of your face here: quality diner food that will satiate your every need.
However, there are a few wild cards at Tel-Wink (you are in Texas, after all).. Try the fried catfish served with, of course, grits and the Texan take on the chicken-fried steak.
If you'd rather stick with the classics, then you can't go wrong with the waffles or the patty melts.
You'll leave Tel-Wink with your belly full, and your pockets still pretty full too — this place definitely stretches a dollar a long way.
KOAs nearby:
Lake Conroe / Houston North KOA Holiday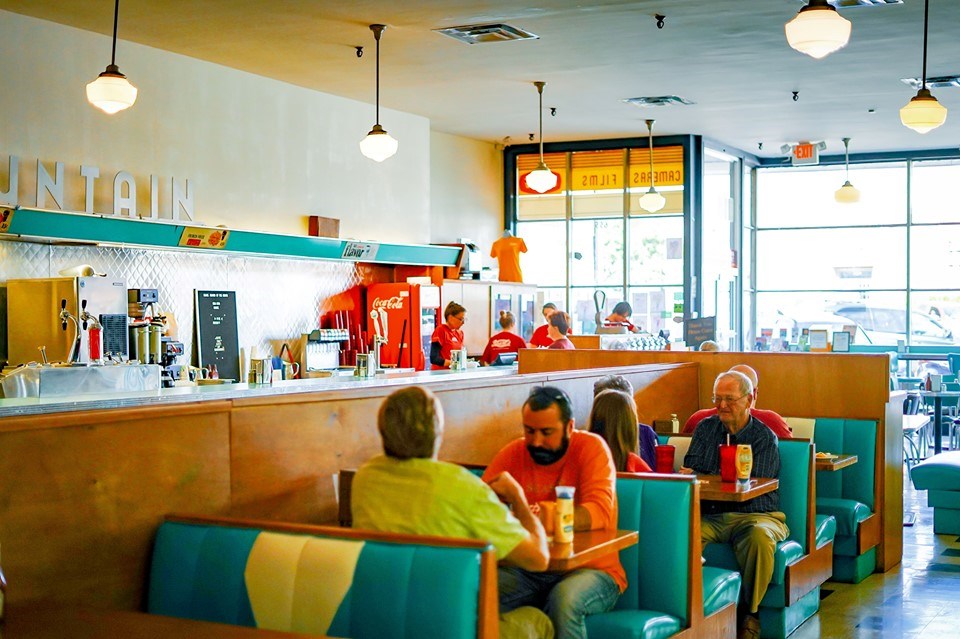 Brent's Drugs | Jackson, Mississippi
Fame did not get to the head of this Mississippi staple. Brent's Drugs has been in existence since 1946 and has seen a lot happen during its time, including being featured in the movie The Help.
The decor of this place is everything you could ever want in a classic diner, and the food is just next-level. Think a grilled bacon and pimento cheese sandwich that requires a handful of napkins to eat. Or the chicken sandwich with buttermilk fried chicken (you are in the south, after all, and fried chicken done here is fried chicken done right).
You'll be surprised to learn as well that in the back of Brent's is a fabulous cocktail bar that serves up some of, in our opinion, the best cocktails in the South, and we love that you'd never guess it by looks.
KOAs nearby:
Meridian East / Toomsuba KOA Journey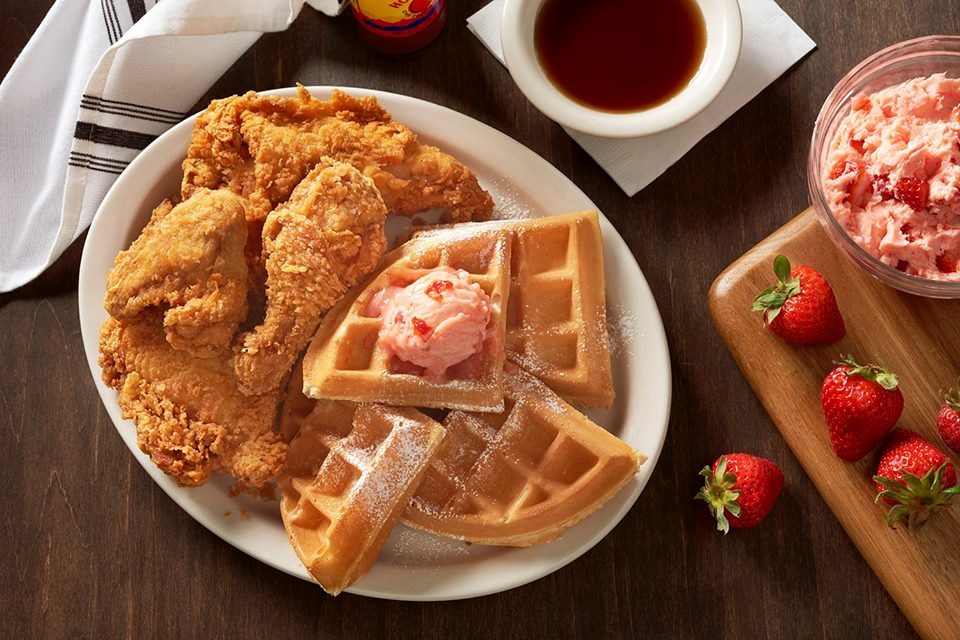 Metro Diner | Raleigh, NC
If you are on the hunt for some comfort food, then look no further than the Metro Diner.
This place has all of your favorite comfort foods, but elevated. We are talking about eggs benedict but made with crab. We are talking about French toast but rather than normal toast, it's crafted with pound cake.
Also, we highly recommend the shrimp and grits because here's what you'll get: two grits cakes as the base with andouille sausage, jumbo shrimp, loads of gravy, and of course bacon on top.
For those of you who want the authentic diner experience minus all the calories, Metro does have lighter offerings such as avocado toast. But we saw, go for the big bucks.
KOAs nearby:
Greensboro KOA Journey
Enfield / Rocky Mount KOA Journey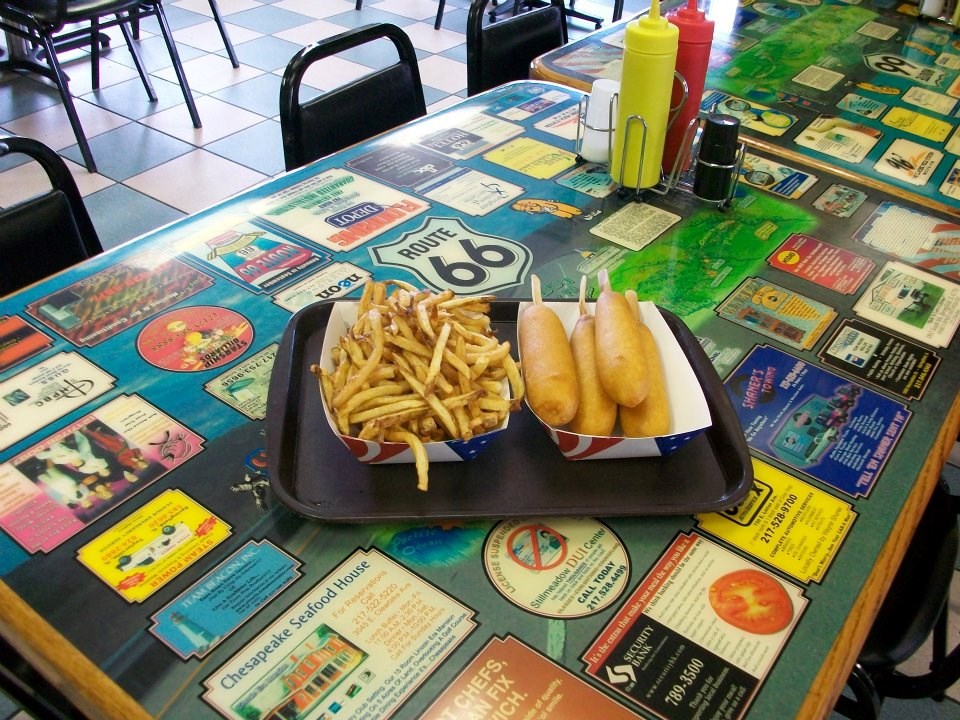 Cozy Dog | Springfield, Illinois
Cozy Dog's founder was one of the first people to serve fried hot dogs on a stick, and when you visit Cozy Dog you'll quickly realize that this guy certainly knew what he was doing.
What we really love about this place is that it is perfectly acceptable to order a corn dog for breakfast. No questionable looks, no judging words. Just a mutual love for corn dogs.
Cozy Dog doesn't serve just corn dogs, though. Come here for some delicious breakfast sandwiches and massive breakfast specials that will cost you less than a typical coffee order at Starbucks.
And if you want to take some for the road, Cozy Dog does have on their menu a 12-piece corn dog option, so you can enjoy these tasty dogs long after you've left Springfield.
KOAs nearby:
Springfield KOA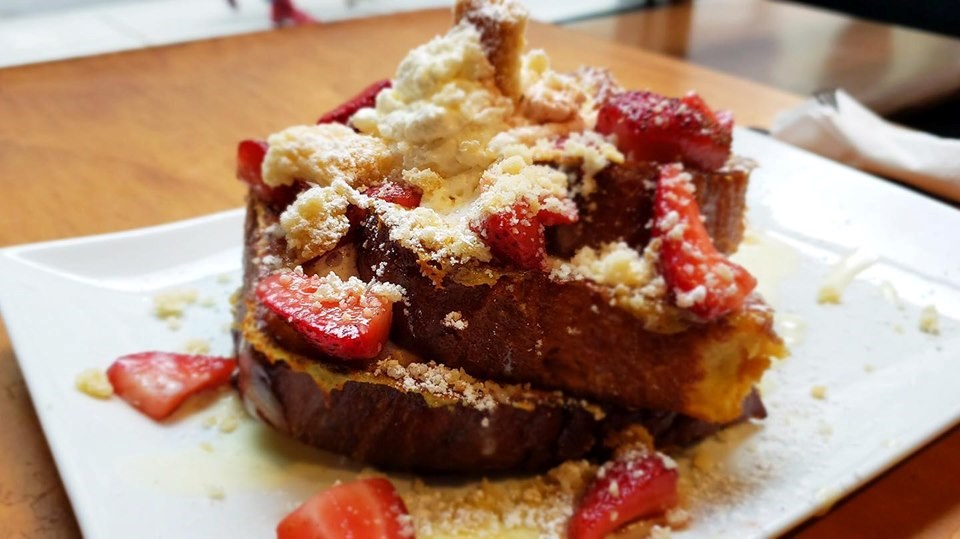 Dime Store | Detroit, MI
Scratch-made breakfast is the name of the game here, as well as fun twists on classic brunch dishes.
While they do serve up some delicious burgers and fries at Dime Store, you should really set your sights on one of the unique dishes here such as the Belgian waffle that is anything but your average Belgian waffle. This one is made like a churro (meaning with malted butter and cinnamon sugar). Or, the duck bop hash that begins with a duck confit leg and throws delicious pickled veggies on top.
Whatever concoction you decide to try, be sure you add onto it an order of Irish coffee to really round out your experience.
KOAs nearby:
Auburn Hills / Holly KOA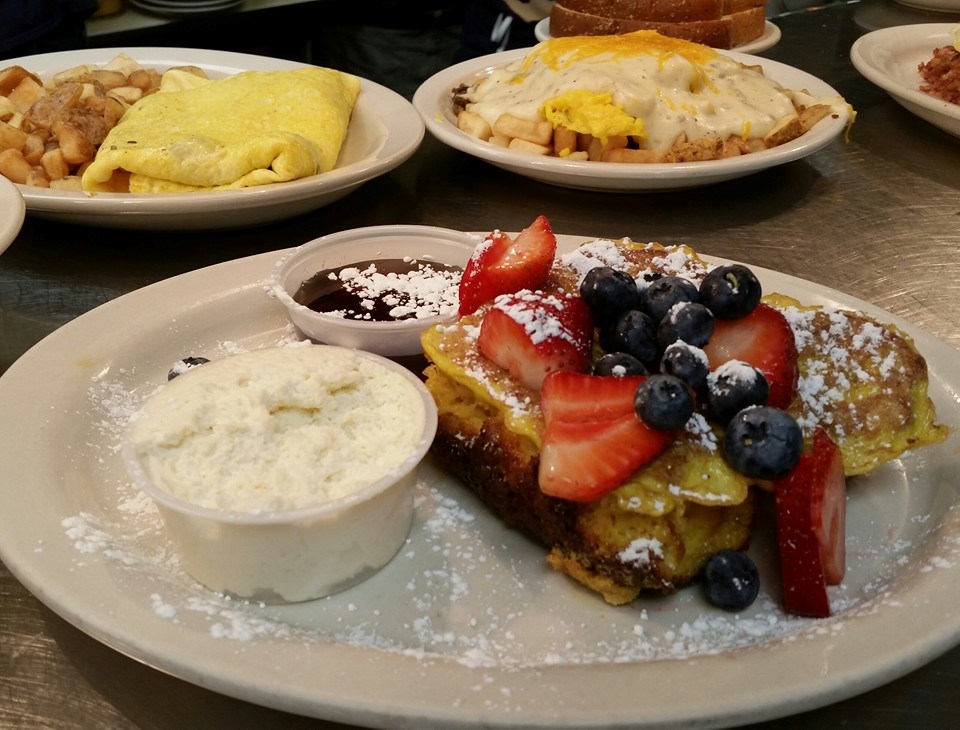 The Echo | Cincinnati, OH
For nearly 75 years the diner has welcomed locals and travelers alike, and has been a brunch hotspot that never disappoints.
Serving up diner classics like corned beef hash, chili, and a variety of sandwiches, The Echo also offers up some dishes that entertain you both with their names as well as what they manage to put together. In fact, they have a whole section of their menu called Hangover Helper that is full of everything you need to soak up all your bad decisions from last night. On this menu you'll find the Hot Mess which is a mound of French fries topped with scrambled eggs, sausage, and bacon covered in gravy and cheese.
As appetizing as that sounds, what we are really fond of here at The Echo is their desserts. Well, their pie, specifically. So be sure you save some room to get a chocolate cream piece or two in there.
KOAs nearby:
Batesville KOA
Lebanon / Cincinnati NE KOA Holiday
Richmond KOA Holiday
Dayton KOA Resort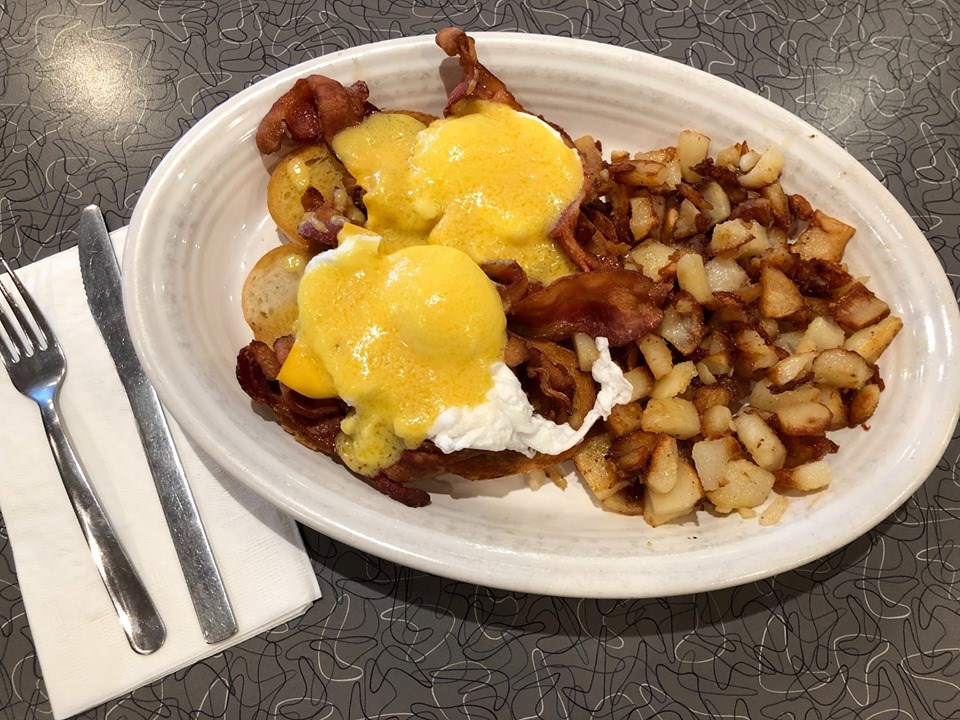 DeLuca's Diner | Pittsburgh, Pennsylvania
The decor of this place is a classic diner lover's dream, even down to the sign that marks where Tom Cruise sat during the filming of Jack Reacher. (The words on the sign are undoubtedly different than you think — so enjoy a laugh when you visit DeLuca's yourself).
But this place is more of a local establishment than it is a tourist trap, so be sure you try to fit in while you're here. DeLuca's has been the go-to place for the hard workers of Pittsburgh for over 50 years, and they aren't looking for tourists to take away from their well-deserved breakfast experience.
Alongside the locals you can enjoy your favorite diner classics including the Steel City Breakfast of Champions, which is really just eggs, bacon and potatoes, but done wonderfully.
Everything here is done well and done deliciously with the right amount of that Pittsburgh attitude.
KOAs nearby:
Washington / Pittsburgh SW KOA
Madison / Pittsburgh SE KOA
Uniontown KOA Holiday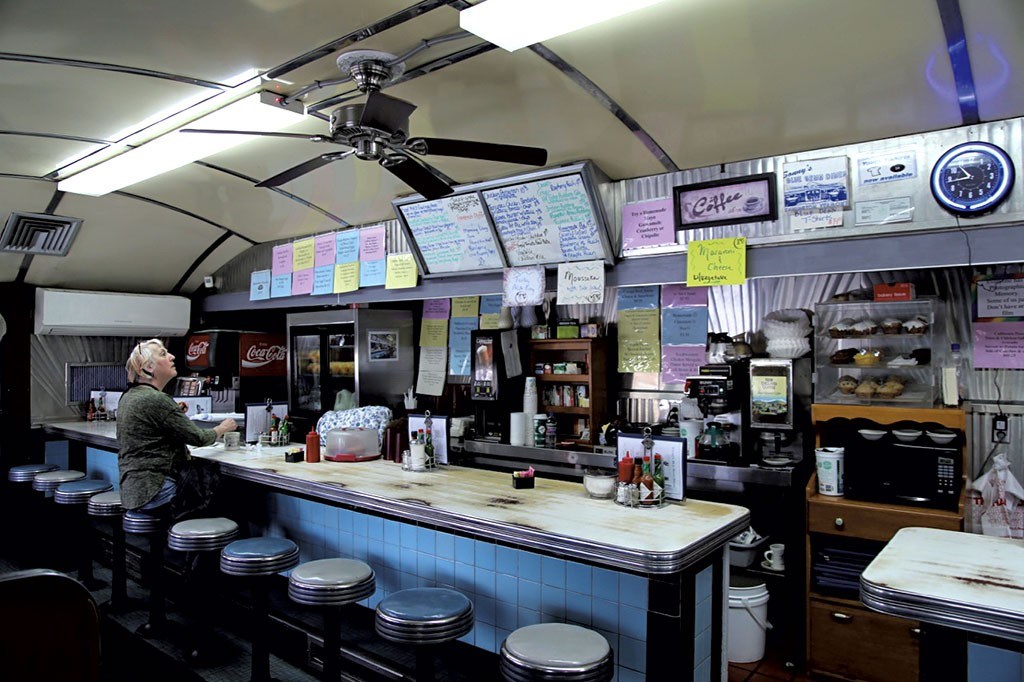 Blue Benn Diner | Bennington, VT
We love that this diner is fashioned after a railcar but what is really neat is that the diner was actually constructed in New Jersey and then shipped here to Bennington over 70 years ago.
Over those last 70 years, Blue Benn has been the go-to spot in this college town for its famous open-faced sandwiches, along with many other favorites. Like a good diner does, this place serves breakfast all day so you can enjoy your morning favorites any time you'd like.
The jukeboxes here are a way to elevate your dining experience, so be sure to bring some coins along with you.
It seems the favorite dish here at Blue Benn's is the roast beef sandwich that's served with mashed potatoes and gravy. And for dessert? Pumpkin bread pudding, hands down.
KOAs nearby:
Lake George / Saratoga KOA
Lake Bomoseen KOA
Quechee / Pine Valley KOA Holiday
Brattleboro North KOA Journey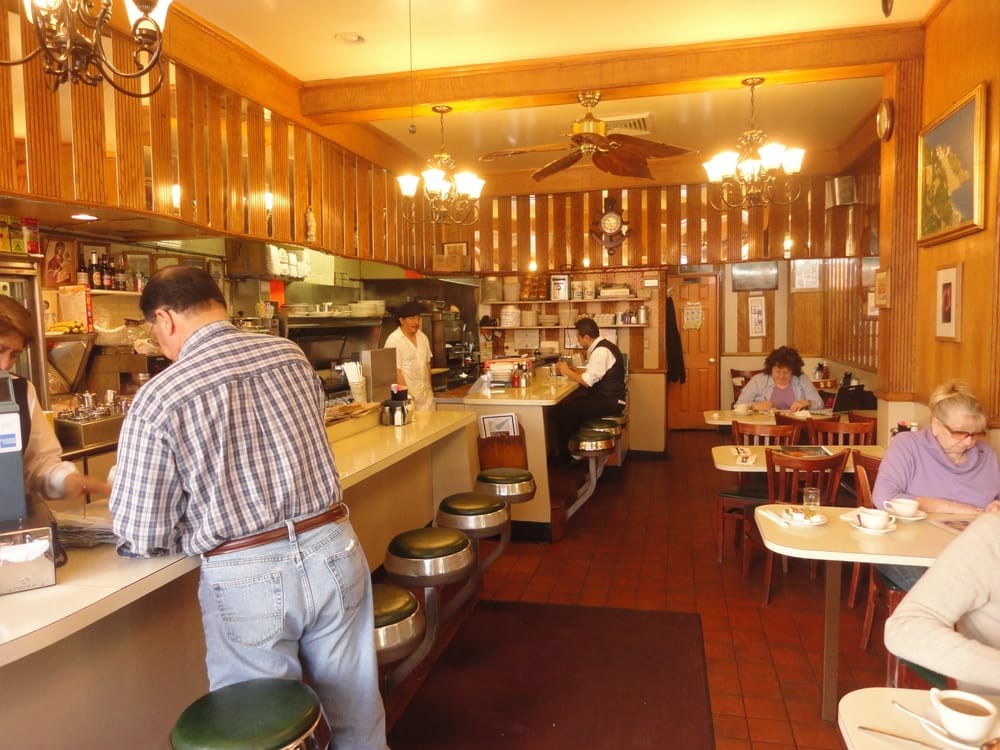 Joe Jr. Restaurant | New York City, NY
In a city where things are constantly changing and so much is "out with the old, in with the new," it's important to treasure those few spots where the old hasn't been thrown to the curb yet. And that's exactly where Joe Jr. comes in.
Though we'd be lying if we said it was anything special on its own, what does make it special is that it is an original spot that has withstood the test of time and survived to tell its tale.
Joe Jr. is where you come for a classic hamburger that may not be so pretty on the eyes, but that you're sure to love.
So, when you're looking for an old fashioned favorite in a city where everything is new, head to Joe Jr.
KOAs nearby:
New York City North / Newburg KOA Holiday
Deerpark / New York City NW KOA Holiday
Top's Diner | East Newark, New Jersey
New Jersey is filled with top-notch diners, but we found a favorite in Top's because here you can (and want to) order diner seafood. With most diners we would suggest you steer clear, but here at Top's, the seafood is fresh and delicious.
If seafood isn't your thing, don't worry — as a classic diner this place has plenty of other tasty options that will satiate all your dining needs, and then some. The portions here are truly massive, so you'll appreciate the equally massive booths that allow you to hide.
Dessert at a diner is always a must, and the touted favorite is the brownie sundae.
KOAs nearby:
Delaware Water Gap / Pocono Mountain KOA Holiday
There is certainly no shortage of fabulous diners in the United States and there are many that didn't make it to this list. So, when you embark on your road trips this summer, be sure to share with us the great diners you find along the way, and also when you hit up one of these favorites on our list.
---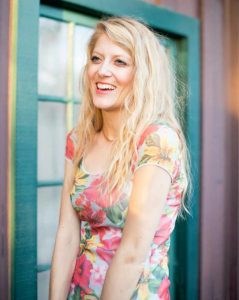 Leslie, a.k.a. Copy Girl, is a copywriter who gets butterflies from telling stories through words.
Her voice comes from a place filled with passion, dreams, and lots of sugar. "Cake over steak" is her go-to motto.
With over 10 years of experience in crafting words, and years of embarking on travels that have taken this Montana girl to some incredible places, Leslie love the adventures of both body and mind her writing takes her on.
Everywhere she goes, she takes this advice with her:
"Hold on to your divine blush, your innate rosy magic, or end up brown." – Tom Robbins, Jitterbug Perfume
To see what Leslie's up to in the writing world, visit her website here.
---