It's important to understand the differences in recreation vehicles, especially when it comes time to register your vehicle. Although these terms — among others — are often used interchangeably, there are some notable differences.
Motorized RVs are categorized according to their class — Class A, B or C. Other types of recreational vehicles include towable RVs, fifth wheels, pop-up trailers and toy haulers.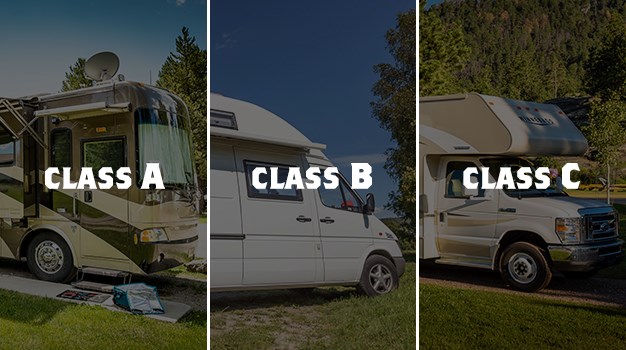 The exact definition of an RV varies from state to state, so always check with your local DMV before making your choice:
Motorized RVs
What classifies as a motorized RV?
The Class A motorhome serves as the standard template for modern RVs. Usually equipped with six wheels, the vehicle offers a full cab that includes the driver, front passenger and the complete interior of the RV itself. Passengers can easily move about, even while the vehicle is in motion, to take advantage of any of the internal amenities. When it comes to RV camping, this option provides everything in one convenient package — but all this luxury comes with a price tag. It's not uncommon to see Class A RVs selling for more than $1 million, but basic models can be found starting around $70,000.
Class B motorhomes look like and can sometimes start out as vans. With newer, more inclusive models on the market, retrofitting is less common. But RV manufacturers can convert vans into Class B motorhomes by raising the roof height, installing new hardware and even adding to the overall length of the chassis. Designs and layouts can vary between manufacturers and even between individual models, so inspect the Class B RVs you're considering before finalizing your purchase. In most cases, these vehicles are available at prices ranging from $40,000 to $125,000 on the new market.
The Class C motorhome resembles a truck more than a van. With an overhanging section that extends beyond the roof of the front cab, which usually provides room for a bunk overhead, this model is also instantly recognizable. The main advantage to the Class C RV is the added amount of space and amenities — like larger kitchen appliances — when compared to the Class B, so many RVers view this as a midrange entry. It's also priced accordingly, too, so expect to pay anywhere from $50,000 to $120,000 if you're shopping in this category.
If you're trying to get maximum performance out of your RV, there is a fourth class: The Super C. These vehicles feature a similar design to the standard Class C but with one significant exception: The Super C utilizes the same type of engine that is seen in 18-wheelers of today. Not only are they great for traversing rough terrain, but they can easily tow your car or even another truck down the highway. The massive engine will add a significant amount to your final price tag, so be prepared to pay as much as $200,000 for a brand new, top-of-the-line model.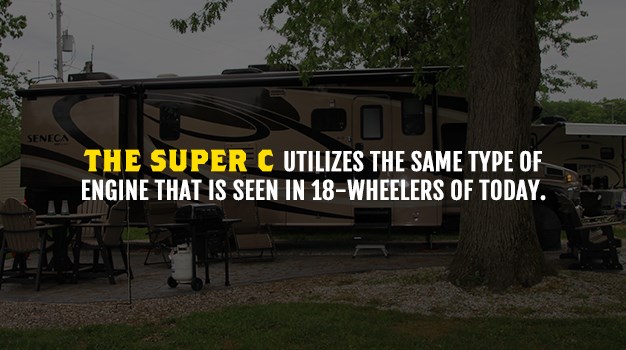 Towable RVs
Like motorized RVs, towable RVs provide exciting opportunities to experience the RV lifestyle, and they're a great way to start out. Here are some options to consider:
Fifth wheels make great options for truck owners. But they tend to run on the expensive side. If you're equipped to make the investment, and own a truck to accommodate an in-bed hitch for towing, they're reliable and heavy-duty. Prices start at $20,000 and up.
Sometimes referred to as tent trailers or pop-ups, folding camping trailers are less expensive options. These trailers can fold for easy towing and simple setup while still allowing for the comforts of home inside.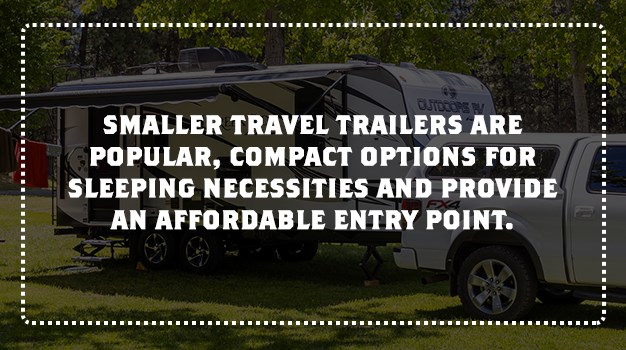 Towable travel trailers come in a range of sizes and prices. For example, smaller travel trailers are popular, compact options for sleeping necessities and provide an affordable entry point. Large towables offer more comforts, but tend to come with a larger price tag.
Sport utility RVs (toy haulers) provide doubly beneficial uses. While the front serves as a living space, the back is meant for hauling dirt bikes, golf carts and other types of grown-up toys. You can expect to pay anywhere from $15,000 to $40,000 or even more in the case of a fully loaded and customized toy hauler.
Truck campers are made to fit in the back of most heavy-duty pickup trucks on the market today. A considerably cheaper option, most pickup campers cost between $10,000 and $20,000, depending on size and amenities.