Looking for the perfect towing vehicle for rig large or small? We've got some suggestions.
It's no secret that KOA offers a variety of unique settings that provide an unforgettable outdoor experience, whether you've got a lightweight popup trailer or a 40-foot vacation home on wheels. But no matter which KOA location and which camper you choose, it's important to use the right vehicle to pull that trailer.
Here are some of our top suggestions for vehicles that get the RV towing job done right. (Note: Always check your vehicle's owner's manual before towing and follow all appropriate automaker recommendations.)
Top 10 Vehicles for  RV Towing
1. Ram 3500 Heavy Duty pickup
For absolute maximum pulling power with fifth-wheel trailers, the Ram 3500 Heavy Duty pickup is the best truck for pulling a camper, leading the way with a tow rating of 31,200 pounds. To give you an idea of what that means, a Coachmen Brookstone fifth-wheel camper can approach 14,000 pounds completely empty. The Ram can handle that and much more, and you'll need the extra capability when you fill the camper's water tanks and bring along other outdoor gear.
2. Ford F-450

Ford offers an F-450 that can tow 32,500 pounds with a gooseneck trailer, but that's the kind commonly used for pulling heavy equipment. For pulling a conventional, camping-style fifth-wheel trailer, both the 450 and the Ford F-350 have trailer ratings of 27,500 pounds. Ford also makes towing easier with technology, like a rear-facing camera that can help guide the driver during the hitching process. Also, another camera can be mounted on the rear of the trailer itself.
3. Chevrolet Silverado 3500HD

The Chevrolet Silverado 3500HD may just serve up the best combination of trailering power and technology. Indeed, it's the only heavy-duty pickup here with a built-in mobile Wi-Fi hotspot and the latest Android Auto/Apple CarPlay smartphone integration. That's the perfect way to stay connected when on vacation, and it's the perfect complement to the Wi-Fi service provided at many KOA locations. Oh, and Chevy's heavy-duty pickup can pull up to 23,300 pounds.
4. Ford F-150

If you're travelling with a conventional camper trailer that uses a traditional hitch, a light-duty pickup often can get the job done. For example, the base weight of an Airstream Classic is 7,365 pounds, which is well within the towing range of the most popular full-size trucks in the country. Specifically, the two best sellers in this space build on the benefits found in their heavy-duty counterparts: First is the Ford F-150, which has an even more extensive camera array than the F-350, along with an exclusive steering knob that simplifies backing up with the trailer still attached. As for its engine, Ford supplies an EcoBoost V6 that can efficiently tow up to 12,200 pounds.
5. Chevrolet Silverado

Second in that category is the light-duty Chevrolet Silverado, which offers a Wi-Fi-enabled infotainment system, like the Silverado 3500HD, and its maximum tow rating has been increased to 12,500 pounds for the 2017 model year.
6. Nissan Titan XD

Then there's the new kid on the block. The Nissan Titan XD is an alternative to the domestic-branded pickups and supplies the highest trailer rating from any foreign automaker: 12,314 pounds. Nissan also delivers a number of towing-assistance technologies, including a rearview camera with trailering guidelines and a system that allows drivers to check the trailer's lights without having to leave the Titan's cabin.
Vehicle Options for Light-Weight Campers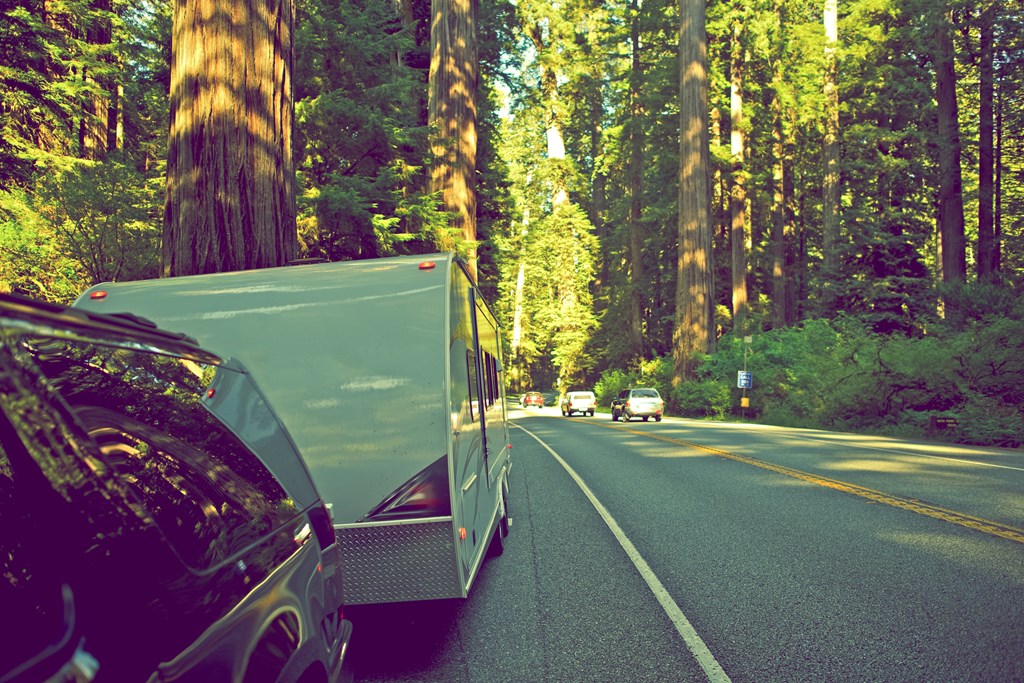 Today's lightweight popup campers also can be pulled by cars, expanding your choice of tow vehicles considerably. For example, a Jayco Sport can sleep up to six yet still have an unloaded weight as low as 1,535 pounds. That's low enough for crossovers, minivans, and even a car or two. Consider these vehicle options for lighter-weight campers:
7. Hyundai Santa Fe

The 2017 Hyundai Santa Fe is a case in point, as this three-row crossover SUV has a towing capacity of 5,000 pounds. The Santa Fe's added advantage comes from its driver-assistance technologies. With a standard rearview camera and available technologies such as adaptive cruise control, lane-departure warning, a multi-view camera system, and automatic emergency braking, the Santa Fe also has earned both a 5-Star Overall Safety Score from NHTSA and a Top Safety Pick+ recognition from the IIHS.
8. Chrysler Pacifica

Joining the Santa Fe with the same safety ratings is the Chrysler Pacifica—which also has the highest trailer rating of any current minivan. The Pacifica can pull up to 3,600 pounds, plus it has an exclusive Uconnect Theater rear-seat entertainment system, an in-vehicle vacuum, and the highest EPA rating of any non-hybrid minivan: 28 mpg highway.
9. Volvo S60

Prefer to do your towing from the comfort of a premium compact sedan? The Volvo S60 may not be the first vehicle to come to mind when you think of pulling a camper, yet its trailering capacity is a relatively robust 3,500 pounds. Additionally, the same engine that enables this capability also can achieve EPA ratings of 25 mpg city/36 mpg highway/29 mpg combined. And we don't have to tell you about Volvo's reputation for safety.
10. Jeep Renegade

Finally, the smaller popup campers can be towed by the smallest Jeep. Despite being half a foot shorter in length than the subcompact Ford Fiesta sedan, the  Jeep Renegade has a 2,000-pound towing capacity. While the maximum rating only applies to Renegades with four-wheel drive, that's exactly what most Jeep fans want.
Ready to hit the open road in your RV? Make your reservation at a KOA Campground! With over 500 locations in North America, you'll find a KOA no matter where your next RV trip takes you.
---
About the Author: Kampgrounds of America
Kampgrounds of America is the largest system of open-to-the-public campgrounds in the world, with over 500 locations across the United States and Canada. Founded in Billings, MT in 1962, KOA's family of campground brands – KOA Journey, KOA Holiday and KOA Resort – today serve more than a million camping families each year. KOA is dedicated to "connecting people to the outdoors and each other" by providing people with a variety of camping experiences and the information they need to make the most of their camping trip. Read more of their camping and travel resources by visiting KOA.com/blog.