The beauty of buying a brand-new RV is that it's move-in ready. But, sometimes the cookie-cutter, fresh-off-the-assembly-line look doesn't feel homey enough. Alternatively, if your RV is rocking a rusty, too-lived-in look, you may want to freshen things up with a remodel. Whatever condition your RV is in currently, it's important (and tip number 7) to remember you have the power to change it. Here are some tips from successful interior designers who've worked, or wished they worked, on RVs.
Avion Le Grande Interior – studiObuell
1. The Rule of Three
When Nashville residents Bill and Cathy Johnson did a mid-century modern makeover on their trailer, they had three things in mind: white, light and bright. "They work together to make the space feel larger and more open," says Johnson who founded William C. Johnson Architect. First, the Johnsons freshened up the interior of their 1972 Avion Le Grande with a new white coat of paint that complimented the light grey palette they chose for the rest. Then, they removed their cabinet doors and replaced them with Plexiglass inserts to achieve an updated, airy look.
Boston Winslow
 2. Don't Skip Prime Time
If you are going to paint inside your RV, take the time to prime first. "A paint and primer mix just isn't going to cover it," says Boston Winslow, a stylist in South Carolina who recently painted the interior of her RV that dates back to the '90s. Like the Johnsons, Winslow went light, using one coat (after one coat of primer) of Sherwin Williams' "Marshmallow" shade. "I wanted to use white because nothing reflects light better," says Winslow who spent three months working on the project with her husband.
3. Incorporate Color and Texture
RVs of yesteryear were brown. Today, designers are saying white is the new brown. But, that doesn't mean you can't infuse some personality in the form of splashes of colors and different textures. Leslie Banker is a New York City-based designer (her mother, Pamela, was one of New York's most sought after designers) so she's used to elevating the look of tight spaces. "For an RV, add wall art like one or two small brightly-colored digital prints, unframed and on white backgrounds," says Banker. For texture, she recommends finding throw pillows in fabrics you love and if you have a no-shoes-in-the-RV rule, sheepskin rugs can add drama and depth.
Avion Le Grande Interior – studiObuell
4. Commit to One Pattern
To maintain unity and consistency, the Johnsons only used one pattern (floral) throughout the inside of their trailer. While you can be more flexible with mixing patterns in large, open spaces, it doesn't really work in small places where it often comes across as conflicting. If you're not sure what kinds of patterns you're comfortable with, start with accessories such as pillows and blankets which you can swap out if they seem too overwhelming. Whether you use it as a backsplash in the kitchen or in the shower, installing tile is a neat way to introduce a permanent pattern into your RV.

5. Refresh with Reclaimed Wood
It sounds counterintuitive, but it's easy to bring new life into your RV with old wood. "One of our favorite finish materials is reclaimed wood for a classic, natural style in kitchen tables, flooring, and bathrooms," says Bradley Martin of Hofmann Architecture, the only licensed architecture firm in the world that specializes in mobile spaces. One of Hofmann's signatures is a teak drop bathroom floor, handcrafted by Teakworks4u, that is easy to maintain and creates a spa-like feel. Bridget McMullin, Principal at McMullin Design Group, agrees that paying to have a new wood (or wood plank vinyl) floor professionally installed is worth it. "Carpets hold germs and are breeding grounds for allergy-causing spores," notes the New Jersey-based designer.
6. Spruce Up Your Outdoor Space
"While decorating the inside is a must, don't forget about the outside," says Elle Cole. The Dallas-based designer and founder of Elle Cole Interiors recommends elevating the look of your outdoor living area with stylish foldable furniture. Swap synthetics from the big box store for sleek seats like these buffalo hide leather safari chairs from British Campaign Furniture. At $595 per chair, they're investment pieces. Cole also recommends enhancing your exterior lighting with hanging elements like metallic lights and lanterns. Finally, think about textiles such as durable patterned rugs and even paper napkins that are pretty to look at. They add warmth to the rugged outdoors and make your outdoor space more inviting.
RV Interior – Rich McMullin
7. See Your RV as a Blank Canvas
"Spend time in your space and look for what the space can be instead of what you're seeing right now," advises Winslow. "The floating shelves I installed were something I didn't think about at first. But after being in the camper, I just felt the living room area was tight and that the existing shelf was useless. So, down went the shelf, and it couldn't have turned out any cuter." Winslow and her husband only spent around $600 to transform their water-damaged RV, but the bigger your budget, the blanker your canvas. Hofmann Architecture, based in Santa Barbara and designing for a discerning clientele, only features the highest quality fixtures and appliances in its RVs. McMullin would pull out the sofa futon that comes standard in many RVs and install an extra deep daybed covered in fabrics of her liking, not upholstery picked out by the RV manufacturer.
8. Form Follows Function
Whatever your budget or design goals are, keep in mind the old adage "form follows function." By definition, RVs are designed to be fun and mobile, so you probably won't want to sacrifice those two things for vanity. Look for fabrics and furniture in colors that fit your family. If you have kids, white could turn out to be your worst frenemy. If you have a water dog, you may want to think twice before buying that plush sheepskin rug. The key, and this is where talented designers come in handy, is finding the balance between lovely and liveable.
---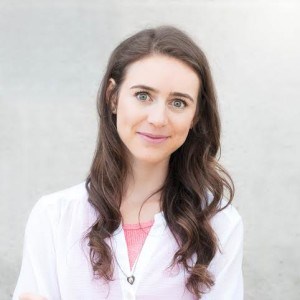 Katie Jackson is a writer and media specialist based in Montana's Big Sky Country. Living and working everywhere from New York to Nicaragua, Katie is no stranger to adventure. When she's not traveling the world (or writing about it!) she's busy chasing after a Leonberger named Zeus. Follow Katie's travels on Instagram @katietalkstravel.

---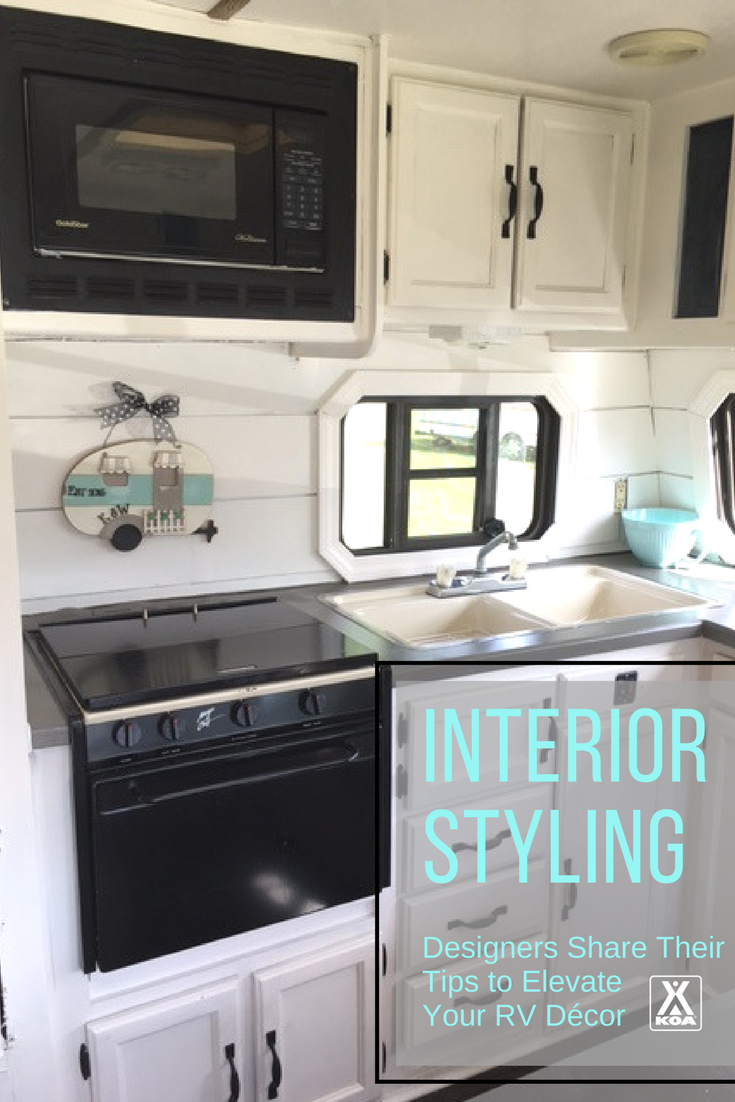 Save