Plan on heading south this winter? Make sure your RV is ready with these six things.
Perhaps one of the most appealing things about an RV is the ability to pack it up and relocate when the leaves start to fall and winter weather sets in.
For snowbirds going south for the winter it may mean a longer trip then you are used to. There are a six things to do to make sure your RV is ready to head south.
1. Pack your RV to be prepared for anything.
It doesn't hurt to have a packing list to make sure you don't forget any items. Areas to consider for packing include first aid/medicine, cooking supplies, food, RV housewares, entertainment such as games and movies, clothing and destination-specific items.
When packing your first aid and medicine make sure to include your prescription medications, vitamins, a thermometer and your medical provider's phone number. Bring everything you need to cook and eat your meals, such as pots and pans, cooking utensils, bowls, cups, dishes, a coffee maker, an oven mitt and anything else you need to cook.
Pack food for the road that is simple and non-perishable, such as canned goods. You will grocery shop along the way, but stocking up on snacks and essentials is a good idea. Other kitchen necessities include garbage bags, paper towels and food storage bags. You should also bring toiletries, toilet paper, cleaning supplies, bedding and towels.
Don't forget items you will have to have at your destination, such as keys for a summer home, rental agreements and local maps. While it may be warm where you are heading the trip to your final destination can include cold weather. Even your final destination might get cool in the night; bring appropriate clothing for the entire trip, not just the end stop.
2. Prepare your RV for cold weather.
Your RV can also be impacted by cold weather on your journey south, so make sure you take the right steps to keep your RV in working order on your way. If you will be traveling or stopping in freezing temperatures it might be a good idea to travel with your RV water lines winterized. Fill your fresh water holding tank and use it for most of your water needs.
3. Take care of responsibilities at home.
When leaving for a long trip south its important to have things in order at your permanent residence. Decide if you will winterize your home or leave all systems running. Will you have someone look after the house? Or will you use a security system? Forward your mail and stop your newspaper service.
4. Check for services along your route.
Does your healthcare offer coverage in other states? What kind of coverage do you have? Make sure you have Internet and cell connectivity available where you need it along your route.
5. Be aware of your size on the road.
Know the height, width and length of your rig. When traveling to your destination you may go under underpasses, drive thrus, gas station overhangs and other height restricted areas you are not used to. By knowing your RVs measurements you will easily know if you can make it through certain clearances.
While it may be tempting to load your RV with every conceivable item you will need for the next few months, make sure you don't overload your RV. Many RVs have ample storage space, but the chassis will only support several hundred pounds of cargo. Proper loading and weight distribution can prevent premature tire failure, suspension problems, broken axles, transmission failure and exceeding rating limitations.
6. Emergency roadside assistance.
Just like insurance, it is important to have emergency roadside assistance. Prepare for the worst and hope you never have to use it. Some questions to consider are: Does the plan cover all vehicles you are traveling with? Does it include a lodging allowance if you can't stay in your RV? Are you covered in the U.S., Canada and Mexico? What is your deductible?
Keep these tips in mind when preparing for your trip south and you'll have a successful journey. Happy travels!
---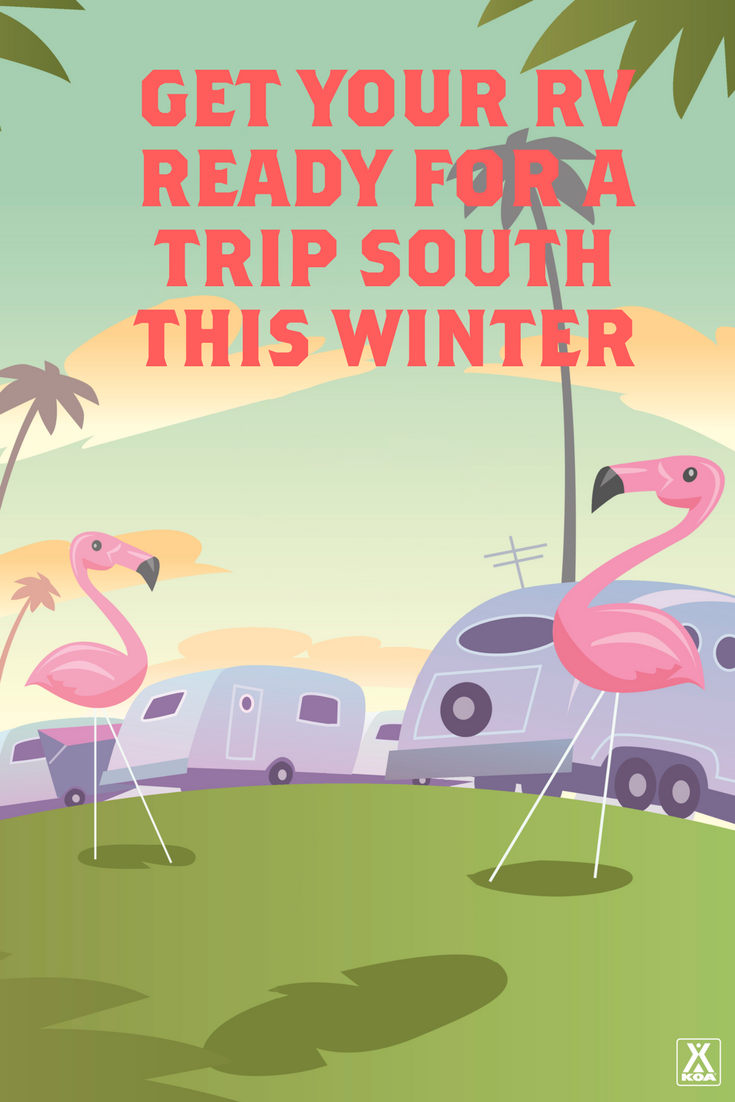 Save