If your snowbird travels take you to Arizona be sure to visit these stops.
If you're thinking of spending your first snowbird winter (or already are) in Arizona our list of sites to see and places to visit is a great start to planning your fun. With plenty of KOAs to call home in Arizona, all that's left to you is to choose your favorite, call to book your extended stay and hit the road.
---

Grand Canyon
We couldn't start a list about Arizona without mentioning one of the state's most famous landmarks – the Grand Canyon. As one of the top tourist destination in the United States no visit to Arizona is complete without a stop to this natural wonder of the world. Make a visit to the canyon's South Rim (the road to the North Rim is closed during the winter) to enjoy impressive views that are often even more dramatic in the winter months. With so much to see in this area alone we suggest a stay at the Grand Canyon / Williams KOA Journey so you can a few days exploring.
---

The London Bridge
Lake Havasu might be an Arizona destination all it's own, this unique piece of architecture is an an especially interesting reason to visit this reservoir on the Arizona/California border. Built in London in 1831, the bridge was completely dismantled, transported thousands of miles and re-erected over the lake in 1968. At the time the bridge cost city founder, Rober McCulloch, $2.6 million. With an original length of 1005 feet, the shortened, 952 foot bridge connects Lake Havasu City's mainland with it's island.
---

The Titan Missile Museum
If Cold War history peaks your interest you'll definitely want to add a stop at the Titan Missile Museum to your Arizona tour. Located near Tucson, this National Historic Landmark allows visitors to journey back in time at a preserved Titan II missile site. The site, officially known as complex 571-7, is all that remains of the 54 Titan II sites that once existed across the country. Make sure to call ahead to book a tour; the museum is open to all guests, but a guided tour is the only way to see the six-story missile in it's silo.
---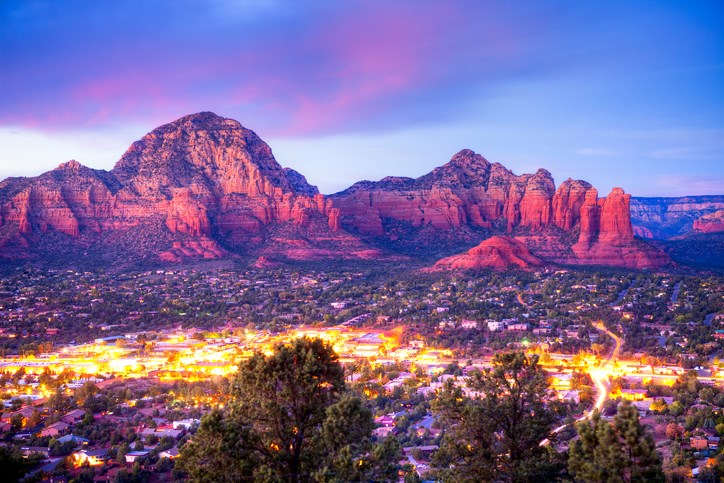 Sedona
For truly awe-inspiring natural beauty, the town of Sedona is required Arizona stop. The town, which is enchanting all on its own, is surrounded by the dramatic red rock buttes of Red Rock and Slide Rock Sate Parks. This pair of parks offers plenty of trails for adventurers to trek. Less active but still up for exploring? Consider a jeep tour for an off-road expedition. In the city of Sedona itself, relax and rejuvenate at one of many luxury hotels and spas or take a yoga class to make the most of this scared heeling spot.
---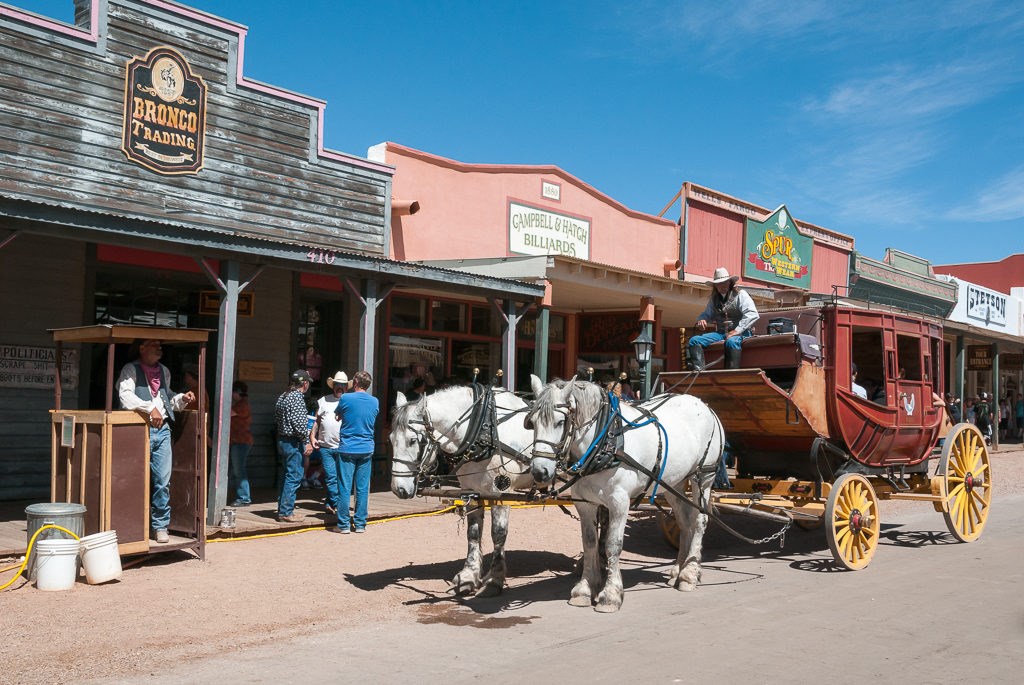 Tombstone
Travel back in time to the 1880s in world famous Tombstone Arizona. This town combines frontier history with kitschy fun, both of which lend the destination it's distinct charm. Visit the famous OK Corral, the intriguing Bird Cage Theater Museum (a former and preserved brothel) and the infamous Boot Hill cemetery. If you're looking to stay nearby, the Benson KOA is a short 30 miles from this wild west experience.
---

Monument Valley Navajo Tribal Park
Even if you've never been to Arizona you've probably seen Monument Valley in more than a few western movies both classic and new. Located on the border of Arizona and Utah, the area is famous for by its vast sandstone buttes. The iconic landmarks that dominate the landscape tower over the valley floor as much as 1,000 feet. While winter visits can be chilly, the park – administrated by the Navajo Nation – is accessible for scenic drives and hikes year round.
---

Lazydays RV Tucson
Covering 30 well-manicured acres off of Interstate 10, Lazydays RV Tucson is home to the largest inventory of recreational vehicles in Arizona. If you're looking for a new rig, or just daydreaming of one, this is the place to do your shopping. In addition to hundreds of RVs, a dedicated service center that offers everything from scheduled maintenance to body work and an extensive parts and accessories store, Lazydays RV Tucson is home a one-of-kind Airstream Store you won't want to miss. And to top things off, this RV super center is conveniently located right next to the Tucson / Lazydays KOA. This really is a one-stop shop!
---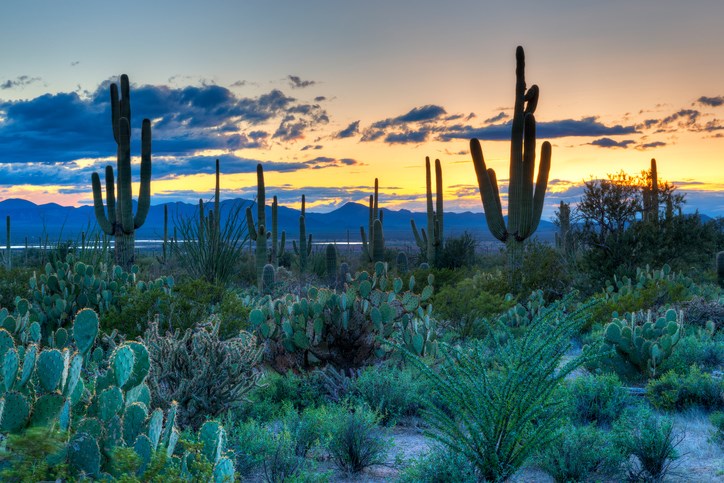 Saguaro National Park
Home to the nation's largest cacti, this national park near Tucson offers a botanical experience found no where else. Saguaro National Park is in fact so famous for these plants that it takes it's name from the giant cactus. The park covers two districts to the east and west of Tucson making is easily accessible from the city. Once you've arrived you'll be treated to 150 miles of well maintained hiking trails and shorter walking trails with lots of interesting interpretative information explaining the flora and fauna.
---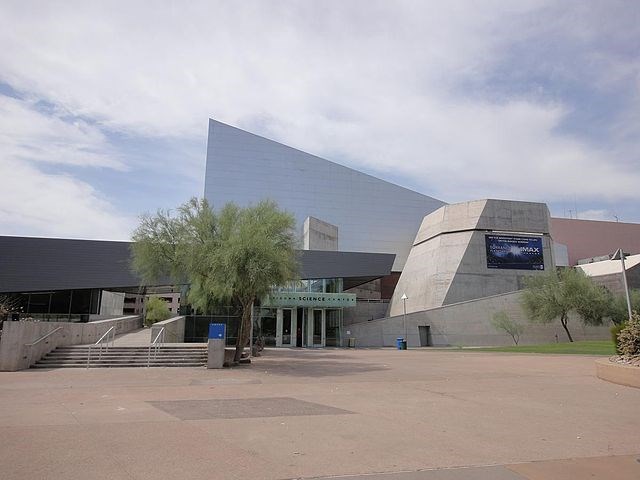 Arizona Science Center
Housing 350 permanent exhibits that invite guests to get involved and excited about science, this fun museum in Phoenix is prefect for adults and kids a like (if the grand kids come for a stay this is a highly recommended attraction). From learning about weather and natural disasters to gravity to the wonders of the human body, you're sure to pick up some new knowledge at the Arizona Science Center.
---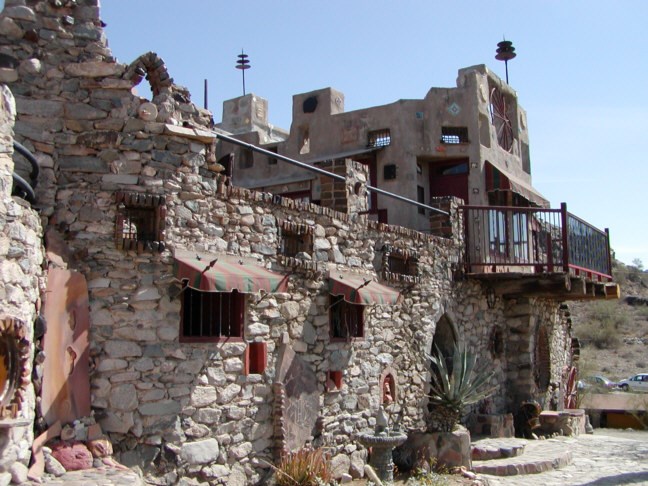 Mystery Castle
While you're in the Phoenix area, set up for a stay at the nearby Mesa / Apache Junction KOA so you can also experience the intriguing Mystery Castle. This self-built home was constructed by Boyce Luther Gulley over a 15 year period. While it's design is perhaps mystery enough, the real mystery lies in the fact that this piece of architecture drove Gulley to abandon his job, wife and daughter. With more than a few rumors surrounding this man-made monument, it's a place we definitely suggest touring – lucky you for you they offer them daily October through May for just $10.
---