Make New Year's resolutions you'll want to keep with our list of RV resolutions
We are hoping that 2017 has brought you some fabulous RV adventures. However, as Frank Sinatra himself said, "The best is yet to come," so we hope that you are looking forward to the excitement that 2018 will bring to your RV travels.
In order to blow 2017 out of the water, and ensure that 2018 is your best RVing year yet, you'll want to create some resolutions to help you get there.
Here are our top RV resolutions for the upcoming 2018.
Resolutions to Make Your 2018 RVing Top-Notch
Resolution #1: Slow down
When traveling in an RV, it is hard not to feel like the open road is waiting for you to explore its vastness.
However, we often hear that many people regret rushing through their RV trips, and spend their time wishing they had slowed down to really soak things up.
So, this year, make it your goal to slow your pace down a bit and thoroughly enjoy your travels.
As you know, setting up and taking down your RV at the campsite is no easy task. By slowing down and spending more time in one place, you won't be doing this as much, and will instead be able to use that time doing something you enjoy.
Plus, you'll have the chance to get to know wherever you're parked much better. Rather than feeling like a tourist wherever you go, by staying in one place longer, you'll dive deeper into the area and start to feel more like a local.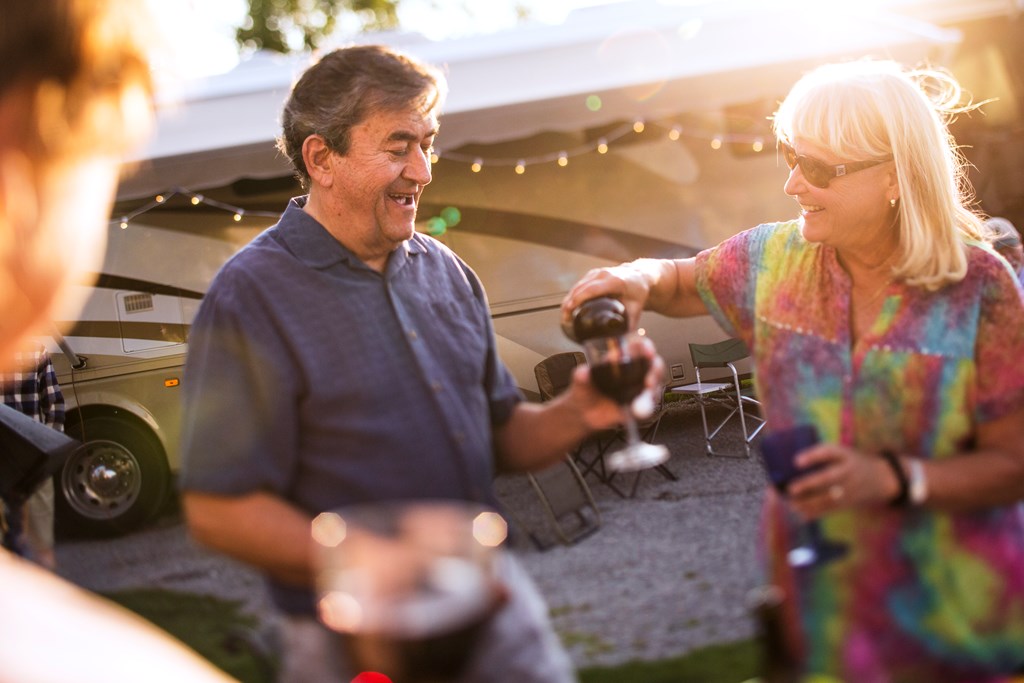 Resolution #2: Meet new people
It may feel quite easy and comfortable to go about your RV camping in a private and secluded manner — you've got your own campsite, your own RV, your own traveling companions, and it feels as if you don't need anything more.
However, one big thing you may be missing out on is the people.
Campgrounds are a fabulous place to meet people — it is guaranteed they share at least some of the same interests as you, since they too are traveling in their RV. Invite your neighbors over for a cup of coffee in the morning, or plan to go on a hike together.
You never know — you may end up creating some lifetime friendships by simply striking up a conversation.
Resolution #3: Allow room for spontaneity
While it is always fun to plan out your trips ahead of time, one of the greatest luxuries of traveling via an RV is the flexibility that it allows you.
Take that detour that seems to be calling your name, spend the extra night at the location you're loving, or head to a completely new spot.
Whatever that spontaneity looks like to you, allow yourself the room to take advantage of it.
Resolution #4: Buy that new RV you've been eyeing
If you're ready to trade your RV in for a new one, 2018 is the year to do so! Treat yourself to a new rig that will ensure years of memories to come no matter where the road takes you.

Resolution #5: Stay in shape while RVing
It can be easy to dig into that bag of chips when you've been on the open road in your RV for hours.
We've all been there.
It can also be easy to spend the majority of your RV traveling sitting.
Chances are good you've worked hard to make your RV a heavenly place of rest and relaxation, and sometimes just sitting and doing nothing can feel fabulous. While we are certainly all about relaxing, there is great value in finding simple ways to get active and stay healthy while road tripping.
Here are our top tips for staying in shape while traveling in your RV:
Stop every two hours
Don't look at RVing as a free ticket to be unhealthy
Meal prep ahead of time
Don't eat while driving
Walk at least 10,000 steps a day
Opt for campsites with exercise opportunities
Bring exercise equipment and activewear with you
Set goals
Get active by sightseeing
 Sleep well
See — staying healthy in your RV is easy!
Resolution #6: Travel in the off-season
There's a reason that peak seasons are peak — that time of year seems to be the optimal time to travel. The weather is at its best, more services and attractions are available, and bad roads are not a concern.
However, traveling during peak season can also mean some not so great things: big crowds, higher prices, and less availability.
While it's likely you'll do some peak season RVing in 2018, make it a resolution to go on at least one trip during the off-season. Off-season means you'll likely have parks (almost) completely to yourself, and you won't have to battle it out to get reservations at your favorite campground.
Plus, you never know what wildlife may poke out without the crowds that you otherwise never would have seen, and what new places you'll be able to explore due to the nearly non-existent crowds.
You may just discover that off-season traveling is something you prefer.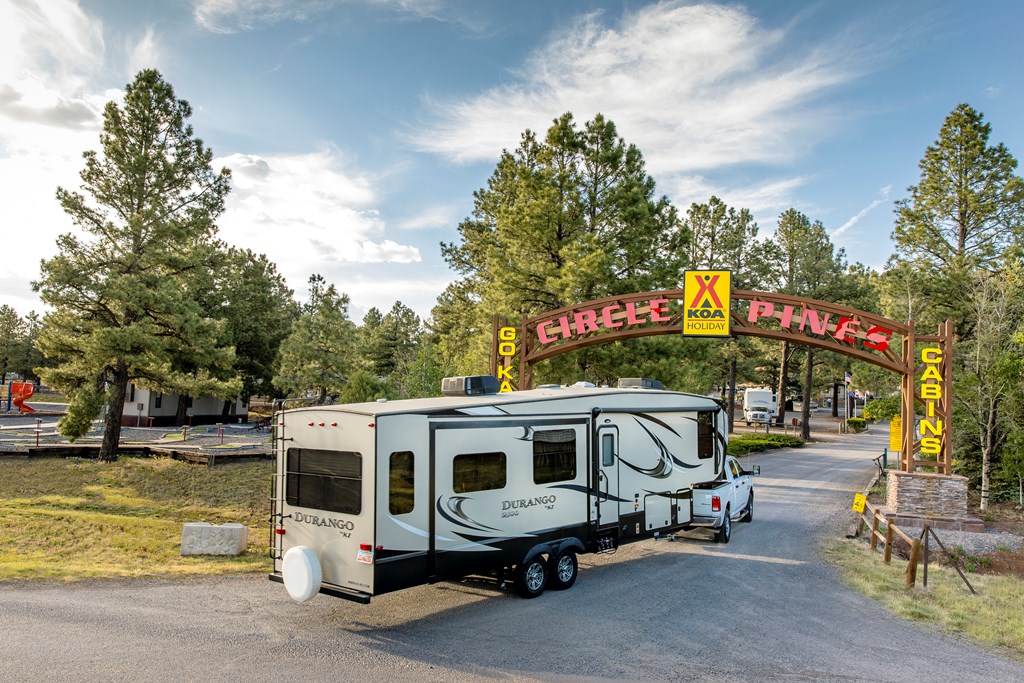 Resolution #7: Make your RV travel stress-free
Regardless of how carefully you take care of your RV, or how much time and money you put into making sure it is in tip-top shape, there is always the possibility that things beyond your control can happen.
And, in order to rid of the constant worry that something may happen, and to take the stress out of your travels, it's a good idea to become a member of KOA partner Allstate's Motor Club.
In addition to:
Road and towing service
Tire change service
Fuel delivery
Lost or stolen key service
Lockout service,
As an Allstate Motor Club member you'll also gain access to travel services that:
Help you map your travel route
Suggest hotels
Suggest destinations
Provide savings on restaurants, rental cars, entertainment, and more
Even better yet, as a VKR member, you'll receive a major discount of $30 off a one-year membership.
Resolution #8: Start a travel journal
If you stop to think about all the incredible places you've been, and things you've seen in your RV travels, you will likely be amazed.
However, remembering all of your adventures can prove to be quite a challenge.
What better way to commemorate your travels, and if you so desire, share them with other people than a travel journal?
This journal may take the form of an RV blog, which is a quite popular option. This style of journaling allows you to not only utilize your writing skills to share your RV adventures, but also the opportunity to share some of the fabulous pictures you take during your travels.
If blogging doesn't seem like something you could really get into, then opt for an old-fashioned journal where you can pen your experiences and enjoy reflecting on them down the line.
Whatever way you choose to document your travels, it is something that you will be thankful you did.
When traveling it is easy to think you'll remember all the details, but rarely is that the case. Ensure you remember all the highlights by writing them down.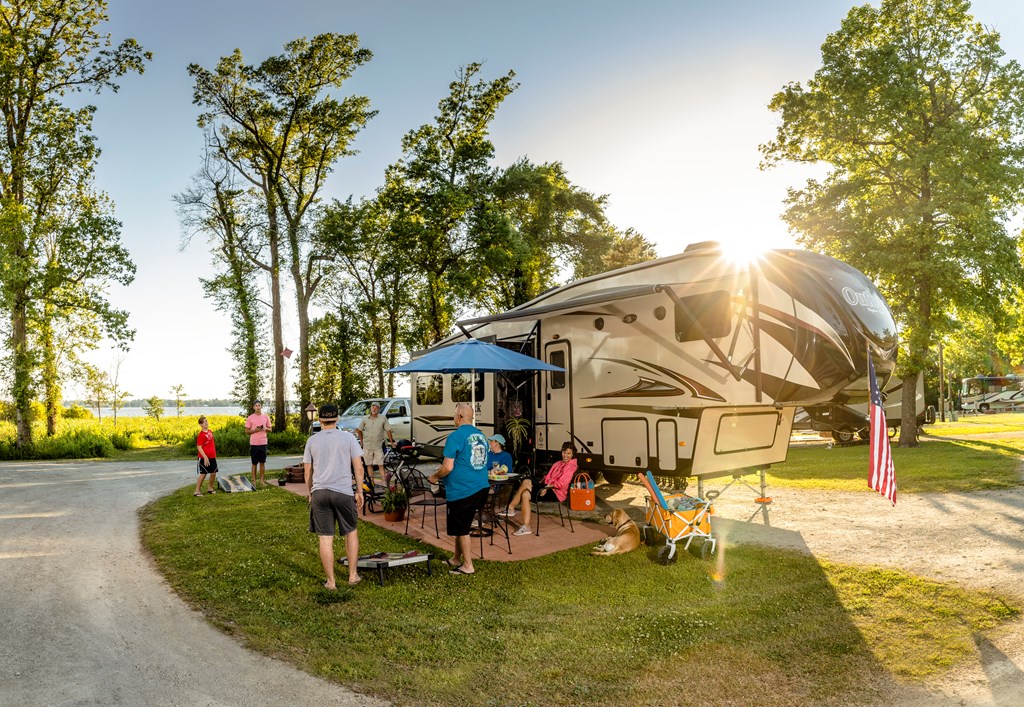 Resolution #9: Introduce a friend to RVing
It is likely that you have a friend, or your kids have a friend, who has never experienced traveling via an RV.
Make it a point this 2018 to bring that friend along with you on one of your trips, and share with them the excitement that only RVing can bring.
Most RVers find the greatest part of RVing is being able to share this special time with their family and friends, so the more people you can make a part of that, the better.
Resolution #10: Take a staycation
While the thrill of exploring new locations in your RV is one of the biggest reasons the RV community is thriving, you may be surprised to find that there is plenty of exploring you can do with your RV in your own backyard.
It is often that, when traveling, you find locals who have not taken advantage of what is right there. Many New Yorkers have never visited the Statue of Liberty, or gone up to the top of the Empire State Building.
What is in your town that you haven't seen yet?
There's one way to find out!
Pick a campground in or near your town to park your RV, and have fun exploring the area as if you were a tourist.
Chances are you'll find a number of new reasons to appreciate where you live.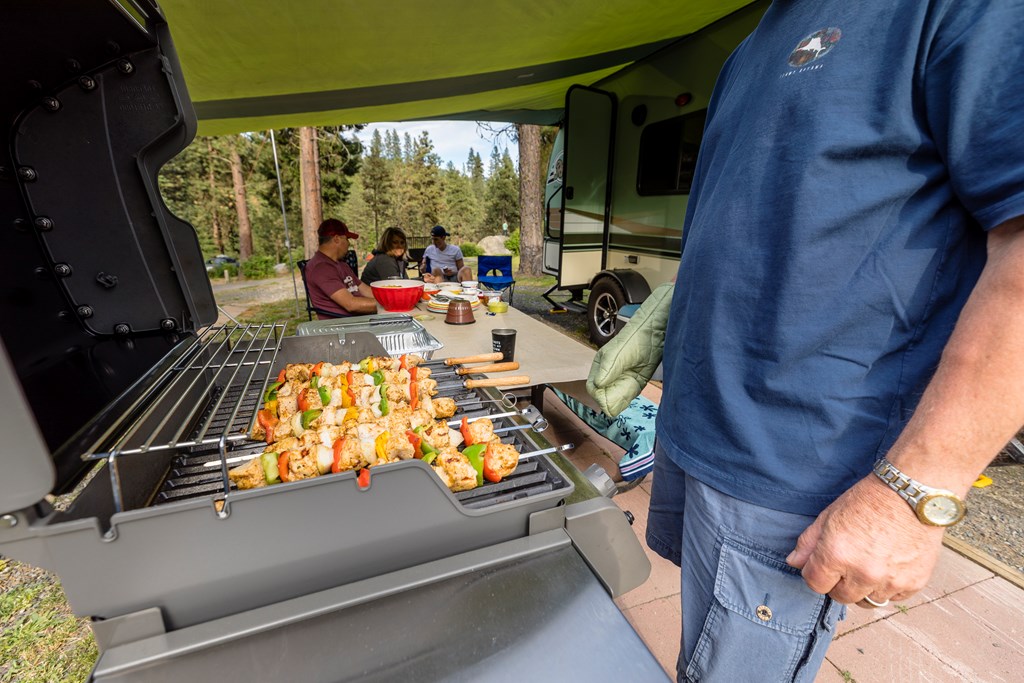 Resolution #11: Expand your cooking skills
Many RVers find themselves always cooking and prepping the same meals when traveling.
While we love eating our favorite foods, as well as keeping things simple, step outside of your comfort zone and expand your cooking skills by incorporating new recipes into your RV travels. You can test these new dishes out at home, and perfect them before bringing them out on the road.
If you're looking for some tasty RV recipes, look no further than the recipe section of our KOA blog.
From Chocolate Chip Pumpkin Bread to Red Eye Shrimp and Grits; from Tiramisu French Toast Casserole to Beer Cheese Soup, you are sure to find your new favorite here.
---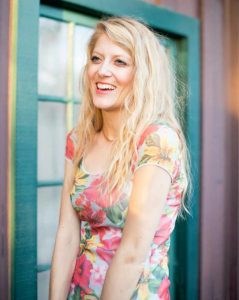 Leslie, a.k.a. Copy Girl, is a copywriter who gets butterflies from telling stories through words.
Her voice comes from a place filled with passion, dreams, and lots of sugar. "Cake over steak" is her go-to motto.
With over 10 years of experience in crafting words, and years of embarking on travels that have taken this Montana girl to some incredible places, Leslie love the adventures of both body and mind her writing takes her on.
Everywhere she goes, she takes this advice with her:
"Hold on to your divine blush, your innate rosy magic, or end up brown." – Tom Robbins, Jitterbug Perfume
To see what Leslie's up to in the writing world, visit her website here.
---